Anguilla Cruise Ship Destination Port
Cruise Ship Port of Call information like Port News, Weather, Transportation Options, Things to Do and See, Area Events, Medical Care, Crime and Safety Review
Sandy Ground Beach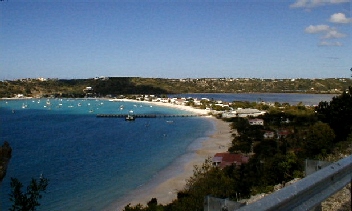 Anguilla is located east of Puerto Rico and the Virgin Islands in the Lesser Antilles chain. The Island of St. Martin is about a 20 minute boat ride away.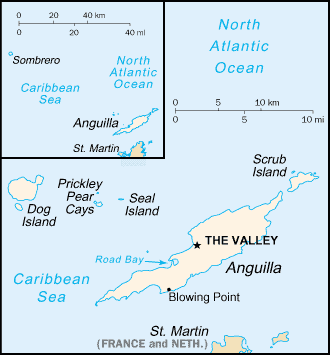 Anguilla consists of the main island of Anguilla itself, approximately 26 km (16 miles) long by 5 km (3 miles) wide at its widest point, together with a number of much smaller islands and cays with no permanent population.
A British territory since 1980 and part of the British West Indies, Anguilla's population is slightly above 15,000.
Colonized by English settlers from Saint Kitts in 1650, Anguilla was administered by Great Britain until the early 19th century, when the island - against the wishes of the inhabitants - was incorporated into a single British dependency, along with Saint Kitts and Nevis. Several attempts at separation failed. In 1971, two years after a revolt, Anguilla was finally allowed to secede; this arrangement was formally recognized in 1980, with Anguilla becoming a separate British dependency.
Port of Entry
Blowing Point, British West Indies
Time Zone
AST (UTC/GMT-5 )
Map Coordinates
18.15 N, 63.10 W
Climate and Terrain
Anguilla is low lying, and flat, the land settled on limestone and coral. Anguilla's thin arid soil is largely unsuitable for agriculture, and the island has few land-based natural resources. Anguilla is relatively dry (average 35" of rain a year) and prone to hurricanes.
Average Temperatures
Water: 82° Summer - 79° Winter
Air: 85° Summer - 78° Winter
Things to do and see
Boat Racing
Boat racing has deep roots in Anguillian culture, and is the national sport. There are regular sailing regattas on national holidays, such as Carnival, which are contested by locally built and designed boats. These boats have names and have sponsors that print their logo on their sails. As in many other former British Colonies, cricket is also a popular sport.
Rendezvous Bay
The longest stretch of white sand on Anguilla, Rendezvous Bay is the picture-postcard beach with its transparent water and gentle surf. Palms stud the shore and shrubbery surrounds the few.
Shoal Bay Village
Located on the east end of the island. On the way, stop off at Fountain National Park & Cavern - a popular Arawak Archaeological site.
The Old Fort
At Sandy Hill.
Pitch Apple Hole
Pre-historic Cave.
Wallblake House
Built 1787 and is the oldest plantation on the island. Tour hours: Monday, Wednesday and Friday, 10am - 2pm.
Island Harbor
Scenic fishing village that is the center of local lobster fishing.
The Elvis Beach Bar
Offers old-school-style Anguilla flavor. The bar is set in a converted Class C racing sailboat and features live music every weekend.
Snorkeling and Diving
Check out our extensive list of great snorkel and dive spots around Anguilla.
Beaches
Check out our extensive list of great beaches around Anguilla.
Festival Del Mar
Annual April event on picturesque Island Harbor. A celebration of the sea, the festival includes deep sea fishing contests, boat races, triathlons, culinary competitions, string band music, and more. 10am - 11pm. 2013 date: Mar 30 & 31.
Valley Street Festival
This cultural extravaganza at the People's Market with traditional cuisine, art and craft, Domino Competitions, face painting, live music, games and a cycling competition. 10am - 6pm. 2013 date: May 26
Welches Fest
Welches Fest takes place on the ball field in Welches Village on Whit Monday, a religious and Public Holiday. Starting around 5:30 am you can have an old-fashioned breakfast of flour pap to start your day. All things at this fest are of yesteryear including Food, toys and games and music. 530 am - 8 pm. 2013 date: May 27
Anguilla Regatta
Annual event hosted by the Anguilla Sailing Association (ASA) and the Anguilla Tourist Board, the Annual Anguilla Yacht Regatta attracts sailors from across the Caribbean and around the world. 2013 date: Feb 22-24.
Anguilla Day
Anguilla achieved its independence from the joint statehood of St Kitts-Nevis-Anguilla on May 30, 1967. Month long celebrations commemorate Anguilla Day. On Anguilla Day, the Around the Island Boat Race, is a race around the island, to and from Road Bay.
Queen's Birthday
Parade at James Ronald Webster Park and cocktails are served in the evening at Government House to invited guests. June 17
John T. Memorial Cycling Race & Valley Street Festival
Annual race held over a two-day period. Participation from regional and international cyclists. 10am - 6pm. 2013 date: July 6 & 7.
Anguilla Carnival
Carnival is a week-long festival that begins the weekend prior to August Monday (the first Monday in August). Carnival includes costumed parades, music and dancing. August Monday is a public holiday.
J'ouvert Morning, August Monday Emancipation Day
Take to the streets in the Valley at 4:30 am and dance your way down to Sandy Ground to the pulsating rhythms of Anguilla's superlative Soca Bands. Boatraces and Beach Party. 4:30 -11:00 pm. August 5.
Grand Parade of Troupes
Revelers from villages all over the island are joined by visitors from around the Caribbean and beyond for the grand parade through the streets of the Valley. Colorful costumes depicting cultural and fantasy themes abound, and the winner of the Road March Band competition is announced. 1 - 9 pm. August 9.
Anguilla Summer Festival
Anguilla really lets its hair down for the fantastic Summer Festival during July and August every year. Beauty pageants, swim suit competitions, colorful parades, calypso contests, more. 2013 date: July 26 - Aug 11.