Venice Florida Area Parks
A comprehensive list of area parks and recreation facilities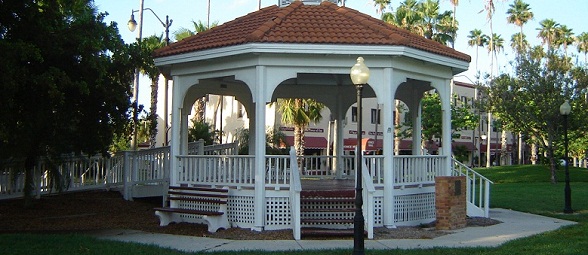 Centennial Park
200 W. Venice Ave, located in the heart of downtown Venice. This park hosts concerts, festivals, farmer's market, water fountain for the kids (open 9:30am - 9:30pm) and more.
Chuck Reiter Park
250 Fort Street on the island of Venice. Park includes four lighted baseball fields, batting cages, food concession, restrooms and playground. Home of Venice Little League.
East Blalock Park (Cultural Campus)
300 S. Nokomis Ave. on the island of Venice
The home of Venice Public Library, Venice Art Center, Venice Community Center and the Triangle Inn, housing the Venice Museum and Archives, in a landscaped campus setting.
Patriots Park
Veteran's Memorial Park. Located just north of the intersection of U.S. 41 and the Venice Bypass.
Brohard Park
1600 S. Harbor Dr. Venice
Located on the south end of Venice island, this park includes the dog beach Paw Park, Service Club Park, Venice Fishing Pier, Maxine Barritt Park, and South Brohard Beach.
Chauncey Park
601 The Esplanade North, Venice
Beach access with wheelchair accessible boardwalk, bike racks, benches, concessions, showers and drinking fountain.
Venetian Waterway Park
This is a 5-mile long, 8-foot wide trail that weaves its way through Venice along the Intracoastal Waterway to Caspersen Beach Park. It offers a bike trail, fishing, wildlife viewing and grills. Located at 257 N. Tamiami Trail on the island of Venice.
Humphris Park at the South Jetty
2000 Tarpon Center Dr. Venice
You can watch the boats and yachts sail in and out of the inlet. Concessions available.
Shamrock Park and Nature Center
3900 Shamrock Dr. Venice
Shamrock Park and Nature Center encompass some of the last remaining scrub habitat in the coastal area of Sarasota County. It includes a 1.2 mile paved multi-use trail that winds through the central portion of the park. he park trail system connects to the Venetian Waterway Trail, which further connects to the 10.6 mile Legacy Trail. This network of trails offers park visitors the opportunity to walk, bike or roller blade from Shamrock Park to downtown Venice, the historic train station, Caspersen Beach, and north to Sarasota with several parks to visit along the way.
Parks with recreational amenities
Baseball Fields/Batting Cages are located at Chuck Reiter Park
Basketball and Tennis Courts are located at Hecksher Park and Pinebrook Park.
Boat Ramps can be found at Higel Park and Marina Park.
Canoe and Kayak Launch are located at Higel Park and Venice Myakka River Park.
Dog friendly free roam parks include: Woodmere Park and Paw Park at Brohard Beach
Walking Trails are located at Heritage Park, Pinebrook Park, Venetian Waterway Park and Venice Myakka River Park.
More Area Parks
Boca Grande/Gasparilla Island State Park (30 miles S. of Venice)
941-964-0375 Gasparilla Island State Park website. The centerpiece of Gasparilla is the restored Boca Grande Lighthouse built in 1890. Activities include swimming, snorkeling, fishing, shelling and nature study. There are two picnic areas. Located on the south end of Gasparilla Island on the Boca Grande Causeway (toll road) at CR 775 and Placida.
Myakka River State Park (25 miles N.E. of Venice)
941-361-6511 Myakka River State Park website. One of Florida's oldest and largest state parks. Visitors can enjoy wildlife viewing from a boardwalk or a canopy walkway. The park's river and two lakes provide opportunities for boating, freshwater fishing, canoeing and kayaking. There are also hiking trails, scenic lake tours on airboats and camping. Located 9 miles east of Sarasota on SR 72.
Oscar Scherer State Park
941-483-5956 Oscar Scherer web page
Camping and picnicking. Fifteen miles of trails for hiking, biking, and wildlife viewing. Canoeing and Kayaking (rentals available) along South Creek - no motor boats. Freshwater and Saltwater Fishing. Located on U.S. 41, two miles south of Osprey ( about 8 miles north of Venice) and six miles south of Sarasota.