Best Caribbean Beaches
Our list of popular beaches in the Caribbean for Cruisers
ports > Caribbean Beaches
Popular Caribbean Beaches

Half Moon Bay
Located on the southern half of the island but worth the drive. This beach is secluded and about a 5 minute drive from Freetown Village. Soft pink sand coastline and active surf. Coral reef good for snorkeling.
Palm Beach
Calm waters and powdery white sand. Hotels nearby offering amenities including water sports rentals.
Barbados

Crane Beach
Crane Beach is home to the Crane Beach Hotel so stop by for lunch before you hit the water. The beach area is protected by a coral reef so the waters are calm and great for swimming and snorkeling.
Mullins Beach
Located in a cove where the water is usually calm and crystal clear. Beach chairs are available for rent and food service is available at Mullins Beach Bar. The sandy area on the beach is narrow.
Curacao
Cas Abao Beach Curacao
Ideal for swimmers, and its reefs a paradise for snorkelers and scuba divers. A raft for sunbathing and playing is moored off the beach. There is a bar, restaurant, showers, toilets, massage facility and dive shop.

Port Marie
A white sandy beach with parasols. Amenities include showers, toilets and a bar with a large terrace. A very suitable beach for children. Attractive snorkel and diving spot with special facilities for divers. Even on the weekends the beach is quiet.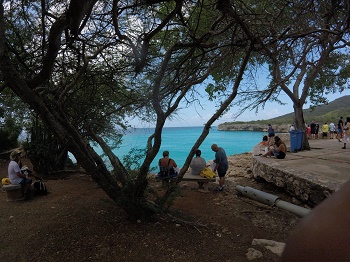 Playa Kalki Curacao
A sandy beach with limestone cliffs. One of the most attractive snorkeling and diving spots on Curaçao. This small inlet lies in Westpunt, right near Kura Hulanda Lodge.
Grand Cayman
Seven Mile Beach Grand Cayman
A long crescent shaped coral sand beach, Seven Mile Beach is one of the most famous in the Caribbean so if you're looking for a quiet spot, this beach is not for you. The beach is world renowned for its beauty, however the area is one of the most developed areas of Grand Cayman and home to the majority of the island's luxury resorts and hotels. Despite the name, the beach is only about 5.5 miles long and falls victim to annual erosion. The developments around Seven Mile Beach were severely damaged by Hurricane Ivan in September 2004 but most condominiums & hotels are now running at full or almost full capacity. Seven Mile Beach is public property, and it is possible to walk the full length past many hotels and villas. There are restaurants open to the public at most of the resorts, and several public beach bars. Some small reefs are located just off shore which offer good snorkeling, most notably by the Marriott hotel (an artificial reef), the Governor's residence, and just north of the public beach. There are few restrictions on use of the beach. Loud music and public nudity are, however, strictly prohibited.
Nassau

Cabbage Beach Paradise Island
One of the more beautiful beaches on Nassau/Paradise Island. It is ideal for beach walking, swimming or sunbathing. Such water sports as water-skiing, snorkeling and parasailing take place.
Nevis

Pinney's Beach Nevis
Almost 4 mi (6½ km) of powdery golden sand lined with a magnificent grove of palm trees. The Four Seasons Resort is here, as are the private cabanas and pavilions of several mountain inns and casual beach bars.
San Juan
Isla Verde Beach near San Juan
A series of beaches which are grouped together that stretches for miles. The area is loaded with resorts, condos, restaurants, night clubs, and private mansions. Family-friendly beaches. Parasailing, waterskiing, surfing, body boarding and jet skiing offered by vendors in the area.
St. Barts
Anse du Gouverneur
This clothing optional beach is located on the south coast just minutes from Gustavia. Scenic views of St. Kitts, Saba, and St. Eustatius. Venture here at the end of the day, and watch the sun set behind the hills. Legend has it that pirates' treasure is buried in the vicinity.

Anse de Grande Saline
Clothing Optional - Grande Saline is a large unspoiled beach located on the southern coast. Great for swimming and sunning. Grande Saline is the island's favorite unofficial nude beach, as the lack of major development nearby allows for a secluded atmosphere. Park just past the salt pond and walk up the rocky path which leads to a sand dune. The walk is about 10 minutes, so make sure to bring sneakers or water shoes for the trip. You can catch a ferry from Oyster Pond in St. Martin on Wednesdays and Saturdays and from Marigot the other days of the week.
St. Croix USVI

Buck Island Reef National Park
Located about 1.5 miles from St. Croix, the 176-acre island and surrounding coral reef ecosystem support a large variety of native flora and fauna, including the hawksbill turtle and brown pelican. Snorkelers can enjoy a marked underwater trail near the eastern tip of Buck Island. The western edge of the island features a beautiful white-sand beach that makes it a popular gathering spot for local boaters. There are actually two "Buck Islands." The one just north of St. Croix is the centerpiece of the National Monument. Buck Island National Wildlife Refuge occupies the one near St. Thomas. You take a ferry from St. Thomas departing from the Marine Terminal in Charlotte Amalie (next to Seaplane Terminal) Smith's Ferry Service (340) 775-7292. Takes 90 minutes to get to St. Croix. Many cruise lines offer excursions to Buck Island (Turtle Cove) from St. Thomas.
St. John USVI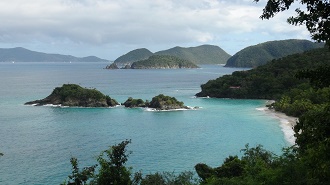 Virgin Islands National Park
Surrounded by coral reef, Hawksnest Bay, Trunk Bay, Cinnamon Bay, Saltpond Bay are just some of the many sheltered coves of St. John. You can take the St. Thomas ferry from either Charlotte Amalie (40 min) or Red Hook (20 min).
St. Maarten / St. Martin
Orient Beach
French side clothing optional. A 12 mile long white powdery sand beach protected by a coral reef with plenty of wading areas. Recognized as a marine reserve, so snorkeling in the marine park is just incredible. There is also great snorkeling off nearby Caye Verte (Green Key). There is a naturist resort at the southern end of the beach. Located about 30 minutes by cab from the cruise pier. Food and drink services available.
Bikini Beach
Bikini Beach is part of Orient Beach
You can rent affordable beach equipment and food and drink services available.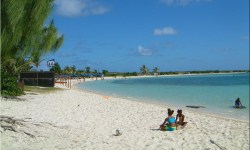 Le Galion
Also called Coconut Grove, and nicknamed "Baby Beach", located south of Orient Bay. Surrounded by a coral reef offering calm waters that are shallow. Great beach for the kids. Rent beach chairs, snorkeling gear, kayaks and more nearby. There are also a few restaurants in the area.
St. Thomas USVI

Magen's Bay
Located on the North (Atlantic) side of the island, Magen's Bay is a well-protected white sand beach stretching for nearly a mile. It is one of the most popular tourist destinations on the island.
Tortola BVI
Cane Garden Bay and Apple Bay
The beach at Cane Garden Bay is considered to be one of the best in the Caribbean. Good swimming beach with a coral reef at the west end of the bay for snorkeling. There are restaurants, bars, B&B's, and small hotels nearby. Apple Bay is great for surfing when there is a north swell. Not suitable for swimming unless the sea is calm. Rent beach chairs and visit restaurants at Apple Bay.