Aida Cruises
Company Overview and Ship Fleet
Aida News
IDA Introduces Flat-Rate Internet Plans
Posted June 22, 2015
For a nominal flat rate fee, passengers can access popular social media sites, including, Facebook, Twitter, Instagram and WhatsApp during their cruise.
In addition to the new, exclusive social media flat rate, AIDA is also dramatically increasing the bandwidth onboard, and introducing more packages.
The internet package can be used on an unlimited basis for the complete duration of the voyage.
Guests can also upgrade to a higher data volume by additionally paying just the price difference to the higher rae.
AIDAmar and AIDAvita, currently offer the new Internet packages and by July of this year, four more ships in the AIDA fleet will be equipped with the enhanced communication service. By November, the rollout will be complete. WLAN is offered in the public areas and staterooms on all ships. This can be used with smartphones, tablets, and notebooks with WLAN connections, regardless of the operating system. At the reception desk, Internet terminals are offered for guests without own mobile devices.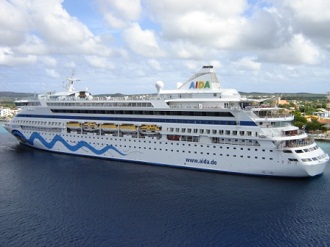 Aida is a British-America owned cruise line and leading cruise company of the German market. Aida is one of the eleven brands operated by the Carnival Corporation.
AIDA ships are marketed in German speaking countries and are known for their young style and informal service.
Sailing the Mediterranean, Canaries, North and Baltic Sea, The Caribbean and Middle America.
AIDA Cruises is the leader and most recognized cruise brand in the German cruise business. AIDA's vessels currently operate in the Mediterranean, Northern Europe, the Caribbean, the Arabian Gulf and around the Canary Islands. AIDA ships are dedicated to the German-speaking market and renowned for their youthful style and casual service. As a seagoing "club resort," AIDA ships incorporate the successful elements of upmarket clubs and resorts in the premium and four-star range, with a host of on-board amenities and facilities that attract younger, more active, as well as relaxation-seeking vacationers.
| | | |
| --- | --- | --- |
| AIDAvita (2002) | GRT:42,289 | Length:665 ft. |
| AIDAaura (2003) | Draft:20 ft. | Passengers:1,266 |
| | | |
| --- | --- | --- |
| AIDAcara (1996) | GRT: 38,531 | Length: 634 ft. |
| | Draft: 20 ft. | Passengers: 1,186 |
All ships are flagged in Italy. Aida Ship Tracker