Aida Cruises
Company Overview and Cruise Ship Fleet
Where do AIDA ships sail?
AIDA ships sail the Mediterranean, Canaries, North and Baltic Sea, The Caribbean and Middle America.
Alcohol Policy
16 years old to drink beer, 18 to drink wine and 21 to drink spirits.
All ship cabins and public spaces are non-smoking areas. Guests are allowed to smoke on cabin verandas and in designated smoking areas on the free decks are available.
Please note that smoking is not permitted on the verandas of the following or these cabins on board AIDAprima and AIDAperla: 5165 VE, 5265 VE, 5164 VE, 5264 VE, 5161 VE, 5261 VE, 5160 VE, 5260 VE, 5163 VF , 5263 VF, 5162 VF, 5159 VF, 5259 VF, 5158 VF, 5258 VF, 5262 VF
Aida is a British-America owned cruise line and leading cruise company of the German market. Aida is one of the eleven brands operated by the Carnival Corporation.
What makes AIDA special
AIDA ships are marketed in German speaking countries and are known for their young style and informal service. AIDA has one of the most modern and eco-friendly fleets in the world. In December 2018, AIDA debuted AIDAnova, the first cruise ship to be fully powered by liquefied natural gas (LNG).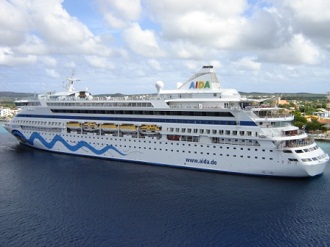 AIDA Cruises is the leader and most recognized cruise brand in the German cruise business. AIDA's vessels currently operate in the Mediterranean, Northern Europe, the Caribbean, the Arabian Gulf and around the Canary Islands. AIDA ships are dedicated to the German-speaking market and renowned for their youthful style and casual service. As a seagoing "club resort," AIDA ships incorporate the successful elements of upmarket clubs and resorts in the premium and four-star range, with a host of on-board amenities and facilities that attract younger, more active, as well as relaxation-seeking vacationers.
AIDAcosma (2021)
AIDAnova (2018)
AIDAperla (2017)
AIDAprima (2016)
AIDAdiva (2007)
AIDAbella (2008)
AIDAluna (2009)
AIDAblu (2010)
AIDA Sol (2011)
AIDAmar (2012)
AIDAstella (2013)
AIDAvita (2002)
AIDAaura (2003)
AIDAmira (1999)
AIDAcara (1996)
All ships are flagged in Italy. Aida Ship Tracker
• Child care in the Kids Club
• Tips and gratuities included
• German speaking tour guide
• Complimentary drinks during the main meals in the buffet restaurants