St. Croix USVI Cruise Ship Destination Port
Cruise Ship Port of Call information like Port News, Weather, Transportation Options, Things to Do and See, Area Events, Medical Care, Crime and Safety Review
Need to know
Hurricanes
The USVI are situated in an area of the Caribbean prone to hurricanes. Rainy season is from May to November, and periodic hurricanes between June and November.
In the event of a tropical storm or hurricane alert, a notice will be posted on our Weather Updates page.
Personal Safety
Compared to St. Thomas, both St. John and St. Croix are relatively safe. On St. Croix, avoid dark streets and back alleys at night, as muggings occur frequently in these areas. Night driving in isolated areas is not recommended, since carjacking occurs most often at night in such places.
Getting around
Island roads tend to be poorly surfaced due to the terrain, and may take sharp turns. If you do decide to drive, it is vital to remember that you must drive on the left side of the road. Speed limits on St. Croix range from 10 mph in downtown to between 35 mph and 55 mph on the Melvin Evans Highway. Please note posted speed limit signs.
There is a public bus service called Virgin Islands Transit VITRAN, operated by Department of Public Works. In addition to taxis and buses, St. Croix has shared taxis, locally known as "taxi buses" (these are also found on the other U.S. Virgin Islands).
Taxi buses are full-sized vans which follow a predefined route from Frederiksted to Christiansted.
These taxi buses are privately owned and operated; they do not follow a regular schedule, and there are no pre-specified stops. Instead, people simply wait by the side of the road until a taxi bus approaches, then flag the driver down by waving.
Passengers can be dropped off anywhere along the taxi route. Taxi buses charge a flat rate for the trip, regardless of where a rider gets on and off.
Area Events
St. Croix Blues and Heritage Festival
Annual event usually held in January.
Carnival Festival
Events during December through Jan 2. Christiansted and Frederiksted share responsibilities of having events. Calypso shows, Latin music venues, food fairs, horse races, parades and more contribute to the spectacular month long event. The adult's parade, often the last big event of Carnival, coincides with Three Kings Day.
St. Croix, USVI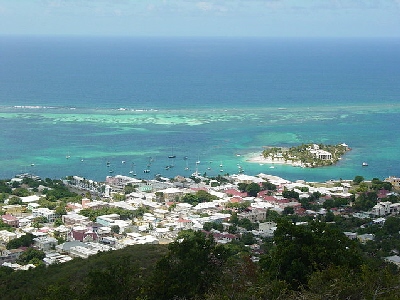 The U.S. Virgin Islands are located between the Caribbean Sea and the North Atlantic Ocean, 90 miles east of Puerto Rico. Saint Croix is located about 35 miles south of St. Thomas/St. John.
Saint Croix is a county and constituent district of the United States Virgin Islands (USVI), an unincorporated territory of the United States. It is the largest of the U.S. Virgin Islands at 28 miles long by 7 miles wide. However, the territory's capital, Charlotte Amalie, is located on Saint Thomas.
There are two main cities on St. Croix, Christiansted and Frederiksted, respectively. Frederiksted is the town where cruise ships dock.
St. Croix Webcam
Good to Know
Port of Entry
St. Croix's Ann E. Abramson Pier located in Frederiksted. Anchorage is also available in the outer harbor for larger ships. The Pier's 2011 $3.6 million enhancement allows two cruise ships to dock simultaneously.
Frederiksted is a picturesque water front town. It was established in 1751 and it is the second largest town in St. Croix. It is a lovely historic town that is easily explored in one day.
Frederiksted's pier-side beach offers new amenities for visitors to enjoy.
A water trampoline and inflatable rock climbing wall has been installed just offshore for public use and a new food-vendors plaza is featured where visitors can enjoy tasty island treats, sample local cuisine and cool off with frozen drinks and shaved ice flavored with local fruit.
Live Christiansted Harbor Cam webcam at gotostcroix.com
Time Zone
AST - (UTC/GMT -4)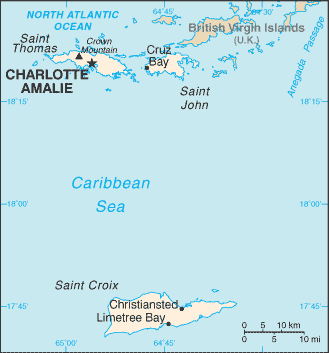 Map Coordinates
17°45′N 64°45′W
Average Temperatures
Water: 80º Summer - 78º Winter
Air: 86º Summer - 80º Winter
Things to do and see
Fort Frederik
A National Historic Landmark, the red and white Fort Frederik was built in the 1750's to ward off pirates. The fort includes a museum and art gallery, it is open weekdays from 8:30am to 4pm, and Saturdays from 1pm to 4pm. Admission is free, but donations are greatly appreciated.
Emancipation Park
The area right in front of the Frederiksted fort and waterfront has been made into a beautiful town park. Emancipation Park honors the slave revolt leader General Buddhoe and also serves to recall and honor the 1848 proclamation by Governor Peter von Scholten that emancipated slaves in the Danish islands. The park has many benches and a small gazebo.
SNUBA
Open 7 days a week, SNUBA is available on St. Croix for both beach and boat dives. Departing from the Christiansted boardwalk, guests can opt for a two-and-a-half-hour boat trip including Snuba at the East End Marine Park or enjoy a leisurely drive to the famed Cane Bay Beach for Snuba along the northshore. For more information, go to www.snubastcroix.com. For more information, call (340) 226 3468.
Paddle Boarding/ Stand up Paddle
Paddle boarding has arrived on St. Croix with two outfits offering paddle boarding lessons and guided eco-tours. For more information, contact Teres Veho at 340-227-0682 and Kite St. Croix at kitestx@kitestcroix.com.
Diageo Welcome Center
Diageo's Captain Morgan Rum Distillery on St. Croix open in 2012. The experience includes history and artifacts of the industry, a movie theater, a bar reception area, a small store and a place for visitors to take tours of the plant.
Buck Island Reef National Park
Located about 1.5 miles from St. Croix, the 176-acre island and surrounding coral reef ecosystem support a large variety of native flora and fauna, including the hawksbill turtle and brown pelican. Snorkelers can enjoy a marked underwater trail near the eastern tip of Buck Island. The western edge of the island features a beautiful white-sand beach that makes it a popular gathering spot for local boaters. There are actually two "Buck Islands." The one just north of St. Croix is the centerpiece of the National Monument. Buck Island National Wildlife Refuge occupies the one near St. Thomas.
Cane Bay
The area has an underwater wall 200 yards off of the beach, where you can drift out over a precipitous drop-off.
Cruzan Rum Factory
Tour the Cruzan Rum Factory. Learn about the differences in gold and white rum and how different proofs are achieved. Open M-F 9-10:45am and 1-4:15pm.
Salt River & Columbus Landing
This is the only documented site under the U.S. Flag where Christopher Columbus' fleet landed on the voyage of 1493. Now a National and Territorial Park, it is the site of many ecological and historical treasures. The St. Croix Environmental Association conducts tours, and kayak sightseeing is available.