MSC Cruises
Company Overview and Ship Fleet
MSC Cruises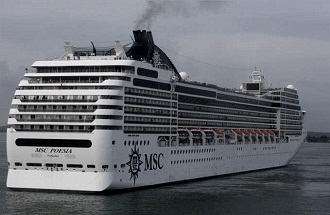 MSC Cruises is a privately-held, family-owned, Italian cruise line with a fleet of 12 ships: The fleet cruises year-round in the Mediterranean and seasonally in Northern Europe, the Atlantic Ocean, the Caribbean, South America, the Indian Ocean, and South and West Africa. The line prides itself on Mediterranean values of authenticity, humanity, and warmth. The decor and design is refined Mediterranean elegance; the fleet's godmother is actress Sophia Loren.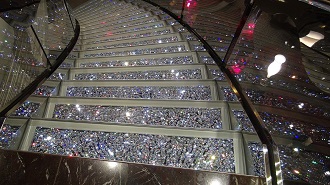 Flexible Meal Times at the Buffet
The buffet onboard MSC Cruises' are open 20 hours a day, from 6 a.m. until 2 a.m.
A full breakfast service, including a complete continental and cooked breakfast, is available at the buffet from 6:30-10 a.m. Late risers can enjoy a continental breakfast, including pastries, yogurts, delicious cold meats and cheeses, from 10 a.m.-noon.
Lunch menus are available from noon-3:30 p.m. in the buffet.
For those looking for an afternoon snack or a casual late lunch, the buffet offers guests many options from 3:30-6 p.m., including items from the grill, pizzeria and salad bar, as well as soups, pasta, vegetables, fish and meat specialties, fruit and desserts.
The buffet provides a complete dinner service from 7-10 p.m., while the grill is open continuously from noon until 10 p.m. and the pizzeria corners stay open from noon until midnight.
A midnight snack is available in the buffet from midnight until 2 a.m.
Room service available 24 hours a day, at certain times with an extra charge.
MSC Cruises has a Kids Sail Free program for children 11 years old and younger and special rates for youth 12-17. Ships have complimentary Kids Clubs and play areas and a Teen Club with a hangout area for them.
• Mediterranean Cruises - Genoa, Rome, Venice
Naples, Trieste and Bari, Italy; Barcelona and Valencia, Spain
• Northern European Cruises - Copenhagen, Kiel and Amsterdam
• Caribbean Cruises - Fort Lauderdale, Florida
• South American Cruises - Rio de Janeiro, Brazil
• South African Cruises- Duban, Cape Town
• Ocean Voyages - Genoa, Fort Lauderdale, Venice, Rio de Janeiro
• Abu Dhabi and the Emirates- Abu Dhabi
24- hour room service, Outdoor grill by the pool and Pizzeria, Midnight Buffet, Main Dining - Breakfast, Lunch, and Seven course dinner menu - traditional Italian cuisine.
"Kids Sail Free" with MSC Cruises on all sailings all the time. Children ages 17 and younger sail free when they accompany two full-fare-paying adults in a stateroom (government fees and taxes are additional; additional restrictions may apply).
Suites feature a bedroom with a king-size bed, oversize whirlpool bath & shower & additional shower stall, living room, dining room, dressing room, private verandah, sofa bed, VCR, refrigerator, and floor-to-ceiling windows.
Deluxe Outside Stateroom include queen-size bed convertible to two lower beds, bathtub & shower, TV, minibar, room safe, radio and 24-hour room service.
Outside Stateroom include two lower beds convertible to a queen-size bed, bathtub & shower, TV, minibar, room safe, radio and 24-hour room service. Inside Stateroom Staterooms include two lower beds convertible to a queen-size bed, bathtub & shower.
MSC Crociere, SA, of Naples, Italy is an Italian-owned cruise line operating a fleet of eleven cruise ships. It is part of the Mediterranean Shipping Company family, a privately-owned shipping group founded in 1970 and headquartered in Geneva.
Specializing in ocean and intermodal transportation worldwide, Mediterranean Shipping Company is the 2nd largest container carrier in the world, with more than 300 container ships.
MSC Cruises was founded in 1990 by its owner and Chairman, Gianluigi Aponte. The company is entirely European-owned. It employs 12,000 staff around the world and has offices in 42 countries.
MSC Cruises is proud of its Italian heritage, which is reflected in the company's reputation for sophisticated design and outstanding hospitality. Innovations in both exterior and interior designs for the MSC Cruises fleet have earned prestigious awards for naval architects De Jorio Design International.
MSC Cruises is the only company in the world to receive the "6 Golden Pearls" award from the Bureau Veritas in recognition of its high level of quality management and environmental protection.
As a family-friendly cruise line, MSC Cruises cares about children and in providing a lasting and positive impact in the lives of those kids in need. It recently forged a three-year, million-dollar partnership with UNICEF to fund a community project in Brazil while increasing awareness of this cause onboard its ships.