Coco Cay Cruise Ship Destination Port
Cruise Ship Port of Call information like Port News, Weather, Transportation Options, Things to Do and See, Area Events, Medical Care, Crime and Safety Review
Need to know
Hurricanes
The Islands of the Bahamas are situated in an area prone to hurricanes. Rainy season is from May to November, and periodic hurricanes between June and November.
In the event of a tropical storm or hurricane alert, Shipdetective will post NWS updates and information for travelers on our Tropical Storm Update page.
Getting around
Ships anchor and passengers are tendered to the island.
All activities are organized by your cruise line.
Island Features
Swimming and Watersports
For your safety, specific beaches have been designated for swimming and snorkeling. A snorkeling safety vest is required and can be rented for a nominal fee at the Snorkel Shack.
Shopping
Bahamian Straw Market. Cash only.
Lunch
BBQ style buffet served at Blackbeard's Grille. Beverages can be purchased with your SeaPass card only.
Adventure Ocean
Kids ages 3-147 will have activities supervised by the Youth Staff at the Island's Adventure Ocean Facility.
Lounge Chairs
Complimentary. They cannot be reserved. This applies to hammocks found throughout the Island.
Coco Cay, Bahamas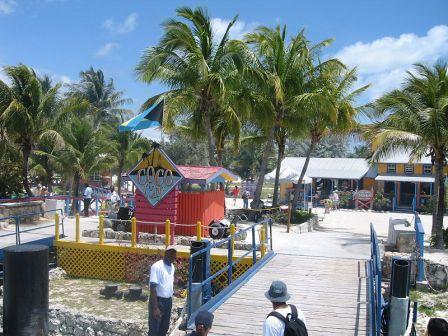 The Berry Islands are located about 55 miles north of Nassau and about 55 miles south of Freeport. Coco Cay (Little Stirrup Cay), Bahamas, is one of the Berry Islands, a collection of cays and small islands. It is less than a mile wide from east to west and less than 200 yards from north to south. Little Stirrup Cay is adjacent to Great Stirrup Cay, Norwegian Cruise Line's private island.
Royal Caribbean Cruises Ltd., assumed the lease of the island upon acquisition of Admiral Cruises and renamed it "CocoCay".
Good to Know
Cruise Line: Royal Caribbean Cruise Line, Celebrity Cruises, Azamara Club Cruises.
Port of Entry
Ships anchor off the island and bring passengers ashore by tenders.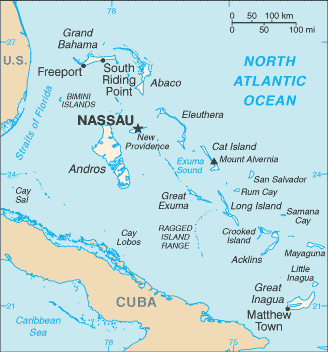 Time Zone
UTC - 4 (EST)
Map Coordinates
25.49'N, 77.56'W
Average Temperatures
Water: 83°- Summer; 77°- Winter
Air: 85°- Summer; 78°- Winter
Example Excursions/Activities
All of the activities listed below require a fee.
Aqua Park - Caylana's Castle Cove
Largest Aqua Park in the Bahamas. Bounce on our huge in water trampolines. Rock and roll on our floating "Water Totter". Test your balance as you run across the log roll. Climb high and slide down the huge sand castle. Fun for adults and kids.
Waterslide
Large inflatable 40-foot high water slide. Available all day at your leisure.
Aqua Park/Water Slide Combo
Bounce on our huge in water trampolines. Rock and roll on our floating "Water Totter". Test your balance as you run across the log roll. Climb high and slide down the huge sand castle. Also included is the world's largest inflatable water slide. Slip, slide and away you go on this 40-foot high water slide. The SeaTrek Water Slide is available at your leisure all day. This is an online exclusive tour.
Snorkeling
Professional instructors will guide you every step of the way, with equipment instruction and a marine life area orientation. An abundance of beautiful coral reef and tropical fish to see, this package includes all the snorkeling equipment and all day use. Be sure to see the fish-feeding extravaganza at our sunken plane wreck. A must see at CocoCay!
Eco Adventure Boat Tour
Experience the culture and history of the Berry Islands while cruising the mangrove estuary aboard a fully covered catamaran.
Nature Walk
A Naturalist and Historian Local Guide will escort you on a leisurely colorful tour of the remote island of CocoCay. The tour escort will take on a comfortable paced walk and explain to you the Nautical location of the island, how it played a major role in the golden era of legendary pirates, like Blackbeard and how these islands were used for operations by drug runners.
Scuba Dive Excursions
Offered with or without equipment.
Glass Bottom Boat Tours
This 1 1/2 hour tour is family friendly. You will encounter different tropical fish and coral species, sea stars, conch, migrating rays, and turtles. The guide will narrate to you during the tour about the colorful underwater world.
Parasail Adventure
This tour will take you up 400 feet above CocoCay for a breathtaking and memorable flight. Guests between the ages of 12-15 must fly with parent or guardian. Minimum age 12 years. Everyone flies tandem. Boat ride will be approximately 45 minutes to 1 hour. Flight time 5-6 minutes. Maximum combined weight is 375 lbs.
Kayak Adventure/Kayak and Snorkel Combo
Interactive guided kayak tour in the waters around CocoCay. Snorkel combo includes snorkeling equipment for all day use.
Wave Runner Tour
Board your Personal Watercraft for an informative and exciting 50-minute guided tour of the Berry Islands neighboring CocoCay. This booking is for a passenger only. Maximum 2 people per watercraft, combined weight must not exceed 375 lbs. Passengers between 10-15 years of age must be accompanied by a parent or guardian
Floating Beach Mat
$10.00 for adults/kids all day use.