Azamara Cruises
Company Overview and Cruise Ship Fleet
Smoking is not permitted except in designated areas onboard. Cigarettes, cigars and pipe tobacco must be properly disposed of and never thrown overboard. A guest must be at least 18 years of age to purchase, possess or use tobacco.
Smoking is not permitted inside any guest stateroom; nor on any guest veranda. If a guest is in violation of this policy, a cleaning fee of $250 USD will be applied to their SeaPass account and the guest may be subject to further action pursuant to the "Consequences Section" of this Guest Interaction Standards.
Bottled water offered at no charge throughout the voyage, whether in public venues or in staterooms
Specialty coffees and teas
Gratuities included
Shuttle bus service to/from port communities, where available
Destination-influenced entertainment and enrichment programs
House wine at lunches and dinners
Self-service laundry
Complimentary AzAmazing Evenings® event (on most voyages)
Concierge services for personal guidance and reservations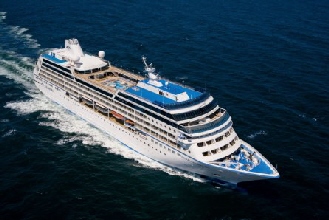 Azamara Cruises is a destination-immersive cruise line for upmarket travelers who want to not only see the places and cultures they visit, but to live them. Launched in 2007, Azamara offers a boutique European hotel ambience with extraordinary service, fine cuisine and wines from around the world, and wellness and vigor programs. Azamara Cruises consists of three intimate ships, Azamara Pursuit, Azamara Journey and Azamara Quest. Each can carry 694 fortunate guests and because they are smaller and sleeker than larger ships, they can sail to ports that others cannot reach. Azamara focuses on immersive experiences with longer stays and overnight visits in ports of call. Many services are included, like gratuities, bottled water, coffee, teas, wines, and self-service laundry.
Mid-size ships
Praised for its dining experience since its founding, Azamara places a heavy emphasis on fine cuisine with a focus on wine. Featured wines are offered complimentary at lunches and dinners on every sailing.
Alcohol Policy
Azamara Cruises offers international liquors, wines, and beer onboard. Passengers may bring liquor, beer, or wine onboard. A $10 corkage fee applies to shipboard restaurants, bar, or dining venues unless gifted from Azamara's Bon Voyage Gift selection.
Basic stateroom amenities include flat-screen television, refrigerator with mini-bar, thermostat-controlled air conditioning, direct-dial telephone and voicemail, desk, in-room safe, hand-held hairdryer, Egyptian cotton bed linen with duvet, terry bathrobes and slippers, 24-hour room service, welcome fruit basket at embarkation, fresh-cut flowers, tote bag, complimentary use of umbrella and binoculars, complimentary shoe shine-service, turndown treats, daily news bulletin.
Additional Suite amenities include English butler service, priority check-in and departure, unpacking and packing of luggage, complimentary garment pressing for two items, welcome sparkling wine and fruit basket, daily savories between 4-6 pm, en-suite afternoon tea service, en-suite dinning from restaurant menus for breakfast, lunch and dinner, complimentary seating throughout the voyage in specialty dining restaurants, opportunity to book en-suite spa services (additional charges for some amenities may apply), one bottle of Vodka and one bottle of Scotch Whiskey.
Suite guests enjoy complimentary specialty dining in Azamara's intimate Prime C steakhouse and the Mediterranean-influenced Aqualina Restaurant.
Azamara Club Cruises sails European destinations, including the Baltic and Scandinavia, British Isles, Western Europe, French and Italian Riviera's, Greek Isles, Croatia, Holy Land and Black Sea, as well as Asia, South America and lesser-traveled islands of the West Indies, with more overnight and late-night stays in every region. Travelers also can choose even more immersive experiences with Azamara cruisetours in eight of the world's most exciting destinations, including Rome, Athens, Buenos Aires, Cairo, Istanbul, Jordan and Israel, India, and China.
Azamara offers two programs to provide passengers with a more immersive experience in their ports of call. Insider Access brings culture seekers into an ancestral home, workshop, or place of business of a local insider who will share stories of the destination. Nights and Cool Places takes advantage of Azamara's overnight visits of ports of call with special excursions after dinner hours.
Founded in May 2007 as a subsidiary of Royal Caribbean Cruises Ltd.'s Celebrity Cruises brand, Azamara Club Cruises was originally envisioned as an expansion of the Celebrity Cruises' sub-brand Celebrity Expeditions. However, because these ships were so distinct, it was decided that they deserved a line of their own.
As of April 2010, Azamara Club Cruises revamped operations by rebranding itself and its product. The line now focuses on becoming a value leader in premium cruising. Azamara Club Cruises offers overnight stays at a range ports of call in an effort to promote their foremost brand pillar "destination immersion."
Azamara Club Cruises raised cruise fares with the rebranding, but now includes complimentary wines during lunch and dinner, English Butler service in suites and beverages such as soda, water and coffee.