Venice Florida Fun Things to Do and See
A list of area attractions and fun things to do with family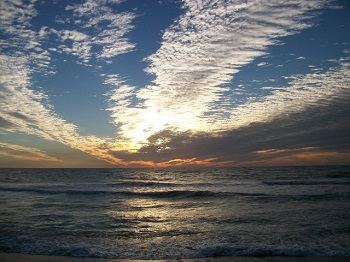 There are hundreds of different options for your entertainment in the Venice Florida area.
City parks are at the center of Venice life for families, visitors, music lovers, active people, shoppers, picnickers and nature lovers. More than 30 local parks offer a wide variety of activities.
Venice's premiere attraction may be its sandy Gulf beaches. More than 7 miles of family-friendly beaches offer Florida sunshine, swimming, fishing, paddle boarding and sunsets.
Venice Island's Triangle Inn is a great spot to pick up valuable maps and information.
Family Friendly
If the kids are not knocked out after the beach, take them to an indoor trampoline jumping zone. Yes, we offer movie theatres and a bowling alley for the rainy days. You may discover other available activities that you did not expect to find: How about a trapeze lesson? A thrilling game of disc golf? Croquet anyone?
Venice Main Street – downtown Venice offers quaint shops and restaurants.
Venice Theater - 140 Tampa Ave.
Venice Community Center - 326 Nokomis Ave. S.
South Jetty - located at the northern tip of Venice Island on Tarpon Center Dr.
Centennial Park - Water fountains for kids, special event gazebo
Galleria Stadium 12 movie theater - located in south Venice
AMF Venice Lanes in Venice
Shopping
A little retail therapy never hurt anyone and the Venice area is full of interesting shops in the downtown Venice area. Bargain hunters may find a few opportunities to make a deal.
The main shopping district is along West Venice Avenue, but be sure to wander toward both West Tampa and West Miami Avenues as you browse.
Downtown Venice is full of little one-of-a-kind shops that are fun to discover; you'll find everything from kitschy souvenirs to tropical fashion. Locals are very partial to the "re-sale" shops and bragging rights to thrift store bargains. And, for more unique shops, pay a visit to Historic Dearborn St. in nearby Englewood. You'll find the big box and national chain stores along Rt. 41 and the Bypass, and the closest mall is Westgate Sarasota Square, just over the Sarasota line.
Performing Arts
Venice offers big city cultural opportunities in a small town setting: be sure to enjoy the award-winning Venice Theatre, the Venice Symphony Orchestra and the fine arts exhibitions at the Venice Art Center and West Tampa Avenue galleries. Venice
Theatre continues its long-standing tradition of offering high quality and variety in community theatre with its 2013-14 season offerings. Under the Executive/Artistic Direction of Murray Chase, Venice Theatre is known as the largest and most active community theatre in the southeastern U.S. – how lucky are we to have it right here.
Venice after 5
There is some nightlife after sunset but Venice is not exactly a late night hot spot, especially after the snowbirds have gone home. It can be tough to see any signs of life after 9 pm, but we can point you in the right direction for late night food and entertainment. The Venice Theatre is in production year round and the Symphony performs from November through April. The Venice Community Center's doo-wop dance parties and popular music concerts are local favorites.
You can find live music happening just about every night of the year, and local spots feature regular jazz and blues nights. Local bars offer regular trivia competitions and big screen TVs for the sports fans.
Club and Bars/Lounge located on the island include:
Crow's Nest Tavern * Daiquiri Deck * Old Venice Pub * Pineapple's * Sharkey's on the * Fins
Off the Island
Bogey's * Club 41 * Fat Sam's * Flannigan's * Marker 4 * Venice Sports Bar * Wally's
Casey Key/Nokomis/Osprey Bar/Lounge
Irene's * Pelican Alley (Casey Key) * Pop's Sunset Grill (Casey Key) * Saltwater Cafe * Morgan's
Outside the Venice area
Venice is a destination in its own right but there is much more to see and do in Southwest Florida. When you have the urge to explore, start with nearby Sarasota which offers gems such as Siesta Key Beach, Selby Botanical Gardens, Mote Marine Aquarium and The Ringling. Still south of the Sunshine Skyway Bridge, you'll find Bradenton's vibrant new Riverwalk District and the "Old Florida" charm of Cortez and Anna Maria Island. Cross the Sunshine Skyway into the Tampa/St. Pete area, where you'll find museums, beaches and professional sports, just over an hour north. To the south are Punta Gorda's Fisherman's Wharf and Charlotte Harbor cruises and the beautiful beaches of Ft. Myers and Sanibel/Captiva. It's about 2 hours' drive south to Naples' high-end shopping and the gateway to the Everglades. And, about 2 hours to the northeast is the world's #1 tourist attraction, Orlando.
Boca Grande/Gasparilla Island State Park
The centerpiece of Gasparilla is the restored Boca Grande Lighthouse built in 1890. Activities include swimming, snorkeling, fishing, shelling and nature study. There are two picnic areas. Located on the south end of Gasparilla Island on the Boca Grande Causeway (toll road) at CR 775 and Placida. Gasparilla Island State Park website
The John and Mable Ringling Museum of Art
941-359-5700
Located in a 66-acre estate on Sarasota Bay, The John and Mable Ringling Museum of Art was established in 1927as the legacy of John Ringling and his wife, Mable. Recognized as the official State Art Museum of Florida, the Museum of Art offers 21 galleries of European paintings as well as Cypriot antiquities, Asian Art, American paintings and contemporary art. The Ulla R. and Arthur F. Searing Wing hosts a variety of traveling exhibitions throughout the year. The estate also features the Ca`d'Zan ("House of John"), a waterfront mansion that was restored in 2002; two Circus Museums featuring artifacts chronicling the history of the circus; plus a rose garden and landscaped ground overlooking Sarasota Bay. Located at 5401 Bay Shore Road in Sarasota. Ringling website
Powel Crosley Museum
21-room, 1929 Mediterranean Revival estate of Powel Crosley Jr. on Sarasota Bay. www.crosleymuseum.com
Big Cat Habitat
Located 20 miles N. of Venice Florida, Kay Rosaire's Big Cat Habitat and Gulf Coast Sanctuary – Animal rescue operation. Help keep this organization going and visit the sanctuary at 7101 Palmer Blvd. Sarasota 941-371-6377. www.bigcathabitat.org
Lipizzan Stallions
Located 22 miles N.E. of Venice Florida in Myakka City, Herrmanns' Royal Lipizzan Stallions are descendants of those bred for the Hapsburg Royal Family of Austria, and directly descend from the few saved during World War II by Col. Ottomar Herrmann Jr. and his father under the protection of U.S. Gen. George S. Patton. You'll see amazing leaps and complicated maneuvers by these strong and talented horses, including Capriole, in which the horse soars high in the air and strikes out with its hind legs. Shows during winter months on Thursdays, Fridays and Saturdays. 32755 Singletary Road, Myakka City, about 20 miles from Sarasota. 941-322-1501. www.hlipizzans.com
Arcadia
Located 50 miles east of Venice Florida, Arcadia is a rural area known for great antique shops, Rodeo, and agriculture/farmland located about an hour east of Sarasota.
Ft. Myers Beach
Located 80 miles S.W. of Venice. White powdery sand beach with plenty of coastline. Public access to the beach and parking is very limited along the main drag which is filled with Hotels, Motels, Inns, Stores, Restaurants, Bars and Gift Shops. Located about an hour drive from Venice south on I-75 and then West about half an hour. Worth the drive. Check out the Shell Factory before or after the beach.
Sanibel Island
Located 90 miles S.W. of Venice. Exclusive, high end resort area. Must pay a toll to get on the island. Beaches are full of shells. Beautiful views all over the island. Limited public access and parking areas. Get there early.