Windstar Cruises
Company Overview and Ship Fleet
Smoking Policy
Smoking is not permitted in any of the staterooms or public spaces, including all restaurants and corridors. Smoking is permitted on the outside decks in designated smoking areas only.
Children's Programs
Children, especially infants and toddlers, are not encouraged aboard Windstar cruises. The intimate ship size and unregimented atmosphere are adult in orientation and do not provide for the care, supervision, or entertainment of children.
Children occupying staterooms as the third person are charged the applicable "third person" rate, which is available on request. Travel for Children under 24 months is limited. Please contact Windstar Reservations for availability.
ships > Windstar Cruises
Windstar Cruises Overview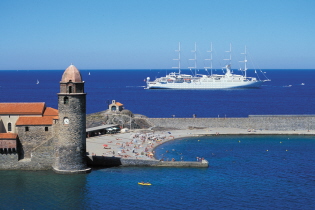 Photo credit: Windstar Cruises
Seattle-based Windstar Cruises operates three sailing yachts and, in the coming two years, three small cruise ships. Windstar is known for their pampering without pretense and their ability to visit the hidden harbors and secluded coves of the world's most treasured destinations. Unique touches include an open bridge where passengers can visit at any time and a watersports platform in the ship's bow.
Carrying just 148 to 312 guests, Windstar ships exude a private-yacht-like atmosphere creating camaraderie and lasting friendships between fellow sailors. Every day aboard Windstar brings the promise of new horizons and harbors to explore.
Teak decking, rich wood interiors, an attentive service staff, intimate surroundings, eclectic artwork, exceptional signature cuisine featuring both light and vegetarian menu selections, and an extensive wine list are some of the extraordinary elements which have become synonymous with Windstar.
An interesting mix of shore excursions and complimentary water sports activities are available at each destination. Passengers may find themselves slicing through Caribbean waters aboard an actual America's Cup racing yacht, or exploring archaeological ruins in Greece, the "Cradle of Civilization." Water buffs can enjoy complimentary water-skiing, windsurfing, snorkeling, and kayaking from the ship's aft Water Sports Platform.
Windstar is renowned for its personalized service. It was ranked #1 in the Condé Nast Traveler Reader's Choice Awards in the small ship category. The cruise line will visit 50 nations at 150 ports in Europe, South Pacific, Southeast Asia, Arabia, the Caribbean, and Central America.
Fleet Amenities
Your Windstar Voyage Includes:

All meals in all venues at all times, including 24-hour room service
All non-alcoholic beverages, including cappuccino, espresso, and other specialty non-alcoholic drinks
Welcome cocktails at reception
All onboard entertainment
Unlimited use of Fitness Center
Unlimited use of all water sports equipment
Informative port lectures and destination briefings
Luxury As You Like It®
Windstar offers a range of personal amenities. Purchase shore excursions as a collection or as an individual tour. Alcoholic beverages are available a la carte or through a beverage package.