Tortola Cruise Ship Destination Port
Cruise Ship Port of Call information like Port News, Weather, Transportation Options, Things to Do and See, Area Events, Medical Care, Crime and Safety Review
News
New and Improved Craft Market Opens
Posted Feb 26, 2013
The "Craft Alive Village" in Road Town has been upgraded from a "tent city" to a full service market for tourists. The market hosts about 60 vendors, up from 36 last year, and is located near the cruise ship dock.
Getting around
Taxi Service
Rates are not metered and prices are very reasonable since most attractions are centrally located to Road Town. Make sure to negotiate your fare before you leave.
Ferry Service
Ferry Service from Road Town to St. Thomas, St. John, and Jost Van Dyke. Leaves from:
Road Town Monday - Saturday 7am 10am and 2:30pm and leaves from Charlotte Amalie at 8:40am 12pm and 4:15pm. Sundays 9am and 2:30pm and leaves Charlotte Amalie at 12pm and 4pm.
Location: Edward Blyden Marine Terminal
Charlotte Amalie - Ferry Counter #4d
Driving
Vehicles drive on the left (the British side) with most steering wheels on the left (the "American" side). Road signs are limited and seatbelts are required by law. Drivers often fail to yield the right-of-way to pedestrians, even at painted crosswalks.
Speeding and reckless driving are fairly common in the BVI. Drivers can encounter nighttime drag racing on main thoroughfares and livestock on roads.
Roads in Tortola's interior can be steep and extremely slippery when wet. Travelers planning to drive across the island should consider requesting four-wheel drive vehicles and should ensure that tires and brakes are in good operating condition on any rental vehicle.
For a fee of $10.00, a temporary British Virgin Islands Driving License can be obtained from the Traffic Licensing Office or Car Rental Agencies with a valid Driver License from another country. Driving is on the left-hand side of the road. Minimum age for Car Rentals is 25.
Need to know
Hurricanes
The BVI are situated in an area prone to hurricanes. Rainy season is from May to November, and periodic hurricanes between June and November.
In the event of a tropical storm or hurricane alert, Shipdetective will post NWS updates and information for travelers on our Tropical Storm Update page.
Medical Services
Medical care in the British Virgin Islands consists of a small general hospital with an emergency room staffed 24-hrs/day by physicians, several clinics on Tortola, and one clinic in Virgin Gorda.
A volunteer organization, Virgin Islands Search and Rescue (VISAR), responds 24-hrs/day to medical emergencies at sea or on outer islands. VISAR transports casualties to the nearest point for transfer to ambulance. To reach VISAR, dial SOS (767) or call on Marine Channel 16.
There is no hyperbaric chamber in the BVI. Patients requiring treatment for decompression illness are transferred to St. John, U.S. Virgin Islands.
Most sensitive medical cases are transferred to San Juan, Puerto Rico.
Snorkel and Dive Spots
Wreck of the Rhone
Wreck of the Rhone National Park Closed After Cargo Ship Runs Aground. Posted August 30, 2011
A 400 foot cargo ship ran aground inside the Rhone National Park yesterday. According to major media reports, the Wreck of the Rhone and nearby areas were not effected. The park is closed indefinitely according to a park official.
Grand Central Station
Guana
Wreck of the Rhone
Salt Island
Loblolly Bay
Anegada
The Baths
Virgin Gorda
Wreck Alley
Cooper
The Indians
Norman Island
The islands of the Caribbean are located in a region southeast of the Gulf of Mexico and Northern America, east of Central America, and to the north of South America.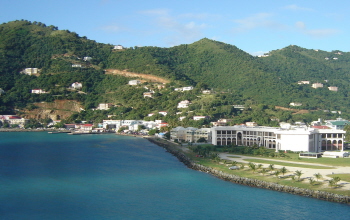 The British Virgin Islands (BVI) are a British overseas territory, part of the British West Indies, lying about 60 miles east of Puerto Rico. There are about 50 islands in the BVI, many of them uninhabited. Tortola is the largest island; other islands include Virgin Gorda, Jost Van Dyke, and Anegada.
Flanked around the Sir Frances Drake Channel in the British Virgin Islands. Often referred to as the sailing capital of the Caribbean, the British Virgin Islands offer nearly perfect sailing conditions: consistent trade winds blowing from the northeast at 10 to 25 knots, clear water and about 60 islands and cays to explore in an area that's 32 miles long and 15 miles wide.
Good to Know
The removal of any marine organism from British Virgin Islands waters is illegal for non-BVI islanders without a recreational fishing permit. Fishing without a permit may lead to heavy fines or imprisonment. Contact the Ministry of Natural Resources and Labour, (284) 468-3701.
Port of Entry
Road Harbor in the capital city of Road Town.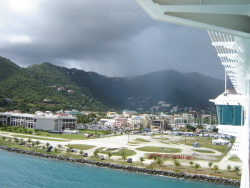 Time Zone
AST (GMT/UTC -4)
Map Coordinates
18.25 N, 64.35 W
Average Temperatures
Water: 83º Summer - 78º Winter
Air: 86º Summer - 80º Winter
Things to do and see
Main Street in Road Town
Post Office (built in the 1800's), St. Phillips Anglican Church (built in the 1840's), and the Virgin Island Folk Museum.
The Dungeon
Built in 1794 and housed garrison soldiers. Located in Pocjwood Pond halfway between Road Town and the West End.
Fort Burt
Built in 1776 by the English offering scenic views of the Harbor. Located in Road Town.
Fort Recovery
Military Gun Post and the oldest historical landmark in Tortola (built in the 1640's).
BVI Folk Museum
Road Town
Sage National Park
The Park encompasses the highest point of a ridge running east/west along the spine of Tortola. The elevation of the Park ranges from 750 feet at the western end to 1716 feet at Mount Sage, which is the highest point in the Virgin Islands, US and British.
Mount Healthy National Park
The 18th century mill overlooks the north shore of Tortola and the Windmill is the only one of its kind remaining in the entire British Virgin Islands.
Queen Elizabeth National Park
The Park is located on the seaward side of the road at McNamara in Road Town, and serves as an attractive place for relaxation and recreation. The grassy lawn of the Park is fringed by native trees that offer shade and a perfect ambience for picnics, weddings and birthday parties. There is a small gazebo, picnic bench and playground area.
J.R. O'Neal Botanic Gardens
The Botanic Gardens are on the site of the old Agricultural Experiment Station, where food crops and other plants were grown experimentally and for propagation for almost 100 years. Named after the territory's leading conservationist, the J. R. O'Neal Botanic Gardens offer a most delightful haven from the hassle and bustle of Road Town.
Plantations and Distilleries
Callwood's Rum Distillery
Josiah's Bay Plantation - Originally a sugar factory and converted to a Rum distillery in the early 1900's. Still in operation. Includes Art Gallery and Gift Shop.
Thorton Plantation
Ruin's of the Pleasant Valley Sugar Factory.
Shopping
Main Street has an array of shops and restaurants, offering everything from local spices, jams, rums, and soaps to hand-crafted jewelry, silk-screened fabrics, and local art. Check your ship port shopping guide or talk with your ship staff for recommended stores.
Beaches
Smuggler's Cove
A secluded and sheltered cove with warm and clear water located at the western end of the island on the north side.
Brewer's Bay
Scenic spot on the north shore once the site of several sugar plantations and distilleries. Explore the coral reefs - some of the best snorkeling on the island.
Cane Garden Bay
The beach at Cane Garden Bay is considered to be one of the best in the Caribbean. Good swimming beach with a coral reef at the west end of the bay for snorkeling. There are restaurants, bars, B&B's, and small hotels nearby.
Apple Bay
Surf spot just over the hill from Long Bay. Great for surfing when there is a north swell. Not suitable for swimming unless the sea is calm. Rent beach chairs and restaurants at Apple Bay.
Lambert Bay (Elizabeth's Bay)
Favorite picnic spot for residents located on the north shore. Offering a sheltered area with a white sand beach.
Elizabeth Beach
Good for swimming and sunning - located on the east end of the island.
Josiah's Beach
Known surf spot on the north shore during the winter time. Beach bar and restaurants nearby.
Long Bay Beach
Mile wide stretch of sand good for swimming.
Area Events
BVI Spring Regatta and Sailing Festival
Mar - Apr annual event. Two great events in one, the BVI Spring Regatta & Sailing Festival starts on Monday, March 31, with a welcome party at Nanny Cay Marina. Three days of destination cruising and racing follow, leading up to the main three-day regatta starting on Friday, April 4th.
BVI Music Festival
Annual event in May. Cane Garden Bay Beach
The BVI Music Festival invites all music lovers to dance to the beat of genuine Caribbean tunes. Website.