Cruise Company Overview - RCCL
Company Overview and Ship Fleet
ships > Royal Caribbean
Royal Caribbean International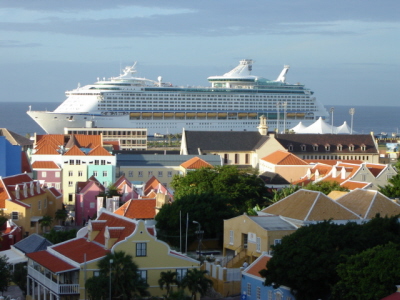 Royal Caribbean International is a global cruise brand with 21 innovative ships, calling on more than 235 destinations in 69 countries across six continents. The line also offers unique cruise tour land packages in Alaska, Canada, Dubai, Europe, and Australia and New Zealand.
Royal Caribbean International is an industry leader in innovative, unexpected onboard activities and amenities, from fleet-wide rock-climbing walls to state-of-the-art fitness centers and spas to dedicated Internet connections in guest staterooms. The RCI brand is distinguished by Gold Anchor Service, energizing onboard and shoreside adventures, and remarkable destinations all over the world.
Royal Caribbean International is part of Royal Caribbean Cruises Ltd. (NYSE/OSX: RCL), a global cruise vacation company that also operates Celebrity Cruises, Azamara Club Cruises, Pullmantur, CDF Croisieres de France, as well as TUI Cruises through a 50 percent joint venture with TUI AG. The company owns a combined total of 40 ships and has one under construction and two under agreement.
RCCL Family Amenities
Royal Caribbean has an extensive list of children's activities and play areas, as well as family activities that bring parents and children together. Follow the link for more about Royal Caribbean Kid's Programs.
Families with young children can benefit from the Babies 2 Go program. Parents can pre-order organic baby food, diapers, wipes, and creams from Huggies for stateroom delivery pre-arrival, saving on packing space.
The Toy Lending Program provides age-appropriate toys for toddlers 6-36 months. Parents can borrow or exchange toys every day to keep young minds stimulated.
My Family Time Dining provides flexibility with dinner. Eat together as a family while the kids enjoy expedited service in time to meet up with an Adventure Ocean counselor at 6:45, freeing up the adults for coffee and desert.
RCCL Dining Options
Main Dining Rooms
An elegant main dining room is featured on every ship in the fleet. On some ships, the main dining room spans multiple stories, with an individual name for each one. All meals (including coffee, tea, water, iced tea or lemonade) in the main dining room are included in the price of your cruise. Specialty beverages, beer, wine and soft drinks are offered at current bar menu prices.
Hours of Service - Hours may vary according to the ship and itinerary, so be sure to check your Cruise Compass and Daily Planner.
Breakfast: 7:30 a.m. - 9:30 a.m.
Lunch: Noon - 2:00 p.m.
Dinner: Main Seating 6:15 p.m., Second Seating 8:30 p.m.
The Windjammer Cafe is located on every ship of the Royal Caribbean Fleet and serves typical buffet style fare offered for breakfast, lunch, dinner and snacks throughout the day.
Hours may vary according to the ship and itinerary, so be sure to check your Cruise Compass and Daily Planner.
Continental Breakfast: 6:30 a.m. - 7:30 a.m.
Full-Buffet Breakfast: 7:30 a.m. - 10:30 a.m.
Lunch: Noon - 2:00 p.m.
Afternoon Tea and Snacks: 4:00 p.m. - 5:00 p.m.
Dinner: 6:00 p.m. - 9:00 p.m.
Late-Night Snacks: 1 a.m. - 4 a.m.
Chops Grille ($25.00 per person service charge) and Portofino ($20.00 per person service charge) offer amazing food in a restaurant atmosphere. If you've got a sweet tooth, grab a scoop at Ben & Jerry's or a creamy shake at Johnny Rockets ( $3.95 per person service charge). Price subject to change.
Please see detailed information for specialty restaurants on each individual ship page.
To purchase a drink package, visit any one of the onboard bars and lounges and the package will be charged to your SeaPass account. After you've purchased a drink package, a sticker will be placed on your SeaPass Card to show which package you've selected. Then all you have to do is show your SeaPass Card as you normally would when ordering a drink.
This package entitles guests 18 years of age and older to unlimited consumption of fountain sodas (no cans) and juices at all bars and lounges, Windjammer, Main Dining Room and Private Destinations (CocoCay and Labadee®).
This package is available for purchase on the day of embarkation at all bars and lounges and may be charged to your SeaPass account. After this package has been purchased, a sticker will be placed on your boarding card allowing you to consume fountain sodas (no cans) and juices throughout your cruise. A complimentary Coca Cola souvenir cup is included as part of the package.
Juices that are included in this package are orange juice, grapefruit juice, pineapple juice and cranberry juice. Please note that juices are always complimentary at Breakfast. The cost of the package is $6.00 per person, per day, and is applicable to the total days of the cruise vacation. A 15% gratuity charge will be added.
The cost of the package is $4.00 per person, per day, and is applicable to the total days of the cruise vacation. A 15% gratuity charge will be added. *Terms and prices subject to change.
Royal Caribbean International has always had an uncanny way of outdoing itself. Again and again. Ever since the very beginning, back in 1968 when the company was founded by three Norwegian shipping companies, Royal Caribbean has pushed boundaries and wowed guests.
On its first new ship Song of Norway in 1970, the striking Viking Crown Lounge made its debut dramatically clinging to the exterior of the smokestacks. Today, the Viking Crown Lounge still occupies one of the topmost decks of Royal Caribbean's ships and continues to be one of the line's trademarks.
Just eight years after its debut, Song of Norway was the first passenger ship to be "stretched" by being cut in two and fitted with a new 85-foot mid-section. Suddenly the 700-passenger ship could accommodate more than 1,000 guests, though it wasn't long before it was dwarfed by yet another impressive build. By 1982, when the brand new 1,400-passenger Song of America was introduced it was twice as large as Royal Caribbean's previous new build.
In 1986, Royal Caribbean came up with its own Caribbean hideaway, Labadee, on the secluded north coast of Haiti. Four years later, the Bahamian island of CocoCay was developed as another shore side paradise for the exclusive use of Royal Caribbean guests.

In 1988, Royal Caribbean introduced the 73,192-ton, 2,350-passenger Sovereign of the Seas. Sovereign of the Seas was the largest passenger ship built in the previous 50 years and was at least twice the size of all the other vessels in Royal Caribbean's fleet at the time. The ship's signature was the five-deck atrium called the Centrum. Glass elevators and sweeping staircases were anchored by marble pools, gurgling fountains and lush foliage. It was the first time such a huge atrium had been constructed on a passenger ship and the airy, modern look remains a Royal Caribbean standard today.
In 1993, Royal Caribbean became a public company trading on the New York Stock Exchange under the symbol "RCL."
The mid-90s were the start of a building boom that's still going strong. Six Vision-class ships debuted within a three-year span beginning in 1995, including both the 74,140-ton, 1,950-guest Grandeur of the Seas and the 69,103-passenger 1,804-passenger Splendour of the Seas in 1996.
In 1997 the company changed its name from Royal Caribbean Cruise Line to Royal Caribbean International. That same year, Celebrity Cruises merged with Royal Caribbean Cruises Ltd.
In November 1999, the 142,000-ton, 3,114-passenger Voyager of the Seas arrived to great fanfare. The most exciting cruise ship ever built, the world watched as unheard-of-before-at-sea features were unveiled, from a rock-climbing wall on deck to an indoor ice-skating rink and a four-deck high interior promenade with a series of cabins facing down on the fun. Even the propulsion system was cutting edge, boasting fuel-efficient, highly maneuverable Azipod technology. Over the next four years, four more Voyager-class ships were launched.
The crescendo of building broadened even more in 2001, when the first of the 90,090-ton, 2,100-passenger Radiance-class ships debuted. Another three Radiance-class ships were rolled out over each of the next three years.
Royal Caribbean opened Cape Liberty Cruise Port in Bayonne, N.J. in 2004. Ships are based there for both Bermuda and Caribbean voyages.
The year 2006 marked the debut of the first Freedom-class ship. The 160,000-ton, 3,600-passenger ships are even larger, more action packed than their Voyager-class predecessors. Royal Caribbean outfitted these ships with a Flowrider surfing machine, full-sized boxing ring and a poolside water park with sprinklers and other features.
With the debut of Oasis of the Seas, in 2009 and Allure of the Seas, in 2010, vacationers now have a choice of two Oasis-class cruise ships that offer unprecedented entertainment, dining and exclusive onboard amenities.
Formal nights based on length of cruise:
3 to 4-night cruises include one formal night
7-night cruises include two formal nights
10, 11, and 12-night cruises include three formal nights.
14 and 15-night cruises include three formal nights
Royal Caribbean Suggest the Following Guidelines:
Casual: Sport shirts and slacks for men, sundress or pants for women
Smart Casual: Jackets and ties for men, dresses or pantsuits for women
Formal: Suits and ties or tuxedos for men, cocktail dresses for women
Bare feet or bathing suits are not allowed at any time in the dining room and shorts are not permitted at dinner. Each ship also offers a variety of casual dining options, for example, the Windjammer Café.
Wireless Internet Access (Wi-Fi)
There will be six designated *"Hot Spots" which vary from ship to ship.

To use onboard Wi-Fi access, you'll need:
A laptop
Windows operating system
802.11b Wireless networking capability

The cost for Wi-Fi access through your own laptop varies and is subject to change. Visit guest services once onboard for more information.

The Internet Cafe/Workstation
These stations provide access to e-mail and the Internet, plus direct connections to favorite websites for stock, sports and entertainment updates. You can also send virtual postcards while at sea, and in ports-of-call worldwide. If you don't have an e-mail account, you can also establish one onboard. This service is available onboard all ships. Prices vary and are subject to change. Please visit the Internet Cafe for more information once onboard.