Cunard Line
Company Overview and Ship Fleet
Queen Mary 2 to undergo major refurbishment in early summer 2016
Posted July 15, 2015
Queen Mary 2 will undergo an extensive 25 day dry dock refurbishment at the Blohm+Voss Shipyard in Hamburg, Germany next summer, 27 May- 21 June 2016...read more
Three Queens Meet In Liverpool
posted May 25, 2015
Queen Mary 2 (top), Queen Victoria and Queen Elizabeth on the Mersey against the backdrop of the Three Graces.
Photo Credit: James Morgan for Cunard
Queen Mary 2 celebrates 200th Transatlantic crossing
posted July 8, 2013
Curnard's flagship Queen Mary 2 celebrated its 200th Transatlantic crossing from New York to Southampton, England. She is the only ocean liner in service and fastest passenger ship.
Smoking Policy
Smoking is no longer permitted in any public area with the exception of Churchill's Cigar Lounge (cigars only) and designated areas on the open decks. Smoking is permitted on private balconies.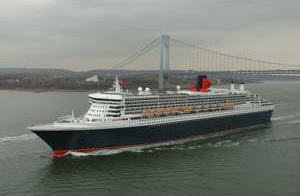 Cunard Line is a British-American owned shipping company based at Carnival House in Southampton, England and operated by Carnival UK. It has been a leading operator of passenger ships on the North Atlantic for over a century.
If travel is meant to be savored, then crossing the oceans should be a majestic experience, not merely a hop across the pond. For travelers of this persuasion, only one name evokes the pleasures of the Golden Era of Ocean Travel: Cunard Line. Proudly continuing the tradition of luxury cruising that began in 1840, Cunard's ships maintain the line's legacy and heritage.
Cunard caters to sophisticated, well-seasoned travelers who enjoy the finer things in life. The classic liners attract like-minded guests who enjoy the Cunard hallmarks of impeccable White Star Service, fine dining, sumptuous surroundings, civilized adventure and the legacy of historic voyages and Transatlantic travel.
In 2011, the ships of the Cunard fleet changed their registry to Hamilton, Bermuda in order to host weddings on board thus ending 127 years of Cunard British registry. The word "Southampton" across the stern was replaced by "Hamilton."
Queen Elizabeth
Queen Mary 2
Queen Victoria

Children's Programs
Dining Options
Queens Grill Restaurant
Queen Mary 2's most sumptuous suites command their own reserved table in the elegant, single-seating Queens Grill restaurant. When it comes to exclusive luxury touches, our Queens Grill Experience is in a league of its own.
Princess Grill Restaurant
If you're staying in one of the P categories, savor the sublime creations of the Princess Grill. Cunard's Grill restaurants have been long acclaimed by food critics as the finest dining experience at sea.
Britannia Club
This club-like private salon serves guests in our AA Britannia Club Balcony category. This intimate single-seating dining room offers special a la carte selections in addition to the succulent Britannia Restaurant menu, with personalized White Star Service.
Britannia Restaurant
Make a grand descent down the sweeping staircase of the splendid, three-deck-high Britannia Restaurant, Queen Mary 2's main dining room, reminiscent of the opulent dining salons of the past.
Kings Court
You can enjoy a casual breakfast, lunch or late-night buffet in Kings Court. At night it is transformed into four intimate dining venues: Lotus, with a tasting of multinational Asian cuisines, the Carvery, with British-style carved roasts, La Piazza with authentic Italian cuisine and the Chef's Galley, where guests can enjoy an interactive experience as the chef reveals culinary secrets before their very eyes. Reservations are required.
Golden Lion Pub
Fine lagers, ales and pub snacks are served in this charming British pub where you can enjoy a pint. There's even a traditional Pub Lunch served every day, with classic favorites such as fish & chips and cottage pie.
Sir Samuel
Sir Samuel's is a coffee bar by day and a wine bar by night. Enjoy breakfast selections of Danish and muffins. Afternoon offerings include a selection of freshly baked quiches and a variety of sandwiches, with a side of salad. The mid-afternoon menu offers a selection of deep dish cheesecakes, Alsace Apple Tart, and Austrian Sacher Torte. Evening brings a selection of fine wines, served with a side of olives and a variety of cheese.
Boardwalk Café*
Enjoy lunch at this casual eatery near the Sun Deck pool - in your swim wear if you choose. *Weather permitting
Queens Room
A proper British Afternoon Tea can be taken in the Queens Room. Naturally it's served with fresh scones, fresh pastries, finger sandwiches and our legendary white glove service.
Todd English Restaurant
The Mediterranean menu is designed by renowned Chef Todd English, famous for his restaurants in many U.S. cities.
Queen's Room-Afternoon Tea
Sample the beautiful tradition of Afternoon Tea with scones and clotted creams, cakes and delicate sandwiches served by white-gloved waiters.
History
In1839, Samuel Cunard of Halifax, Nova Scotia with the assistance of Robert Napier, an engineering genius who was responsible for creating the engines of some of the best new ships of his day, partnered along with financial backing from three accomplished businessmen: James Donaldson, George Burns and David Maclver. These five men founded the British and North American Royal Mail Steam Packet Company, later known as "Cunard Line". He was awarded the first British transatlantic steamship mail contract, and the next year formed the British and North American Royal Mail Steam-Packet Company to operate the line's four pioneer paddle steamers on the Liverpool–Halifax–Boston route.
1840 - Cunard was the first company to take passengers on regularly scheduled transatlantic departures.
In the 1870s Cunard fell behind its rivals, the White Star Line and the Inman Line. To meet this competition, in 1879 the firm was reorganized as Cunard Steamship Company, Ltd to raise capital.
In the late 1920s, Cunard faced new competition when the Germans, Italians and French built large prestige liners. Cunard was forced to suspend construction on its own new superliner because of the Great Depression.
In 1934 the British Government offered Cunard loans to finish the Queen Mary and to build a second ship, the Queen Elizabeth, on the condition that Cunard merged with the then ailing White Star line to form Cunard White-Star Ltd. Cunard owned two-thirds of the new company. Cunard purchased White Star's share in 1947; the name reverted to the Cunard Line in 1950.
By the mid 1950s, it operated twelve ships to the United States and Canada. After 1958, transatlantic passenger ships became increasingly unprofitable because of the introduction of jet airliners. Cunard withdrew from its year round service in 1968 to concentrate on cruising and summer transatlantic voyages for vacationers. The Queens were replaced by the Queen Elizabeth 2 (QE2), which was designed for the dual role.
In 1998 Cunard was acquired by the Carnival Corporation (accounting for 8.7% of that companies revenue in 2012) and five years later QE2 was replaced on the Transatlantic runs by the Queen Mary 2 (QM2). The line also operates the Queen Victoria (QV) and the Queen Elizabeth (QE). At the moment, Cunard is the only shipping company to operate a scheduled passenger service between Europe and North America.
Source: Cunard Line