St. John USVI Cruise Ship Destination Port
Cruise Ship Port of Call information like Port News, Weather, Transportation Options, Things to Do and See, Area Events, Medical Care, Crime and Safety Review
Need to know
Hurricanes
The USVI are situated in an area prone to hurricanes. Rainy season is from May to November, and periodic hurricanes between June and November.
In the event of a tropical storm or hurricane alert, Shipdetective will post NWS updates and information for travelers on our Tropical Storm Update page.
Personal Safety
Compared to St. Thomas, both St. John and St. Croix are relatively safe. On St. Croix, avoid dark streets and back alleys at night, as muggings occur frequently in these areas.
Night driving in isolated areas is not recommended, since carjacking occurs most often at night in such places.
Getting around
Taxis
The majority of St. John is a National Marine Sanctuary. Access to St. John is by boat or ferry only.
Island roads tend to be poorly surfaced due to the terrain, and may take sharp turns. If you do decide to drive, it is vital to remember that you must drive on the left side of the road. Speed limits on St. John range from 10 mph in downtown to between 35 mph. Please note posted speed limit signs.
There is a public bus service called Virgin Islands Transit VITRAN, operated by Department of Public Works. In addition to taxis and buses, St. Croix has shared taxis, locally known as "taxi buses" (these are also found on the other U.S. Virgin Islands).
Accessible Trails in the Virgin Islands National Park, St. John
The accessible trails at Francis Bay and Cinnamon Bay allow visitors in wheelchairs, families with young children and strollers and other people who are less "sure of foot" to enjoy the natural beauty and exotic fauna of the VI National Park. The Cinnamon Bay Trail opposite the entrance to the park is now wheelchair-accessible with a 610 foot ramp that winds thru the Cinnamon Bay Factory Ruins. The wide path combines concrete walkways with raised wood boardwalks. It also uses toe rails and grooved handrails to ensure that visitors are safe and comfortable.
Things to do and see
Shopping
Cruz Bay - the center of activity for the limited shopping available. Coral Bay on the eastern side of the island is another town on St. John but smaller. The area offers some of the same amenities.
St. John Waterfront Bistro
Located on Cruz Bay beach. Opened last February, this French-Caribbean hybrid offers items like poached Caribbean lobster tail with tomato-fennel broth, roasted sweet corn, leeks, crispy garlic and creamy white corn polenta. Website
Steakhouse Restaurant at the Turtle Bay Estate
House at Caneel Bay. The distinctive fine-dining restaurant is set in an 18th-century plantation house on the northern tip of St. John. Website
Discovery Undersea Reef Tours
St. John's newest attraction is a 125 passenger glass bottom boat. Departing from Cruz Bay, St. John or Redhook, St. Thomas, Discovery Undersea Reef Tours allows passengers to explore the underwater world in air-conditioned comfort from its bottom level through 20 picture windows. The middle and upper level house a bar, seating and captain's deck where visitors can enjoy picturesque views of St. Thomas and St. John. Available for groups, weddings and special events. For more information go to www.globalmarinellc.weebly.com
St. John, USVI
The U.S. Virgin Islands are located between the Caribbean Sea and the North Atlantic Ocean, 90 miles east of Puerto Rico. St. John is located about 4 miles east of St. Thomas and 4 miles south and west of Tortola.
St. John is the smallest of the USVI and the majority of the island is a designated U.S. Park, both in and out of the water. The main features of the Virgin Islands National Park are the coral reefs, and the park's plants and wildlife.
Good to Know
Port of Entry
Cruz Bay (by tender). No cruise ships dock in St. John. Passengers can access St. John from port stops in St. Thomas and Tortola.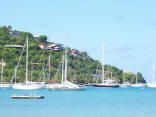 St. John Webcams
St. John Spice Company webcam at Cruz Bay
St. John Brewers webcam of Cruz Bay
Time Zone
AST (GMT/UTC - 4)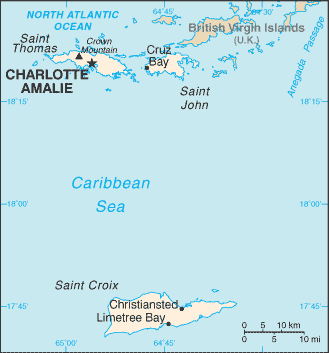 Map Coordinates
18°30′N 64°45′W
Average Temperatures
Water: 80º Summer - 78º Winter
Air: 86º Summer - 80º Winter
Virgin Islands National Park
Virgin Islands National Park, renowned throughout the world for its breathtaking beauty, covers approximately 3/5 of St. John, and nearly all of Hassel Island in the Charlotte Amalie harbor on St. Thomas.
Within its borders lie protected bays of crystal blue-green waters teeming with coral reef life, white sandy beaches shaded by seagrape trees, coconut palms, and tropical forests providing habitat for over 800 species of plants. To these amazing natural resources, add relics from the Pre-Colombian Amerindian Civilization, remains of the Danish Colonial Sugar Plantations, and reminders of African Slavery and the Subsistence Culture that followed during the 100 years after Emancipation - all part of the rich cultural history of the Park and its island home.
In 1956, the Virgin Islands National Park was established. In 1962 the enabling legislation was amended to add 5,650 acres of submerged land. In 1978 the legislation establishing Virgin Islands National Park was again amended to add Hassel Island, located in Charlotte Amalie harbor on St. Thomas, to the Park. Today, the Park conducts research, and has developed policies and practices aimed at protecting the fragile coral reef systems.
Once on St. John there are no designated entrances to Virgin Islands National Park, although two main routes will provide access to many areas. Route 20 (North Shore Road) runs from the ferry dock past the Visitors Center to the most contiguous part of the Park, including most beaches and the campgrounds as well. Large and small tracts of private lands are found within the authorized boundary of the Park.
Park Areas
Three beautiful beaches and a campground are just part of the park facilities. The picnic areas are wheelchair accessible. Beaches include Cinnamon Bay Beach, Trunk Bay Beach, and Hawksnest Beach.
Most of the Park remains open 24 hours a day year-round, however, some areas maintain closing hours. The Cruz Bay Visitor Center is open daily from 8 a.m. to 4:30 p.m. and is just a short walk from the public ferry dock. The telephone number is 340-776-6201, ext. 238.
The center offers exhibits, brochures, maps, books and activity schedules. Park rangers can help you plan your visit, including hikes, historical tours, snorkeling, cultural craft demonstrations, and evening campground demonstrations.
St. John History
St. John was first settled by the Arawak Indians who had migrated north from coastal Colombia and Venezuela around AD 300. The Arawaks inhabited the island until around the year AD 1300, when they were driven off by the more aggressive and warlike Carib Indians.
St. John is well known for its well-preserved natural beauty and attractive beaches. Restricted development and preservation in St. John contrasts heavily with such adjacent and overdeveloped islands as St. Thomas and St. Maarten.
Tourists enjoy picturesque hills dotted with opulent villas of the wealthy and elite. Cruz Bay on the western coast of the island is St. John's principal port. From there, a ferry operates throughout the day to and from Charlotte Amalie and Red Hook in St. Thomas.
Beaches
St. John Lagoons
Hawksnest Bay, Trunk Bay, Cinnamon Bay, and Saltpond Bay are just some of the many sheltered coves surrounded by coral reef.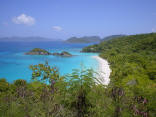 Trunk Bay Beach is considered one of the most beautiful beaches in the world, and has an underwater snorkeling trail. Other facilities include a bathhouse, snack bar, souvenir shop and snorkel gear rentals. Lifeguards are on duty daily. These facilities close at 4:00 PM.
Watermelon Bay
A dirt road leads you to the beach and visitors must hike more than a half mile to get to the shoreline from where you park. A magnificent beach very well worth the trek.
Cinnamon Bay campground offers facilities designed to support the campers staying there, however they are also available to the public. Amenities include a small general store, snack bar, restaurant, lockers, restrooms, changing rooms, showers, telephones, picnic tables and BBQ grills. An activities desk offers snorkel trips, SCUBA, snorkel and windsurfing lessons, day sails, cocktail cruises and National Park activities.
A campground with bare tent sites, prepared sites and cottages is adjacent to the beach. There is also a camp store. Call 340-776-6330 or 800-539-9998 for camping reservations. The campground closes to unregistered guests at 10:00 PM. Entrances to the Cinnamon Bay Loop Trail and the Cinnamon Bay Trail are located across the road from the main parking lot.
Maho Bay
Maho Bay is located about 1.25 miles past Cinnamon Bay or 5.2 miles past Mongoose Junction going east on Route 20. Parking is just off the side of the road. Waters are calm and shallow making this beach family friendly. Good for swimming and snorkeling.
Salt Pond Bay
Hiking trail that begins at the parking area 4 miles south of Coral Bay. Hike graded trail down to Salt Pond Beach and picnic area through arid cactus scrub land. Good swimming and snorkeling. The area is hot and sunny.
Hawksnest Beach is popular with locals and an good family beach. It's the closest north shore beach that you can drive to from Cruz Bay and the parking lot is close to the beach. Facilities available include changing rooms, picnic tables, grills and restrooms. Restroom facilities do not close, but there is a 10 PM noise curfew.
Area Events
St. John Carnival
Late June annual event. and traditionally culminates on July 4th with a 4th of July Carnival parade.
Carnival in St. John is a combination of celebrating the traditions of carnival with emancipation and independence. A month long event; festivities include musical venues, the village, food fair, parades and fireworks. Although St. John has a smaller population then it's sister islands it certainly comes to life for Carnival. More specifically Cruz Bay comes to life as all the events are centered in the Cruz Bay area. Ferries making trips between St. Thomas and St. John are usually filled as Carnival revelers head over for special events like the opening of the village and the parade.