US Travel Warnings and Alerts
Things you need to know about cruise ship safety before you leave port
Travel Alerts and Warnings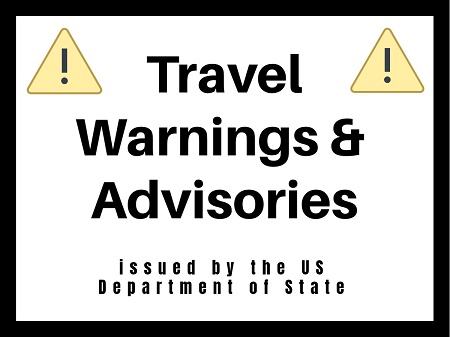 The U.S. State Department issues Travel Warnings to recommend postponing travel to a country because of widespread civil unrest, dangerous conditions, terrorist activity or, in some cases, because the U.S. has no diplomatic relations with the country and may have great difficulty in assisting U.S. citizens in distress. Travel Alerts disseminate information quickly about terrorist threats or other relatively short-term or transnational conditions that could pose significant risks to you and affect your travel plans. U.S. embassies and consulates send out security or emergency messages to alert U.S. citizens to fast-breaking events, such as demonstrations, coups, approaching storms, and crime.
Travel Warnings
Travel Warnings are issued when long-term, protracted conditions that make a country dangerous or unstable lead the State Department to recommend that Americans avoid or consider the risk of travel to that country. A Travel Warning is also issued when the U.S. Government's ability to assist American citizens is constrained due to the closure of an embassy or consulate or because of a drawdown of its staff. The countries listed below meet those criteria.
Travel Alerts
Travel Alerts are issued to disseminate information about short-term conditions, either transnational or within a particular country, that pose significant risks to the security of U.S. citizens. Natural disasters, terrorist attacks, coups, anniversaries of terrorist events, election-related demonstrations or violence, and high-profile events such as international conferences or regional sports events are examples of conditions that might generate a Travel Alert.
Travel Alerts directly from the US State Department website - https://travel.state.gov/content/travel/en/traveladvisories/traveladvisories.html/
This page last updated 03/07/2020
| | | |
| --- | --- | --- |
| ADVISORY | LEVEL | LAST UPDATED |
| Afghanistan | Level 4: Do Not Travel | October 22, 2019 |
| Albania | Level 1: Exercise Normal Precautions | July 10, 2019 |
| Algeria | Level 2: Exercise Increased Caution | April 9, 2019 |
| Andorra | Level 1: Exercise Normal Precautions | August 27, 2019 |
| Angola | Level 1: Exercise Normal Precautions | April 9, 2019 |
| Anguilla | Level 1: Exercise Normal Precautions | May 7, 2019 |
| Antarctica | Level 2: Exercise Increased Caution | January 10, 2019 |
| Antigua and Barbuda | Level 1: Exercise Normal Precautions | February 26, 2019 |
| Argentina | Level 1: Exercise Normal Precautions | December 3, 2018 |
| Armenia | Level 1: Exercise Normal Precautions | December 30, 2019 |
| Aruba | Level 1: Exercise Normal Precautions | January 8, 2019 |
| Australia | Level 1: Exercise Normal Precautions | January 21, 2020 |
| Austria | Level 1: Exercise Normal Precautions | November 22, 2019 |
| Azerbaijan | Level 3: Reconsider Travel | March 6, 2020 |
| Bahrain | Level 1: Exercise Normal Precautions | May 17, 2019 |
| Bangladesh | Level 2: Exercise Increased Caution | April 9, 2019 |
| Barbados | Level 1: Exercise Normal Precautions | March 7, 2019 |
| Belarus | Level 1: Exercise Normal Precautions | October 24, 2019 |
| Belgium | Level 2: Exercise Increased Caution | December 18, 2019 |
| Belize | Level 2: Exercise Increased Caution | January 4, 2019 |
| Benin | Level 1: Exercise Normal Precautions | May 23, 2019 |
| Bermuda | Level 1: Exercise Normal Precautions | January 8, 2019 |
| Bhutan | Level 1: Exercise Normal Precautions | January 25, 2019 |
| Bolivia | Level 2: Exercise Increased Caution | January 6, 2020 |
| Bonaire, Sint Eustatius and Saba | Level 1: Exercise Normal Precautions | January 8, 2019 |
| Bosnia and Herzegovina | Level 2: Exercise Increased Caution | June 25, 2019 |
| Botswana | Level 1: Exercise Normal Precautions | December 27, 2019 |
| Brazil | Level 2: Exercise Increased Caution | January 14, 2020 |
| British Virgin Islands | Level 1: Exercise Normal Precautions | May 7, 2019 |
| Brunei | Level 1: Exercise Normal Precautions | November 1, 2019 |
| Bulgaria | Level 1: Exercise Normal Precautions | November 22, 2019 |
| Burkina Faso | Level 4: Do Not Travel | November 26, 2019 |
| Burma (Myanmar) | Level 2: Exercise Increased Caution | October 4, 2019 |
| Burundi | Level 3: Reconsider Travel | January 21, 2020 |
| Cabo Verde | Level 1: Exercise Normal Precautions | December 4, 2019 |
| Cambodia | Level 1: Exercise Normal Precautions | January 7, 2019 |
| Cameroon | Level 2: Exercise Increased Caution | April 9, 2019 |
| Canada | Level 1: Exercise Normal Precautions | January 14, 2020 |
| Cayman Islands | Level 1: Exercise Normal Precautions | January 8, 2019 |
| Central African Republic | Level 4: Do Not Travel | December 12, 2019 |
| Chad | Level 3: Reconsider Travel | October 2, 2019 |
| Chile | Level 2: Exercise Increased Caution | November 8, 2019 |
| China | Level 4: Do Not Travel | February 2, 2020 |
| Colombia | Level 2: Exercise Increased Caution | April 9, 2019 |
| Comoros | Level 1: Exercise Normal Precautions | May 2, 2019 |
| Costa Rica | Level 2: Exercise Increased Caution | January 7, 2020 |
| Cote d'Ivoire | Level 2: Exercise Increased Caution | August 20, 2019 |
| Croatia | Level 1: Exercise Normal Precautions | January 14, 2020 |
| Cuba | Level 2: Exercise Increased Caution | November 21, 2019 |
| Curacao | Level 1: Exercise Normal Precautions | January 8, 2019 |
| | | |
| --- | --- | --- |
| Iceland | Level 1: Exercise Normal Precautions | June 20, 2019 |
| Ireland | Level 1: Exercise Normal Precautions | November 4, 2019 |
| Latvia | Level 1: Exercise Normal Precautions | July 25, 2019 |
| Lithuania | Level 1: Exercise Normal Precautions | June 4, 2019 |
| Luxembourg | Level 1: Exercise Normal Precautions | January 29, 2020 |
| Malta | Level 1: Exercise Normal Precautions | July 1, 2019 |
| Montenegro | Level 1: Exercise Normal Precautions | January 15, 2020 |
| Netherlands | Level 2: Exercise Increased Caution | July 19, 2019 |
| Norway | Level 1: Exercise Normal Precautions | September 13, 2019 |
| Poland | Level 1: Exercise Normal Precautions | January 14, 2020 |
| Portugal | Level 1: Exercise Normal Precautions | May 28, 2019 |
| Romania | Level 1: Exercise Normal Precautions | August 5, 2019 |
| Serbia | Level 2: Exercise Increased Caution | January 16, 2020 |
| Slovakia | Level 1: Exercise Normal Precautions | July 26, 2019 |
| Slovenia | Level 1: Exercise Normal Precautions | January 15, 2020 |
| Spain | Level 2: Exercise Increased Caution | October 21, 2019 |
| Sweden | Level 1: Exercise Normal Precautions | March 29, 2019 |
| Switzerland | Level 1: Exercise Normal Precautions | October 8, 2019 |
| United Kingdom | Level 2: Exercise Increased Caution | April 22, 2019 |
| Kazakhstan | Level 1: Exercise Normal Precautions | April 3, 2019 |
| United Arab Emirates | Level 1: Exercise Normal Precautions | May 17, 2019 |
| Aruba | Level 1: Exercise Normal Precautions | January 8, 2019 |
| Barbados | Level 1: Exercise Normal Precautions | March 7, 2019 |
| Belize | Level 2: Exercise Increased Caution | January 4, 2019 |
| Bermuda | Level 1: Exercise Normal Precautions | January 8, 2019 |
| Bonaire, Sint Eustatius and Saba | Level 1: Exercise Normal Precautions | January 8, 2019 |
| Brazil | Level 2: Exercise Increased Caution | January 14, 2020 |
| Cayman Islands | Level 1: Exercise Normal Precautions | January 8, 2019 |
| Curacao | Level 1: Exercise Normal Precautions | January 8, 2019 |
| French West Indies | Level 1: Exercise Normal Precautions | February 25, 2019 |
| Montserrat | Level 1: Exercise Normal Precautions | February 26, 2019 |
| Saint Kitts and Nevis | Level 1: Exercise Normal Precautions | May 7, 2019 |
| Saint Lucia | Level 1: Exercise Normal Precautions | April 15, 2019 |
| Sint Maarten | Level 1: Exercise Normal Precautions | January 8, 2019 |
| Saint Vincent and The Grenadines | Level 1: Exercise Normal Precautions | February 26, 2019 |
| Trinidad and Tobago | Level 2: Exercise Increased Caution | April 9, 2019 |
| South Sudan | Level 4: Do Not Travel | November 26, 2019 |
| Turks and Caicos Islands | Level 2: Exercise Increased Caution | February 25, 2019 |
| Grenada | Level 1: Exercise Normal Precautions | February 25, 2019 |
| Guatemala | Level 2: Exercise Increased Caution | February 28, 2019 |
| Guyana | Level 2: Exercise Increased Caution | May 30, 2019 |
| Haiti | Level 4: Do Not Travel | March 5, 2020 |
| Honduras | Level 3: Reconsider Travel | June 24, 2019 |
| India | Level 2: Exercise Increased Caution | March 8, 2019 |
| Indonesia | Level 2: Exercise Increased Caution | December 27, 2019 |
| Iran | Level 4: Do Not Travel | February 26, 2020 |
| Iraq | Level 4: Do Not Travel | January 11, 2020 |
| Israel, The West Bank and Gaza | Level 2: Exercise Increased Caution | December 28, 2018 |
| Italy | Level 3: Reconsider Travel | February 29, 2020 |
| | | |
| --- | --- | --- |
| Czech Republic | Level 1: Exercise Normal Precautions | June 26, 2019 |
| Democratic Republic of the Congo | Level 3: Reconsider Travel | January 2, 2020 |
| Denmark | Level 2: Exercise Increased Caution | June 25, 2019 |
| Djibouti | Level 1: Exercise Normal Precautions | November 18, 2019 |
| Dominica | Level 2: Exercise Increased Caution | November 21, 2019 |
| Dominican Republic | Level 2: Exercise Increased Caution | April 15, 2019 |
| Ecuador | Level 2: Exercise Increased Caution | November 7, 2019 |
| Egypt | Level 2: Exercise Increased Caution | March 6, 2020 |
| El Salvador | Level 2: Exercise Increased Caution | October 1, 2019 |
| Equatorial Guinea | Level 1: Exercise Normal Precautions | December 11, 2019 |
| Eritrea | Level 2: Exercise Increased Caution | February 25, 2019 |
| Estonia | Level 1: Exercise Normal Precautions | August 2, 2019 |
| Eswatini | Level 1: Exercise Normal Precautions | December 27, 2019 |
| Ethiopia | Level 2: Exercise Increased Caution | August 20, 2019 |
| Fiji | Level 1: Exercise Normal Precautions | December 16, 2019 |
| Finland | Level 1: Exercise Normal Precautions | September 27, 2019 |
| France | Level 2: Exercise Increased Caution | April 1, 2019 |
| French | Level 1: Exercise Normal Precautions | November 19, 2019 |
| French | Level 1: Exercise Normal Precautions | March 25, 2019 |
| French West Indies | Level 1: Exercise Normal Precautions | February 25, 2019 |
| Gabon | Level 1: Exercise Normal Precautions | January 10, 2019 |
| Georgia | Level 1: Exercise Normal Precautions | April 9, 2019 |
| Germany | Level 2: Exercise Increased Caution | June 19, 2019 |
| Ghana | Level 1: Exercise Normal Precautions | July 17, 2019 |
| Greece | Level 1: Exercise Normal Precautions | July 5, 2019 |
| Grenada | Level 1: Exercise Normal Precautions | February 25, 2019 |
| Guatemala | Level 2: Exercise Increased Caution | February 28, 2019 |
| Guinea | Level 2: Exercise Increased Caution | February 13, 2020 |
| Guinea-Bissau | Level 3: Reconsider Travel | October 3, 2019 |
| Guyana | Level 2: Exercise Increased Caution | May 30, 2019 |
| Haiti | Level 4: Do Not Travel | March 5, 2020 |
| Honduras | Level 3: Reconsider Travel | June 24, 2019 |
| Hong Kong | Level 2: Exercise Increased Caution | February 20, 2020 |
| Hungary | Level 1: Exercise Normal Precautions | August 22, 2019 |
| Iceland | Level 1: Exercise Normal Precautions | June 20, 2019 |
| India | Level 2: Exercise Increased Caution | March 8, 2019 |
| Indonesia | Level 2: Exercise Increased Caution | December 27, 2019 |
| Iran | Level 4: Do Not Travel | February 26, 2020 |
| Iraq | Level 4: Do Not Travel | January 11, 2020 |
| Ireland | Level 1: Exercise Normal Precautions | November 4, 2019 |
| Israel, The West Bank and Gaza | Level 2: Exercise Increased Caution | December 28, 2018 |
| Italy | Level 3: Reconsider Travel | February 29, 2020 |
| Jamaica | Level 2: Exercise Increased Caution | April 15, 2019 |
| Japan | Level 2: Exercise Increased Caution | February 22, 2020 |
| Jordan | Level 2: Exercise Increased Caution | December 12, 2018 |
| Kazakhstan | Level 1: Exercise Normal Precautions | April 3, 2019 |
| Kenya | Level 2: Exercise Increased Caution | April 9, 2019 |
| Kiribati | Level 1: Exercise Normal Precautions | November 7, 2019 |
| Kosovo | Level 2: Exercise Increased Caution | May 31, 2019 |
| | | |
| --- | --- | --- |
| Taiwan | Level 1: Exercise Normal Precautions | January 2, 2019 |
| Tajikistan | Level 2: Exercise Increased Caution | November 21, 2019 |
| Tanzania | Level 2: Exercise Increased Caution | December 3, 2019 |
| Thailand | Level 1: Exercise Normal Precautions | February 7, 2020 |
| Timor-Leste | Level 2: Exercise Increased Caution | January 15, 2020 |
| Togo | Level 1: Exercise Normal Precautions | May 22, 2019 |
| Tunisia | Level 2: Exercise Increased Caution | January 2, 2019 |
| Turkey | Level 2: Exercise Increased Caution | September 5, 2019 |
| Turkmenistan | Level 3: Reconsider Travel | March 6, 2020 |
| Tuvalu | Level 1: Exercise Normal Precautions | March 3, 2020 |
| Uganda | Level 2: Exercise Increased Caution | April 9, 2019 |
| Ukraine | Level 2: Exercise Increased Caution | February 19, 2020 |
| Uruguay | Level 2: Exercise Increased Caution | August 2, 2019 |
| Uzbekistan | Level 1: Exercise Normal Precautions | December 13, 2018 |
| Vanuatu | Level 1: Exercise Normal Precautions | March 21, 2019 |
| Venezuela | Level 4: Do Not Travel | December 2, 2019 |
| Vietnam | Level 1: Exercise Normal Precautions | January 2, 2019 |
| Yemen | Level 4: Do Not Travel | November 26, 2019 |
| Zambia | Level 1: Exercise Normal Precautions | December 27, 2019 |
| Zimbabwe | Level 2: Exercise Increased Caution | May 14, 2019 |
| French Guiana | Level 1: Exercise Normal Precautions | November 19, 2019 |
| British Virgin Islands | Level 1: Exercise Normal Precautions | May 7, 2019 |
| Tonga | Level 1: Exercise Normal Precautions | November 7, 2019 |
| Argentina | Level 1: Exercise Normal Precautions | December 3, 2018 |
| Armenia | Level 1: Exercise Normal Precautions | December 30, 2019 |
| Azerbaijan | Level 3: Reconsider Travel | March 6, 2020 |
| The Bahamas | Level 2: Exercise Increased Caution | November 26, 2019 |
| Bahrain | Level 1: Exercise Normal Precautions | May 17, 2019 |
| Bangladesh | Level 2: Exercise Increased Caution | April 9, 2019 |
| Benin | Level 1: Exercise Normal Precautions | May 23, 2019 |
| Bhutan | Level 1: Exercise Normal Precautions | January 25, 2019 |
| Bolivia | Level 2: Exercise Increased Caution | January 6, 2020 |
| Bosnia and Herzegovina | Level 2: Exercise Increased Caution | June 25, 2019 |
| Burkina Faso | Level 4: Do Not Travel | November 26, 2019 |
| Burundi | Level 3: Reconsider Travel | January 21, 2020 |
| Cambodia | Level 1: Exercise Normal Precautions | January 7, 2019 |
| Cameroon | Level 2: Exercise Increased Caution | April 9, 2019 |
| Canada | Level 1: Exercise Normal Precautions | January 14, 2020 |
| Central African Republic | Level 4: Do Not Travel | December 12, 2019 |
| Chad | Level 3: Reconsider Travel | October 2, 2019 |
| Chile | Level 2: Exercise Increased Caution | November 8, 2019 |
| China | Level 4: Do Not Travel | February 2, 2020 |
| Colombia | Level 2: Exercise Increased Caution | April 9, 2019 |
| Costa Rica | Level 2: Exercise Increased Caution | January 7, 2020 |
| Cote d'Ivoire | Level 2: Exercise Increased Caution | August 20, 2019 |
| Cuba | Level 2: Exercise Increased Caution | November 21, 2019 |
| Dominica | Level 2: Exercise Increased Caution | November 21, 2019 |
| Dominican Republic | Level 2: Exercise Increased Caution | April 15, 2019 |
| Ecuador | Level 2: Exercise Increased Caution | November 7, 2019 |
| Egypt | Level 2: Exercise Increased Caution | March 6, 2020 |
| | | |
| --- | --- | --- |
| El Salvador | Level 2: Exercise Increased Caution | October 1, 2019 |
| Eritrea | Level 2: Exercise Increased Caution | February 25, 2019 |
| Ethiopia | Level 2: Exercise Increased Caution | August 20, 2019 |
| Gabon | Level 1: Exercise Normal Precautions | January 10, 2019 |
| The Gambia | Level 1: Exercise Normal Precautions | December 12, 2019 |
| Georgia | Level 1: Exercise Normal Precautions | April 9, 2019 |
| Ghana | Level 1: Exercise Normal Precautions | July 17, 2019 |
| Democratic Republic of the Congo | Level 3: Reconsider Travel | January 2, 2020 |
| Republic of the Congo | Level 2: Exercise Increased Caution | April 18, 2019 |
| Guinea-Bissau | Level 3: Reconsider Travel | October 3, 2019 |
U.S Department of State Traveler's Checklist
Related Links:
Weather Updates
Travel Warnings
Safety Overview
Cruise Ship Fires
Sunken Passenger Ships
Sudden Lists/Rogue Waves
Unclassified Incidents
Coronavirus
Norovirus
Incidents 2012
Incidents 2013
Incidents 2014
Incidents 2015