St. Thomas USVI Cruise Destination Port
Cruise Ship Port of Call information like Port News, Weather, Transportation Options, Things to Do and See, Area Events, Medical Care, Crime and Safety Review
Need to know
Hurricanes
The USVI are situated in an area prone to hurricanes. Rainy season is from May to November, and periodic hurricanes between June and November.
In the event of a tropical storm or hurricane alert, Shipdetective will post NWS updates and information for travelers on our Tropical Storm Update page.
Personal Safety
Although St. Thomas has a highest crime rate among the USVI, areas frequented by tourists during the day are not generally prone to violent crime. Visitors should exercise caution and good judgment at all times. Criminals tend to target restaurants and nightclubs frequented by tourists. One common approach is for criminals to entice victims into accepting a ride, either as a "personal favor" or by claiming to offer taxi service, and then robbing and/or assaulting the passenger once they are in the car.
Travelers should avoid walking alone after dark or in isolated areas, and avoid placing themselves in situations where they are alone with strangers. Be cautious on deserted areas of beaches at all hours. Visitors should never leave valuables unattended, especially on beaches.
Keep your passports/identity documents, airline tickets, credit cards, and extra cash on the ship in your stateroom safe.
Automated teller machines (ATMs) are available; however, visitors should try not to use them, especially after dark. Avoid wearing expensive jewelry, particularly expensive watches, which criminals have specifically targeted. Visitors should take care to ride only in taxis with seatbelts.
Medical Services
Schneider Regional Medical Center is the umbrella entity for three healthcare facilities that serve as one integrated health system.
The organization is fully accredited by the Joint Commission on Healthcare Organizations (JCAHO). For more information, visit the website or call (340) 776-8311.
When registering for services, be sure to bring your insurance card, picture ID, and proof of mailing address (utility or telephone bill).
St. Thomas and St. John: the Roy Lester Schneider Hospital (St. Thomas)
Charlotte Kimelman Cancer Institute (St. Thomas)
Getting around
Scooters, bike rentals and rental cars are not recommended for cruise passengers at this port of call.
Licensed taxi vehicles are labeled with a taxi placard or dome light on the roof and license plates that indicate Taxi status. The On Duty/Off Duty sign in the window of the vehicle and a sign, usually on the fender, indicating passenger capacity. The drivers personal identification/taxi license should be on the vehicles. Make sure to negotiate your fare before you leave.
St. Thomas has plenty of taxi and tours buses to take you where you want to go. It may cost a few dollars more to travel by taxi, however, due to the tremendous amount of traffic while the ships are in port, driving the narrow curvy roads running along the hillsides can be a bit nerve racking both for the driver and any passengers in the vehicle. It's best to leave the driving to the professionals who drive the area on a daily basis.
If you do decide to drive, it is vital to remember that you must drive on the left side of the road. Speed limits on St. Thomas are 20 mph in town and 30 in the country. Please note posted speed limit signs.
Beware of "gypsy taxis" using their personal vehicles. They do not adhere to the rules of the taxi commission and often hustle outside bars and grocery stores.
Catch a ferry from St. Thomas to Cruz Bay.
The ferry from St. Thomas sails from two locations: Charlotte Amalie waterfront and the Red Hook Marine Terminal. Approx. 45 minute ferry ride.
Luggage
There is a charge of $2.50 per piece for luggage/boxes from the Charlotte Amalie terminal and $2.00 per piece from the Red Hook Terminal.
Schedule
Leaving Charlotte Amalie - at 9 am, 11am, 1 pm, 3pm, 4pm, and 5:30pm. Low season hours reduced to 9am and 5:30pm weekdays and 1pm on weekends
Leaving Cruz Bay to Charlotte Amalie - 7:15am 9:15am, 11:15am, 1:15 pm, 2:15pm, 3:45pm. Low season hours reduced to 7:15am and 3:45pm on weekdays and 11:15am on weekends.
Leaving Red Hook to Cruz Bay - 5:30 am, 6:30am, 7:30am, 8am and every hour until midnight except 8pm and 10pm.
Area Events
Transfer Day
March 31 commemorates the March 31, 1917, finalization of the twenty-five million dollar purchase of the Danish West Indies by the US.
St. Thomas Carnival
St. Thomas hosts the second largest Carnival cultural celebration in the Caribbean. Event that includes calypso shows, food fair, queen pageants, steel pan shows, parades and more. April/May annual event. Website
Supplication Day
Fourth Monday in July. A day of prayer for locals that Hurricane season does not bring any devastation during the upcoming season. The Atlantic Hurricane Season runs from June 1st to November 30th.
V.I. Emancipation Day
July 3. Celebrated in many former British colonies in the Caribbean and areas of the United States on various dates in observance of the emancipation of slaves of African origin.
Liberty Day
Nov. 1 commemorates David Hamilton Jackson and the institution of Free Press in the Danish West Indies, now the U.S. Virgin Islands.
Boxing Day
December 26 is an extra day of celebrating Christmas.
Wreck Diving
Major General Rogers
Cartanser Senior
Reef and small wall dives
Thatch Cay
Caraval Rock
Congo Cay
Grass Cay
Cow & Calf Rocks
Little St. James
St. Thomas, USVI
The islands of the Caribbean are located in a region southeast of the Gulf of Mexico and Northern America, east of Central America, and to the north of South America.
The USVI's are located between the Caribbean Sea and the North Atlantic Ocean, 90 miles east of Puerto Rico. St. Thomas is located about 35 miles north of St. Croix.
St. Thomas is a county and constituent district of the United States Virgin Islands (USVI), an unincorporated territory of the United States.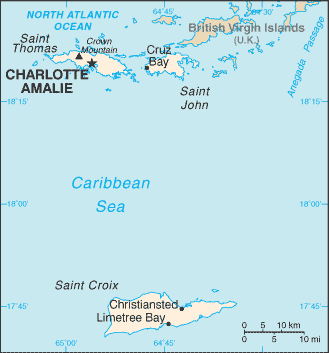 The island was originally settled around 1500 BC by the Ciboney people. They were later replaced by the Arawaks and then the Caribs. During the 17th century, the archipelago was divided into two territorial units, one English and the other Danish. Sugarcane, produced by slave labor, drove the islands' economy during the 18th and early 19th centuries. In 1917, the US purchased the Danish portion, which had been in economic decline since the abolition of slavery in 1848.
In 1917, St. Thomas was purchased (along with Saint John and Saint Croix) by the United States for $25 million. U.S. citizenship was granted to the residents in 1927. The U.S. Department of the Interior took over administrative duties in 1931.
American forces were based on the island during the Second World War. In 1954, passage of the U.S. Virgin Islands Organic Act officially granted territorial status to the three islands, and allowed for the formation of a local senate with politics dominated by the American Republican and Democratic parties. Full home rule was achieved in 1970.
Yacht Haven webcam Magen's Bay webcam

Good to Know
Port of Entry
Charlotte Amalie
There are two locations for cruise ships to dock, West Indian Company Dock in Long Bay (Havensight), and Crown Bay. Generally, Carnival Corp. cruise ships dock at Crown Bay, while NCL, Royal Caribbean, and Celebrity dock at Havensight Pier.
Time Zone
AST (UTC/GMT - 4)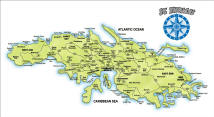 Average Temperatures
Water: 83º Summer - 79º Winter
Air: 85º Summer - 80º Winter
Shopping
Our pick for best duty free port for selection. Many of these items can be bought for 40 percent less than in the United States; liquor and cigarettes are often 60 percent less. Especially good for US residents - up too 1600.00 per person allowance.
Shops in the downtown areas are usually open on Sundays when cruise ships are in port. Beware - Shops close during major holidays, especially Carnival
Main Street
The majority of the shopping in Charlotte Amalie is located on Main Street. Parallel to Main Street is Back Street and Waterfront. Stores line each of these 3 main roads, and in between the three roads are side streets and alleys where even more shops are located. The local straw market called Vendors Plaza is located across from the Emancipation Park and Fort Christian. Vendors open Monday - Saturday 7:30am - 5pm and on Sundays when ship are in port.
Havensight Mall
Havensight is the shopping area next to the cruise pier containing more than 50 shops. You can get many, if not most of the duty free bargains on jewelry, clothes, perfumes, liquor, electronics, music, sunglasses, hot sauces and souvenirs. We recommend you make a trip in town to Charlotte Amalie and enjoy a shopping spree. There are more shops than you could hope for and there's a festive atmosphere with plenty of food and drink choices.
Attractions
Fort Christian
Resting over Charlotte Amalie harbor since 1672, Fort Christian is the oldest standing structure in the Virgin Islands. Now a U.S. National Landmark, this brick fortress protected the town from pirates and European armadas. The fort has served as St. Thomas' first Government House, a church, and a community government center. Today it is home to the Virgin Islands Museum.
Tree Limin' Extreme Zip-Line
Scheduled to open in the spring 2012, the US Virgin Islands' first zip line operation promises a zip-line adventure like no other. Located close to the highest point of St. Thomas, the adventure will include six zip lines and two sky walks with dramatic views of Magens Bay and down island. The zip-line adventure also includes admission to the St. Peter Mountain Greathouse, its home base.
http://www.ziplinestthomas.com/
Treasure Seeker Pirate Ship
Pirates have landed in downtown Charlotte Amalie aboard a converted car ferry turned 65-foot pirate ship! Scheduled to begin operating in mid-October, The Treasure Seeker will operate two-hour pirate themed tours around Hassel Island and Water Island for up to 149 guests. This family owned and operated vessel promises to be family-friendly providing activities from face painting, tattoos, water gun battles and limbo dancing. A bar and gift shop are also found onboard. For more information, call 727-902-9646.
Flightseeing Adventure
Visitors can experience the thrill of flightseeing in the Virgin Islands. From the window seat of a Piper Aztec or Cessna 172 aircraft, passengers can enjoy a bird's eye view of St. Thomas and St. John including vistas of Charlotte Amalie harbor, St. Thomas' mountainous north side, and St, John's famed northshore beaches. The 25-minute flight includes narration and a descriptive route guide identifying scenic highlights. For more information contact VI Ecotours at (340)779-2155.
Butterfly Garden
The recently re-opened (2011) Butterfly Garden has doubled in size with the addition of outdoor gardens featuring local plant varieties to attract local butterfly species. For more information call (340) 775-1555.
Magen's Bay
Both National Geographic and Conde Nast Traveler have named this area as one of the most beautiful beaches in the world. You can judge for yourself. Snorkeling, kayaking, and other water gear is available for rental.
Mountain Top
This site overlooking Magen's Bay, has offered their legendary concoction of local rum, cane sugar, and bananas since the 1960s. A fire destroyed the shop and tavern in May 2009. Mountain Top re-opened March 2011.
Paradise Point Tramway
The tramway takes visitors up an almost 700-foot peak over Charlotte Amalie, offering a stunning view of the town, the island, and the Caribbean. Running between Havensight and Paradise Point, the tramway can hold up to ten people in one car.
Snorkeling
Coral World's Sea Trek Underwater Trail
Coral World's award winning Sea Trek operation, recently named worldwide Sea Trek operator of the year, has just gotten even better! Coral World recently installed (2011) a new underwater railing system along the Sea Trek trail to improve the comfort of its guests while emphasizing the natural environment. For more information, go to www.coralworldvi.com.
Coki Point
Great snorkeling spot with facilities such as a dive shop offering equipment for rental, chairs and umbrellas, restrooms, changing rooms, and lockers.
Beaches
Magen's Bay & Drake's Seat Overlook
Located on the North (Atlantic) side of the island, Magen's Bay is a well-protected white sand beach stretching for nearly a mile. Drake's Seat sits above the hillside of Magen's Bay. It is one of the most popular tourist destinations on the island. Swimming, kayaking and other water sports are available. Wi-fi Hot Spot. $3.00 entry fee.
Lindqvist Beach and Smith Bay Park
Pristine East End beach managed by the Magen's Bay Port Authority. $ 2.00 entrance fee charged and is used to help pay for improvements and subsidize services that keep the beach area pristine. Located between Wyndham Sugar Bay Resort & Spa and Sapphire Beach Resort (six miles from Havensight Pier and eight miles from Crown Bay).
Sapphire Beach
Beautiful beach and home to the Iguanas. They will try to snag your food if you eat at the outdoor restaurant.
Sapphire Beach Resort and Marina Webcam
Bluebeard's Beach
Located at the Ritz Carlton at Turtle Cove. Full services available.
Brewer's Bay
Out of the way spot. Calm waters. Food and drinks from local vendors in the area but no other services available.
Hull Bay
Popular with the locals. Tranquil water and perfect for paddle sports. Rental services available.
Coki Beach
More of a touristy beach. Great stop for snorkeling. Calm waters. Beach bars, water sports rentals.
Morningstar Beach
Located at the Marriot Resort - Full services available.
Bolongo Beach Bay Resort
Offers snorkeling, kayaks and beach chair rentals.
Buck Island Reef National Park
Located about 1.5 miles from St. Croix, the 176-acre island and surrounding coral reef ecosystem support a large variety of native flora and fauna, including the hawksbill turtle and brown pelican. Snorkelers can enjoy a marked underwater trail near the eastern tip of Buck Island. The western edge of the island features a beautiful white-sand beach that makes it a popular gathering spot for local boaters. There are actually two "Buck Islands." The one just north of St. Croix is the centerpiece of the National Monument. Buck Island National Wildlife Refuge occupies the one near St. Thomas. You take a ferry from St. Thomas departing from the Marine Terminal in Charlotte Amalie (next to Seaplane Terminal) Smith's Ferry Service (340) 775-7292. Takes 90 minutes to get to St. Croix. Many cruise lines offer excursions to Buck Island (Turtle Cove) from St. Thomas.