Samana, DR Cruise Ship Destination Port
Cruise Ship Port of Call information like Port News, Weather, Transportation Options, Things to Do and See, Area Events, Medical Care, Crime and Safety Review
Good to know
Visitors to the Dominican Republic, including to local resort areas, should carefully assess the potential risk of recreational activities.
Some of the swimming areas at popular beaches around the Dominican Republic are subject to dangerous undertows.
Many beaches lack life guards and/or warnings of unsafe conditions. Resort managers usually offer current information on local swimming & surf conditions.
Visitors are cautioned not to swim alone, particularly at isolated beaches.
Medical Services
Medical care is limited, especially outside Santo Domingo, and the quality of care varies widely among facilities.
Outside the capital, emergency services range from extremely limited to nonexistent. Blood supplies at both public and private hospitals are often limited, and not all facilities have blood on hand even for emergencies.
Many medical facilities throughout the country do not have staff members who speak or understand English.
Tap water is unsafe to drink and should be avoided. Bottled water and beverages are safe.
Getting around
Visitors to the Dominican Republic might want to consider hiring a professional driver during their stay in lieu of driving themselves. Licensed drivers who are familiar with local roads can be hired through local car rental agencies. In case of accidents, only the driver will be taken into custody.
Pedestrians tend to step out into traffic without regard to corners, crosswalks, or traffic signals. Many pedestrians die every year crossing the street (including major, multi-lane highways) at seemingly random locations. Pedestrians do not have the right-of-way, and walking along or crossing busy streets – even at intersections with traffic lights or traffic police present – can be very dangerous.
Samana, DR
Samana City claims an unusual history and, as a result, an unusual character. It was settled by two shiploads of freed American slaves around 1824 and, to this day, many residents speak English as a first language. The US cultural influence is also apparent in many of the last names of the settlers of this area. Urban renewal is improving the overall look of Samana city.
Need to Know
The city of Samaná is located in a small plain close to the coast but, now, most of the city is in the hills that enclose the plain. It is the largest municipality of the province. The climate is tropical with little seasonal variation and terrain features rugged highlands and mountains.
Port of Entry
Cayo Levantado - a small island in the Bay of Samana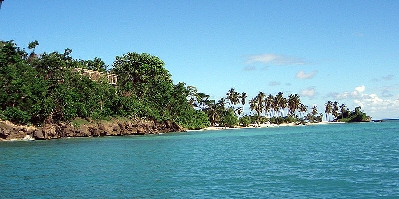 Time Zone
AST - Dominican Republic does not recognize Daylight Savings Time
Map Coordinates
19.12 N, 69.19 W
Average Temperatures
Water: 83°- Summer; 77°- Winter
Air: 85°- Summer; 78°- Winter
Things to do and see
Whale-Watching
January through March. One of the major reasons the town of Samaná is on the tourism map is because it is one of the best places in the world to observe dozens of humpback whales in their natural environment. This awe-inspiring activity will take you near Cayo Levantado amidst turquoise waters of the Bahía de Samaná, where the giant, white-finned humpbacks practice their mating rituals. Every year, thousands of these huge mammals come from the faraway waters of Greenland and Iceland to the Bahía de Samaná.Whale-Watching Excursion Provider - www.whalesamana.com
La Boca del Diablo
A dramatic blow-hole. If you're there in whale season it's a vantage point for dry land-based whale-watching too.
Limon Waterfall
Located at the town of El Limon. The waterfall is about 300 meters above sea level and has a 40 meter drop that ends in a very deep pool of crystal clear waters.
Las Terrenas
Lots of shops feature all sort of beach wear and gear. Great supermarket in town, restaurants, delicious pate and pastry shops, reflecting the European influence.
Cayo Levantado
An small island made of a protruding coral reef which protect Samana Bay from the Atlantic waves. Due to the island's protected positioning in the bay, the water are calm, shallow and have a plush sandy bottom.
Playa Bonita
Area in front of Bahia las Ballenas hotel
Bacardi Island
Used in the famous 1970's Bacardi rum commercials.
Historic Shipwrecks Museum
A museum exhibiting artifacts recovered from shipwrecks opened during the summer of 2010 in Samana city. The exhibition includes artifacts from Le Scipion, a French warship that fought in the American War of Independence, as well as several other major historical wrecks. See www.alldeepblue.com for more info.