Casa de Campo Cruise Ship Destination Port
Cruise Ship Port of Call information like Port News, Weather, Transportation Options, Things to Do and See, Area Events, Medical Care, Crime and Safety Review
The Dominican Republic is situated in an area prone to hurricanes. From June to November, the country may experience strong winds and rains as a result of hurricanes in the Atlantic.
In the event of a tropical storm or hurricane, go to our Tropical Storm Update page
Need to know
Visitors to the Dominican Republic, including to local resort areas, should carefully assess the potential risk of recreational activities.
Many beaches lack life guards and/or warnings of unsafe conditions. Resort managers usually offer current information on local swimming & surf conditions. Visitors are cautioned not to swim alone, particularly at isolated beaches.
Medical Services
Medical care is limited, especially outside Santo Domingo, and the quality of care varies widely among facilities.
Many medical facilities throughout the country do not have staff members who speak or understand English.
Outside the capital, emergency services range from extremely limited to nonexistent. Blood supplies at both public and private hospitals are often limited, and not all facilities have blood on hand even for emergencies.
Tap water is unsafe to drink and should be avoided. Bottled water and beverages are safe.
Getting around
Visitors to the Dominican Republic might want to consider hiring a professional driver during their stay in lieu of driving themselves.
Seat belts are required by law, and those caught not wearing them will be fined. There are no child car seat laws.
Casa de Campo, DR
Casa de Campo is a resort community in La Romana.
Excursions are offered for cruise passengers from the port of La Romana or Catalina Island to the tourist resort of Casa de Campo.
The island itself is only 6 square miles in size, and is a diverse preservation of eco-systems including sand dunes, mangroves, and reefs. Formed out of coral stone, the island contains three overlapping plateaus. The highest elevation on the island is only 60 feet above sea level. The seas around the Island are rich in wildlife, with many species of birds and tropical marine fish, and there are large areas where natural sandbars offshore bring the depth to just a few feet.
The resort houses 3 championship golf courses, one of them being the famous "Teeth of The Dog" which is ranked 34th in the world.
Good to Know
A re-creation of a medieval European village conceived from the imagination of Roberto Copa, a former Paramount Studios set designer, and Charles Bluhdorn.
Its construction began in 1976 when the construction of a nearby road and bridge crossing the Chavón River had to be blasted through a mountain of stone. Charles Bludhorn, chairman of Gulf+Western, had the idea of using the stones to build a sixteenth century Mediterranean village. Construction was completed in the early 1980s.
There are a few shops at the Marina and an area of the village known as Altos de Chevon. Don't expect much; the area is still growing.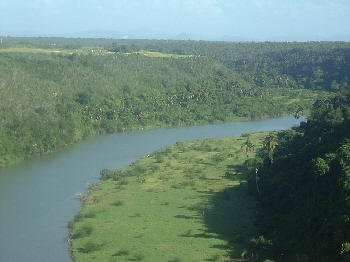 Port of Entry
Ships anchor in the bay and tender passengers on to the island.
Time Zone
AST (UTC/GMT -4 )
Map Coordinates
18º.25 N, 68º.50W
Average Temperatures
Water: 83º Summer - 77º Winter
Air: 85º Summer - 78º Winter
Things to do and see
Living Museum of the Sea
The site showcases items from the 1699 Captain Kidd shipwreck found 70 feet off the coast of Catalina Island in the waters off La Romana. The opening of the underwater site with items from the shipwreck Quedagh Merchant abandoned off the shore of Catalina Island marks the 310th anniversary of the scandalous 17th century pirate Captain William Kidd's hanging in London for his 'crimes of piracy.' Kidd had captured the Armenian ship off the west coast of India. Underwater plaques help guide divers around the Kidd site as well as relics and rare corals at two other shipwreck sites.
Cigar Factory
Take the Tabacalera de Garcia Cigar Factory tour in La Romana. Based right next door to Casa de Campo, this is a tour that can easily be combined with a visit to Altos de Chavon, where the factory also has a cigar shop stocked with their own as well as other brands. Take note these are hand-rolled cigars. Your guide will explain what makes a premium cigar. The duration of the tours can match your interest in cigars. There is a half-hour tour for anyone who is just curious about cigars, a one-hour tour for cigar aficionados, and a two-hour tour for people who are serious about their cigars. The tours run Monday through Friday from 7am to 4pm, and Saturday from 7am to 11am.
Altos de Chavon
A replica of a 17th century Mediterranean village located just minutes from La Romana. Here you'll find artists' studios, craft-shops, galleries, restaurants and bars to satisfy all types of visitors. Take in a show at their 5000 seat amphitheater that still attracts big name artists.
Pot Bunker Sports Bar
Live satellite showing various sporting events on large screen TV's. Hours: 12pm until 1 a.m. Casa de Campo.