Freeport Cruise Ship Destination Port
Cruise Ship Port of Call information like Port News, Weather, Transportation Options, Things to Do and See, Area Events, Medical Care, Crime and Safety Review
Need to know
Personal Safety
The Bahamas has a high crime rate, areas frequented by tourists during the day are not generally prone to violent crime.
Visitors should exercise caution and good judgment at all times. Criminals tend to target restaurants and nightclubs frequented by tourists.
One common approach is for criminals to entice victims into accepting a ride, either as a "personal favor" or by claiming to offer taxi service, and then robbing and/or assaulting the passenger once they are in the car.
Visitors should use only clearly marked taxis with yellow license plates and make a note of the license plate number for their records.
Visitors should take care to ride only in taxis with seatbelts.
Travelers should avoid walking alone after dark or in isolated areas, and avoid placing themselves in situations where they are alone with strangers. Be cautious on deserted areas of beaches at all hours.
Visitors should store passports/identity documents, airline tickets, credit cards, and extra cash in ship safes. Automated teller machines (ATMs) are available; however, visitors should try not to use them, especially after dark.
Avoid wearing expensive jewelry, particularly expensive watches, which criminals have specifically targeted.
Visitors are advised to report crime to the Royal Bahamas Police Force as quickly as possible. Early reports frequently improve the likelihood of identifying and apprehending suspected perpetrators.
The legal age in The Bahamas for consumption of alcoholic beverages is 18. Parents should be aware, however, that minimum age requirements are not strongly enforced. It is easy for teenagers to obtain alcoholic beverages and underage drinking is prevalent. Many of the arrests, accidents and violent crimes suffered by U.S. citizens in The Bahamas involve alcohol.
In many countries around the world, including The Bahamas, counterfeit and pirated goods are available. Transactions involving such products may be illegal under local law.
Getting around
Traffic in The Bahamas moves on the left side of the roadway.
Travel by moped or bicycle can be quite hazardous, especially in the heavy traffic conditions prevalent in Nassau. Travelers should exercise appropriate caution when renting motorbikes. Pedestrians need to remember that vehicular traffic comes from the right, as many tourists have been struck by cars after failing to check properly for oncoming traffic.
Emergency ambulance service is generally available and can be reached by dialing 919. Roadside assistance is also widely available through private towing services, listed in the phone book.
The water sports and scooter rental industries in The Bahamas are not carefully regulated. Visitors should rent equipment only from reputable operators, and should insist on sufficient training before using the equipment.
Freeport is a city and free trade zone on the island of Grand Bahama and is a district of the Bahamas. Located approximately 100 mi (160 km) east-northeast of Fort Lauderdale FL.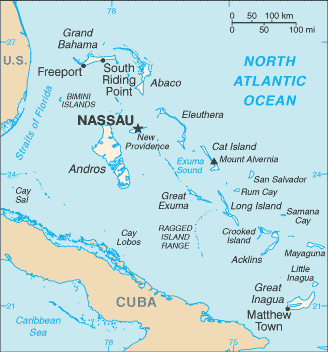 In 1955, Wallace Groves, a Virginian financier with lumber interests on the island, was granted 50,000 acres of swamp and scrubland by the Bahamian government with mandate to economically develop the area.
Freeport has grown to be the second most populous city in The Bahamas after the capital, Nassau.
Bahamas General Election Date Set
Posted April 11, 2012
The Bahamas Prime Minister called for the dissolution of Parliament on April 10, and announced May 7 as the date for the next General Election.
* Please keep in mind - alcohol sales are not permitted on election day and some retailers may not be open for business.
Good to Know
Port of Entry
Lucayan Harbor Cruise Facility located at the Freeport Harbor. Renovated and expanded in 2008. The facility covers 1,630 acres, including cruise and day ferry berths, a Caribbean style retail and entertainment village center as well as a cultural Bahamian straw market.
Guests are welcomed to the island by a live band and information about the island is available at the Tourism booth. The Grand Bahama Taxi Union provides both taxis and buses to various attractions in the area.
Time Zone
EST - observes US daylight savings time April-October
Map Coordinates
24.15 N, 76.00 W
Average Temperatures
Water: 80º Summer - 75º Winter
Air: 86º Summer - 77º Winter
Medical Services
High-quality medical care is generally available, but expensive, in Nassau and Freeport. Medical care is limited outside of Nassau and Freeport. Bahamian doctors and hospitals do not usually accept U.S. medical insurance policies and typically expect immediate cash payment for professional services. It is the patient's responsibility to seek reimbursement later from their insurance companies.
Bahamas Ministry of Health for health announcements
Dengue Fever
U.S. citizens should be aware of the recent Dengue Fever outbreak in The Bahamas. The Bahamas Ministry of Health has reported over 1,000 reports by individuals suffering from symptoms similar to Dengue Fever. The Ministry of Health has begun spraying local communities to reduce the mosquito population to combat the outbreak and has stressed to the public the importance of prevention.
Things to do and see
Port Lucaya
Every evening, the island dances to live music with a tropical beat in the open air of Count Basie Square. This popular gathering spot is the stage for mini-Junkanoo parades, calypso, limbo-dancing, fire-eaters, and a wide variety of local entertainers.
More than 80 fine shops at the Port Lucaya Marketplace adjacent to the marina. Substantial discounts off U.S. retail prices on jewelry, watches, designer fragrances, cameras, china, crystal and more! Enjoy waterfront dining or cocktails at any of the nearby restaurants.
Water Sports
Freeport is one of the best spots in the world to experience reef diving or snorkeling. UNEXSO, one of the top Caribbean dive centers, offers a multitude of dives and diving services including the Dolphin Experience.
Popular Dive Sites
Shallow Dives
(10-20 ft.) Xanadu Reef and Silver Point Shallow.
Medium Depth Dives
(40-60 ft.) Dolphin Reef and Shark Alley.
Deep Water Dives
(60-100 ft.) Tunnels Reef, Sea Star II Wreck, Silver Point Reef, Theo's Wreck - 230 ft. freighter sunk in 1982 in 100 ft. water.
Beaches
Fortune Beach
Named for a shipwreck discovered there with goods worth over $2 million, is a quiet stretch of beach, five miles from the Port Lucaya Marketplace.
Gold Rock Beach
Part of the Lucayan National Park, this secluded beach is a must-see during low tide. Across the road are the Lucayan Caverns, the world's longest underground surveyed cave system.
Lucayan Beach
Across from the Port Lucaya Hotel, this popular tourist beach has just about every water-sport activity, from snorkeling to parasailing, but is also great just for a stroll.
Mather Town Beach
Mather Town Beach is about three miles from Port Lucaya. With limited water activities, it is a great beach for swimming, eating, drinking and hanging out with the locals.
Paradise Cove Beach
Fifteen miles from the International Bazaar in Freeport, Paradise Cove is tucked away on the southwestern shore of the island. This quiet, secluded beach offers great places for snorkeling as well as beach volleyball. There's also direct access to Deadman's Reef, which has myriad of marine life.
Smith's Point Beach
Famous for its Wednesday night fish fry, Smith's Point Beach is found, adjacent to Taino Beach in Lucaya.
Taino Beach
With limited water activity and a small playground, Taino Beach is ideal for families with children. During holidays the beach is the site of many local cook-outs. The annual Junkanoo Summer Festival is also held there.
William's Town Beach
In the center of the William's Town settlement lies William's Town Beach. Water activities, such as banana boats, jet skis and snorkeling, can be found on the eastern side of the beach at Island Seas Resort.
Xanadu Beach
A popular tourist beach, three miles from the International Bazaar, offering water sports, straw goods, and a variety of food and beverages.
Area Events
New Years Day
Jan 1 annual event. Public holiday. Junkanoo competition.
Legends of Diving Summit
April annual event
Festivale Noelle
December Annual event. This popular annual event at one of the island's premier nature retreats includes wine tasting, arts & crafts, live music and much much more. Location: Rand Nature Centre.
Holmes Rock Gospel Celebration and Cultural Fest.
Annual December event.