Grand Turk Cruise Ship Destination Port
Cruise Ship Port of Call information like Port News, Weather, Transportation Options, Things to Do and See, Area Events, Medical Care, Crime and Safety Review
Need to know
Hurricanes
The Turks and Caicos Islands are situated in an area prone to hurricanes. Rainy season is from May to November, and periodic hurricanes between June and November.
In the event of a tropical storm or hurricane alert, Shipdetective will post NWS updates and information for travelers on our Tropical Storm Update page.
Medical Services
Medical facilities are available but limited in the Turks and Caicos.
There is a small public hospital on Grand Turk and a private clinic on Provo, which has a hyperbaric chamber. Most serious medical problems require medical evacuation by air from the Turks and Caicos to the United States.
The Turks and Caicos Islands do not have a pathologist to perform services in cases of death. Medical Examiners from neighboring countries visit the island regularly to provide this service. It can take up to two weeks for the Government of the Turks and Caicos Islands to release the remains of the deceased under normal circumstances, and severe weather during the hurricane season could delay the process even more.
Getting around
Taxis, Rental Cars and Water Taxis are available at the transportation hub of the Cruise Center just steps from the pier. Driving is on the left side of the road.
Taxi Rates
From the cruise center to:
Zone A - Airport $4 pp
Zone B - Cockburn Town $5 pp
Zone C - Pillory Beach $8 pp
Zone D - Lighthouse $9 pp
Click on this link for a local map
provided by grandturkcc.com
Traffic tends to be light, and the terrain is flat. When entering roundabouts and other intersections without signs or traffic signals, drivers are required to give way to those on their immediate right.
Driving under the influence of alcohol is illegal, and drivers convicted of the offence may face fines, detention, or both. Wild donkeys are a common sight and often walk on the roads, presenting a hazard to drivers, especially at night.
Road signs are not prevalent, but as there are few roads on the island, finding one's way with a tourist map is generally not a problem.
Drivers should be alert for unmarked hazards such as blind intersections or changes in road conditions.
Primary roads are generally drivable in both urban and rural areas.
Secondary roads are often unpaved, and have ruts and potholes. Be aware that, in the event of a breakdown, roadside assistance is generally not available.
For emergencies, drivers may call 999 or 911 for police, fire, or medical assistance.
Visitors require a valid driver's license from their country of residence.
Safety of public transportation in the Turks and Caicos is generally good.
Most car and motor scooter rental agencies will not rent to anyone under the age of 21. A government tax is levied on all car and motor scooter rentals (insurance is extra).
Car Rental - Also offers bicycle, scooter and snorkeling equipment for rent. Located at Grand Turk International Airport.
Grand Turk is part of the Turks & Caicos Islands - a British Crown Colony made up of 40 islands and cays. Grand Turk is known as the landing place for Columbus during his New World Tour in 1492. It's located 575 miles Southeast of Miami, Florida, and 30 miles south of the Bahamas.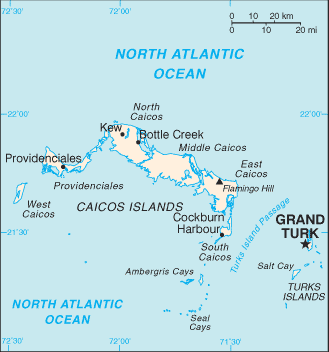 The islands were part of the UK's Jamaican colony until 1962, when they assumed the status of a separate crown colony upon Jamaica's independence. The governor of The Bahamas oversaw affairs from 1965 to 1973. With Bahamian independence, the islands received a separate governor in 1973. Although independence was agreed upon for 1982, the policy was reversed and the islands remain a British overseas territory.
NEWS
See photos of Grand Turk on our Facebook Page
Good to Know
Port of Entry
Grand Turk Cruise Center was built specifically for cruise passengers by Carnival Corporation and opened in 2006. The Grand Turk Cruise Center features a purpose-built, two-berth cruise ship pier. There are no restrictions on length. and the depth alongside is 33 feet. Cockburn Town is only minutes from the cruise center.
Official Currency
US Dollar
Time Zone
Grand Turk is on EST. (UTC/GMT - 5). Daylight Savings Time is observed from March to November.
Map Coordinates
21 45 N, 71 35W
| | | |
| --- | --- | --- |
| Avg. Temps | | |
| | Summer | Winter |
| Air | 85º | 82º |
| Water | 79º | 77º |
Things to do and see
If you don't want a beach day at the cruise center, there are plenty of excursions to choose from. Search your cruise line offerings on their website. The Cruise Center offers it's own excursion pier for easy access for passengers taking excursions.
Beaches
All beaches are free and open to the public. The Cruise Center offers passengers a beachfront with lounge chairs, umbrellas, noodles, and Cabanas ($). A flowrider ($) is available along with a complimentary resort-style swimming pool.
Shopping
Most local hotels, restaurants and shops accept traveler's checks. All stores at the cruise center accept credit cards.
Whale Watching Expeditions
(late January to early April) - click here for a link to a local tour operator.
Grand Turk Lighthouse
Constructed in 1852 and located on the northern end of Grand Turk.
Conch Farm
Open daily except on Sundays. Providenciales is home to the only conch farm in the world - definitely worth a visit to discover how Caribbean Queen conchs are raised from veliger to adult.
Cheshire Hall
200 year-old ruins of this former cotton plantation One of the key historic attractions on Providenciales.
Cockburn Town
Take a walking tour of Duke and Front streets - offering historic 18th and 19th century landmarks.
Turks and Caicos National Museum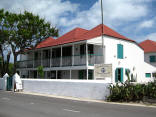 Open daily except on Sundays in Cockburn.
Notable Snorkel & Dive Spots
The Turks and Caicos Islands are surrounded by one of the most extensive coral reef systems worldwide (65 miles across and 200 miles long). As a result, the islands are consistently ranked as one of the premier diving locations in the world.
Excellent visibility (up to 200 feet), pristine reefs, abundant tropical flora and fauna, fish and other marine life, quality diving services and easy conditions make the Turks and Caicos Islands a world class diving destination. There is exceptional wall diving starting in shallow turquoise water and dropping off into the deep blue giving a real thrill. The reef is relatively close to the beach which makes for accessible beach dives. Shipwrecks, old and new further increase the multiplicity of the islands as an outstanding diving destination.
Under the National Parks Ordinance, vast areas have been set aside as marine park and fisheries reserves, replenishment, and mooring buoys have been established at all dive sites and mooring areas to avoid any possible damage from anchors. As part of the general preservation and protection drive, divers visiting Turks and Caicos are encouraged to observe, respect and enjoy the pristine natural beauty of the marine environment and to leave the reef as healthy as they found it.
Excellent diving can be found right off most of the islands, and popular dive sites include:
Providenciales Princess Alexandra National park Providenciales Northwest Point West
Caicos French Cay
Pine Cay
North Caicos
Middle Caicos
Grand Turk
Salt Cay
A 22 mile-wide channel, the Columbus Passage, separates the Turks Islands from the Caicos Islands. This 8,000 foot deep passage serves as major transit lines for migrating, spotted eagle rays, manta rays, turtles and dolphins.
Area Events
Turks and Caicos Kite Flying Competition
Annual April event at the Children's Park. Kite enthusiasts can enjoy a day of fun and flying on Easter Monday at the Children's Park in the Bight on Providenciales.
Grand Turk Heineken Game Fishing Tournament.
June annual event. The tournament gives fishermen the chance to compete for a variety of big prizes in the fish-rich waters around Grand Turk.
Turks and Caicos Film Festival
Providenciales Annual event in October.
Turks & Caicos Music and Cultural Festival
Annual event July - Aug. The annual Turks and Caicos Music and Cultural Festival features eight days of entertainment on the island of Providenciales. Website
Annual Turks and Caicos Conch Festival
Annual November event in the Blue Hills section of Providenciales. Conch recipe contest, a cooking competition, boat races, live music, and a conch treasure hunt. The Caicos Conch Farm will be open to visitors. Admission Fee.
Museum Day
November annual event at the Turks and Caicos National Museum, Cockburn Town.
Every year, the Turks and Caicos National Museum in Grand Turks celebrates the anniversary of its opening on 21 November 1991 with a party. Expect cultural presentations, song and dance.
Annual House Lighting Competition
The Turks & Caicos tourist board hosts an annual house lighting competition in Grand Turk and Providenciales. The judging will be carried out during the hours of 7:00 p.m. to midnight, December 21st – 28th.