Seabourn Cruises
Company Overview and Ship Fleet
Seabourn Wins Culinary Award
posted November 13, 2013
A distinguished panel of culinary and travel experts polled by the editors of Saveur magazine has rated Seabourn as the "Best Culinary Cruise Line" in the magazine's Culinary Travel Awards 2013.
In announcing the award, the magazine noted that Seabourn "…stands out for its focus on exceptional ingredients," and said its "…expertly designed menus include regionally inspired dishes, well-sourced ingredients, and a notable commitment to sourcing excellent wines and spirits to go with them." Read more...
Seabourne Signs Intent to Build
posted October 21, 2013
Seabourne announces it has signed a Letter of Intent with Italian ship builder Fincantieri to build a new ship with delivery in the second half of 2016. The new ship will share features of its newer design vessels, the Odyssey, Sojourn, and Quest. The vessel will replace the Pride, Spirit, Legend which will be phased to new owners starting in 2014.
Seabourne named World's Best Small Cruise Line
posted July 8, 2013
Seabourn's six intimate, all-suite ships have again been recognized as the "World's Best" by the discerning readers of Travel + Leisure for the fifth consecutive year. The line's intimate ships and personalized, intuitive attention to detail earned the top spot in the "Small-Ship Cruise Lines" category in the magazine's annual survey of its readers.
Smoking Policy
Guests are asked to refrain from smoking in all dining venues (inside and outside), the Show Lounge/The Grand Salon; The Club and the Casino, on the port side (left side facing forward) of the Observation Lounge; in the ship's elevators, corridors and lobbies including Seabourn Square; in The Spa at Seabourn, the surrounding deck and Spa Terrace.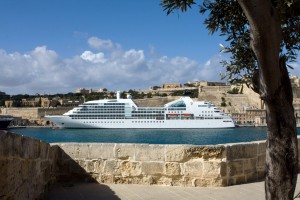 The Yachts of Seabourn provide the ultimate in ultra-luxury, yachting vacations to the most desirable destinations on earth. The intimate all-suite Seabourn Pride, Spirit and Legend each carry a maximum of 208 guests and nearly the same number of skilled and dedicated staff, providing a level of personalized service that is unmatched in the industry.
The Yachts of Seabourn guests are affluent and well-seasoned travelers who want the "best of the best" and may not necessarily be experienced cruisers. They avoid larger ships and are frequent guests at exclusive hotels, resorts, and upscale tour operators.
Because the intimate size yachts carry fewer guests and go where many larger ships cannot, Seabourn delivers privileged in-depth experiences of each destination to guests. Optional Signature Series and Adventure Collection shore excursions provide a virtual backstage pass to the world. Seabourn's Personal Shopper excursions whisk guests away in a luxury car accompanied by a local expert shopping guide.
History
Seabourn was founded in 1986 by a consortium of Norwegian investors headed by industrialist Atle Brynestad under the name Signet Cruise Lines, but adopted the name Seabourn Cruise Line shortly afterward after objections from Signet Oil over trademark ownership. Its first ship, Seabourn Pride, entered service in 1988, followed by an identical sister, Seabourn Spirit, in 1989. A third vessel, originally planned for 1990, was delayed due to investors' financial constraints and was ultimately purchased by Royal Viking Line in 1992 as Royal Viking Queen. In 1994, Royal Viking Queen was transferred to a Kloster subsidiary, Royal Cruise Line, as Queen Odyssey In 1991, Carnival Corporation purchased a 25% stake in Seabourn. Carnival Corporation upped its stake to 50% in 1996, providing the company sufficient capital to purchase the Queen Odyssey, which was renamed Seabourn Legend.
In 1998, in partnership with a consortium of Norwegian businessmen, Carnival purchased the remaining 50% stake in Seabourn, as well as acquiring the venerable Cunard Line from Kvaerner ASA. and merged the two brands into an entity called Cunard Line. In 1999, three Cunard ships, Sea Goddess I, Sea Goddess II, and Royal Viking Sun were transferred into the Seabourn fleet as Seabourn Goddess I, Seabourn Goddess II, and Seabourn Sun.
In 2001, Carnival bought out the Norwegian shareholders, and Seabourn's parent company became a wholly owned subsidiary of Carnival. That summer, Seabourn Goddess I and Seabourn Goddess II were sold to Seabourn's original founder, Atle Brynestad, for his SeaDream Yacht Club. In 2002, Seabourn Sun was transferred to the Carnival-owned Holland America Line, reducing the Seabourn fleet to its three original sister ships, and the company was demerged from Cunard Line and reorganized as a stand-alone operating brand of Carnival Corporation & plc.
On March 31, 2011 Seabourn ceased operations from Miami, Florida and transferred operations to the Holland America Line quarters in Seattle, Washington.
Fleetwide Amenities
All-suite accommodations
Open bar throughout the ship
Open-seating restaurant
Fine soaps by Hermes and L'Occitane; bath amenities by Molton Brown
Caviar in the Surf® where available
Seabourn's Personal ShopperSM
Shopping with the Chef
Water sports from the ship's unique marina
Wi-Fi access from suites and public rooms; cell phone service at sea
Tipping is neither required nor expected
Dining Options
Seabourne expands dining options
Posted March 30, 2012
The Seabourn culinary team has expanded the variety of menus served in the Patio Grill, the casual poolside restaurant on Seabourn Odyssey, Seabourn Sojourn and Seabourn Quest.
Three new themed dinner menus have been added, supplementing the popular Surf and Turf menu. The new ones are Chop House, Al Fresco and BBQ.
Also new in the Patio Grill is a selection of "pick and go" appetizers and desserts, allowing guests to choose from a selection of four of each, already prepared and beautifully plated.
The eatery also now offers a different pasta and pizza creation every day. Freshly baked pizzas will also be available throughout the afternoon, as well as pastries in the morning.
Wi-Fi and Internet
Guests may use their laptop computer or other wireless internet enabled device to connect to the wireless internet service on board. Computer terminals are also available at Seabourn Square or in the Computer Center, depending upon the ship. Pricing starts at $.40/minute. Internet Plans are available at a reduced rate and vary in price to accommodate individual needs. Packages are interchangeable between the private computer terminals and your wireless device.
Satellite internet access is significantly slower than land-based high-speed connections, and subject to occasional interruption or disruption for reasons beyond our control. Certain websites and services may be restricted due to limited bandwidth, internet access onboard the ship is best for email communication or web browsing only.