Carnival Cruise Line
Company Overview and Ship Fleet
ships > Carnival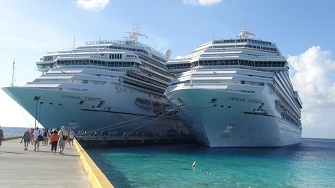 Carnival Cruise Lines prides itself on being "The World's Most Popular Cruise Line®" a distinction achieved by offering a wide array of quality cruise vacations which present outstanding value for the money. Carnival Cruise Lines is the largest and most successful cruise line in the world, carrying more passengers than any other.
Today's Carnival is a vastly different company than the one started from humble beginnings more than three decades ago. Carnival was launched with a converted transatlantic ocean liner and a dream of entrepreneur Ted Arison, a pioneer in the modern-day cruise industry who set out to realize his vision of making a vacation experience once reserved for the very rich accessible to the average person.
Magic News
Carnival Magic to Feature Guy's Pig & Anchor Bar-B-Que Smokehouse
Chef and restaurateur Guy Fieri, whose Guy's Burger Joints on Carnival Cruise Line ships have earned a reputation as the best burgers at sea, has expanded his seagoing culinary offerings with a new authentic smokehouse and barbecue venue aboard Carnival Magic.
Guy's Pig & Anchor Bar-B-Que Smokehouse is a casual open-air eatery located on Carnival Magic's Lanai on Promenade Deck featuring a wide variety of BBQ favorites smoked right on board over hickory and cherry wood using Guy's signature recipes, rubs and spices.
All items at Guy's Pig & Anchor Bar-B-Que Smokehouse will be available free of charge.
Open sea days from noon to 2:30 p.m., Guy's Pig & Anchor Bar-B-Que Smokehouse is part of Carnival Magic's extensive multi-million-dollar renovation that spanned three weeks and added a variety of exciting new dining and bar concepts, including, of course, a Guy's Burger Joint, a free-of-charge poolside venue serving hand-crafted burgers and fries with recipes created by the Food Network star.
Including Carnival Magic, Guy's Burger Joints are available on 11 Carnival ships and serve more than 1,000 burgers per ship per day. Guy's Burger Joint will also be featured aboard the new Carnival Vista when it debuts in May.
Other newly added spaces on Carnival Magic include two poolside bars – the RedFrog Rum Bar and BlueIguana Tequila Bar – along with the BlueIguana Cantina serving authentic Mexican tacos and burritos, Pizzeria del Capitano offering hand-tossed artisanal pies, the cocktail pharmacy-themed Alchemy Bar, and a "candy and more store" called Cherry on Top.
Carnival Magic will offer two distinctly different week-long itineraries from the Space Coast – a western Caribbean route featuring Cozumel, Belize, Mahogany Bay (Isla Roatan) and Costa Maya; and an eastern Caribbean option calling at St. Thomas, San Juan, Grand Turk and Nassau or Amber Cove. Additional information on Guy's Pig & Anchor Bar-B-Que Smokehouse is available at carnival.com/guysbbq.
Special Needs Passengers
Children's Programs
Dedicated Dining
Five course meals are served in the main dining rooms including: fresh lobster, Georges Blanc Signature Selections, and an extensive wine list.
Supper Club
For more intimate dining, many ships feature a reservations-only supper club with a Manhattan-chic setting and a menu that includes steakhouse favorites.
Casual Dining
From the extravagant midnight buffets (on select ships) , to the 24-hour pizza, sushi bars and European-style cafés, you'll discover a myriad of palette pleasing favorites that even the most discriminating diner will enjoy.
Kids Dining
Children's menus feature plenty of kid-pleasing favorites including spaghetti and meatballs, hamburgers, hotdogs, pizza, assorted desserts and much more.
Example Room Service Menu
COMPLIMENTARY ITEMS
Breakfast
Continental Breakfast available upon request.
Simply complete the door hanger menu
and hang it outside your stateroom by 5 AM
the evening prior or call anytime.
Sandwiches
Served with Potato Salad, Coleslaw, Potato Chips
or Pretzels. Choose White, Whole Wheat,
Rye or gluten free Bread.
Tuna Salad
Roast Turkey
Ham and Cheese
Peanut Butter and Jelly
Bacon, Lettuce, and Tomato
Grilled American Cheese
Grilled Reuben
with Corned Beef and Swiss Cheese
Salads
Garden Salad
Choice of Ranch, 1,000 Island, Balsamic Vinaigrette, Blue Cheese or Fat Free Honey Mustard Dressing
Caesar Salad
House Made Dressing, Shaved Parmesan Cheese
Market Vegetable Platter
Assorted Garden Vegetables with Dips
Desserts
New York Cheesecake
Assorted Cookies
Chocolate Cake
Beverages
Juices
Orange, Tomato, Apple, Grapefruit
Regular or Decaffeinated Coffee
Hot Tea - Iced Tea
Hot Chocolate - Milk
Skim Milk - Chocolate Milk
---
For Additional Charge:
Totally Awesome Wings $5.00
Tossed in Your Choice of: • Honey BBQ • Buffalo Sauce • Garlic Parmesan • Teriyaki • Caribbean Jerk
Chicken Tenders $5.00 Crispy
Panko Breaded Chicken Tenders with a Choice of BBQ or Honey Mustard sauce
Spicy Fried Firecracker Shrimp $6 Spiced Shrimp, Panko Coated and Fried with Chili Ginger Dip, Served with French Fries
Killer Chicken Quesadilla $5.00 Grilled Chipotle Seasoned Chicken, Onions, Peppers and Grated Monterey Jack Cheese. Fresh Pico de Gallo, Guacamole
Authentic Philly Cheesesteak $5.00 Frizzled Steak, Melted Cheese and Grilled Onions on a Hoagie Roll, Served with French Fries
Pan Pizza $5.00 Hand-Stretched Dough, Topped with Fresh Ingredients and Baked to Order. Cheese, Pepperoni, or Ham and Pineapple
Side of Fries $1.50 Just Right for You… Tell the Others to Order Their Own
Sweet Potato Fries $2.00
Old Fashioned Banana Split $4.00
Shipboard Wifi
Wifi packages are available on all Carnival ships.
Social Media Internet - Carnival Fun Hub Package - $5/day per device and is offered on the following ships.
| | |
| --- | --- |
| Carnival Breeze | |
| Carnival Freedom | |
| Carnival Breeze | |
| Carnival Sunshine | |
| Carnival Ecstasy | |
| Carnival Sensation | |
| Carnival Paradise | |
| Carnival Fascination | |
| Carnival Victory | |
| Carnival Elation | |
| Carnival Pride | |
| Carnival Imagination | |
| Carnival Inspiration | |
| Carnival Glory | |
| Carnival Conquest | |
| Carnival Dream | |
Carnival Cruise Line History
Carnival Cruise Line is the largest and most successful cruise line in the world, carrying more passengers than any other.
Through the years..
1972: Maiden voyage of Carnival's first ship, the TSS Mardi Gras, which runs aground on sandbar outside the Port of Miami.
1975: Carnival purchases Empress of Britain/reflagged TSS Carnivale.
1978: Carnival purchases S.A. Vaal/reflagged the Festival.
1982: Tropicale debuts - industry-wide ship building boom begins.
1985: Debut of the 46,000 ton Holiday.
1986: Launch of 47,000 ton Jubilee.
1987: 47,000 ton Celebration enters service.
1990: Fantasy enters service.
1996: Carnival introduces new Destiny class, at the time the world's largest passenger ship at 101,000 tons.
1999: Carnival introduces eight and final Fantasy-class ship, the Carnival Paradise.
2001: Spirit class introduced with the launch of 88,500-ton Carnival Spirit.
2002: Carnival introduces the Conquest class 110,000-ton ship.
2008: Carnival introduces the 113,300-ton Splendor, a new class of ship.
2009: Carnival introduces the 130,000-ton Carnival Dream.
2011: The second Dream-class ship, the Carnival Magic was launched.
2012: The Carnival Breeze was launched.
2016: The Carnival Vista debuted.