Cruising Q&A
Do you have a question about cruising? Get your answer here.
home > advice > Cruising Q&A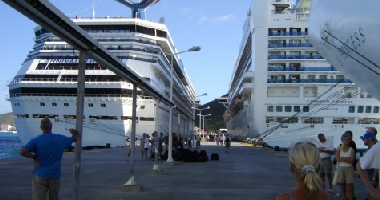 What if I'm late getting back to the ship?
Do I need to learn maritime lingo?
Do I need a passport? Do I need a Visa?
Do I really have to wear a formal outfit to dinner?
---
Yes. There are about ten basic terms you should learn before going on your cruise such as knowing which side of the ship is Starboard and Port side, gangway, tenders, and a few others. Go to our Nautical Terms page to get the basics.
Yes except for travel to U.S territories like the USVI and Puerto Rico.
Passports. You now need a passport, passport ID card, or a government issued ID card and birth certificate for international travel.
Visas. Caribbean Ports allow cruise companies to acquire "blanket visas that cover all passengers on a ship. Other countries have strict laws and regulations regarding entry into the country for any purpose. Applying for a Visa is the sole responsibility of the traveler and not the cruise line. You must apply to the country directly and additional fees apply.
* Brazil - requires all passengers to obtain a visa - US State Dept.
* Russian Federation - allows passengers to bypass a visa if they tour with approved tour operators.
Another thing to keep in mind when applying for a visa is that some Middle Eastern and African countries will not issue visas or allow entry if your passport indicates travel to Israel. Also, some countries like South Africa require blank pages for entry/exit stamps.
Every individual is different of course, but if your prone to any type of motion sickness, you'll want to ask your doctor about certain remedies (the patch behind the ear seems to be the most common with passengers.) We've known folks who took a remedy the first day of the cruise before leaving port and later felt sick. It's difficult to know if these folks feel sick from the patch, or it was actual motion sickness. The majority of folks we talk to who wear the patch say they work great. Bottom line, if your prone to motion sickness, talk to your doctor and find out what's best for you. The cruise ships usually have motion sickness remedies on-board the ship for purchase, however we recommend you bring along your own. Even if you're not prone to motion sickness, you can still feel the effects if you over indulge in fun, alcohol, food, sun, and so on.
Cruise lines make it easy so easy to go for broke on the first day or two, so remember to pace yourself. Do everything in moderation if you want to avoid the cruise blues.
Do I Need Travel Insurance?
We highly recommend cruisers consider travel insurance options to cover trip cancellation, as well as emergency travel and health services. Trip cancellation should be considered by travelers who live in an area prone to bad winter weather or during hurricane season. Medical services should be considered by everyone. Most American health care providers do not cover costs out of the country. Medicare generally does not provide coverage unless a supplement is purchased. Have you considered what would happen if you became ill or injured during your cruise and needed to be hospitalized? Especially cruisers who visit underdeveloped countries with sub-standard public medical facilities. For instance, it's common practice for private hospitals in Mexico and throughout the Caribbean to require deposits, down payments, or payment in full, for emergency medical services. And we suspect many passengers don't have the ability to swipe a credit card or lay down a few thousand dollars in cash for emergency care.
Before embarking on an overseas vacation, travelers should check their medical policy to see what is covered. We recommend travel insurance to cover emergency medical expenses including medevac/air ambulance services. Even so, insurance companies typically don't pay a dime until you submit a claim with receipts.
There are two types of travel insurance, primary and secondary. Primary insurance covers you without relying on your other insurers i.e.: medical, home owners etc., to pay for some of the claim. Secondary insurance policies pay after your own private insurance pays the maximum benefit.
A company like TravelGuard offers primary policies you can purchase through travel agents and tour operators.
The Internet has made it easy to research and purchase travel insurance. Insuremytrip.com and Squaremouth.com offer side-by-side comparisons, including prices.
Most cruise lines use the automatic gratuity system and charge a per day/per person gratuity that can be pre-paid with your cruise fare, or added to your shipboard charge account. This gratuity is pooled and then shared among a good portion of the crew like housekeeping, dining services, kids crew, etc.. Rates vary - see below. Also, a gratuity (15%-18% depending on cruise line) is included on all drink and food items purchased onboard. Many passengers bring along cash for extra tips given to bartenders and wait staff. Extra tipping is your choice and never required. You will also want to consider tips for excursion staff if you plan any trips in port. Suggested tip for excursion staff is $5-$20 or more, depending on the number in your group and the way you normally tip.
Bar and Food Automatic Gratuities - per purchase
NCL – 18%
Carnival - 15%
Princess - 15%
HAL – 15%
RCCL – 18%
Automatic Gratuities - per day/per person charge
Disney – $12.00
NCL – $13.50
Carnival - $12.00
Princess -$11.50
HAL – $11.50, after Nov. 30th - 12.50
RCCL – $12.95
Celebrity – $12.00
Cunard – $11.50
Suite automatic gratuities per person/per day
Disney – $12.00
NCL (including the Haven) – $15.50
Carnival - $12.00
Princess -$12.00
HAL – $12.00, after Nov. 30th - $13.50
RCCL – $15.95
Celebrity – $12.50 Concierge and Aqua; $15.50 suites
Cunard – $13.50
All prices subject to change. Updated September 2015
Do I really have to wear a formal outfit to dinner?
No, not really. There are very few cruise companies left that require passengers to dress for formal dinners or meals in the dining room. For instance, Celebrity, Cunard, and Holland America expect you to dress "resort casual" when dining in the main restaurants. On Celebrity ships in particular, a "skort" is shorts, therefore considered inappropriate in the dining room. Others lines such as Carnival, NCL and Royal Caribbean are more lax on the dress code. We've seen passengers enter the dining room on formal night dressed in jeans, t-shirts, and flip-flops. They get seated and served like the rest of us. Following the dress code is appreciated by staff but rarely enforced. Other than buffets, be respectful of the dress code and go resort casual in the dining venues.
A tender is a small watercraft that carries passengers to shore; acting as either life boats in cases of emergencies, or used to transfer passengers back and forth to the pier when the ship is anchored and unable to dock. Newer tenders are covered, and offer air-conditioned and an on-board lavatory. Others are covered but not necessarily air-conditioned. Tenders are carried on the ship, or local ports employ companies that act as the tender service for ships anchored outside the docking area.
What does Duty Free mean?
Duty Free means that the item is free from any kind of sales tax. Many items considered "luxury" like jewelry, perfumes, etc., or "sinful" like cigarettes and liquor are sold tax free. Of course there is a limit as to how much you can buy duty free.
Duty-Free Exemption
The duty-free exemption, also called the personal exemption, is the total value of merchandise you may bring back to the United States without having to pay duty. You may bring back more than your exemption, but you will have to pay duty on it. In most cases, the personal exemption is $800, but there are some exceptions to this rule, which are explained below.
Depending on the countries you have visited, your personal exemption will be $200, $800, or $1,600. There are limits on the amount of alcoholic beverages, cigarettes, cigars, and other tobacco products you may include in your duty-free personal exemption. The differences are explained in the following section. The duty-free exemptions ($200, $800, or $1,600) apply if:
The items are for your personal or household use or intended to be given as gifts; the items are in your possession, that is, they accompany you when you return to the United States; items to be sent later may not be included in your $800 duty-free exemption (exceptions apply for goods sent from Guam or the U.S. Virgin Islands); the items are declared to CBP. If you do not declare something that should have been declared, you risk forfeiting it. If in doubt, declare it; you are returning from an overseas stay of at least 48 hours. For example, if you leave the United States at 1:30 p.m. on June 1, you would complete the 48-hour period at 1:30 p.m. on June 3. This time limit does not apply if you are returning from Mexico or from the U.S. Virgin Islands; you have not used all of your exemption allowance, or used any part of it, in the past 30 days—for example, if you go to England and bring back $150 worth of items—you must wait another 30 days before you are allowed another $800 exemption; the items are not prohibited or restricted as discussed in the section on Prohibited and Restricted Items. Note the embargo prohibitions on products of Cuba.
Joint Declaration
Family members who live in the same home and return together to the United States may combine their personal exemptions. This is called a joint declaration. For example, if Mr. and Mrs. Smith travel overseas and Mrs. Smith brings home a $1,000 piece of glassware, and Mr. Smith buys $600 worth of clothing, they can combine their individual $800 exemptions on a joint declaration and not have to pay duty. Children and infants are allowed the same exemption as adults, except for alcoholic beverages and tobacco products.
St. Thomas
The U.S. Virgin Islands are a duty-free port, with no sales or luxury taxes on items such as watches, cameras, fine jewelry, china, and leather goods. U.S. citizens are allowed a duty-free shopping quota of $1,600--twice that of any other island in the Caribbean and three times that of European countries. A flat rate of six percent duty is charged on purchases over your $1,600 allowance. Besides your personal exemption, you can mail friends and relatives at home an unlimited number of gifts (other than perfume, liquor, or tobacco) worth $100 or less per gift.
An excursion is a scheduled tour provided directly by the cruise line - or you choose your own provider and tour at your own risk. Excursions offered by the cruise companies can be services provided directly by cruise staff, or most usually, services provided by local tour operators and organized by the cruise line. The one great benefit about scheduling excursions through the cruise line is their guarantee not to leave you at the port if your tour happens to run late. If they do leave you, they're responsible for getting you to the next port and take care of you in the meantime. On quite a few occasions, we've had to wait for passengers that were late getting back to the ship (up to 2 hours). The Captain may or may not wait that long. It depends on the itinerary and how costly waiting vs. transporting passengers to the next port will be. The excursion staff can sometimes work miracles to get passengers back to the ship before the gangway is pulled.
Will I get left in port If I'm late getting back to the ship?
You might! Getting left at the port is more common than you think. Quite the bummer since you're responsible for your own transportation to the next port. How many times we've stood on our balcony and seen at least one person sprinting to the pier gate security, trying to wave down the ship like a bus and realizing the ship has already pulled away. One time we went back to the pier after moving about 100 yards but that's not always possible at every port. The cruise staff do their job by trying to located you before the ship leaves. The Purser's staff takes a head count, each and every time you leave the ship and slide your card at the gangway. If the computer doesn't have you checked in, they will make announcements on the PA system asking you to check-in. They run the announcement, and contact any cabin mates in hopes of finding you. After some attempts to help you, they pull the gangway. If you're unsure about your cruise line policy, call them up and ask them what it is.
We can only imagine the shock and feeling of abandonment one must feel as they watch their ship sail away.