Carnival Fascnination Cruise Ship Profile
Ship Features, Itinerary, News, Photos, Review, Accommodations, Notable Rooms, Dining Venues, Kid's Areas, Deck Plan, Outdoor Spaces, Smoking Sections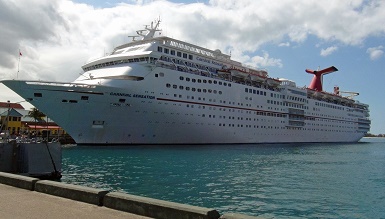 Sister ship - Carnival Sensation
The Fascination received a multi-million dollar makeover complete with a spanking-new lobby bar in the six-story atrium, a 9-hole mini golf course and sushi bar. Staterooms have been upgraded with new, flat-screen TVs and restyled bathrooms.
Ship Class: Fantasy
Cost: $315 million
Launched: 1994
Refurbished: 2018
Scheduled for dry dock in November 2020
GRT: 70,367
Length: 855 ft.
Draft: 25.7 ft.
Speed: 21 Knots
Passengers: 2,675 passenger capacity
Ninety-eight balconies were also added to existing accommodations during the dry dock, creating spacious 230-square-foot balcony staterooms that provide the ideal vantage point for viewing the tropical scenery. Sixty-two of the new balcony staterooms are located aft with several of these featuring extended balconies, while 24 are located mid-ship and 12 near the stern. Several suites were also retrofitted with larger, extended balconies.
Amenities
Carnival Comfort Beds in all staterooms with two twin beds that convert to a queen or king, sitting area, desk, bathroom with shower, phone, and TV with first-run movies and amenity basket displayed in the bathroom. The amenities are subject to change and are only sample sizes. The basket may include such things as: his/her razors; shampoo and conditioner; body wash; Tylenol; deodorant; hard candies. Supplies will be replenished by the room steward, if quantities allow.
Stateroom sizes
| | |
| --- | --- |
| Inside | 195 sq. ft. |
| Outside | 220 sq. ft. |
| Balcony | 230 sq. ft. |
Interior
Interior staterooms use Carnival Collection Linens, a private bathroom, three closets, and 24-hour room service. Upper/lower rooms maximize space using an upper Pullman or sofa bed. Twin beds can be converted to a King bed. Some interior rooms include a porthole for viewing.
Ocean View
Ocean view staterooms provide you with views of the sea right from your stateroom from a picture window. Included in the space is a private bathrooms, three closets, and 24-hour room service. Two twin beds covert to a king bed.
Balcony
Balcony staterooms provide private sea view access. Relax on your balcony and appreciate the sea breeze. Included in the space is a private bathrooms, three closets, a patio table and chairs, and 24-hour room service. Two twin beds covert to a king bed.
Suites
All suites come with VIP check-in and balcony views. The suites have ample space to stretch out and move around. The junior suite features a standard-sized balcony and a whirlpool tub. The Grand Suite has expansive space and a dressing vanity.
Self-Service Launderettes
Hours: posted on the Laundry Room door
2 or 3 washers and 2 or 3 dryers ($)
1 iron and ironing board
Vending machines dispense small boxes of detergent and water softener ($)
Locations
Upper Deck 6 - aft / across from stateroom U154
Empress Deck 7 - forward / across from stateroom E2
($) = Specialty restaurant, surcharges apply
Main Dining Rooms
The Sensation and Imagination main dining rooms were refurbished with new carpeting, upholstery and other cosmetic enhancements. The Sensation dining room, located forward, was also reconfigured for Your Time Dining providing guests the option of open seating between 5:45 p.m. and 9:30 p.m. nightly.
Coconut Bar & Grill
Self-Service Casual Lido Complimentary Restaurant
Delicious new dining options were added to the ship's casual poolside restaurant, Coconut Grove Bar & Grill. Location: Lido Deck 10 - midship / aft
Hours: open for breakfast / lunch / dinner / late night snacks. Available 24 Hours: coffee, hot tea, hot chocolate, lemonade and unsweetened iced tea
Beer Station (9:00am-11:00pm) Pour Your Own Beer ($)

Breakfast Time: 7:00am-10:30am (hours may vary)
Hot and Cold Buffet and Specialty Stations: hot cereal and boxed cereal, eggs, omelet station, bacon and sausage, hash browns, pastries, bread, toast and bagels, yogurt and fresh fruit.
Lunch Time: 12:00pm-2:30pm (hours may vary)
Hot and Cold Buffet / Specialty Stations: Buffet featuring pastas, stir-fry, carving station - choices may vary among the fleet
Salad Bar: Elaborate salad bar featuring 35 items
Chef's Choice: Featuring a different International cuisine each day
Desserts: Variety of desserts including sugar-free selections
Dinner Time and Late Night (hours may vary)
Good Eats: (6:00pm-9:30pm) Buffet-Style - an array of pastas, steaks, prime rib, grilled chicken, specialty salads and desserts along with a daily Chef's Special.
Late Night Snacks: (11:30pm-1:00am) Hot and cold light snacks and desserts
Swirls: (open 24 hours) Self-service ice cream and frozen yogurt
Carnival Deli
Location: Lido Deck 10 (inside Lido Restaurant)
Hours: 11:00am-11:00pm
Food Service, featuring complimentary deli sandwiches piled-high and favorite sides.
Pizza Pirate
Location: Lido Deck 10 (inside Lido Restaurant)
Hours: 24 hours
Food Service, featuring complimentary, hand-tossed, thin-crusted pies made in a traditional pizza oven
Bluelguana Cantina
Onboard Mexican featuring freshly-made tacos and burritos. Homemade tortillas and chips and a salsa bar with choices from mild to hot are always ready to go.
Guy's Burger Joint
Poolside spot for hot burgers, hand-cut fries, more. Choose one of Guy's creations or create your ideal burger.
Bonsai Sushi Express($)
Sushi restaurant offering a wide variety of Asian-inspired delicacies and serving soups, sakes, and desserts. Prices range from $1 for appetizer portions to $15 for a sushi ship for two.
The Taste Bar
Complimentary bite-size offerings inspired by popular Carnival dining venues.
Chef's Table ($)
A VIP, private tour of the kitchen starts this experience. After signature cocktails, the chefs cook a private, multi-course meal of items not found on regular menus. A $75 per person surcharge applies.
Bogart's Cafe
Serving Specialty coffees and homemade pasties throughout the day.
Room Service
24-hour room service menu. Room service orders are delivered to guests' staterooms any time of the day or night at no charge.
The Palace Main Show Lounge
Sit back and enjoy musical and stage productions. Sit forward for interactive activities like bingo, trivia and other games. And sit on the edge of your seat while experiencing action-packed, feature-length 3D movies!
88 Piano Bar
A venue for live music and sing-alongs located on Atlantic deck.
Puttin' on the Ritz Lounge
Cabaret style lounge offering activities during the day and music and comedy in the evenings featuring the Punchliner Comedy Club. Five 35-minute shows on multiple nights during each voyage, with at least two comedians performing each night. The two early-evening shows offer fun for the whole family while the later performances will feature adult-oriented comedy. Located on Promenade deck.
Beverly Hills Bar
Intimate lounge near the Puttin' on the Ritz Lounge.
Diamonds are Forever Disco
Party late-night at this main dance lounge playing today's latest hits. Located on Promenade deck.
Casino Royale
Full gaming casino located on Promenade deck midship with blackjack, slots, craps, and bingo.
Spa Carnival
Location: Sports Deck 12 - forward
Fitness Center and Studio
Hours: 6:00am-10:00pm
Fully equipped with Life Fitness equipment
Scheduled fitness classes offered; specialty classes ($)
Spa and Salon
Hours: 8:00am-10:00pm
2 saunas (men/women)
2 steam rooms (men/women)
2 locker rooms (men/women)
10 treatment massage rooms ($)
European-style treatments and services ($)
Hair and nail grooming for men and women ($)
Acupuncture ($)
Camp Ocean
Carnival unveiled an exciting, new marine-themed children's program in 2014. The expanded program for children ages 2-11 highlights the wonders of the sea through fun, engaging and educational experiences.
More than 200 new ocean-inspired activities range from educational games such as Sea Creature Discovery, Marine Life Trivia, Under the Sea Mad Libs and Ocean Artifacts Memory Tray to creative arts opportunities such as Design Your Own Aquarium, Make Your Own Sailboat, Sea Salt Art, and Create a Penguin from Oreos.
Camp Ocean, will welcome youngsters in with light blue and white underwater colored spaces and friendly, experienced staff. Three age-related categories each have their own identity: children ages 2-5 are dubbed "Penguins," with those ages 6-8 called "Sting Rays" while 9-11 year olds are "Sharks."
Distinctive areas and activities have been custom-created for each of the new age designations – from miniature play igloos for the Penguins to interactive gaming stations for the Sharks.
Camp Ocean (ages 2-11)
Camp Ocean features games, finger painting, story time, movies and more all in a supervised environment, while their parents can be off having fun of their own. The fun doesn't end at bed time, either; Carnival's babysitting program offers, for a fee, a fun late-night option for kids while their parents stay out until as late as 3 A.M.
Circle C (ages 12-14)
Video games, scavenger hunts, dance parties, sports, pool parties and special shore excursions.
Club O2 (ages 15-17)
Teens can enjoy the latest music with exclusive dance parties, video gaming and movies from the club's comfy seating, with video monitors all over the place. Outside of the club, activities include pool parties, team sports and special teen-only shore excursions.