Carnival Legend Cruise Ship Profile
Ship Features, Itinerary, News, Photos, Review, Accomodations, Notable Rooms, Dining Venues, Kid's Areas, Deck Plan, Outdoor Spaces, Smoking Sections
Legend Returns with New Upgrades
posted March 5, 2014
The Carnival Legend resumes seven-day Caribbean cruises from Tampa after undergoing a multi-million dollar makeover. New innovations include a WaterWorks aqua park, Children's spray park, new dining venues, and new entertainment options. Read more...
The Legend sails Alaska, Western Caribbean and Mediterranean itineraries. Click on the link below for a full schedule.
CDC Ratings
If link above doesn't open to the report page, close the window and click on link again to access.
2009 Rating 97 (March)
2009 Rating 98 (Oct)
2010 Rating 96(April)
2010 Rating 94 (Nov)
2011 Rating 95(May)
2011 Rating 97 (Oct)
2012 Rating 95 (June)
2012 Rating 94 (Nov)
2014 Rating 100 (Feb)
2014 Rating 99 (Jul)
2015 Rating 94 (May)
2016 Rating 98 (Jun)
Sky Deck
Sun deck
Sports Deck
Slide entrance, Kid's Pool, The Golden Fleece Steakhouse, Basketball, Mini-golf, Sports Deck
Sun Deck
Green Thunder Waterslide, Golden Fleece Steakhouse, Club O2, Fitness Center
Lido Deck
Serenity adults only lounge, Unicorn Café Restaurant, Avalon Pool, Camelot Pool, Avalon Bar, Spa Carnival, Gymnasium
Panorama Deck
Passenger staterooms
Verandah
Passenger staterooms
Empress
Passenger staterooms
Upper
Camp Carnival, passenger staterooms
Main
Video Arcade, Circle "C," Follies Main Show Lounge
Atlantic
Truffles Main dining room, Odyssey Foyer Lounge, Exterior promenade, Enchanted Forest Interior Promenade, Wedding Chapel, Fun Shops, Billie's Piano Bar, Holmes Internet Café and Library, Photo Gallery, Follies Main Show Lounge
Promenade
Truffles Main dining room, Follies Main showroom, Atlantis Lobby, Medusa's Lair Dance Club, Legend Lobby, Club Merlin Casino, Dreamtime Sports Bar, Sushi Bar, Red Frog Pub, Legend's Café
Riviera
Medusa's Lair Dance Club, Firebird Lounge, Passenger staterooms
Adults Only Retreat
Located aft on Promenade Deck and offering magnificent ocean views is Serenity, an exclusive new adults-only retreat.
Intended as an oasis for relaxation and comfort, "Serenity" offers plush chaise lounges and chairs, colorful oversized umbrellas, and two large whirlpools.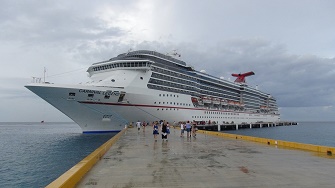 See more photos on our Facebook page
The Carnival Legend became the 13th Carnival ship to receive major enhancements including a renovated pool area, the addition of WaterWorks, Seaside Theater and Serenity adults only retreat. Updates were completed February 2011.
Ship Class: Spirit
Launched: 2002
Refurbished: 2005 and 2011; Fun Ship 2.0 enhancements scheduled for Feb. 2014 (dates TBA)
GRT: 88,500
Length: 963 ft.
Draft: 25.7 ft.
Speed: 21 Knots
Passengers: 2,124
Carnival Comfort Beds in all staterooms with two twin beds that convert to a queen or king, sitting area, desk, bathroom with shower, phone, and TV with first-run movies and amenity basket displayed in the bathroom. The amenities are subject to change and are only sample sizes. The basket may include such things as: his/her razors; shampoo and conditioner; body wash; Tylenol; deodorant; hard candies. Supplies will be replenished by the room steward, if quantities allow.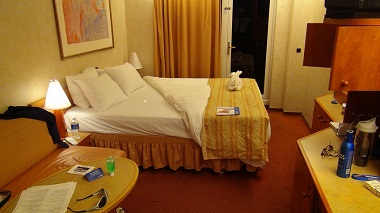 Stateroom sizes
| | | |
| --- | --- | --- |
| Inside | 185 | Sq. ft. |
| Outside | 220 | Sq. ft. |
| Balcony | 225 | Sq. ft. w/veranda |
| Suite | 360 - 415 | Sq. ft. w/veranda |
Interior
Interior staterooms use Carnival Collection Linens, a private bathroom, and 24-hour room service. Upper/lower rooms maximize space using an upper pullman or sofa bed. Some interior rooms include a picture window or a French door.
Ocean View
Ocean view staterooms provide you with views of the sea right from your stateroom. Deluxe staterooms are perfect for families with space to fit up to five cruisers, a full bathroom and separate wash area. Unique Scenic ocean view rooms have floor-to-ceiling windows that maximize views of sunrises and sunsets at sea.
Balcony
Balcony staterooms provide private sea view access. Relax on your balcony and appreciate the sea breeze. Extended balconies have extra room for relaxing. The Vista Balcony rooms wrap around the aft portion of the ship with floor-to-ceiling windows for maximum sea views inside and outside the cabin.
Suites
All suites come with VIP check-in and extra features like walk-in closets, balcony views, and whirlpool tubs. The junior suite features a standard-sized balcony and a whirlpool tub. The Grand Suite has expansive space and a dressing vanity.
($) = Specialty restaurant, surcharges apply
Truffles Restaurant
Eat early, late, or whenever you like. Your time dining available. Menu includes a variety of enticing entrees, appealing appetizers and delectable desserts, with special options for vegetarians, kids, and anyone looking for options low in fat, sodium or cholesterol.
Unicorn Café
Eat whatever you like, whenever you like at the grand buffet restaurant on the Lido deck. Stroll around the buffet and explore many international cuisines at the Taste of Nations, and sushi bar.
Golden Fleece Steakhouse ($)
Gourmet steakhouse with seafood, entrees, gourmet appetizers, and an extensive wine list and dessert options are even available. $35 per person surcharge applies.
The Taste Bar
Complimentary bite-size offerings inspired by popular Carnival dining venues.
Bonsai Sushi ($)
Full-service sushi restaurant offering a wide variety of Asian-inspired delicacies and serving soups, sakes, and desserts. Prices range from $1 for appetizer portions to $15 for a sushi ship for two. Located on Mezzanine Deck.
Legends Café
Offering coffee and pastry treats.
Room Service
24-hour room service menu. Room service orders are delivered to guests' staterooms any time of the day or night at no charge.
Follies Main Show Lounge
Sit back and enjoy musical and stage productions. Sit forward for interactive activities like bingo, trivia and other games. Or, watch action-packed, feature-length 3D movies! Take part in Hasbro, The Game Show, where guests are part of the show through a series of larger-than-life productions and entertainment activities based on the company's iconic and popular games.
RedFrog Pub
Caribbean-inspired watering hole featuring the region's best rums and beers – including Carnival's own ThirstyFrog Red – enjoyed in a distinct British-West-Indies-meets-Key-West atmosphere.
Cherry On Top
This "candy and more store" celebrates the joys of simple indulgences with bins of bulk candy, fun fanciful gifts and novelties, custom apparel and more
Firebird Lounge
Punchliner shows and other activities.
Punchliner Comedy Club
This club highlights a wide variety of comedians offering both family-friendly and adult-only performances nightly. "Superstar Live" takes karaoke to a whole new level by offering wannabe starlets, crooners and rockers the opportunity to perform accompanied by a live band and backing singers.
Club Merlin Casino

A full-service casino with craps, blackjack, roulette, slots and more.
Medusa's Lair Dance Club
This is the place to let go and get lost in the music as the DJ busts out today's latest hits. Located on the Promenade and Riviera Decks.
Billie's Piano Bar
Singing along is highly encouraged.
Dreamteam
Interactive sports bar where patrons can view live action, play video games and get the latest scores on the 24/7 ticker while kicking back with their favorite brew and bar snacks.
Waterworks
WaterWorks, an aqua park highlighted by Green Thunder – the only attraction of its kind in North America that features an 187-foot-long slide with a pulse-pounding 34-foot-long drop where riders obtain speeds of up to 25 miles per hour; WaterWorks also features the 214-foot-long Twister slide, as well as a splash zone with various spray toys, dual mini-racing slides, and a 150-gallon PowerDrencher tipping bucket.
Lido Deck
Relax in the Camelot and Avalon pools midship, or the Unicorn pool and bar aft.
Camp Carnival (ages 2-11)
Camp Carnival features games, finger painting, story time, movies and more all in a supervised environment, while their parents can be off having fun of their own. The fun doesn't end at bed time, either; Carnival's babysitting program offers, for a fee, a fun late-night option for kids while their parents stay out until as late as 3 A.M.
Circle C (ages 12-14)
Video games, scavenger hunts, dance parties, sports, pool parties and special shore excursions.
Club O2 (ages 15-17)
Teens can enjoy the latest music with exclusive dance parties, video gaming and movies from the club's comfy seating, with video monitors all over the place. Outside of the club, activities include pool parties, team sports and special teen-only shore excursions.
Samples of the daily ship bulletin, the Carnival Fun Times from Nov. 3-10, 2013.
Carnival Fun Times Nov. 3-Day at Sea
Carnival Fun Times Nov. 4-Day at Sea
Carnival Fun Times Nov. 5-Cozumel
Carnival Fun Times Nov. 6-Belize
Carnival Fun Times Nov. 7-Mahogany Bay, Roatan
Carnival Fun Times Nov. 8-Grand Cayman
Carnival Fun Times Nov. 9-Day at Sea