Carnival Imagination Cruise Ship Profile
Ship Features, Itinerary, News, Photos, Review, Accomodations, Notable Rooms, Dining Venues, Kid's Areas, Deck Plan, Outdoor Spaces, Smoking Sections
New Ocean-Themed Children's Program for Carnival Cruise Lines
posted April 20, 2014
Carnival Cruise Lines today unveiled Camp Ocean – an exciting, new marine-themed children's program coming to its fleet of 24 "Fun Ships." Set to debut on Carnival Freedom on May 24, the expansive new program will immerse children ages 2-11 in the wonders of the sea through fun, engaging and educational experiences. Read more...
Carnival Offers Shore Excursion Guarantee
posted January 15, 2014
Carnival is guaranteeing the lowest prices on over 1,100 shore excursions. In the event passengers find a shore excursion from another tour operator booked before or during their cruise can fill out a claim form for a 110 percent shipboard credit. Read more...
Carnival Announces New Dinner Dining Concepts
posted December 4, 2013
Carnival Cruise Lines is launching new dinner concepts for the ships' main dining rooms, American TABLE and American FEAST, both designed to evoke a modern restaurant experienc while showcasing American and international cuisines. Read more...
CDC Ratings
If link above doesn't open to the report page, close the window and click on link again to access.
2009 Rating 94 (Mar)
2009 Rating 96 (Oct)
2010 Rating 90 (Apr)
2010 Rating 89 (Nov)
2011 Rating 91 (Jun)
2012 Rating 94 (Jan)
2012 Rating 100 (Jul)
2012 Rating 96 (Nov)
2013 Rating 99 (Jun)
2014 Rating 96 (Feb)
2014 Rating 95 (Nov)
2015 Rating 97 (Aug)
2016 Rating 95 (Feb)
2016 Rating 96 (Nov)
Sun Deck
Jogging track, sports park, mini-golf
Sports Deck
Gym, Spa Carnival, Steam and Sauna rooms, Slide Entrance
Veranda
Carnival Waterworks, Camp Carnival, Passenger staterooms
Lido
Resort-style pool and bar, pool stage, Horizons Bar & Grill,
Promenade
The Dynasty Main show lounge, Xanadu Aft Lounge, Pinnacle Clubs Bar, Imagination Promenade, Illusions Dance Club, Shangri-La Lounge, Dream Bar, Vittorio's Cafe, Cherry on Top, Club O2, Video Arcade, El Dorado Casino, Serenity adults-only lounge, Taste Bar
Atlantic
The Fun Shops, Spirit and Pride main dining rooms, The Dynasty Main Show Lounge, Curiosity Library, Mirage Piano Bar, Circle "C"
Empress
Art gallery, Internet cafe, Passenger staterooms
Upper
Passenger staterooms
Main
Passenger staterooms
Riviera
Passenger staterooms
Adults Only Serenity Retreat
The Serenity area is designed as an oasis for tranquility and relaxation, offering colorful, oversized umbrellas, comfortable chaise lounges and chairs, whirlpools, and breathtaking sea views.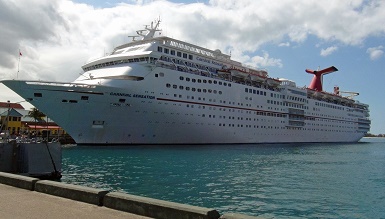 Sister ship - Carnival Sensation
Carnival Imagination is a Fantasy class cruise ship launched in 1995. Carnival committed $250 million to enriching all eight Fantasy-class ships with more features and guest services.
Upgrades include the addition of new lobby bars in the grand atriums, tropical island theme in every main pool area, WaterWorks park, Serenity adults-only retreat, and a resort-style pool. Staterooms have been upgraded with new, flat-screen TVs and restyled bathrooms.
Ship Class: Fantasy
Launched: 1995
Refurbished: 2007
GRT: 71,000
Length: 855 ft.
Draft: 25.7 ft.
Speed: 21 Knots
Passengers: 2,056
Carnival Comfort Beds in all staterooms with two twin beds that convert to a queen or king, sitting area, desk, bathroom with shower, phone, and TV with first-run movies and amenity basket displayed in the bathroom. The amenities are subject to change and are only sample sizes. The basket may include such things as: his/her razors; shampoo and conditioner; body wash; Tylenol; deodorant; hard candies. Supplies will be replenished by the room steward, if quantities allow.
Stateroom sizes
| | |
| --- | --- |
| Inside | 195 sq. ft. |
| Outside | 220 sq. ft. |
| Suite | 210 sq. ft. and veranda |
Interior
Interior staterooms use Carnival Collection Linens, a private bathroom, three closets, and 24-hour room service. Upper/lower rooms maximize space using an upper pullman or sofa bed. Twin beds can be converted to a King bed. Some interior rooms include a porthole for viewing.
Ocean View
Ocean view staterooms provide you with views of the sea right from your stateroom from a picture window. Included in the space is a private bathrooms, three closets, and 24-hour room service. Two twin beds covert to a king bed.
Suites
All suites come with VIP check-in and balcony views. The suites have ample space to stretch out and move around. The junior suite features a standard-sized balcony and a whirlpool tub. The Grand Suite has expansive space and a dressing vanity.
($) = Specialty restaurant, surcharges apply
Main Dining Rooms
Located on Atlantic deck, the Pride (midship) and Spirit (aft) main dining room.
Main Buffets
Horizon Restaurant grand buffet also features the Mongolian Wok, a chicken rotisserie, a sushi bar, a pizzeria and grill. Located on Lido deck.
The Taste Bar
Complimentary bite-size offerings inspired by popular Carnival dining venues.
Chef's Table ($)
A VIP, private tour of the kitchen starts this experience. After signature cocktails, the chefs cook a private, multi-course meal of items not found on regular menus. A $75 per person surcharge applies.
Room Service
24-hour room service menu. Room service orders are delivered to guests' staterooms any time of the day or night at no charge.
Dynasty Main Show Lounge
Sit back and enjoy musical and stage productions. Sit forward for interactive activities like bingo, trivia and other games. And sit on the edge of your seat while experiencing action-packed, feature-length 3D movies!
Mirage Piano Bar
A venue for live music and sing-alongs located on Atlantic deck.
Xanadu Lounge
Cabaret style lounge offering activities during the day and music and comedy in the evenings featuring the Punchliner Comedy Club.
Five 35-minute shows on multiple nights during each voyage, with at least two comedians performing each night. The two early-evening shows offer fun for the whole family while the later performances will feature adult-oriented comedy. Located on Promenade deck.
Shangri La Bar
Intimate lounge offering music and dancing on Promenade deck - midship.
Dream Bar
Panoramic views, good spot for people watching. Located on Promenade deck - midship.
Illusions Disco
Party late-night to today's latest hits at this main dance lounge. Located on Promenade deck.
El Dorado Casino
Full gaming casino located on Promenade deck midship featuring blackjack, slots, craps, and more.
WaterWorks
An expansive aqua park towering over Verandah Deck. Designed with all-ages appeal, the sprawling, open-air facility includes a 300-foot-long spiral water slide – the longest at sea – along with twin 82-foot-long racing slides and various water spray apparatus.
City Sports Park
Located on the Sun Deck, the City Sports Park includes a 9-hole mini-golf course, padded jogging track, volleyball, shuffle board, basketball, ping pong.
Lido Deck
Offers a "resort-style" pool located mid-ship on Lido Deck featuring thatched roofing and large faux palm trees. Vibrant oversized umbrellas, comfortable deck chairs and a colorful tiled "beach" encircling the pool's edge enhance the decidedly tropical ambiance.
Carnival's Seaside Theatre
This 270-square-foot LED screen and poolside seating is the perfect spot for guests to sit back, relax and watch classic and first-run movies, sporting events, news, concerts and other programming, either during the day or night. Panorama deck.
Lido Deck
Offers a "resort-style" pool located mid-ship on Lido Deck featuring thatched roofing and large faux palm trees. Vibrant oversized umbrellas, comfortable deck chairs and a colorful tiled "beach" encircling the pool's edge enhance the decidedly tropical ambiance.
Camp Carnival
(ages 2-11)
Camp Carnival features games, finger painting, story time, movies and more all in a supervised environment, while their parents can be off having fun of their own. The fun doesn't end at bed time, either; Carnival's babysitting program offers, for a fee, a fun late-night option for kids while their parents stay out until as late as 3 A.M.
Circle C
(ages 12-14)
Video games, scavenger hunts, dance parties, sports, pool parties and special shore excursions.
Club O2
(ages 15-17)
Teens can enjoy the latest music with exclusive dance parties, video gaming and movies from the club's comfy seating, with video monitors all over the place. Outside of the club, activities include pool parties, team sports and special teen-only shore excursions.