Carnival Splendor Cruise Ship Profile
Ship Features, Itinerary, News, Photos, Review, Accomodations, Notable Rooms, Dining Venues, Kid's Areas, Deck Plan, Outdoor Spaces, Smoking Sections
CDC Ratings
If link above doesn't open to the report page, close the window and click on link again to access.
2009 Rating 100 (Jun)
2010 Rating 100 (Feb)
2010 Rating 99 (Jul)
2011 Rating 100 (Apr)
2011 Rating 100 (Sept)
2012 Rating 98 (Jan)
2012 Rating 100 (Jul)
2013 Rating 95 (April)
2013 Rating 92 (Aug)
2014 rating 94 (Jan)
2016 Rating 97 (May)
2016 Rating 93 (Nov)
New Ocean-Themed Children's Program for Carnival Cruise Lines
posted April 20, 2014
Carnival Cruise Lines today unveiled Camp Ocean – an exciting, new marine-themed children's program coming to its fleet of 24 "Fun Ships." Set to debut on Carnival Freedom on May 24, the expansive new program will immerse children ages 2-11 in the wonders of the sea through fun, engaging and educational experiences. Read more...
New 'Seuss at Sea' Program Debuts on Carnival Splendor
posted March 10, 2014
Carnival Cruise Lines' exclusive partnership with Dr. Seuss Enterprises kicked off in grand style last week on Carnival Splendor which became the first "Fun Ship" to offer Seuss at Sea, a fleetwide program featuring exciting youth, family, dining and entertainment experiences inspired by the amazing world and words of Dr. Seuss. Read more...
22 Carnival Splendor Passengers Robbed at Gunpoint
Posted February 25, 2012
Major news outlets report twenty-two passengers from the Carnival Splendor were robbed Thursday while returning from an excursion sponsored by Carnival Cruise Line. According to reports, masked gunman stopped the bus and robbed passengers of their valuables. No injuries were reported. Thieves stole watches, jewelry, cameras and other items. No arrests have been made.
Engine Room Fire
Posted November 2010
The ship was disabled and stranded at sea until tugs arrived to tow the ship to port. Extensive repairs were needed. The Carnival Splendor spent a few months in dry-dock and all cruises were cancelled through February 2011. Read more here
Sky Deck
Pool slide entrance and sun deck
Sun Deck
Jogging track, Sports deck, Cloud 9 Spa, Serenity adults lounge
Spa Deck
Splash Park, Waterslide, Cloud 9 Spa, The Pinnacle Steakhouse, passenger staterooms
Panorama Deck
Lido Buffet, Camp Carnival, Seaside Theater, Passenger staterooms
Lido
Liner Aft Pool, Splendido Pool, Lido Restaurant, Passenger staterooms
Verandah
Passenger staterooms
Empress
Passenger staterooms
Upper
Passenger staterooms
Promenade
Royal Flush Casino, Oceanview bars, California Roll Sushi bar, coffee cafe, Club O2, Video arcade, Fun Shops, Spectacular Spectacular Main Show Lounge, Our House Sports Bar, Red Carpet Dance Club, Cool Jazz Lounge, El Mojito Wine Bar, Grand Piano Bar, El Morroco Aft Lounge
Atlantic
Spectacular Spectacular Main show lounge, Gold Pearl and Black Pearl Main Restaurants, Robusto Bar, Circle "C," Alexandria Library, Spectacular Spectacular Main show lounge
Lobby
Splendor Atrium, Lounge, Gold Pearl and Black Pearl Main Restaurants
Main
Passenger staterooms
Riviera
Passenger staterooms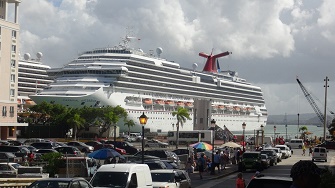 A new class of vessel for the line, the 113,300-ton Carnival Splendor offers a wide range of on-board facilities and features, highlighted by a two-level 21,000-square foot health spa – the largest in the fleet – featuring a thalassotherapy pool, an elaborate thermal suite and 17 private treatment rooms.
Carnival Splendor's many diverse features include 22 lounges and bars, a duty-free shopping mall, full casino gambling, and ship-wide Internet access and cell phone service.
The ship was originally designed and ordered for Costa Cruises as Costa Splendor, and is similar in design to Costa Favolosa, and their new sister ship, Costa Fascinosa with a larger spa and children's facilities.
Ship Class: Splendor
Launched: 2008
Refurbished: 2012
GRT: 113,000
Length: 952 ft.
Draft: 27 ft.
Speed: 22 Knots
Passengers: 3,006
Carnival Comfort Beds in all staterooms with two twin beds that convert to a queen or king, sitting area, desk, bathroom with shower, phone, and TV with first-run movies and amenity basket displayed in the bathroom. The amenities are subject to change and are only sample sizes. The basket may include such things as: his/her razors; shampoo and conditioner; body wash; Tylenol; deodorant; hard candies. Supplies will be replenished by the room steward, if quantities allow.
Stateroom sizes
| | | |
| --- | --- | --- |
| Inside | 195 | Sq. ft. |
| Outside | 220 | Sq. ft. |
| Balcony | 210 | Sq. ft. and/veranda |
Interior
Interior staterooms use Carnival Collection Linens, a private bathroom, and 24-hour room service. Upper/lower rooms maximize space using an upper pullman or sofa bed. Cloud 9 Spa Interior rooms offer special amenities, private spa access, and priority spa reservations.
Ocean View
Ocean view staterooms provide you with views of the sea right from your stateroom. Deluxe staterooms are perfect for families with space to fit up to five cruisers, a full bathroom and separate wash area. Cloud 9 Spa Ocean view rooms offer special amenities, private spa access, and priority spa reservations.
Balcony
Balcony staterooms provide private sea view access. Relax on your balcony and appreciate the sea breeze. Cove Balconies are close to the waterline with a close-up view of the ship's wake as it cruises along the open sea. Extended balconies have extra room for relaxing. The Premium Vista Balcony rooms wrap around the aft portion of the ship for maximum sea views. Cloud 9 Spa Balcony rooms offer special amenities, private spa access, and priority spa reservations.
Suites
All suites come with VIP check-in and extra features like walk-in closets and balcony views.
The junior suite features a standard-sized balcony and a whirlpool tub. The Grand Suite has expansive space and a dressing vanity. Cloud 9 Spa Suites rooms offer special amenities, private spa access, and priority spa reservations.
Click here to see our photo album on Facebook
($) = Specialty restaurant, surcharges apply
Dining options include four restaurants: two two-level main dining rooms, a 1,400-seat casual poolside eatery featuring a 24-hour pizzeria, and an elegant reservations-only restaurant.
Gold Pearl and Black Pearl Dining Room
Main dining rooms. Eat early, late, or whenever you like and enjoy our new menu, including a variety of enticing entrees, appealing appetizers, and delectable desserts, with special options for vegetarians, kids, and anyone looking for options low in fat, sodium, or cholesterol.
The Lido Restaurant
Eat whatever you like, whenever you like at the Lido Restaurant. Stroll around the buffet and explore many international cuisines and made-to-order options.
The Coffee Shop
Relax while sipping your favorite coffee. While you're at it, pick up a sweet from the pastry bar.
Pinnacle Steakhouse ($)
Gourmet steakhouse with seafood, entrees, gourmet appetizers, and an extensive wine list and dessert options are even available. $35 per person surcharge applies.
The Taste Bar
Complimentary bite-size offerings inspired by popular Carnival dining venues.
Chef's Table ($)
A VIP, private tour of the kitchen starts this experience. After signature cocktails, the chefs cook a private, multi-course meal of items not found on regular menus. A $75 per person surcharge applies.
Room Service
24-hour room service menu. Room service orders are delivered to guests' staterooms any time of the day or night at no charge.
Spectacular Spectacular Main Show Lounge
Sit back and enjoy musical and stage productions. Sit forward for interactive activities like bingo, trivia and other games. And sit on the edge of your seat while experiencing action-packed, feature-length 3D movies!
El Morocco Aft Lounge
Cabaret style lounge offering activities during the day and music and comedy in the evenings featuring the Punchliner Comedy Club. Five 35-minute shows on multiple nights during each voyage, with at least two comedians performing each night. The two early-evening shows offer fun for the whole family while the later performances will feature adult-oriented comedy.
Royal Flush Casino
A full gaming casino including craps, blackjack, roulette, slots and more.
The Cool Jazz Lounge
Swing the night away to live jazz club.
Red Carpet
Show your moves to today's latest hits in the Red Carpet Dance club.
Grande Piano Bar
Sing-a-long to live music in this interactive piano bar.
Our House
Catch your favorite games from around the world in this homey sports bar.
Robusto
Meet your pals after dinner in the cigar bar.
See photos on our Facebook page
WaterWorks
An expansive aqua park towering over Verandah Deck. Designed with all-ages appeal, the sprawling, open-air facility includes a 300-foot-long spiral water slide – the longest at sea – along with twin 82-foot-long racing slides and various water spray apparatus.
City Sports Park
Play 9-hole mini-golf course, or go for a run on the padded jogging track. Pick up a game of volleyball, shuffle board, basketball, and ping pong.
Lido Deck
The Splendido pool and bar and the Linear Aft pool and bar.
Carnival's Seaside Theatre
This 270-square-foot LED screen and poolside seating is the perfect spot for guests to sit back, relax and watch classic and first-run movies, sporting events, news, concerts and other programming, either during the day or night.
Adults Only Retreat
Serenity offers magnificent ocean views at this exclusive new adults-only retreat. Intended as an oasis for relaxation and comfort. Serenity offers plush chaise lounges and chairs, colorful oversized umbrellas, and two large whirlpools.
Cloud 9 Spa
Guests in the mood for a workout or some personal pampering can visit this stunning and sophisticated facility. At the Cloud 9 Spa, troubles melt away as guests soak in the soothing thalassotherapy pool, unwind in the elaborate thermal suite or just take in the elegant, serene surroundings.
Camp Carnival (ages 2-11)
Camp Carnival features games, finger painting, story time, movies and more, all in a supervised environment, while their parents can be off having fun of their own. The fun doesn't end at bed time, either; Carnival's babysitting program offers, for a fee, a fun late-night option for kids while their parents stay out until as late as 3 A.M.
Circle C (ages 12-14)
Video games, scavenger hunts, dance parties, sports, pool parties and special shore excursions.
Club O2 (ages 15-17)
Teens can enjoy the latest music with exclusive dance parties, video gaming and movies from the club's comfy seating, with video monitors all over the place. Outside of the club, activities include pool parties, team sports and special teen-only shore excursions.