Carnival Breeze Cruise Ship Profile
Ship Features, Itinerary, News, Photos, Review, Accommodations, Notable Rooms, Dining Venues, Kid's Areas, Deck Plan, Outdoor Spaces, Smoking Sections
CDC Ratings
If link above doesn't open to the report page, close the window and click on link again to access.
2012 Rating 100 (Dec)
2013 Rating 90 (Jun)
2014 Rating 97 (Mar)
2015 Rating 97 (May)
2016 Rating 100 (Jan)
2019 Rating 90 (May)
The Center For Disease Control (CDC) performs unannounced inspections, which are conducted twice a year and required for any cruise ship with an international itinerary calling at a U.S. port. Vessels are evaluated proper food handling, preparation and storage procedures, and overall galley cleanliness. Ships' potable water supplies used in spas and pools are evaluated, as well.
Carnival Breeze is scheduled to transition back to it's original home port of Galveston, TX in May 2021.
Sky Deck 15
Serenity Adults Lounge area, pool slide entrance and sun deck
Sun Deck 14
Cloud 9 Spa Treatment Rooms and Salon
Spa & Sports Deck 12
Cloud 9 spa, Fitness Studio, jogging track, SportsSquare, Multi-sport Court, WaterWorks slides, Seaside Theater
Panorama Deck 11
Cloud 9 Spa accommodations, Camp Carnival, Cucino del Capitano, passenger accommodations
Lido Deck 10
Passenger staterooms (forward)Tides pool, Red Frog Rum Bar, BlueIguana Bar, BlueIguana Cantina, Guy's Burger Joint, Lido Marketplace, Deli, Mongolian Wok (mid), Seafood Shack, Pizzeria, Beach Pool (aft)
Vista Deck 9
Passenger staterooms
Verandah Deck 8
Passenger staterooms
Empress Deck 7
Passenger staterooms
Upper Deck 6
Passenger staterooms
Promenade Deck 5
Limelight Lounge, Farenheight 555 Steakhouse, Piano Bar 88, Bonsai Sushi, Red Frog Pub, Fat Jimmy's C-Side BBQ, The Lanai, Liquid Nightclub, Ocean Plaza, Fun Hub, Promenade, Casino, Fun Shops, Ovation Theater
Mezzanine Deck 4
Ovation Theater, Thrill Theater, Atrium, Photo Gallery, Library Bar, Club O2, Circle C, Warehouse Video Arcade, Fun Hub, Blush and Sapphire dining rooms
Lobby Deck 3
Lounge, Blush and Sapphire dining rooms, Ovation Theater, Guest Services
Main Deck 2
Passenger staterooms
Riviera Deck 1
Passenger staterooms
Camp Ocean
Carnival unveiled an exciting, new marine-themed children's program in 2014. The expanded program for children ages 2-11 highlights the wonders of the sea through fun, engaging and educational experiences.
More than 200 new ocean-inspired activities range from educational games such as Sea Creature Discovery, Marine Life Trivia, Under the Sea Mad Libs and Ocean Artifacts Memory Tray to creative arts opportunities such as Design Your Own Aquarium, Make Your Own Sailboat, Sea Salt Art, and Create a Penguin from Oreos.
Camp Ocean, will welcome youngsters in with light blue and white underwater colored spaces and friendly, experienced staff. Three age-related categories each have their own identity: children ages 2-5 are dubbed "Penguins," with those ages 6-8 called "Sting Rays" while 9-11 year olds are "Sharks."
Distinctive areas and activities have been custom-created for each of the new age designations – from miniature play igloos for the Penguins to interactive gaming stations for the Sharks.
Camp Ocean (ages 2-11)
Camp Ocean features games, finger painting, story time, movies and more all in a supervised environment, while their parents can be off having fun of their own. The fun doesn't end at bed time, either; Carnival's babysitting program offers, for a fee, a fun late-night option for kids while their parents stay out until as late as 3 A.M.
Circle C (ages 12-14)
Video games, scavenger hunts, dance parties, sports, pool parties and special shore excursions.
Club O2 (ages 15-17)
Teens can enjoy the latest music with exclusive dance parties, video gaming and movies from the club's comfy seating, with video monitors all over the place. Outside of the club, activities include pool parties, team sports and special teen-only shore excursions.
Adults Only
The Serenity Adults Retreat is for guests 21 and older. It features complete bar service, whirlpools, and a sun deck with the best views of the sea.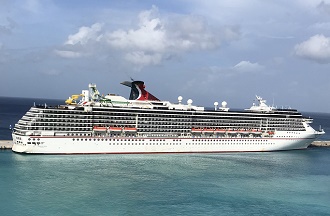 The Carnival Breeze offers a host of exciting innovations, including expansive top-deck areas such as WaterWorks, an aqua park with exhilarating water slides and other attractions; the Sports Square, a sports complex including a ropes course; the Lanai, and outdoor promenade, and a 270-square-foot poolside LED screen displaying movies and other programming; dedicated play areas for children, tweens and teens, and a two-level health and wellness center.
Class: Dream

Launched: June 2012

Refurbished:

GRT: 130,000

Length: 1,004 ft.

Draught: 27 ft.

Speed: 22.5 Knots

Passengers: 3,690

Photos on Facebook
Exterior decks
Interior spaces
The Carnival Breeze introduces Caribbean-inspired interiors and staterooms that take their cue from the region's cool island breezes and warm tropical sunsets.
Carnival Breeze's staterooms offer a distinctive island-inspired design theme offering a dramatic combination of bright colors and soothing pastel hues, with iconic images of palm trees and other tropical elements adorning hallway corridors. Contemporary furnishings and light fixtures enhance the stylish atmosphere.
Stateroom Innovations
With 1,845 staterooms, Carnival Breeze offers a wide array of accommodation types, including two-bathroom/five-berth cabins and connecting staterooms that hold particular appeal to families; cove balcony cabins closer to the water line; and spa staterooms providing special access and benefits.
All staterooms offer the following:
Caribbean inspired decor; Television; Comfort linens, towels and bathrobes; Full bathroom with shower; 24-hours stateroom service; Ample closet and drawer space.
Interior
Interior staterooms use Carnival Collection Linens, a private bathroom, and 24-hour room service. Upper/lower rooms maximize space using an upper pullman or sofa bed. Cloud 9 Spa Interior rooms offer special amenities, private spa access, and priority spa reservations.
Ocean View
Ocean view staterooms provide you with views of the sea right from your stateroom. Deluxe staterooms are perfect for families with space to fit up to five cruisers, a full bathroom and separate wash area. Cloud 9 Spa Ocean view rooms offer special amenities, private spa access, and priority spa reservations.
Balcony
Balcony staterooms provide private sea view access. Relax on your balcony and appreciate the sea breeze. Cove Balconies are close to the waterline with a close-up view of the ship's wake as it cruises along the open sea. Extended balconies have extra room for relaxing. The Premium Vista Balcony rooms wrap around the aft portion of the ship for maximum sea views. Cloud 9 Spa Balcony rooms offer special amenities, private spa access, and priority spa reservations.
Suites
All suites come with VIP check-in and extra features like walk-in closets and balcony views.
The junior suite features a standard-sized balcony and a whirlpool tub. The Grand Suite has expansive space and a dressing vanity. Cloud 9 Spa Suites rooms offer special amenities, private spa access, and priority spa reservations.
($) = Specialty restaurant, surcharges apply
Blush and Sapphire Dining Room
Main dining rooms. Eat early, late, or whenever you like.
Lido Marketplace
Indoor and outdoor casual dining. Food options include a New York style deli, Indian Tandoor oven, Mongolian Wok, Italian Pasta Bar, and more.
Pig & Anchor
Open-air dining located on Promenade Deck serving backyard and beach-style cookout fare like barbequed chicken breast and pulled pork.
Bluelguana Cantina
Onboard Mexican featuring freshly-made tacos and burritos. Homemade tortillas and chips and a salsa bar with choices from mild to hot are always ready to go.
Mongolian Wok
Create your own version of Asian cuisine with the chefs preparing your dish in Mongolian Woks right in front of you.
Guy's Burger Joint
Poolside spot for hot burgers, hand-cut fries, more. Choose one of Guy's creations or create your ideal burger.
The Taste Bar
Complimentary bite-size offerings inspired by popular Carnival dining venues.
Swirls
24/7 frozen yogurt and soft-serve ice cream on Lido deck. Chocolate, vanilla, strawberry or swirl mix.
Pizza Pirate
24-hour pizza by the slice, or have one delivered to you for a fee, anywhere on the ship using the HUB app.
Sea Dogs
Hot-dog shaped cart within the SportSquare outdoor recreation area offering all-beef franks and traditional toppings.
Cucina del Capitano ($)
A family-style Italian restaurant that brings the heritage of Carnival's captains to the table, along with a casual two-level poolside eatery, and a classic American-style steakhouse. Complimentary pasta bar at lunch time but full-service dinner is an extra charge.
Seafood Shack ($)
New-England style Seafood venue serving lobster roll, clam chowder and more. Located on Lido deck aft.
Bonsai Sushi ($)
Full-service sushi restaurant offering a wide variety of Asian-inspired delicacies and serving soups, sakes, and desserts. Prices range from $1 for appetizer portions to $15 for a sushi ship for two. Located on Promenade Deck.
Fahrenheit 555 Steakhouse ($)
Gourmet steakhouse with seafood, entrees, gourmet appetizers, and an extensive wine list and dessert options are even available. $35 per person surcharge applies.
Coffee Bar ($)
Serving Specialty coffees and homemade pasties throughout the day.
Serenity Adult's Only Area
Salads, sandwiches, wraps and other light fare located at the ship's adults-only retreat.
Chef's Table ($)
A VIP, private tour of the kitchen starts this experience. After signature cocktails, the chefs cook a private, multi-course meal of items not found on regular menus. A $75 per person surcharge applies.
Green Eggs and Ham Breakfast ($)
Family breakfast experience with a unique menu and Dr. Seuss characters for fun interactions and special photo opportunities.
Room Service
Complimentary 24-hour room service menu delivered to your stateroom any time. Service charge ($) added between the hours of after midnight until 6:00 am.
Ovation Main Show Lounge
Sit back and enjoy musical and stage productions. Sit forward for interactive activities like bingo, trivia, and other games. And sit on the edge of your seat while experiencing action-packed, feature-length 3D movies!
Alchemy Bar
A vintage-themed cocktail "pharmacy" that's the go-to spot for guests seeking a unique experience with mixologists who "prescribe" concoctions from different elixirs and ingredients or guests' own custom-created cocktails. Bar menu
Limelight Aft Lounge
From The Punchliner Comedy Club to Superstar Live Karaoke and live music, here's where it all happens.
Punchliner Comedy Club
This club highlights a wide variety of comedians offering both family-friendly and adult-only performances nightly. "Superstar Live" takes karaoke to a whole new level by offering wannabe starlets, crooners and rockers the opportunity to perform accompanied by a live band and backing singers.
Liquid Nightclub
At Liquid, you'll find next-level décor, a full bar, and even an outdoor space where you can enjoy a break, a drink or maybe just a sea breeze.
RedFrog Pub
Caribbean-inspired Pub where passengers can kick back to live acoustic guitar and vocals as they relax on swing-gliding chairs or amuse themselves with any number of bar games, such as foosball, a tabletop shuffleboard, darts, puzzles, and more.
Piano Bar 88
A swanky, jazzy bar setting where singing along is encouraged.
Cloud 9 Spa
Full-service, two-deck spa and fitness center offering acupuncture, massages, body wraps, facials, tooth whitening men's services, steam rooms and more. A thalassotherapy pool is available on board.
Thrill 5-D Theater
Films don't just jump off the screen at Thrill 5D Theater on Carnival Breeze, they practically make you a part of the action! How do you enter the fifth dimension? Start with an exciting 3D film (like Happy Feet 4-D Experience, Speed Racer 4-D Adventure or during the holiday season, The Polar Express 4-D Experience), add special effects — the kind you can feel — and throw in a seat that makes this a truly moving experience.
Library Bar
Books, games, and featuring self-serve wine dispensers.
Fun Hub
Available on any guests' Internet-connected laptop or at dozens of convenient locations throughout the ship is the Fun Hub, a social network and comprehensive shipboard intranet portal that provides access to a variety of information on Carnival Breeze's services, facilities and daily activities. Carnival Breeze also offers bow-to-stern Wi-Fi and cell phone service.
Video Game Room
Carnival Breeze's video game room brings out the winner in everybody, with not only a slew of the latest arcade games, but a selection of classic analog favorites like air hockey.
WaterWorks
From the 300-gallon dump bucket to stationary water toys, Carnival Breeze's WaterWorks is just the thing to get even the most experienced cruiser wet behind the ears again. Ride the Twister Waterslide, one of the fastest slides anywhere.
Beach Pool
The resort-style pool provides the best seat in the house for kicking back and enjoying whatever's playing at Carnival's Seaside Theatre.
Tides Pool
Carnival Breeze's aft pool area is the ultimate place to take a dip — in the pool or hot tub — while taking in the stunning scenery.
SportSquare
Try the sky course, a ropes course 150 ft. above the ocean, mini golf, foosball, and table tennis. The basketball court can be converted for volleyball and soccer, or take out some steam on the punching bags. Relax at the sports bar after an afternoon of play.
Carnival's Seaside Theatre
This 270-square-foot LED screen and poolside seating is the perfect spot for guests to sit back, relax and watch classic and first-run movies, sporting events, news, concerts and other programming, either during the day or night.
Breeze Atrium
Cocktail lounge, entertainer's stage, dance floor, and the Fun Hub.
Adults Only Serenity Retreat
The Adults-only Serenity area is designed as an oasis for tranquility and relaxation, offering colorful, oversized umbrellas, chaise lounges and chairs, whirlpools, and great sea views.
Ocean Plaza
A place to see and be seen, Ocean Plaza is a stunning indoor/outdoor café and live entertainment venue where guests can dance to live music and enjoy specialty coffees and sweets – even freshly made milkshakes. Full bar service, specializing in martinis and mojitos, is also available.
RedFrog Rum Bar
A poolside version of the line's popular RedFrog Pub that debuted on Carnival Magic offering a quintessential Caribbean vacation vibe.
BlueIguana Tequila
Bar, a fun and festive outdoor watering hole offering a laid-back Mexican-themed atmosphere and tequila-based frozen drinks and beers, perfect for chillin' by the pool.
The Lanai
The Lanai is a half-mile, open-air promenade encircling Promenade Deck 5. Here, guests can stroll while enjoying spectacular ocean vistas, curl up with a good book, soak up some sun in a comfortable deck chair, or relax in one of four cantilevered whirlpools that extend out over the ship's sides.
When you're outside enjoying the Lanai, you're just a stone's throw from the RedFrog's outdoor seating area and Liquid Nightclub's breezy outdoor 'chill' spot.