Carnival Pride Cruise Ship Profile
Ship Features, Itinerary, News, Photos, Review, Accommodations, Notable Rooms, Dining Venues, Kid's Areas, Deck Plan, Outdoor Spaces, Smoking Sections
Sister ship, Carnival Legend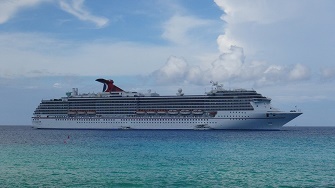 The 960-foot-long Carnival Pride offers a host of resort-style amenities and facilities: four swimming pools – one with a cascading water slide - a wedding chapel and an upscale supper club located at the top of a glass-enclosed atrium, just one of several dining venues on board.
Sixteen lounges and bars, including a sports bar, wine bar, piano bar and a 1,200-seat theatre showcasing lavish revues, are also featured. These facilities are accessible by a promenade running the length of the ship. Other features include a 14,500-square-foot spa, a jogging track, ship-wide Wi-Fi access and cell phone service.
Carnival Pride also appeals to families by offering expansive facilities and organized activities for children in three age groups.
The Carnival Pride underwent a three-week dry dock from October 19 to November 9, 2014, as was outfitted with a variety of Fun Ship 2.0 innovations, including: Guy's Burger Joint, BlueIguana Cantina, Bonsai Sushi, WaterWorks, Hasbro, The Game Show, Playlist Productions, EA SPORTS Bar, BlueIguana Tequila Bar, Alchemy Bar, RedFrog Pub, RedFrog Rum Bar, The Library Bar, and Cherry On Top, which celebrates the joys of simple indulgences with bins of bulk candy, fun fanciful gifts and novelties, custom apparel and more.
Ship Class: Spirit
Launched: 2002
Refurbished: February 2019
GRT: 88,500
Length: 963 ft.
Draft: 25.7 ft.
Speed: 21 Knots
Passengers: 2,124
Carnival Comfort Beds in all staterooms with two twin beds that convert to a queen or king, sitting area, desk, bathroom with shower, phone, and TV with first-run movies and amenity basket displayed in the bathroom. The amenities are subject to change and are only sample sizes. The basket may include such things as: his/her razors; shampoo and conditioner; body wash; Tylenol; deodorant; hard candies. Supplies will be replenished by the room steward, if quantities allow.
Stateroom sizes
| | | |
| --- | --- | --- |
| Inside | 185 | Sq. ft. |
| Outside | 220 | Sq. ft. |
| Balcony | 225 | Sq. ft. w/veranda |
| Suite | 360 - 415 | Sq. ft. w/veranda |
Interior
Interior staterooms use Carnival Collection Linens, a private bathroom, and 24-hour room service. Upper/lower rooms maximize space using an upper pullman or sofa bed. Some interior rooms include a picture window or a French door.
Ocean View
Ocean view staterooms provide you with views of the sea right from your stateroom. Deluxe staterooms are perfect for families with space to fit up to five cruisers, a full bathroom and separate wash area. Unique Scenic ocean view rooms have floor-to-ceiling windows that maximize views of sunrises and sunsets at sea.
Balcony
Balcony staterooms provide private sea view access. Relax on your balcony and appreciate the sea breeze. Extended balconies have extra room for relaxing. The Vista Balcony rooms wrap around the aft portion of the ship with floor-to-ceiling windows for maximum sea views inside and outside the cabin.
Suites
All suites come with VIP check-in and extra features like walk-in closets, balcony views, and whirlpool tubs. The junior suite features a standard-sized balcony and a whirlpool tub. The Grand Suite has expansive space and a dressing vanity.
($) = Specialty restaurant, surcharges apply
Guy's Burger Joint
Poolside spot for hot burgers, hand-cut fries, more. Choose one of Guy's creations or create your ideal burger.
Bluelguana Cantina
Onboard Mexican featuring freshly-made tacos and burritos. Homemade tortillas and chips and a salsa bar with choices from mild to hot are always ready to go.
Bonsai Sushi ($)
Full-service sushi restaurant offering a wide variety of Asian-inspired delicacies and serving soups, sakes, and desserts. Prices range from $1 for appetizer portions to $15 for a sushi ship for two. Located on Promenade Deck.
Normandie Restaurant
Main dining room. Eat early, late, or whenever you like and enjoy our new menu, including a variety of enticing entrees, appealing appetizers and delectable desserts, with special options for vegetarians, kids, and anyone looking for options low in fat, sodium or cholesterol.
Mermaid's Grill
Eat whatever you like, whenever you like at the grand buffet restaurant on the Lido deck. Stroll around the buffet and explore many international cuisines at the Taste of Nations, and sushi bar.
The Plaza Cafe
Coffee and pastry bar located on Promenade deck.
The Taste Bar
Complimentary bite-size offerings inspired by popular Carnival dining venues.
Chef's Table ($)
A VIP, private tour of the kitchen starts this experience. After signature cocktails, the chefs cook a private, multi-course meal of items not found on regular menus. A $75 per person surcharge applies.
David's Steakhouse ($)
Manhattan-chic decor with a menu including gourmet delicacies and mouth-watering favorites. Located on Sun deck. A $30 per person surcharge applies.
Room Service
24-hour room service menu. Room service orders are delivered to guests' staterooms any time of the day or night at no charge.
Taj Mahal Main Show Lounge
Sit back and enjoy musical and stage productions. Sit forward for interactive activities like bingo, trivia and other games. And sit on the edge of your seat while experiencing action-packed, feature-length 3D movies!
Alchemy Bar
A vintage-themed cocktail "pharmacy" that's the go-to spot for guests seeking a unique experience with mixologists who "prescribe" concoctions from different elixirs and ingredients or guests' own custom-created cocktails. Bar menu
The Winners Club
A full service casino featuring craps, blackjack, roulette, slots and more.
EA SPORTS Bar
Interactive sports bar where patrons can view live action, play video games and get the latest scores on the 24/7 ticker while kicking back with their favorite brew and bar snacks.
RedFrog Rum Bar
Poolside Caribbean-themed watering while offering a variety of the region's top rums and beer in a laid back atmosphere.
Bluelguana Tequila Bar
The friendly rival to the RedFrog, offering frozen cocktails and Mexican beers. It has a lively atmosphere.
Beauties Disco
This is the place to let go and get lost in the music as the DJ busts out the hits.
Butterflies Lounge
Cabaret style venue.
Starry Night
Relax to the smooth tones of this jazz club. Sway to the beat with your partner.
Ivory Piano Bar
Sing-a-longs to your favorite tunes at a lively piano bar.
Punchliner Comedy Club
This club highlights a wide variety of comedians offering both family-friendly and adult-only performances nightly. "Superstar Live" takes karaoke to a whole new level by offering wannabe starlets, crooners and rockers the opportunity to perform accompanied by a live band and backing singers.
Library Bar
Books, games, and featuring self-serve wine dispensers.
Raphael Lounge
Intimate meeting space.
Florentine Lounge
The perfect spot for people-watching or grabbing a late night cocktail.
WaterWorks
From the 300-gallon dump bucket to stationary water toys, Carnival Breeze's WaterWorks is just the thing to get even the most experienced cruiser wet behind the ears again. Ride the Twister Waterslide, one of the fastest slides anywhere.
City Sports Park
Play the 9-hole mini-golf course, padded jogging track, volleyball, shuffle board, basketball, ping pong.
Lido Deck
Venus pool and bar, Apollo pool and bar, and Poseidon pool and bar aft.
Carnival's Seaside Theatre
Watch movies, concerts, news, sporting events, and even watch others shake their "groove thing" on the Carnival Freedom Seaside Theatre. A 12'x22' jumbo-sized LED screen with a crystal-clear picture and a 70,000-watt, easy-to-hear sound system.