Key West Florida Cruise Ship Port Call
Cruise Ship Port of Call information like Port News, Weather, Transportation Options, Things to Do and See, Area Events, Medical Care, Crime and Safety Review
The Florida Keys are an archipelago of about 1700 islands extending south and southwest of the Florida mainland.
Key West, FL
From earliest days, Key West has drawn visitors from tourism, and today that is its biggest business. Millions of visitors from around the world travel here each year by plane, by cruise ship, or by car down the Overseas Highway to find paradise at the end of US1.
The Florida Keys are surrounded by coral reefs and navigating the area is treacherous. Wrecking and salvaging became the island's primary business between 1828 and 1850. Many cargo ships sank due to bad weather or bad navigating. During that time, Key West was considered the richest city, per capita, in the United States.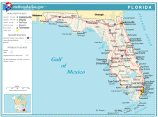 The island of Key West, known back in the day as Cayo Hueso (Bone Key), began to appear on European maps and charts of the Caribbean about a century after Ponce de Leon discovered Florida in the year 1513.
In 1815, Spain deeded the island to a loyal subject and St. Augustine native, Juan Pablo Salas. In 1819, all of Florida was ceded to the United States. Salas had made no improvements to the island of Key West and sold it to John Simonton, an American businessman, for $2,000.
Key West industries included fishing, turtling and salt manufacturing. From 1830 until the Civil War, Key West supplied much of the nation's salt, used largely for food preservation, which came from the surrounding salt waters. The demand for Key West salt quickly diminished when plentiful salt mines were discovered on the mainland.
The city of Key West, FL is the southernmost city in the United States and is located about 160 miles (130 miles as the crow flies) south of Miami and 94 miles from the nation of Cuba. The city encompasses Key West, the part of Stock Island north of U.S. 1, Sigsbee Park (originally known as Dredgers Key), Fleming Key, and Sunset Key (originally known as Tank Island).
On April 23, 1982, Key West briefly succeeded from the United States and formed the independent Conch Republic. The bold action was prompted by a U.S. Border Patrol checkpoint set up at the entrance to the Florida Keys so agents could search cars for contraband. It virtually stopped traffic on the only road into and out of the island chain, angering residents and visitors.
Residents declared war on the mother country, pelted a federal agent with stale Cuban bread and, after 60 seconds, surrendered and requested $1 billion in foreign aid. The foreign aid never materialized, but the Border Patrol checkpoint was quickly removed.
Every year, the City of Key West holds a celebration to honor the event.
Port Information
Port of Entry
Mallory Square, Pier B (located directly in front of the Westin) and The Mole on Truman Waterfront
Time Zone
Eastern Standard Time (UTC -5)
Eastern Daylight Time (UTC - 4) March - Nov
Map Coordinates
24.59° N. 81.78° W.
Average Temperatures
Water: 85 º Summer - 72º Winter
Air: 88º Summer - 77º Winter
Things to do and see
List of Services in Key West (PDF map)
Duvall Street
Duval Street is a famous downtown commercial zoned street running north and south from the Gulf of Mexico to the Atlantic Ocean. Duval Street is the location of many famous restaurants and bars, including Sloppy Joe's, The Bull and Whistle, Rick's Cafe and Irish Kevin's bar. It is named for William Pope Duval, the first territorial governor of Florida.
Mallory Square
It is located on the waterfront in Key West's historic Old Town, adjacent to the cruise ship port. It is located just west of the northern end of Duval Street, facing the Gulf of Mexico. It runs the entire length of Wall Street.
Shopping
We found the shopping to be quite good. Selection was great and prices comparable to duty free prices in the Western Caribbean.
Bike Tours
lloydstropicalbiketour.com, 305-294-1882. A two-hour tour of Key West's back streets covers about 5 miles.
Dry Tortugas National Park & Fort Jefferson
Almost 70 miles (112.9 km) west of Key West lies a cluster of seven islands, composed of coral reefs and sand, called the Dry Tortugas. Along with the surrounding shoals and waters, they make up Dry Tortugas National Park. The area is known for its famous bird and marine life, its legends of pirates and sunken gold, and its military past. Website
Fort Taylor
One of the most important fortresses of its time. Originally positioned 1200 feet off shore from Key West, it was built as part of the Third System of fortifications to defend Key West Harbor. Construction of the fort began in 1845. The structure was named for President Zachary Taylor by General Order No. 38, dated November 4, 1850.
Little White House Harry Truman's Key West home.
Florida Keys Eco-Discovery Center
South Beach
A favorite of locals. Nice sandy beach with shallow waters and a concrete pier. No restrooms or facilities. Located at the end of Duval Street (Atlantic Side).
Higg's Beach
Wide sandy beach with long wooden pier. Restroom facilities, covered picnic tables, full service restaurant, playground, chair rentals, rafts and water sports rentals. Located at the end of Reynold's Street.
Rest Beach
Soft sand and natural vegetation. Wheelchair accessible. Restrooms within walking distance. Picnic tables. Located on White Street (Atlantic side).
Smather's Beach
Half mile stretch of sandy man-made beach. Restrooms, ample parking, concession stands, chair rentals, bike paths, picnic tables, volleyball nets, water sports rentals. Located on south Roosevelt Blvd.
Joe's Tug
65-foot-long Joe's Tug, which rests upright on the bottom in 65 feet of water surrounded by coral formations.
The Atocha
While not a local dive site, the Atocha was discovered by treasure hunter Mel Fisher in the waters off Key West. With so rich a wreck nearby, its hard to dive these waters without wondering what bit of history or bounty might be concealed beneath the convoluted corals and vast reef structures.
The Cayman Salvor
This 180-foot. steel hulled buoy tender, also known as the Cayman Salvager, was intentionally sunk as an artificial reef in 1985. She now sits upright with cavernous open holds providing refuge for baitfish and grunts, as well as a resident jewfish and green moray eel.
Nine Foot Stake
This patch reef in 10 to 25 feet, is perfect for either scuba or snorkel exploration and is noted for beautiful concentrations of soft corals and juvenile marine life.
Ten-Fathom Ledge
Here, unusual coral caves and dramatic overhangs provide refuge for both lobster and grouper, while pelagic life frequently parades in the blue water to seaward.
Sand Key
One of the many popular reef destinations off Key West. This islet, marked by a large iron lighthouse delights both snorkelers and scuba divers with an abundance and variety of coral and marine life. With over ten miles of coral reefs of varying depths. Sand Key offers visitors endless opportunities to enjoy some of the best diving in the Caribbean!
Kedge Ledge
One of the highlights of this lovely reef is the remains of a pair of coral encrusted anchors lost from 18th century sailing vessels.
Alexander's Wreck
A former destroyer escort broken into two sections that sit 200 yards apart in 28 feet of water.
Conch Republic Independence Celebration
Annual April event. Activities ranging from a wacky bed race to a lighthearted sea battle featuring tall ships, the Conch Republic's 10-day birthday party showcases the independent and eccentric spirit that characterizes the Florida Keys. 2012 Event Date: 3/20 - 4/29. Website
Taste of Key West
Scores of area restaurants present mouthwatering samples of their cuisine to benefit AIDS Help Inc. The culinary celebration takes place at the Truman Waterfront overlooking Key West Harbor. Annual April event.
Hemingway Days
The celebration of the legendary author's work and lifestyle features literary readings, a theatrical premiere, short story competition, fishing tournament and Sloppy Joe's Look-Alike Contest. Annual July event.
Fantasy Fest
This outrageous, 10-day celebration features costume competitions, promenades, street fairs and a grand parade with marching groups and lavish floats. October annual event. Website
The uninhibited extravaganza entices attendees to abandon real-world cares for a fantasy escape on America's southernmost island. The festival offers more than 40 masquerade balls, costume contests and celebrations, culminating in a dazzling parade of large-scale floats and costumed marching groups.
Key West Food and Wine Festival
Annual January Event http://www.keywestfoodandwinefestival.com/
GOOMBAY
Tastes, sights and sounds of the Caribbean in Bahama Village, located at Duval and Petronia streets. Family friendly street party. Usually takes place in October around Fantasy Fest time. Website
Pirates in Paradise Festival
Featuring events for kids and adults alike, including a plank-walking contest, pirate sails, and themed parties. Annual November event.
For more information about this and other celebrations in the Key West area, visit www.fla-keys.com