Carnival Elation Cruise Ship Profile
Ship Features, Itinerary, News, Photos, Review, Accommodations, Notable Rooms, Dining Venues, Kid's Areas, Deck Plan, Outdoor Spaces, Smoking Sections
CDC Ratings
If link above doesn't open to the report page, close the window and click on link again to access.
2009 Rating 99 (May)
2009 Rating 99 (Dec)
2010 Rating 97 (Jul)
2011 Rating 95 (Feb)
2011 Rating 94 (Jul)
2012 Rating 99 (Jan)
2012 Rating 98 (Jul)
2012 Rating 96 (Nov)
2013 Rating 99 (Jul)
2014 Rating 98 (Jan)
2016 Rating 92 (Jun)
2016 Rating 100 (Oct)
2019 Rating 96 (Oct)
The Center For Disease Control (CDC) performs unannounced inspections, which are conducted twice a year and required for any cruise ship with an international itinerary calling at a U.S. port. Vessels are evaluated proper food handling, preparation and storage procedures, and overall galley cleanliness. Ships' potable water supplies used in spas and pools are evaluated, as well.
Carnival Elation underwent a $36 million renovation dry dock in Freeport, Bahamas.
Work completed included:
Routine hotel maintenance
Cosmetic enhancements in lounges and public areas such as new carpeting, wall coverings and tile work in lounges and public areas
Bonsai Sushi Express added to Deck 9
Dreams Studio replaced Special Occasions on Deck 9
JavaBlue Cafe replaced the Musical Cafe on Deck 9
Cherry on Top added to Deck 9
Limelight Lounge replaced Jekyll & Hyde Dance Club on Deck 9
Alchemy Bar replaced Gatsby's Great Bar on Deck 9
30 new cabins replaced the Cole Porter Club Lounge on Deck 9
The Elation sails from Port Canaveral, FL offering 4 and 5 night cruises to the Bahamas. Visit the Carnival website for a complete schedule.
Sun Deck
City Sports Park, Jogging track, Mini-golf
Sports Deck
Camp Carnival, Fitness Center, Spa Carnival, Steam and Sauna rooms
Veranda Deck
Passenger staterooms, Aft pool and bar
Lido Deck
Main pool & Twister Waterslide, Tiffany's Lido Restaurant, Mongolian Wok, Pool Stage,
Promenade Deck
Serenity adults only lounge, Cole Porter Aft Lounge, Gatby's Great Bar, Elation's Way Promenade, Jekyll & Hide Dance, Musical Cafe, Romeo & Juliet Lounge, Dance Bar, Casablanca Casino, Club O2, Video Arcade, Taste Bar, Mikado Main Show Lounge, Photo Gallery
Atlantic Deck
Main show lounge, Inspiration main dining rooms, Mark Twain Library, Duke's Piano Bar, Circle C, Fun Shops
Empress Deck
Passenger staterooms, Atrium, Art Gallery, Internet Cafe
Upper Deck
Passenger staterooms
Main Deck
Passenger staterooms
Riviera Deck
Passenger staterooms
Deck 3
Medical Center (forward)
Hours: On Call 24/7 | Sea Days (9:00am-12:00pm, 3:00pm-6:00pm) | Port Days (8:00am-10:00am, 4:00pm-6:00pm)
Equipped to treat minor non-emergency matters at a customary fee ($)
The ship is staffed with one physician and three nurses.
Equipment: defibrillators, external pacemakers, pulse oxymeters, thrombolytic therapy, electrocardiograph machine and lab equipment.
Adults Only Serenity Retreat
The Serenity area is designed as an oasis for tranquility and relaxation, offering colorful, oversized umbrellas, comfortable chaise lounges and chairs, whirlpools, and breathtaking sea views.
Sports Activities
Mini Golf (9-hole miniature golf course) - located Grand Deck 14 - midship
Bocce Ball court - located Grand Deck 14 - midship
Ping Pong (2 tables) - located Verandah Deck 11 - forward
Shuffle Board Court - located Verandah Deck 11 - aft
Carnival's Seaside Theatre
This 270-square-foot LED screen and poolside seating is the perfect spot for guests to sit back, relax and watch classic and first-run movies, sporting events, news, concerts and other programming, either during the day or night. Panorama deck.
The Carnival Elation offers a host of new facilities and features following an extensive renovation in 2009. Carnival Elation's refurbishment included the addition of Serenity, an exclusive adults-only retreat, a new Circle "C" club geared to 12-to 14-year-olds, and expanded Lido-area dining options, including a new Mongolian Wok custom stir-fry station and an updated deli and dessert station. The Carnival Elation's suites were also remodeled and cosmetic enhancements were made to a variety of shipboard areas.
See more photos of the Carnival Elation on our Facebook page.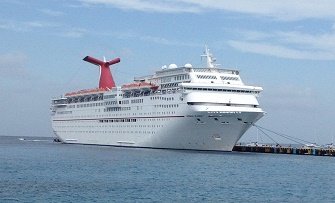 Ship Class: Destiny
Launched: 1998
Last Refurbished: March 2020
GRT: 71,000
Length: 855 ft.
Draft: 27 ft.
Speed: 21 Knots
Passengers: 2,052
Carnival Comfort Beds in all staterooms with two twin beds that convert to a queen or king, sitting area, desk, bathroom with shower, phone, and TV with first-run movies and amenity basket displayed in the bathroom. The amenities are subject to change and are only sample sizes. The basket may include such things as: his/her razors; shampoo and conditioner; body wash; Tylenol; deodorant; hard candies. Supplies will be replenished by the room steward, if quantities allow.
Stateroom sizes
| | |
| --- | --- |
| Inside | 195 sq. ft. |
| Outside | 220 sq. ft. |
| Suite | 210 sq. ft. and veranda |
Interior
Interior staterooms use Carnival Collection Linens, a private bathroom, three closets, and 24-hour room service. Upper/lower rooms maximize space using an upper pullman or sofa bed. Twin beds can be converted to a King bed. Some interior rooms include a porthole for viewing.
Ocean View
Ocean view staterooms provide you with views of the sea right from your stateroom from a picture window. Included in the space is a private bathrooms, three closets, and 24-hour room service. Two twin beds covert to a king bed.
Suites
All suites come with VIP check-in and balcony views. The suites have ample space to stretch out and move around. The junior suite features a standard-sized balcony and a whirlpool tub. The Grand Suite has expansive space and a dressing vanity.
($) = Specialty restaurant, surcharges apply
Main Dining Rooms
Inspiration and Imagination main dining rooms offer full seating and anytime dining.
Bluelguana Cantina
Onboard Mexican featuring freshly-made tacos and burritos. Homemade tortillas and chips and a salsa bar with choices from mild to hot are always ready to go.
Guy's Burger Joint
Poolside spot for hot burgers, hand-cut fries, more. Choose one of Guy's creations or create your ideal burger.
Bonsai Sushi Express($)
Sushi restaurant offering a wide variety of Asian-inspired delicacies and serving soups, sakes, and desserts. Prices range from $1 for appetizer portions to $15 for a sushi ship for two.
The Taste Bar
Complimentary bite-size offerings inspired by popular Carnival dining venues.
Chef's Table ($)
A VIP, private tour of the kitchen starts this experience. After signature cocktails, the chefs cook a private, multi-course meal of items not found on regular menus. A $75 per person surcharge applies.
Room Service
24-hour room service menu. Room service orders are delivered to guests' staterooms any time of the day or night at no charge.
Mikado Main Show Lounge
Sit back and enjoy musical and stage productions. Sit forward for interactive activities like bingo, trivia and other games. And sit on the edge of your seat while experiencing action-packed, feature-length 3D movies!
Limelight Lounge
Dance away to today's latest hits spun by the DJ's at the main dance club located on Promenade deck.
Romeo and Juliet Aft Lounge
Cabaret style lounge offering activities during the day and music and comedy in the evenings featuring the Punchliner Comedy Club. Five 35-minute shows on multiple nights during each voyage, with at least two comedians performing each night. The two early-evening shows offer fun for the whole family while the later performances will feature adult-oriented comedy. Located on Promenade deck.
Casablanca Casino
Craps, blackjack, roulette, slots and more.
Alchemy Bar
A vintage-themed cocktail "pharmacy" that's the go-to spot for guests seeking a unique experience with mixologists who "prescribe" concoctions from different elixirs and ingredients or guests' own custom-created cocktails. Bar menu
BlueIguana Tequila
Bar, a fun and festive outdoor watering hole offering a laid-back Mexican-themed atmosphere and tequila-based frozen drinks and beers, perfect for chillin' by the pool.
Cherry on Top
Candy and Celebrations shop. Bulk candies, confections, flowers, Cherry on Top logo apparel for kids and women, Carnival Adventure Items, Bliss spa items and stateroom decoration packages.
Spa Carnival
Location: Sports Deck 12 - forward
Amenities

Fitness Center and Studio
Hours: 6:00am-10:00pm
Fully equipped with Life Fitness equipment
Scheduled fitness classes offered; specialty classes ($)
Fitness and beauty seminars
Spa and Salon
Hours: 8:00am-10:00pm
2 saunas (men/women)
2 steam rooms (men/women)
10 treatment massage rooms ($)
2 locker rooms (men/women)
European-style treatments and services ($)
Hair and nail grooming for men and women ($)
Acupuncture ($)
WaterWorks
From the 300-gallon dump bucket to stationary water toys, Carnival's WaterWorks is just the thing to get even the most experienced cruiser wet behind the ears again. Ride the Twister Waterslide into the main pool as many times as you wish.
Mini-Golf
Located on deck 14.
City Sports Park
Located on the Sun Deck, the City Sports Park includes a 9-hole mini-golf course, padded jogging track, volleyball, shuffle board, basketball, and ping pong.
Kids Programs
Night Owls
Babysitting for infants and children ages 6 months to 11 years ($) Hours: 10:00pm-1:00am
Camp Ocean
Location: Sports Deck 12 - midship
Carnival unveiled an exciting, new marine-themed children's program in 2014. The expanded program for children ages 2-11 highlights the wonders of the sea through fun, engaging and educational experiences.
More than 200 new ocean-inspired activities range from educational games such as Sea Creature Discovery, Marine Life Trivia, Under the Sea Mad Libs and Ocean Artifacts Memory Tray to creative arts opportunities such as Design Your Own Aquarium, Make Your Own Sailboat, Sea Salt Art, and Create a Penguin from Oreos.
Camp Ocean, will welcome youngsters in with light blue and white underwater colored spaces and friendly, experienced staff. Three age-related categories each have their own identity: children ages 2-5 are dubbed "Penguins," with those ages 6-8 called "Sting Rays" while 9-11 year olds are "Sharks."
Distinctive areas and activities have been custom-created for each of the new age designations – from miniature play igloos for the Penguins to interactive gaming stations for the Sharks.
Camp Ocean (ages 2-11)

Camp Ocean features games, finger painting, story time, movies and more all in a supervised environment, while their parents can be off having fun of their own. The fun doesn't end at bed time, either; Carnival's babysitting program offers, for a fee, a fun late-night option for kids while their parents stay out until as late as 3 A.M.
Circle C (ages 12-14)
Video games, scavenger hunts, dance parties, sports, pool parties and special shore excursions.

Club O2 (ages 15-17)Teens can enjoy the latest music with exclusive dance parties, video gaming and movies from the club's comfy seating, with video monitors all over the place. Outside of the club, activities include pool parties, team sports and special teen-only shore excursions.