Carnival Liberty Cruise Ship Profile
Ship Features, Itinerary, News, Photos, Review, Accommodations, Notable Rooms, Dining Venues, Kid's Areas, Deck Plan, Outdoor Spaces, Smoking Sections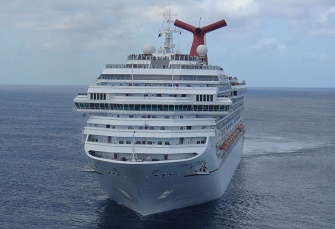 Carnival Liberty was the first ship to undergo the initial phase of Carnival Cruise Lines' Fun Ship 2.0 enhancement initiative. A host of new dining options were added and cosmetic upgrades were made including new carpeting, tile work, wall coverings and furniture.
Ship Class: Conquest
Launched: 2005
Refurbished: Oct 2011, December 2016
GRT: 110,000
Length: 952 ft.
Draft: 27 ft.
Speed: 22.5 Knots
Passengers: 3,966 passenger capacity
Carnival Comfort Beds in all staterooms with two twin beds that convert to a queen or king, sitting area, desk, bathroom with shower, phone, and TV with first-run movies and amenity basket displayed in the bathroom. The amenities are subject to change and are only sample sizes. The basket may include such things as: his/her razors; shampoo and conditioner; body wash; Tylenol; deodorant; hard candies. Supplies will be replenished by the room steward, if quantities allow.
Stateroom sizes
| | | |
| --- | --- | --- |
| Inside | 185 | Sq. ft. |
| Outside | 220 | Sq. ft. |
| Balcony | 210-260 | Sq. ft. w/veranda |
| Suite | 340-430 | Sq. ft. w/veranda |
Interior
Interior staterooms use Carnival Collection Linens, a private bathroom, and 24-hour room service. Upper/lower rooms maximize space using an upper pullman or sofa bed. Some interior rooms feature two portholes or a picture window.
Ocean View
Ocean view staterooms provide you with views of the sea right from your stateroom. Deluxe staterooms are perfect for families with space to fit up to five cruisers, a full bathroom and separate wash area. Unique Scenic ocean view rooms have floor-to-ceiling windows that maximize views of sunrises and sunsets at sea.
Balcony
Balcony staterooms provide private sea view access. Relax on your balcony and appreciate the sea breeze. Extended balconies have extra room for relaxing. The Premium Vista Balcony rooms wrap around the aft portion of the ship for maximum sea views.
Suites
All suites come with VIP check-in and extra features like walk-in closets, balcony views, and whirlpool tubs. The junior suite features a standard-sized balcony and a whirlpool tub. The Grand Suite has expansive space and a dressing vanity.
Dining Venues
($) = Specialty restaurant, surcharges apply
Main Dining Rooms
A beautiful meal is nothing less than a work of art. Enjoy an elegant, delectable and undeniably delicious dining experience. Visit the Golden Olympian and Silver Olympian dining rooms. Now featuring open seating.
Casual Dining
Eat whatever you like, whenever you like at Emile's Lido Restaurant. International cuisines and made-to-order options, including the new Mongolian Wok and BBQ Grille in the main Lido Pool area.
Diamonds Steakhouse ($)
Gourmet steakhouse with seafood, entrees, gourmet appetizers, and an extensive wine list and dessert options are even available. $35 per person surcharge applies.
Mongolian Wok
Create your own version of Asian cuisine with the chefs preparing your dish in Mongolian Woks right in front of you.
Guy's Burger Joint
A new free casual dining venue developed in partnership with Food Network personality and restaurateur Guy Fieri offering delicious hand-crafted burgers and fresh-cut fries in a fun atmosphere that celebrates his California roots and love of car culture.
BlueIguana Cantina
A casual eatery that evokes the feel of a fun, relaxed Mexican beachside dining spot serving authentic tacos and burritos.
Cherry on Top
An onboard candy store and sweet novelties.
The Taste Bar
Complimentary bite-size offerings inspired by popular Carnival dining venues.
Room Service
24-hour room service menu. Room service orders are delivered to guests' staterooms any time of the day or night at no charge.
RedFrog Rum Bar
A poolside version of the line's popular RedFrog Pub that debuted on Carnival Magic offering a quintessential Caribbean vacation vibe.
BlueIguana Tequila Bar
Featuring a laid-back Mexican-themed atmosphere and a variety of tequila-based frozen drinks and beers.
EA SPORTS Bar
Created in tandem with the leading sports videogame brand where guests can catch the latest action and play popular EA SPORTS video games on a 16-screen video wall.
Alchemy Bar
A vintage-themed cocktail "pharmacy" that's the go-to spot for guests seeking a unique experience with mixologists who "prescribe" concoctions from different elixirs and ingredients or guests' own custom-created cocktails. Bar menu
Venetian Palace Main Show Lounge
Sit back and enjoy musical and stage productions. Sit forward for interactive activities like bingo, trivia and other games. And sit on the edge of your seat while experiencing action-packed, feature-length 3D movies!
The Stage Lounge
Dance along to the tunes in this jiving jazz club.
Piano Man Bar
A venue for live music and sing-alongs located on Atlantic deck.
Czar's Casino
Full gaming casino located on Promenade deck midship with blackjack, slots, craps, and bingo.
Victoria Lounge
Cabaret style lounge offering activities during the day and music and comedy in the evenings featuring the Punchliner Comedy Club. Five 35-minute shows on multiple nights during each voyage, with at least two comedians performing each night. The two early-evening shows offer fun for the whole family while the later performances will feature adult-oriented comedy. Located on Promenade deck.
Hot & Cool Dance Club
This is the place to let go and get lost in the music as the DJ busts out the hits.
Camp Ocean
Carnival unveiled an exciting, new marine-themed children's program in 2014. The expanded program for children ages 2-11 highlights the wonders of the sea through fun, engaging and educational experiences.
More than 200 new ocean-inspired activities range from educational games such as Sea Creature Discovery, Marine Life Trivia, Under the Sea Mad Libs and Ocean Artifacts Memory Tray to creative arts opportunities such as Design Your Own Aquarium, Make Your Own Sailboat, Sea Salt Art, and Create a Penguin from Oreos.
Camp Ocean, will welcome youngsters in with light blue and white underwater colored spaces and friendly, experienced staff. Three age-related categories each have their own identity: children ages 2-5 are dubbed "Penguins," with those ages 6-8 called "Sting Rays" while 9-11 year olds are "Sharks."
Distinctive areas and activities have been custom-created for each of the new age designations – from miniature play igloos for the Penguins to interactive gaming stations for the Sharks.
Camp Ocean (ages 2-11)
Camp Ocean features games, finger painting, story time, movies and more all in a supervised environment, while their parents can be off having fun of their own. The fun doesn't end at bed time, either; Carnival's babysitting program offers, for a fee, a fun late-night option for kids while their parents stay out until as late as 3 A.M.
Circle C (ages 12-14)
Video games, scavenger hunts, dance parties, sports, pool parties and special shore excursions.
Club O2 (ages 15-17)
Teens can enjoy the latest music with exclusive dance parties, video gaming and movies from the club's comfy seating, with video monitors all over the place. Outside of the club, activities include pool parties, team sports and special teen-only shore excursions.