Puerto Vallarta Cruise Ship Port Destination
Mexican Riviera Destination Information like Port News, Weather, Transportation Options, Things to Do and See, Area Events, Medical Care, Crime and Safety Review
Need to know
Tropical Storm Season
From June to November, the country may experience strong winds and rains as a result of hurricanes along the Pacific Coast.
Personal Security
Although the majority of visitors to Mexico thoroughly enjoy their stay, a small number experience difficulties and serious inconveniences.
Standards of security, safety, and supervision may not reach those expected in the United States. This has contributed to deaths of U.S. citizens in automobile accidents, after falls from balconies or into open ditches, by drowning in the ocean as well as in hotel pools, and in water-sports mishaps, among others.
Water Sports
Some operators have been known to demand fees many times in excess of damages caused to the vehicles, even if renters have purchased insurance in advance. There have been cases of mobs gathering to prevent tourists from departing the scene and to intimidate them into paying exorbitant damage claims.
Medical Care
Adequate medical care can be found in major cities. Excellent health facilities are available in Mexico City, but training and availability of emergency responders may be below U.S. standards. Care in more remote areas is limited. Standards of medical training, patient care and business practices vary greatly among medical facilities in beach resorts throughout Mexico.
Drinking Water Quality
In many areas in Mexico, tap water is unsafe and should be avoided. Bottled water and beverages are safe although visitors should be aware that many restaurants and hotels serve tap water unless bottled water is specifically requested. Ice may also come from tap water and should be used with caution. Visitors should exercise caution when buying food or beverages from street vendors.
Getting around
The town is split into 2 major areas: Old Town with colonial flavor and located north of Old Town is the Marina district loaded with restaurants, hotels, nightlife and shopping venues.
Taxi fares are regulated but make sure to negotiate your rate before you leave.
Taxi vans are more expensive.
Puerto Vallarta, Mexico
The Mexican Riviera refers collectively to twenty cities lying on the western coast of Mexico.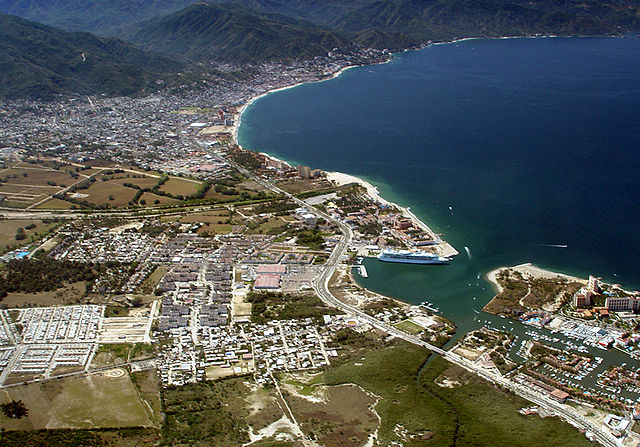 Puerto Vallarta is named after Ignacio Vallarta, a former governor of Jalisco. Situated on the Pacific Ocean's Bahia de Banderas.
The Bay of Banderas arcs along the pacific coastline and is one of the deepest of the Pacific Bays. Puerto Vallarta lays on a narrow coastal plain at the foot of the Sierras Cuale and San Sebastiàn.
The City of Puerto Vallarta is the government seat of the Municipality of Puerto Vallarta which comprises the city as well as population centers outside of the city extending from Boca de Tomatlán to the Nayarit border (the Ameca River).
Puerto Vallarta News
Police Find Beheaded Bodies Near Puerto Vallarta
Posted May 10, 2012
Police found the decapitated and dismembered bodies of 18 people near Mexico's second-largest city, Guadalajara, on Wednesday, in what appeared to be the latest atrocity by the country's most brutal drug cartel.
Ixtlahuacan de los Membrillos is located 18 miles south of the center of Guadalajara on the road to Lake Chapala, a site popular with foreign tourists and U.S. retirees.
22 Carnival Splendor Passengers Robbed at Gunpoint
Posted February 25, 2012
Major news outlets report twenty-two passengers from the Carnival Splendor were robbed Thursday while returning from an excursion sponsored by Carnival Cruise Line. According to reports, masked gunman stopped the bus and robbed passengers of their valuables. No injuries were reported. Thieves stole watches, jewelry, cameras and other items. No arrests have been made.
Good to Know
Port of Entry
Bahia de Banderas - Ships dock alongside tankers, container ships and fishing vessels.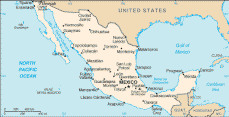 Time Zone
CST (GMT/UTC -6)
Map Coordinates
20°40′N 105°16′W
Average Temperatures
Water: 83º Summer - 72º Winter
Air: 90º Summer - 77º Winter
Things to do and see
El Centro
Old Town waterfront with a long and broad pedestrian area lined with cafes, vendors and street performers.
Rio Cuale
50 block area centered around the River Cuale that is jammed with restaurants, shops, hotels, and apartment high rises.
The Kimberly House
Walk (climb) or drive up Zaragoza St. and check out the view from Casa Kimberly, the 1960's house once owned by Richard Burton and Liz Taylor and used in the 1963 movie, The Movie.
Punta Minta
Isolated fishing village located about a 1 hour drive south from the port.
Northern Beaches
The beaches in the northern area of Puerto Vallarta tend to be longer and wider that the beaches on the south of the bay; the south bay beaches are bordered by the foothills of the Sierra Madre.
Marina District
The best way to access the beaches in the Marina district is to stop by a beachside bar such as the Nikki Beach Bar at the Westin Resort. Otherwise, you'll need to access the beach from one of the local resorts.
Nuevo Vallarta Beach
The longest and widest beach in the area offering nearby services such as shopping, restaurants and watersports.
Bucerias
25 minute drive north from Puerto Vallarta. Beach restaurants, scuba diving vendors and a town square flea market.
Piedra Blanca Beach
Located about 30 minutes north of Puerto Vallarta. Great snorkeling spot with calm waters and fine white sand beaches.
Destiladeras Beach
Just north of Piedra Blanca Beach. Favorite of locals. Eateries just steps from the water. Gradual drop-off so swimming is great for kids.
Punta de Mita
Located about 35 minutes north of Puerto Vallarta at the northernmost tip of Banderas Bay. The area has not been fully developed yet so it's a nice getaway in the north (for now anyway).
Sayulita
North of Punta de Mita and the main surfing spot in Puerto Vallarta. Located 45 minutes from the northern hotel zone. Popular with American and Canadian visitors.
El Anclote
Located just south of Punta de Mita. Numerous water sport vendors including surf & boogie boards and snorkeling gear. Restaurants nearby too.
Southern Beaches
The beaches located between Conchos Chinas and Mismaloya offer cliff-side resorts and small tucked away beaches. Visit the El Set themed restaurant located in this area. Beaches farther south require boat access.
Boca de Tomates
Eco-friendly beach offering views of exotic birds, and sometimes sea turtles and crocodiles.
Area Events
Puerto Vallarta International Sports Classic
May annual event. The Puerto Vallarta International Sports Classic takes place in the plush Hotel Sheraton Buganvilias Resort on Boulevard Francisco Medina Ascencio on the seafront. Seven sports make up the marathon, including basketball, tennis, golf and softball. Aerobics takes place in the open air by Los Arcos (The Arches) monument on the Malecón promenade.
El Camino del Arte Gallery (Art Walk) Exhibition
Oct 1 - May 21 annual event. 15 art galleries participate in this 5 month long free event.

Puerto Vallarta International Gourmet Festival
November annual event. The best restaurants in the Mexican states of Jalisco and Nayarit come together every year to create top notch gastronomic delights at the Puerto Vallarta International Gourmet Festival. Website
Vallarta Film Festival
December annual event. A choice selection of Latin American and international features, shorts, documentaries and independent films are screened each year at the Vallarta Film Festival, at the Cinemark in Plaza Caracol.