Cabo San Luca Cruise Ship Destination Port
Cruise Ship Port of Call information like Port News, Weather, Transportation Options, Things to Do and See, Area Events, Medical Care, Crime and Safety Review
Cabo San Lucas Mexico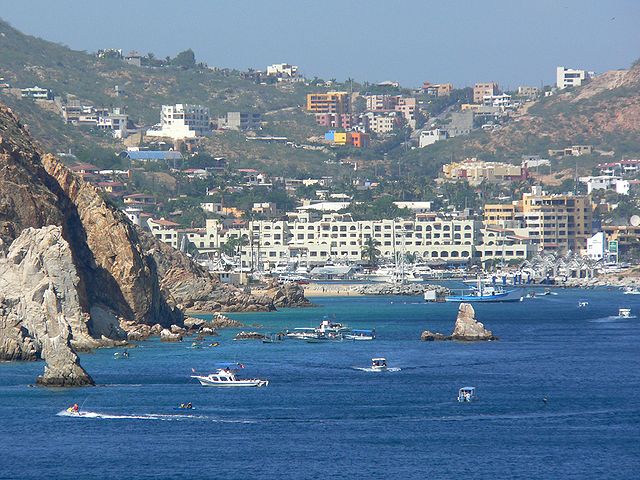 The warmth of the waters at Cabo San Lucas, the beauty of its beaches, the abundance of sport fish, and other qualities, motivated a great number of both foreign and Mexican vacationers to spend their vacations in large-scale tourist developments there, starting from 1974 when the Mexican government created the infrastructure to turn Cabo San Lucas into one of the most attractive centers for tourism in Mexico.
Cabo San Lucas has become an important vacation and spa destination, with a great variety of sites of interest, and timeshares that have been built on the coast between San Lucas and San José del Cabo. The distinctive El Arco de Cabo San Lucas is a local landmark. Cabo San Lucas has the largest Marlin tournament in the world. In the winter, pods of whales can be observed in the ocean. They bear their calves in the warm waters there.
Need to Know
Cabo san Lucas is located at the tip of Baja California. The area marks the convergence of the Gulf of California and the Pacific Ocean.
Arid - Average rainfall is 10" a year. Rainy season Sept and Oct. Pacific side can be about 10° cooler than the Sea of Cortez side.
Port of Entry
Port of Cabo San Lucas
Time Zone
MST (UTC/GMT - 7)
Map Coordinates
22.88° N 109.90° W
Average Temperatures
Water: 83°- Summer; 72°- Winter
Air: 90°- Summer; 77°- Winter
Things to do and see
Shopping
There are plenty of restaurants and shopping lining the waterfront and hillsides of Cabo San Lucas.
Sport Angler Fishing
Fishing Charters abundant (make sure to book early during the high season - up to a year in advance). A catch and release policy is emphasized.

Shipwreck Beach (Playa Barco Varado)
Located 6 miles north of Cabo. Home to a Japanese freighter that wrecked in 1960.
Chileno Bay
Located 9 miles north of Cabo. Great snorkeling spot as Octopus and Lobster are known to be plentiful.
Whale's Head Beach (Cabeza de Ballena)
Good for snorkeling and sport fishing.
Swimming Beaches
Medano Beach
Also know as Cabo Dune Beach. Located at the entrance of Cabo san Lucas and stretches up to the hotel zone. Calm waters - great for swimming. Watersport rentals available at Pices Watersport Center next to the Cascadas Resort.
Lover's Beach (Playa del Amor)
Only accessible by boat so you must take the water taxi over. Spectacular views of the Sea of Cortez where it meets the Pacific Ocean. No services so pack a lunch.
Playa Palmilla
Located near the Palmilla hotel about 17 miles north of Cabo. Scenic area with rock formations and a cove so the waters are calm.
Santa Maria Bay
Located near the Twin Dolphin Hotel. Great visibility for divers, snorkelers and swimmers.
Watersports
Divorce Beach
Within walking distance of Lover's Beach. Strong currents and waves. Not recommended for swimming.
Twin Dolphin Beach (Playa Las Viudas or Widows' Beach)
Secluded Beach. Resort nearby. Located on the SW of Los Cabos. Strong currents and waves. Not recommended for swimming.
Costa Azul Beach
Good surfing beach. Local fisherman deliver their catch to this area everyday.
Acapulquito
Spectacular surfers haven.
Area Events
Day of the Dead
Gloriously colorful altars for deceased loved ones are dotted with photos, hundreds of candles and offerings of food and drink in Plaza Amelia Wilkes on the Day of the Dead in Cabo San Lucas. Nov 1 annual event.
Mexican Independence Day
September annual event. Celebrations across the country mark Mexico's gaining of independence from Spain in 1810, starting on the evening of the 15 September and carrying on to the next day, a public holiday.
Revolution Day
The whole of Mexico reaches fever pitch with Revolution Day celebrations, Aniversario de la Revolución Mexicana. Nov annual event.