Mazatlan, MX Cruise Ship Destination Port
Cruise Ship Port of Call information like Port News, Weather, Transportation Options, Things to Do and See, Area Events, Medical Care, Crime and Safety Review
Need to know
Hurricanes
Mexico is situated in an area prone to hurricanes. From June to November, the country may experience strong winds and rains as a result of hurricanes along the Pacific Coast.
In the event of a tropical storm or hurricane alert, Shipdetective will post NWS updates and information for travelers on our Tropical Storm Update page
Personal Security
Although the majority of visitors to Mexico thoroughly enjoy their stay, a small number experience difficulties and serious inconveniences.
Standards of security, safety, and supervision may not reach those expected in the United States. This has contributed to deaths of U.S. citizens in automobile accidents, after falls from balconies or into open ditches, by drowning in the ocean as well as in hotel pools, and in water-sports mishaps, among others.
Medical Care
Adequate medical care can be found in major cities. Excellent health facilities are available in Mexico City, but training and availability of emergency responders may be below U.S. standards. Care in more remote areas is limited. Standards of medical training, patient care and business practices vary greatly among medical facilities in beach resorts throughout Mexico.
Water Quality
In many areas in Mexico, tap water is unsafe and should be avoided. Bottled water and beverages are safe although visitors should be aware that many restaurants and hotels serve tap water unless bottled water is specifically requested. Ice may also come from tap water and should be used with caution. Visitors should exercise caution when buying food or beverages from street vendors.
The Mexican Riviera refers collectively to twenty cities lying on the western coast of Mexico.
Mazatlán is a city on the Mexican state of Sinaloa and within the Mazatlán Municipality located on the Pacific coast, across from the southernmost tip of the Baja California Peninsula.
In the 1970s, tourism in Old Mazatlán declined as other, newer venues opened on the expanses of beach to the north of the city.
The Historic Center has been rediscovered by newcomers and locals alike, spurring a renaissance of restoration and entrepreneurial endeavors. Once-fine homes that had fallen into literal ruin have been restored to their former glory and house families and boutique businesses. The city has assisted in upgrading infrastructure, such as better water, sewer and electrical services.
Good to Know
Tourism and fishing are the main economic activities in this city.
Mazatlán has the second largest fishing fleet in Mexico, mainly processing shrimp and tuna.
In the 1970s, tourism in Old Mazatlán declined as newer venues opened to the north of the city.
Port of Entry
Mazatlan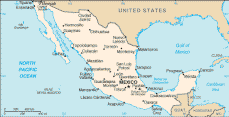 Time Zone
MST (GMT/UTC -7)
Map Coordinates
23°13′N 106°25′W
Average Temperatures
Water: ° Summer - ° Winter
Air: ° Summer - ° Winter
Things to do and see
Mazatlán's Malecón
One of the longest in the world, a promenade that skirts the beaches of Mazatlan for nearly twenty-one kilometers. Along it, one can find cliffs, monuments, gazebos, old buildings, hotels, shops, bars, sculpture, street vendors - just about anything one would expect of a booming beach town.
It is divided into nine sections:
Puntilla "Ferry Pier", Lighthouse, Centennial, Olas Altas, Claussen, Avenida del Mar, Shrimp - Chad, Chad - Cerritos, Cerritos - Nuevo Mazatlan.
Sections of Mazatlán's Malecón have recently been refurbished and extended.
Mazatlán Aquarium/Botanical Garden
One of the most complete and best of its kind in Latin America, besides being the largest in Mexico. Admission fee. Open daily from 9:30hrs to 5:30.
El Quelite
Located just half an hour north of Mazatlan, in El Quelite, you can enjoy a "change of scenery" in terms of lifestyle, flora and fauna, under this picturesque village.
Pino Suárez Market
In the heart of Mazatlan is located one of the largest stores in the City, the place where you can buy fruit, vegetables, meat, fish, groceries, crafts, clothing and many other staples.
Beaches
Olas Altas
The most historical reference beach of Mazatlan, is located in the southern part of the city, a few meters from the historic center.
North Beach
Located in the Downtown area. Here you can find the Fisherman's Monument, Monument to the pneumonia and the Pacific Brewery. The second of these relates to the characteristic of this city taxis.
Playa Sabalo
Located in the north of the city.
Playa Cerritos
An extension of Playa Sabalo.
Sandy the Dolphin
Located north of the tourist area of the city.
Stone Island Beach
Located in the southern part of the city.
Area Events
Carnaval Mazatlán
Annual February event. Mazatlán International Carnaval is distinguished by being the only Carnaval in México and the World that combines fiesta and cultural and artistic activities.
Mazatlan's International Carnival is a seven day, multi-event celebration filled with live music, folklore, dance, entertainment and costumes depicting indigenous traditions, where diverse celebrants of all generations gather within a joyful ambience of magical exaltation.
Mazatlán Cultural Festival
Annual Oct - Dec event. Mazatlan´s Cultural Festival will bring top-notch music, dance, theater and opera performances as well as visual arts exhibitions to this port. Forty-four days full of cultural activities, where you can enjoy great artistic expressions of all kinds.