Costa Maya Cruise Ship Destination Port
Cruise Ship Port of Call information like Port News, Weather, Transportation Options, Things to Do and See, Area Events, Medical Care, Crime and Safety Review
Good to know
Hurricanes
Costa Maya is situated in an area prone to hurricanes. From June to November, the area may experience strong winds and rains as a result of hurricanes in the Gulf of Mexico.
In the event of a tropical storm or hurricane alert, Shipdetective will post NWS updates and information for travelers - Weather Updates
Personal Security
Although the majority of visitors to Mexico thoroughly enjoy their stay, a small number experience difficulties and serious inconveniences.
Standards of security, safety, and supervision may not reach those expected in the United States.
Medical Care
Adequate medical care can be found in major cities. Excellent health facilities are available in Mexico City, but training and availability of emergency responders may be below U.S. standards. Care in more remote areas is limited. Standards of medical training, patient care and business practices vary greatly among medical facilities in beach resorts throughout Mexico.
Water Quality
In many areas in Mexico, tap water is unsafe and should be avoided. Bottled water and beverages are safe although visitors should be aware that many restaurants and hotels serve tap water unless bottled water is specifically requested. Ice may also come from tap water and should be used with caution. Visitors should exercise caution when buying food or beverages from street vendors.
Getting around
All facilities are within walking distance from the pier. Land and Water Excursions can be scheduled with your cruise line. Transportation will be provided by tour vans and buses.
Costa Maya, Mexico
Costa Maya, Mexico is located in the state of Quintana Roo, Mexico, located between Cancún and Belize on the Yucatan Peninsula. The Costa Maya includes the two small villages of Majahual and Xcalak. Xcalak is approximately 37 miles (60 kilometers) south of the Costa Maya cruise port, the fishing village of Mahahual is only about 1.9 miles (3 kilometer)s away.
The port is an all-inclusive destination with shopping, restaurants and tour excursions available just steps from the pier. The center has a central plaza with saltwater pools and "swim-up" style bars. Mahahual has soft sand beaches, grass thatched palapas, and a coral reef a short distance off-shore called Banco Chinchorro.
Need to Know
Costa Maya is the first port designed exclusively for cruise ships - strategically located just hours from Cancun and several of the Mayan ruins. The pier can accommodate up to three ships at a time.
Port of Entry
Costa Maya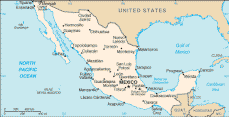 Time Zone
UTC - 6 or CST (EST - 1) Recognizes Daylight Savings Time
Map Coordinates
Mahahua - 18.714° N, 87.709° W
Xcalak - 18.27139; -87.83583
Average Temperatures
Water: 80º Summer - 75º Winter
Air: 85º Summer - 82º Winter
Island amenities include
3 grand pavilions
Mexican Folklore Show - 8 shows daily.
Artisan and luxury shopping areas
70,000 sq. ft. shopping center and craft bazaar.
Restaurants and bars
Lobster house and bar.
Salt-water pool
Featuring with swim-up bar.
Bicycle ,Kayak and Wave-runner
Rentals available.
Land excursions offered
Dune Buggy Tour
Drive along unpaved coastal roads
Kohunlich Mayan Explorer Tour
Visit Mayan archeological sites in the southern Yucatan Peninsula (about a 1 1/2 hour drive from the pier).
Chacchoben Ruins
Near the Belize border.
Lost Mayan Kingdom
A multi-million-dollar water-themed attraction featuring spectacular slides, an elaborate lazy river, a suspended ropes course that spans the property and more.
CrocWorld
Interactive museum with three observation towers connected by suspension bridges
Horseback Riding
Ride through a prairie, jungle terrain and two horse ranches
Oxtankah Mayan Ruins
Explore and ancient Mayan trading center on the Southern Yucatan with a stop at the Chetumal (state capital city) Mayan Cultural Museum.
Fort of San Felipe
Tour with lunch at Bacalar Lake.
Water excursions offered
Boat Blast
Drive your own speed boat.
Airboat Adventure
Visit the Rio Huach National Reserve.
Jungle Beach Break
Secluded beach getaway.
More adventures available. Check your cruise company excursion catalog.