Cozumel Cruise Ship Destination Port
Cruise Ship Port of Call information like Port News, Weather, Transportation Options, Things to Do and See, Area Events, Medical Care, Crime and Safety Review
Cozumel is the largest island in Mexico (28 miles by ten miles), situated just off the coast of the Yucatan Peninsula.
Webcam link: http://www.webcamsdemexico.com/webcam-cozumel.html
http://www.puertamaya.com/webcam.aspx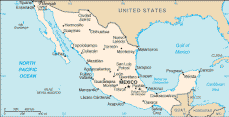 It is one of the eight municipalities (municipios) of the state of Quintana Roo.
Cozumel was a small fishing village until 1961, when Jacques Cousteau declared Cozumel one of the most desirable scuba areas on the planet. By 1970, Cozumel's population quickly grew to 10,000 and today the island boasts a population of more than 75,000. The vast majority of Cozumel residents live in the town of San Miguel, which is on the western shore.
Good to Know
Port of Entry
Punta Langosta Cruise Ship Pier (NCL), International Pier (RCI) and Puerto Maya San Miguel (Carnival).
Time Zone
UTC - 6 or CST (EST - 1) Recognizes Daylight Savings Time
Average Temperatures
Water: 82º Summer - 75º Winter
Air: 85º Summer - 77º Winter
Map Coordinates
20.3 N, 86.7 W
Things to do and see
Shopping
The major stores are usually open from 9 a.m. to 9 p.m. When a cruise ship is in port, more stores tend to remain open during the siesta period. Most stores accept credit cards, U.S. dollars and traveler's checks.
Cozumel Map Source: HAL
Resort Areas
Playacar is a residential and tourist development in Playa del Carmen, just south of the main urban area, where most of the all-inclusive hotels, the aviary, and the golf course are located. Playacar is privately owned.
Ferry to Playa del Carmen
The ferry terminal is located right in downtown Cozumel, next to the Punta Langosta Cruise Ship Pier, right in front of Punta Langosta mall, and a block from the town square.
Historical Sites
Numerous Mayan cites are accessible, such as San Gervasio, a Mayan sanctuary to the fertility goddess, and El Cedral.
Discover Mexico Park
The discover Mexico theme park takes visitors through Mexican history. The tour begins with an immersive video collage before moving to a beautiful garden with miniature replicas of the Maya's greatest pyramids from Chichén Itzá, Uxmal, Edzná and Palenque. Marvel at intricately detailed models of monuments from the Spanish conquest, including cathedrals up to 9 feet high and Mexico City's colorful central plaza.
Punta Sur Eco Park
Its 2,500 acres shelter a variety of indigenous species, including exotic birds and crocodiles, not to mention sea turtles. Take some time to explore the El Caracol Mayan ruins and the Faro Celerain Lighthouse with a small maritime museum.
Chakanaab National Park
This family-friendly park has underwater trails, snorkeling, and diving. Visitors can swim with the dolphins, zoom down the zip line in the Adventure Park, and walk across a swinging bridge over a crocodile enclosure.
Scuba Diving
Cozumel is world famous for its diving and has many diving locations and dive operators. The current allows for gentle float diving. Please use this link for Cozumel Marine World Dive Sites to explore more.
Note: All beaches are open to the public.
Some of the west side hotels offer beaches with rocky coastlines making them great for snorkeling. Hotels popular with snorkelers - Villa Maya, Casa Caribena, Coral Princess Hotel, Hotel Barracuda, Plaza Las Glorias, Chankanaab Park and Playa Corona. 5-10 ft. water depths
Some west side beaches offer white powder sand - Playa Azul, Playa Pilar and Playa San Juan to the North. San Francisco Beach, Playa Sol, Playa Francesa, Playa Palancar and San Clemente to the south.
The currents along the west side can be as swift as 5-6 knots (which is great for diving). Most of the current is located away from the shoreline, but not always.
Carnival
Annual event in February. Pre-Carnival events begin with the introduction of the Carnival King and Queen Candidates. The Grand Opening of the main Carnival events will begin when the elected Carnival King and Queen will be crowned. Carnival events are brought to a close on the night of with the traditional reading of the 'last Carnival testament' and the burning of Juan Carnival.
Festival of San Pedro and San Pablo
Annual June Event. The island of Cozumel honors the two saints San Pedro and San Pablo with a festival featuring fair rides, local arts and crafts and food stalls with regional treats.
Independence Day
On 15 September, the night before Independence Day, crowds surround the City Hall in Cozumel and follow the lead of the mayor on the balcony in belting out "Viva México".
Fiesta of Saint Michael the Archangel
September annual event. Cozumel pays homage to its patron saint, San Miguel Arcángel (Saint Michael the Archangel), with masses, parades and parties throughout the island. Fisherman carry an image of the saint to the downtown pier and board a boat out to sea with worshippers following behind in a ferry, throwing flowers into the ocean.
Ironman Triathlon
Annual November Event. Beginning in 2009, Cozumel will host the Ironman Triathlon for five years. More than 500 competitors from more than 25 countries around the world will come to Cozumel for the event.