Playa del Carmen Cruise Ship Destination
Cruise Ship Port of Call information like Port News, Weather, Transportation Options, Things to Do and See, Area Events, Medical Care, Crime and Safety Review
Need to know
Hurricanes
Mexico is situated in an area prone to hurricanes. From June to November, the country may experience strong winds and rains as a result of hurricanes in the Gulf of Mexico.
In the event of a tropical storm or hurricane alert, Shipdetective will post NWS updates and information for travelers on our Tropical Storm Update page
In October 2005 Hurricane Wilma passed directly over Playa del Carmen, remaining in the vicinity for two days and causing significant damage and a temporary drop in tourist arrivals. Fortunately most of the damage was relatively superficial and repaired within a few weeks of the storm. Hurricane Wilma arrived from the Caribbean sea, passing over Cozumel before making landfall in Playa del Carmen. It then moved north along the Mexican coast, hitting Cancún especially hard.
Personal Security
Although the majority of visitors to Mexico thoroughly enjoy their stay, a small number experience difficulties and serious inconveniences.
Standards of security, safety, and supervision may not reach those expected in the United States. This has contributed to deaths of U.S. citizens in automobile accidents, after falls from balconies or into open ditches, by drowning in the ocean as well as in hotel pools, and in water-sports mishaps, among others.
Medical Care
Adequate medical care can be found in major cities. Excellent health facilities are available in Mexico City, but training and availability of emergency responders may be below U.S. standards. Care in more remote areas is limited. Standards of medical training, patient care and business practices vary greatly among medical facilities in beach resorts throughout Mexico.
Water Quality
In many areas in Mexico, tap water is unsafe and should be avoided. Bottled water and beverages are safe although visitors should be aware that many restaurants and hotels serve tap water unless bottled water is specifically requested. Visitors should exercise caution when buying food or beverages from street vendors.
Getting around
Most everything is within walking distance from the pier.
Tircicols
Mexican version of a rickshaw that can take you anywhere in Playa. They can be very economical. Negotiate the fare before you leave.
Ferry
You can take the Ferry back and forth from Cozumel to Playa del Carmen. Ferry's run a minimum of every hour, however 2 companies offer service so there is always a boat waiting to dock as the other leaves. The ride takes about 45 minutes.
Taxis
Fares are regulated by the government however make sure to negotiate your fare before you leave.

Playa del Carmen, Mexico
Mexico is bordered by the USA on the north; Pacific Ocean on the south and west; Guatemala, Belize Caribbean Sea on the southeast; Gulf of Mexico on the east.
Playa del Carmen is located in the state of Quintana Roo on the Yucatan peninsula in the middle of the Riviera Maya, 45 miles south of Cancun.
Originally a small fishing town, tourism to Playa del Carmen began with the passenger ferry service to Cozumel, an island across the Cozumel Channel and world famous scuba diving destination. While passing through, many people realized that it was a nice place to relax away from the crowds of Cancún but with the same quality beaches and turquoise waters.
Tourist activity in Playa del Carmen centers on Quinta ida, or Fifth Avenue, stretching from calle 1 norte until calle 34, a pedestrian walkway located just one block inland from the beach which is lined with boutique hotels, shops, bars, and restaurants. There is a significant European influence in Playa, with a number of local business proprietors drawn from the European expatriate community.
Good to Know
Playa del Carmen is named for Our Lady of Mount Carmel, who is the patron saint of Cancún. The first recorded visitors to the beaches of what is now Playa del Carmen came during the Early Classic Period (a.d. 300-600) of the Mayan civilization. Then called Xaman-Ha, or "waters of the north," Playa del Carmen was a rest stop of sorts for travelers making their way from the great cities of the Mayan world to the island of Cozumel.
The coast and lowlands of the peninsula were still heavily populated with the descendants of the fallen civilization when the Spaniards arrived. Tulum, less than an hour south of Playa, was the last Mayan outpost and there are plenty of small ruins in Playa del Carmen. The Spanish focused their attention around the area of Mérida, where conditions were better for growing henequén (sisal), a fibre used to make rope. During the 17th and 18th centuries, the Caribbean coast was considered a savage place with not much to offer for potential settlers.
Port of Entry
Puerto Calica quarry docks about six miles south of the city.
Time Zone
EST - 1
Map Coordinates
20°62′N 87°07′W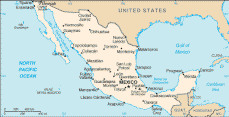 Average Temperatures
Water: 85º Summer - 77º Winter
Air: 85º Summer - 77º Winter
Things to do and see
Avenida Quinta
This pedestrian walkway runs parallel to the ocean and about 500 meters from the water. Along 5th Avenue you will find numerous stores, restaurants and hotels. In the evening people dress up and parade along the avenue, looking for places to eat or somewhere to party. Close to the beach, there are restaurants, bars, clothes shops and Cuban cigar and rum stores. The north end of the strip is smarter and cooler, with side streets full of dive shops, leading down to the beach.
Playacar
A residential and tourist development in Playa del Carmen, just south of the main urban area, where most of the all-inclusive hotels, the aviary, and the golf course are located. Playacar is privately owned.
Xcaret Eco-Archaeological Park
Xcaret (pronounced "esh-caret") is a popular tourist destination just south of the town probably best described as a natural theme park encompassing beaches, butterfly houses, a coral reef aquarium and an underground river.
Tulum 400-900A.D
In Quintana Roo near the town of El Crucero, is the place to go for ruins on the beach. It is the most visited Maya ruin and is the biggest attraction on the coast. It was the only Maya city built on the coast, possibly having housed 2000 people and once functioned as a trade center. Tulum Mayan Ruins are located about an hour drive south of Playa del Carmen.
Altun Ha 100 A.D
Mayan site reported to be first established around 200BC with construction beginning around 100AD.
Cave diving
Cenotes are sinkholes formed by water percolating through the limestone soil over thousands of years - filled with fresh water. Cenotes provide fresh drinking water for the people, but also for the indigenous wildlife... which is where easier hunting comes in. The vast majority of the Yucatan is parched for most of the year, so it can't be overstated how important the cenotes were to the original inhabitants.
There are several small cenotes right in Playa del Carmen, and some larger ones suitable for swimming within just a few miles. A particularly nice one is Cenote Azul, about 4 kilometers from Puerto Aventuras.
Caution to divers - you must be cave-dive certified to dive these underground rivers. It's easy - and deadly - to get lost. There are experienced professional dive-masters in Playa who are familiar with these cenotes and rivers and have the specialized equipment (lights, rope etc.) needed to dive them safely. Take advantage of their knowledge and services - never dive a cenote without certification unless you have a death wish.
Link to a map of dive sites in the area here
Cozumel
The ferry terminal is located right in downtown Playa del Carmen, about a block and a half from the main square and Plaza playacar, where most of the tour pickups take place. The ferry takes about 45 minutes to get to Cozumel.
Area Events
BPM Festival
Annual January event. D.J.'s from all over the world will assemble in Playa del Carmen for the BPM Festival, a weeklong gathering of the hospitality industry and electronic-music fans. Free daytime events will take place at the Kool Beach Club, and night events will take place at nightclubs, including the Blue Parrot, Coco Maya and Alux. Admission fee for evening events. Website.
Riviera Maya Jazz Festival
November annual event at the Mamitas Beach Club. The annual Riviera Maya Jazz Festival attracts an enthusiastic crowd to Mamitas Beach in Playa del Carmen to enjoy free performances by national and international acts. Free event. Website