George Town, Grand Cayman Cruise Port
Cruise Ship Port of Call information like Port News, Weather, Transportation Options, Things to Do and See, Area Events, Medical Care, Crime and Safety Review
The Cayman Islands are situated in an area prone to hurricanes. From June to November, the country may experience strong winds and rains as a result of hurricanes in the Caribbean Sea.
In the event of a tropical storm or hurricane, go to our Tropical Storm Update page
Cayman Arts Festival
Annual event in April. Cultural events spring up across Grand Cayman, Cayman Brac and Little Cayman at the annual Cayman Arts Festival. Jazz, classical concerts, educational workshops and art exhibitions take place.
Cay Fest Cultural Celebration
Annual event in April. Activities have included street chalk drawing: children decorated the streets of the islands with their original designs and as the firemen came to wash the works away at the end of the festival, everyone changed into their costumes and enjoyed the hose down!
Batabano Carnival
Annual event in Georgetown in May. The highlight of the Cayman Islands' calendar, the annual Batabano Carnival ushers in the spring and brings the islands together in a colorful cultural celebration of costume parades, music and food. Website
Pirates Week Festival
Annual November event. Website
As in Great Britain and its other colonies, vehicles in the Cayman Islands travel on the left-hand side of the road (the opposite side compared with driving in the United States).
The Caymans have little highway infrastructure to maintain. Local driving standards, the risk of accidents, the availability of emergency roadside service, quality and frequency of signage, and enforcement of traffic laws, generally meet the standards of the United States.

Visitors must obtain a temporary driver's license, easily granted upon presentation of a valid state driver's license and payment of a small fee, at a car rental agency or a police station.

Laws against driving while intoxicated are strictly enforced, with a legal maximum blood alcohol level set at 100 milligrams per 100 milliliters of blood. Seatbelt laws are also enforced and require the driver and all passengers to wear seatbelts while in motion.
Taxi Rates are not metered, but posted at the dock in George Town. Make sure to negotiate the fare before you leave. The taxi stands are located at the cruise ship terminal and at various hotels along Seven Mile Beach. The average cost of a taxi tour per hour is US$37.50 for three people. Prices subject to change
Great Britain took formal control of the Cayman Islands, along with Jamaica, under the Treaty of Madrid in 1670. Following several unsuccessful attempts, permanent settlement of the islands began in the 1730s.
The Cayman Islands, initially administered as a dependency of Jamaica, became an independent colony in 1959; they now are a self-governing British Overseas Territory. In 1959, the islands became a territory within the Federation of the West Indies, but when the Federation dissolved in 1962, the Cayman Islands chose to remain a British dependency.
Port of Entry
There are no berthing facilities for cruise ships. Ships anchor and tender into Georgetown. Drop off is at the center of Georgetown and the shopping district.
Carnival Magic damages coral reef posted 9/8/14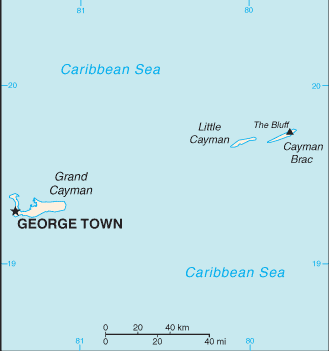 Time Zone
EST - 1
Map Coordinates
19 30 N, 80 30 W
Average Temperatures
Water: 84º Summer - 75º Winter
Air: 85º Summer - 79º Winter
The mode of life on the Cayman Islands is a blend of local traditions and of American and British patterns of behavior. Casual wear is acceptable in most places, but beachwear is best confined to the beach to avoid offence. Topless bathing is prohibited.
The quality of medical care in the Cayman Islands is generally comparable to that available in the United States; however, some procedures and cases requiring critical care may require medical evacuation to the United States.
Cayman offers both public and private hospitals. Public hospitals are more more affordable and provide adequate care. Private hospitals are more costly to patients but may provide "better" care.
The Ministry of Health is based at George Town Hospital Cayman Islands Medical & Dental Society, PO Box 1785 GT, Georgetown, Grand Cayman Tel: +1 345 949 6066 , Fax: 949 4447
The crime threat in Cayman Islands is generally considered low, although travelers should always take normal precautions when in unfamiliar surroundings. Petty theft, pick-pocketing and purse snatchings occur. A few cases involving sexual assault have been reported to the Embassy.
Police in the Cayman Islands rigorously enforce laws against illegal drugs. The majority of arrests of American citizens in the Cayman Islands over the past two years have been for possession, consumption, or intent to sell marijuana, cocaine or other illicit drugs. American citizens should avoid buying, selling, holding or taking illegal drugs under any circumstances.
The local emergency line in the Cayman Islands is "911."
Things to do and see
Georgetown
Amidst magnificent manor style homes, you'll find an old fort, a jailhouse and an understanding of the distinctive heritage of these islands when you visit the Cayman Islands National Museum and Cultural History Gallery. This 150 year old building (which houses the museum) situated on the waterfront in downtown Georgetown, contains hundreds of pieces of Cayman history and laser disc presentations. A must see -- even if you don't like museums.
Turtle Farm
The farm breeds turtles and then releases them back into the wild to repopulate the waters. There is also a gift shop with Grand Cayman's best turtle souvenirs and T-shirts, as well as educational books and toys. Proceeds from the shop go to support the turtles.
Town of Hell
The Town of Hell is named after its strange rock formations. Located in deep West Bay, near the Turtle Farm, Hell is made up of spiky porous limestone and dolomite that has been eroded away and turned to black from the algae.
Queen Elizabeth Botanical Gardens
Woodland Trail, Heritage Garden, Floral Display Garden and Lake. Birdwatchers can come earlier in the day and view birds such as the Grand Cayman Parrot and many aquatic birds that make their home and breeding grounds among the wetlands.
Horseback Riding
There are a number of different companies that offer this exciting way to see Grand Cayman.
Submarine Trips
To see the true treasures of the Cayman Islands, you need to look below the surface and no one can bring you closer to these fabulous sights than Atlantis Submarines. You can choose between the 100 foot dive or, for the more adventurous, the ultimate 1000 foot dive is a once in a lifetime experience.
Glass Bottom Boat Tours
If water is not for you (or if you are claustrophobic) but you still want to experience Cayman's underwater spectacle, try one of Grand Cayman's two glass bottom boat tours where you can view historic ship wrecks, coral reefs and exotic tropical fish through large windows in air conditioned comfort.
Shopping
The main shopping district is located right where the tender drops passengers off from the cruise ship. High-end luxury goods are available at duty-free prices - look for quality timepieces, leather goods, cosmetics, crystal, and jewelry.
Golfing
Grand Cayman also features two world class golf courses.
The Links at SafeHaven is an 18 hole championship golf course offering 6,605 yards and a par 71 course close to Seven Mile Beach and only five miles from George Town.
The Britannia Golf Course at the Hyatt
The Britannia is actually two courses in one, a par 58 course and a par 70, championship course. Designed by Jack Nicklaus. You can enjoy views of the Caribbean Sea while the refreshing trade winds keep you comfortable.
The Cayman Islands have a vast range of water sports, including: swimming, sailing, parasailing, windsurfing and especially good scuba diving, snorkeling and fishing.
There are over 20 dive operations in the Cayman Islands. The variety of diving sites ranges from shallow dives near offshore reefs to the famous virgin sites off Cayman Brac, the famous North Wall dive off Grand Cayman and Stingray City.
Seven Mile Beach
Swimming, snorkeling and diving - the most popular beach in the Cayman Islands; recognized as the best beach in the Caribbean. Just keep in mind the beach area will be crowed with more than one ship in port. Amenities availalbe.
Stingray Sand Bar
One of the most unforgettable adventures you'll ever experience is petting stingrays in waist deep water. Treat yourself to a half day cruise and a sampling of snorkel stops culminating in this extraordinary encounter. You can pet, feed and hold these friendly stingrays as they brush up against you like hungry kittens begging for a tidbit of squid. These are large (some reach widths of 6 feet) gentle creatures and will only sting with their barbed venomous tail (for which they are named) in self defense.
Sting Ray City
With the same cast of characters as Stingray Sand Bar, this is known as the world's best 12 foot dive and is more popular among scuba divers.
West Bay Public Beach
Take a taxi to this beach on the northern end of Seven Mile Beach. Bathroom facilities. Amenities nearby.
Rum Point Beach
Named after barrels of rum that washed ashore after a shipwreck. Take a water taxi to this popular beach located on the north sound. Worth the drive. Stop by the Rum Point Wreck Bar & Restaurant at Rum Point Beach.