Manzanillo, MX Cruise Ship Destination Port
Cruise Ship Port of Call information like Port News, Weather, Transportation Options, Things to Do and See, Area Events, Medical Care, Crime and Safety Review
Need to know
Hurricanes
Mexico is situated in an area prone to hurricanes. From June to November, the country may experience strong winds and rains as a result of hurricanes in the Gulf or along the Pacific Coast.
In the event of a tropical storm or hurricane alert, Shipdetective will post NWS updates and information for travelers on our Tropical Storm Update page
Personal Security
Although the majority of visitors to Mexico thoroughly enjoy their stay, a small number experience difficulties and serious inconveniences.
Standards of security, safety, and supervision may not reach those expected in the United States. This has contributed to deaths of U.S. citizens in automobile accidents, after falls from balconies or into open ditches, by drowning in the ocean as well as in hotel pools, and in water-sports mishaps, among others.
Medical Care
Adequate medical care can be found in major cities. Excellent health facilities are available in Mexico City, but training and availability of emergency responders may be below U.S. standards. Care in more remote areas is limited. Standards of medical training, patient care and business practices vary greatly among medical facilities in beach resorts throughout Mexico.
Water Quality
In many areas in Mexico, tap water is unsafe and should be avoided. Bottled water and beverages are safe although visitors should be aware that many restaurants and hotels serve tap water unless bottled water is specifically requested. Ice may also come from tap water and should be used with caution. Visitors should exercise caution when buying food or beverages from street vendors.
Bahía de Manzanillo
Manzanillo City as well as its surrounding municipality is in the Mexican state of Colima. The city, located on the Pacific Ocean hosts the busiest port in Mexico as measured by total tonnage and volume of containerized cargo.
Manzanillo has become one of the country's most important tourist resorts, and its excellent hotels and restaurants continue to meet the demands of both national and international tourism.
The city is well known internationally for deep-sea fishing and the green flash phenomenon during sunsets. The city is a destination resort and has many hotels and self-contained resorts, particularly built on peninsula De Santiago jutting out into the Pacific north of the city center.
Manzanillo is known as the Sailfish Capital of the World. Since 1957, it has hosted important national and international fishing competitions, such as the Dorsey Tournament, making it a very attractive fishing destination.
Good to Know
Manzanillo was once the scene of piracy and adventure. Nowadays, its peaceful bays and sophisticated tourist and port infrastructure have made it one of the main tourist resorts and trading centers in the west of Mexico. Manzanillo, consists of two bays with crescent-shaped Beaches, each about 4-miles in length.
Port of Entry
Ship channels are located at the southeast end of Bahía de Manzanillo.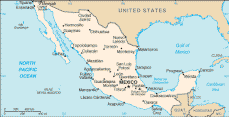 Time Zone
CST (UTC/GMT-6)
Map Coordinates
19°3′8N, 104°18′57W
Average Temperatures
Water: ° Summer - ° Winter
Air: ° Summer - ° Winter
Getting around
Manzanillo is well connected by Highway 200 to Colima City, to the Northwest and to Puerto Vallarta. Ground transportation is limited to taxis and car rentals.
If you drive in Mexico, please remember the following:
If you are involved in an automobile accident, you will be taken into police custody until it can be determined who is liable and whether you have the ability to pay any penalty. If you do not have Mexican liability insurance, you may be prevented from departing the country even if you require life-saving medical care, and you are almost certain to spend some time in jail until all parties are satisfied that responsibility has been assigned and adequate financial satisfaction received. Drivers may face criminal charges if injuries or damages are serious.
Things to do and see
Water Sports
Excellent swimming, snorkeling & scuba diving is found in Santiago Bay, a few miles north of the city where a cargo ship sank in a hurricane in 1959.
Bahía de Manzanillo
Closer to downtown and is the older tourist section.
Bahía de Santiago
The newer and more upscale area.
Santiago Peninsula
A steep outcrop on whose slopes are some of the most beautiful hotels.