Roatan Bay Islands Cruise Destination Port
Cruise Ship Port of Call information like Port News, Weather, Transportation Options, Things to Do and See, Area Events, Medical Care, Crime and Safety Review
Need to know
Hurricanes
Honduras is situated in an area of the Caribbean prone to hurricanes. Rainy season is from May to November, and periodic hurricanes between June and November.
In the event of a tropical storm or hurricane alert, a notice will be posted on our Weather Updates
Medical Services
Medical care in Honduras varies greatly in quality and availability. Outside Tegucigalpa and San Pedro Sula, medical care is inadequate to address complex situations. Support staff facilities and necessary equipment and supplies are not up to U.S. standards anywhere in Honduras.
Facilities for advanced surgical procedures are not available. Wide areas of the country, including the popular tourist areas of the Bay Islands, do not have a general surgery hospital.
There are several clinics, two hospitals and a recompression chamber for divers. One of the hospitals is private and designed for the foreigner communities. Modern state-of-the-art equipment and well trained doctors are on call 24 hours/day. Ambulance service is also now available on Roatan. Larger medical centers are available on the mainland.
Ambulance services are limited in major cities and almost non-existent elsewhere. Emergency services may be contacted directly through their local numbers.
Scuba diving is popular in the Bay Islands, but the limited medical facilities there pose a special risk in the event of an emergency. There is a decompression chamber on Roatan and Utila for divers, but no advanced medical care on either island for diving related accidents.
Air Quality
Severe air pollution, which can aggravate or lead to respiratory problems, is common throughout the country during the dry season due in large part to widespread forest fires and agricultural burning.
Water Quality
Honduras lacks a substantial infrastructure for maintaining water purity. Travelers are strongly encouraged to avoid drinking tap water or a beverage that contains ice from an unknown source (even alcoholic drinks). Bottles and bags of purified water are widely available.
Food Safety
Individuals traveling to Honduras should avoid eating untreated raw vegetables, fruits that can't be peeled on the spot, raw fish like ceviche and undercooked shellfish and products containing mayonnaise, pastry icing, and unpasteurized dairy products.
Hot cooked food, fresh bread, dry foods such as crackers, bottled carbonated beverages, coffee, tea, and beer are usually safe, provided such food items are not purchased from street vendors. air dry.
Government
After two and a half decades of mostly military rule, a freely elected civilian government came to power in 1982.
Getting around
Taxis and buses are regulated. Make sure to negotiate the rates prior to entering the vehicle and make sure you know what currency the driver is quoting.
Ask if the rate is US dollars or Lempiras. The average rate per person for a ride to the West End from the cruise terminal is $7.50 US and West Bay about $10.00 pp. A full day island tour by taxi will range around $100.00 for the taxi.
Roatan, Bay Islands
The islands of the Caribbean are located in a region southeast of the Gulf of Mexico and Northern America, east of Central America, and to the north of South America.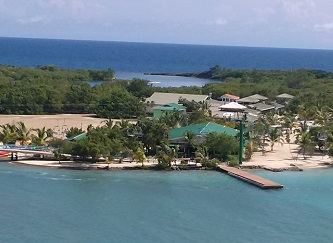 The island is located near the largest barrier reef in the Caribbean Sea and the second largest worldwide after Australia's Great Barrier Reef. It has become an important cruise ship and scuba diving destination in Honduras. Roatan has a population of about 30,000 inhabitants.

For many years the island was a hidden gem, with some of the most beautiful white beaches and the best snorkel and diving spots in the Caribbean, but it was 'discovered' around 2005 by cruise ships and hotel developers.
Rotan is the biggest and most populated of three islands located off the coast of Honduras. The island is only 33 miles long and 4 miles wide and located about 50 miles from the northern coast of the Honduran mainland.
Coxen Hole is the Capital of Roatan.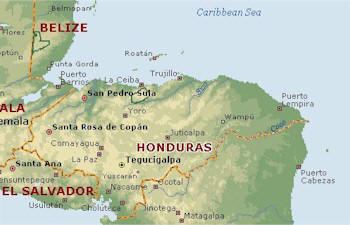 History
The restored Mayan ruins near the Guatemalan border in Copan reflect the great Mayan culture that flourished there for hundreds of years until the early 9th century. Columbus landed at mainland Honduras (Trujillo) in 1502, and named the area "Honduras" (meaning "depths") for the deep water off the coast.
Honduras is a democracy with a developing economy. Facilities that would normally be used by tourists, including hotels and restaurants, are generally adequate in the Bay Islands, and near the Copan ruins. Large sections of the country, however, lack basic public services or even a governmental presence.
Honduras is one of the poorest countries in the Western Hemisphere with an extraordinarily unequal distribution of income and massive unemployment. Growth remains dependent on the status of the US economy, its major trading partner, on commodity prices, particularly coffee, and on reduction of the high crime rate.
The country was devastated by Hurricane Mitch in 1998, which killed about 5,600 people and caused approximately $2 billion in damage. Mitch left hundreds of thousands homeless, devastated the road network and other public infrastructure, and crippled certain key sectors of the economy.
Good to Know
Port of Entry
Mahogany Bay Cruise Center
The Mahogany Bay Cruise Center was - two-berth cruise terminal is capable of accommodating up to two post-Panamax ships simultaneously with over 8,000 passengers. The facility is located in a stunningly beautiful region locally known as Dixon Cove, on the southwest coast of the island of Roatan.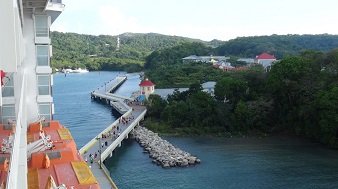 Time Zone
CST (EST-1, UTC/GMT -6 hours)
Map Coordinates
16°23′N 86°24′W
Average Temperatures
Water: 80º Summer - 70º Winter
Air: 83º Summer - 78º Winter
Personal Safety
Roatan and the Bay Islands experience lower crime rates than the Honduras mainland. The national government of Honduras, Roatan authorities, and businesses took measures in 2014 to improve tourism security. As on the mainland, thefts, break-ins, assaults, rapes, and murders do occur, and rates are still high by international standards. You should exercise caution, especially at night. If staying at a hotel resort, book tours and sightseeing through the resort or reputable tour companies. Coxen Hole on the island of Roatan should be avoided after dark.
If you are traveling on a cruise ship, you should take safety precautions, avoid unfamiliar areas, and take care to book only with reputable tour companies during your stopover in Honduras. Cruise lines and port agencies work with approved tour companies to offer packages. The port agencies at Mahogany Bay and Towne Center have worked to improve taxi service to and from the ports. The vast majority of cruise line passengers in Honduras experience no problems, but incidents of armed robbery and carjacking have been reported.
The Honduran law enforcement authorities' ability to prevent, respond to, and investigate criminal incidents and prosecute criminals remains limited. Honduran police generally do not speak English. The government has established a special tourist police in the resort town of Tela and other popular tourist destinations, including Tegucigalpa, San Pedro Sula, La Ceiba, and Roatan, but the number deployed is small and coverage is limited.
Precautions While in Honduras
Be vigilant of your surroundings at all times and in all locations, especially when entering or exiting your home/hotel, car, garage, school, and workplace. Whenever possible, travel in groups of two or more. Avoid wearing jewelry, carrying large sums of money, or displaying cash, ATM/credit cards, or other valuables. Avoid walking at night in most areas of Honduras or walking alone on beaches, in historic ruins, and on trails. Several U.S. citizens have reported being robbed while walking on isolated beaches. Motorists should avoid traveling between cities at night and always drive with the doors locked and windows up to deter potential robberies at traffic lights and on congested downtown streets. Arriving U.S. citizens are strongly urged to exercise caution in discussing travel plans in public since criminals may conduct crimes based on tips from sources at airport arrival areas.
Things to do and see
Mahogany Bay offers abundant amenities just steps from the pier including shopping, restaurants and bars, full-service beach, nature trail, watersports, dolphin encounter and zipline.
Shopping
Brand names like Harley Davidson and Del Sol along with a straw market, small booths with local crafts.
Zipline Express
The Zipline Express canopy ride is located at the Mahogany Bay cruise center and within a 150-acre nature reserve. Eleven cables totaling more than a mile offer a look at the island's wildlife and vegetation. Platforms are between 16 - 65 ft. above ground. Closed toe shoes and shorts and shorts or pants, and medical waiver required. The excursion is about an hour long.
Dolphin Action Swim
This one-hour experience includes 30 minute instruction and 30 minutes with the dolphins. This excursion is located at Mahogany Bay. Find this excursion in your cruise line excursion guide.
Mahogany Beach
Long stretch of of white sand beach minutes from the pier. Beach loungers and mats are complimentary. You can rent beach chairs with a cabana cover, snorkeling equipment, kayaks and private luxury cabanas. Check your cruise line excursion guide for various options.
Magical Flying Chairs
The lift provides transportation from the edge of Mahogany Bay Cruise Center to Mahogany Beach - a five minute ride. All-day pass is $12.00. For safety reasons, passengers must be at least 32" in height to ride the lift.
Excursions outside Mahogany Bay
Gumbalimba Park
Gumbalimba Park is located in West Bay and offers an animal preserve, botanical gardens, beach, water activities, shopping, beachside cafe and more. and leisure of the beach and ocean, but also diverse attractions in over 20 lovely acres.
http://www.gumbalimbapark.com
West Bay Canopy Tour
Ride a zip Line and glide through the jungle.
Coxen's Cave
Take the history tour.
Botanical Garden
Water sports including snorkeling, SNUBA and kayaking.
Beaches
Pigeon Cay
45-minute boat ride from Roatan. This beach offers calm waters, shade trees and some wildlife. Great get-a-way spot.
Tabyana Beach (West Bay Beach)
Powdery sand beach. Popular excursion with the snorkelers. Beach is crowded when ships are in port.
Half Moon Bay
Food and beverage services.
Snorkel/Dive
The island is surrounded by nearly 70 miles of living reef and offers excellent snorkel and dive. opportunities.
Local resorts that offer day trips
Anthony's Key Resort
Mayan Princess Beach Resort