Shipdetective News Blog
Cruise Ships, Cruise Destinations, Cruise Advice, Cruise News, and More
News History

February-March 2014 News
New Orleans Terminal Renovations Nearly Complete
posted March 31, 2014
$2.3 million in renovations, expansions and upgrades are nearing completion at the Port of New Orleans' Erato Street Cruise Terminal ahead of the arrival of the Port's largest home-port cruise ship to date – the Carnival Dream. Read more...
Explorer Heading to Southampton
posted March 31, 2014
Royal Caribbean International's Explorer of the Seas will sail its very first Europe season in summer 2015. The cruise line's Adventure of the Seas, which was originally announced to homeport at Southampton, U.K., is being exchanged for Explorer of the Seas, which will take over three- to 16-night, roundtrip itineraries from late-April through Sept. 2015. Read more...
Seven Seas Mariner's Stunning Makeover
On April 7, 2014, Seven Seas Mariner® will debut her stunning new look and upgraded amenities. Upon completion of her multi-million dollar refurbishment, the all-suite, all-balcony ship will—with her sister ships Seven Seas Voyager® and Seven Seas Navigator®—redefine superlatives as the most luxurious and stylish ships afloat. Read more...
Choose Your Own Itinerary: New Concept from Fred Olsen Cruises
posted March 29, 2014
Fred Olsen Cruise Lines has launched its most exciting, innovative and unique cruise yet! Braemar's 15-night 'You Choose Your Cruise' sailing, which departs from Southampton on 10th October 2015, is a brand-new concept for Fred. Olsen, and quite possibly within the cruise industry as a whole. Guests on board will get to 'tell the Captain where to go', as they vote for the next port of call as the cruise progresses, from two choices every 48 hours. Read more...
posted March 27, 2014
If a snapshot is worth a thousand words, then the city of Singapore is worth a million. Within an area the size of Rhode Island is a melting pot of Asian influences that give the growing cosmopolitan city-country its unique flair. Read more...
New "Dynamic Dining" For Royal Caribbean's Quantum-Class Ships
posted March 27, 2014
Royal Caribbean International revealed its next vision of dining at sea to debut onboard the new Quantum-class ships. "Dynamic Dining" gives guests on Quantum of the Seas and Anthem of the Seas a landscape of 18 restaurant concepts with five complimentary, full service restaurants. The smart, new reservations system, helps guests control when, where, with whom to dine, and how to dress each evening. Read more...
Carnival Freedom Ready for Fun Ship 2.0 Upgrades
posted March 26, 2014
Carnival Freedom will undergo an extensive multi-million-dollar makeover this spring that will add the first-ever Bookville family reading venue – part of the recently launched Seuss at Sea program in partnership with Dr. Seuss Enterprises – along with a variety of dining, bar and entertainment innovations that are part of the line's Fun Ship 2.0 product enhancement initiative. Read more...
Galveston Oil Spill Update: Channel Partially Reopened
Update: March 26, 2014
The Houston Shipping Channel closed after a barge collided with a ship has partially reopened after the Coast Guard deemed the shipping channel free of oil. It could take three days before shipping operations are back to normal, as a reported 100 ships have been stuck in the port waiting for the channel to clear. Read more...
Coast Guard to Begin Surprise Inspections on Cruise Ships
posted March 26, 2014
The Coast Guard plans to target cruise ships with a record of safety problems as part of unannounced ship inspections officials told the National Traffic Safety Board as part of a two-day hearing with cruise industry leaders held in Washington, D.C. Read more...
Silver Discoverer Christened in Singapore
posted March 26, 2014
A third expedition ship, Silver Discoverer, officially joined the Silversea Expeditions fleet during a christening ceremony held today at the Marina Bay Cruise Center in Singapore. Read more...
Shipbuilder MHI Reporting Huge Loss on AIDA New Ship Builds
posted March 25, 2014
Japanese cruise ship builder Mitsubushi Heavy Industries (MHI) is reporting a $586 USD million loss from two new ship builds ordered by AIDA cruises in November 2011. Read more...
Expanded Bandwidth for Allure and Oasis of the Seas
posted March 25, 2014
Get ready for high speed on the high seas. A major technology investment by Royal Caribbean International gives guests aboard Oasis of the Seas and Allure of the Seas more wireless capacity than every other cruise ship in the world combined. And the Wi-Fi will blaze at speeds that match or exceed what guests can achieve on land. Read more...
Classica to Undergo Refit; Join neoCollection Fleet
posted March 25, 2014
Costa Cruises is expanding the Costa neoCollection, the new type of slow cruising designed to make the most of every minute at a leisurely pace. From December 2014, after a major refit, the Costa Classica will join the Costa neoCollection and be renamed Costa neoClassica; together with the Costa neoRomantica and Costa neoRiviera, she will offer cruises to unique destinations inaccessible to big ships, including some that have been declared UNESCO World Heritage Sites. Read more...
Adventure of the Seas Experiences Trouble Ahead of Dry dock
posted March 23, 2014
The Adventure of the Seas experienced propulsion problems over the weekend causing a cancelled port of call. The issues are occurring ahead of its scheduled dry dock at the end of the current month. Read more...
Carnival Splendor to Sail from Norfolk Virginia
posted March 23, 2014
Carnival Splendor will operate a series of two- to seven-day voyages, including a week-long cruise to Bermuda, from the Port of Norfolk in 2015. The 3,006-passenger Carnival Splendor is the newest and largest "Fun Ship" ever to operate from the historic Virginia port. Read more...
Galveston Oil Spill Delays Cruise Ships
posted March 24, 2014
Cruise ships embarking and disembarking from Galveston, Texas have faced delays due to an oil spill after a barge collided with a ship Saturday afternoon. The resulting clean-up has closed a portion of the shipping channel. Read more...
Diamond Princess to Undergo Extensive Dry dock Transformation
posted March 20, 2014
To get ready for Princess Cruises' second season of Japan cruising, Diamond Princess is undergoing an extensive dry dock to add enticing new features designed to appeal to Japanese cruisers. During the $30 million-dollar refurbishment, the ship will receive an extensive new Japanese bath area, as well as a new sushi restaurant, enhanced shopping areas, a revitalized Horizon Court, additional staterooms, new interior furnishings and finishes, fresh hull paint and exterior refurbishment, and contemporary and Asian-style touches. Read more...
MSC Orders Two Mega-Ships from STX France
posted March 20. 2014
Today MSC Cruises signed a letter of intent (LOI) with STX France for the construction of two new cruise ships with an option for two more. The two ships will join MSC Cruises' fleet, currently counting 12 ships, all built in the Saint-Nazaire yards. Read more...
Marine Artist Guy Harvey to Design Norwegian Escape Hull Art
posted March 19, 2014
Norwegian Cruise Line announced at Cruise Shipping Miami that Guy Harvey, widely recognized as the world's finest marine wildlife artist and champion of ocean conservation, has been named to design the signature hull artwork of the line's largest ship to date, Norwegian Escape, scheduled to debut in October 2015. The artist revealed his custom design for Norwegian Escape's hull, which features an underwater scene of marine wildlife. Read more...
Hamburg Poised to Become Northern Europe's busiest Cruise Port
posted March 19, 2014
The Port of Hamburg is slated to open its third cruise terminal in June 2015 just in time for the AIDAprima. The new ship will be sailing year-round from Hamburg. The new terminal will be located across the river from Hamburg's current terminals, fewer than two kilometers away from many of the main sights in the center and a short ride by ferry, according to Managing Director Gerd Drosselt. Read more...
Building the Quantum of the Seas
posted March 18, 2014
The latest video from Royal Caribbean Cruises gives insight into how Meyer Werft is constructing the Quantum of the Seas. View here...
Escape to Homeport in Miami
posted March 18, 2014
Norwegian Cruise Line today announced that its newest and largest ship to date, Norwegian Escape, will homeport year-round at Port Miami, the cruise capital of the world, sailing an Eastern Caribbean itinerary. Read more...
Venice Restrictions Suspended until June Hearing
posted March 18, 2014
Restrictions on large cruise vessels visiting Venice have been suspended until a hearing scheduled for June 12. The Venezia Terminal Passeggeri had appealed the ruling which was passed last November calling for the reduction of passenger ships over 40,000 tons and banning ships over 96,000 starting January 2015. Read more...
Windstar Cruises Announces New Yacht Names
posted March 17, 2014
Windstar Cruises unveiled plans for the new Star Class – a collection of three all-suite power yachts that will join the fleet over the next two years beginning with the Star Pride in May of 2014 and continuing with Star Breeze & Star Legend in 2015. Read more...
Norwegian Unveils iConcierge Smartphone App
posted March 17, 2014
Norwegian Cruise Line announced today that the company's revolutionary smart phone application, "Norwegian iConcierge" is now available on board the line's newest ship, Norwegian Getaway. Norwegian iConcierge allows guests to create a highly-customized vacation experience by providing interactive access to Norwegian Getaway's onboard guest information and service systems during their cruise, via the guest Wi-Fi network onboard. Read more...
Taiwan Port to See Visitor Increase After Visa Requirements Streamlined
posted March 17, 2014
In a story from WantChinaTimes, Taiwan is expected to see cruise market growth after the National Immigration Agency and Ministry of Transportation and Communication reached an agreement to simplify the visa process for cruise travelers. Read more...
New 'Seuss at Sea' Program Debuts on Carnival Splendor
posted March 10, 2014
Carnival Cruise Lines' exclusive partnership with Dr. Seuss Enterprises kicked off in grand style last week on Carnival Splendor which became the first "Fun Ship" to offer Seuss at Sea, a fleet wide program featuring exciting youth, family, dining and entertainment experiences inspired by the amazing world and words of Dr. Seuss. Read more...
Adam D. Tihany to Design Seabourn's New Ship
posted March 10, 2014
Seabourn has contracted hospitality design icon Adam D. Tihany to create the indoor and outdoor guest areas of its new ship being built in Italy and due to launch in 2016. Tihany is Art Director of the Culinary Institute of America, and sits on the advisory Board of the New York School of Interior Design and the Holon Design Museum. Read more...
Carnival Paradise Rescues Cubans Adrift At Sea
posted March 7, 2014
The Carnival Paradise was on the first day of a five-day Caribbean cruise out of Tampa when it stopped to aid a stranded boat of Cuban refugees. They reportedly had been adrift for five days when the Paradise came alongside threw lifejackets and ropes. Read more...
Allure of the Seas in Bahamas for Propulsion Motor Fix
posted March 5, 2014
The world's largest cruise ship the Allure of the Seas' has docked at the Grand Bahama Shipyard for repair work on propulsion motors. The work will continue on a twenty-four/seven basis for the seven day stay at the yard. Read more...
TLC "Cake Boss" Store Expanding Across NCL Fleet
posted March 5, 2014
Norwegian Cruise Line announced today that Master Baker Buddy Valastro, star of the popular TLC television series "Cake Boss" and "Next Great Baker," who recently opened two Carlo's Bake Shop locations on board Norwegian Breakaway and Norwegian Getaway, will now feature his incredible dessert creations on all Norwegian ships, fleet-wide. Read more...
Legend Returns with New Upgrades
posted March 5, 2014
The Carnival Legend resumes seven-day Caribbean cruises from Tampa after undergoing a multi-million dollar makeover. New innovations include a WaterWorks aqua park, Children's spray park, new dining venues, and new entertainment options. Read more...
Cunard Announces Plans for 175th Anniversary in 2015
posted March 5, 2014
Cunard Line will proudly celebrate its 175th Anniversary in 2015 with a special collection of remarkable anniversary cruises and events that will pay homage to significant moments in the company's illustrious history. Read more...
Save Time and Money with the Bon Voyage Tote Bag
posted March 5, 2014
Packing for a cruise vacation can be a chore, but Shipdetective.com has devised a way to help. The new Bon Voyage Cruise Essentials Tote package contains the basic essentials for any cruise vacation. Read more...
Mediterranean Food Festival on neoRiviera
posted February 27, 2014
To celebrate the inaugural neoCollection season in the Mediterranean, Costa Cruises is bringing local cuisine and wines to the neoRiviera with a Mediterranean Food Festival. Read more...
Chef's Table Named Best Dining Experience by Porthole Magazine
posted February 27, 2014
Holland America Line's Master Chef's Table dining experience developed by internationally renowned chef Rudi Sodamin earned the Editor-in-Chief Award for Best Dining Experience from Porthole Cruise Magazine. The award recognizes the line's innovative approach to culinary offerings at sea, and the honor was announced in the February 2014 issue. Read more...
Azamara Journey Propeller Damage Cuts Cruise Short
posted February 26, 2014
Azamara announced on Facebook today that the Azamara Journey would end its voyage in Kyoto, Japan, instead of Shanghai, China due to propeller damage first noticed in Tokyo. The Journey will remain in Kyoto for two days and guests will disembark on March 2. Read more...
Mamma Mia! Joins Broadway Line-up on Quantum of the Seas
posted February 25, 2014
Royal Caribbean's Quantum of the Seas, launching in November of this year, will bring Dancing Queens onboard when it debuts Mamma Mia, the line's fourth fully-licensed Broadway production onboard its fleet. Get a sneak peak here.
Possible Norovirus Outbreak on HAL ms Veendam
posted February 25, 2014
The CDC boarded the ms Veendam on February 22 to conduct a health assessment after 114 passengers and 10 crew reported norovirus-like symptoms during an eight-day Caribbean cruise. Read more...
Oriana Cuts Cruise Short for Repairs
posted February 24, 2014
P&O Oriana returns to Southampton three days early after experiencing propulsion problems. The vessel needs to carry out repairs to one of the propeller shaft seals. Divers will examine the ship while it is docked in Tenerife. Read more...
Construction on Carnival Vista Begins
posted February 24, 2014
Earlier this week at the Fincantieri shipyard in Monfalcone, Italy, the first steel was cut on Carnival Cruise Lines' newest "Fun Ship," which is slated to enter service in spring 2016. Read more...
Legend Earns Perfect U.S.P.H. Score
posted February 20, 2014
Carnival Legend scored 100 during its United Stated Public Health (U.S.P.H.) inspection which took place this past weekend in Tampa. To earn a 100 score, cruise ships must earn perfect marks on all 44 items that comprise the U.S.P.H's comprehensive Vessel Sanitation Program checklist. Read more...
RCCL Anthem of Seas earns Autism-Friendly Certification
posted February 20, 2014
Autism on the Seas™ (AotS), the leading travel organization catering to vacationers with autism and other developmental disabilities, today announced the introduction of the travel industry's first "Autism Friendly" Certification Standard & Training Program for cruise lines. Read more...
Crew Worker Accused of Rape and Attempted Murder of HAL Passenger
posted February 19, 2014
A Holland America crew member was taken into custody in Port Everglades Sunday morning after sexually assaulting a 31-year-old passenger in her stateroom on Valentine's Day. Read more...
Massive Power Outage Experienced in Turks & Caicos
posted February 18, 2014
Providenciales' only power plant experienced a explosion and electrical fire causing Turks & Caicos residents to be without power for several days. The incident at the plant in the second within two years that has resulted in massive damage to the plant and left residents throwing out spoiled food. Read more...
NCL Shows Growth in 2013
posted February 18, 2014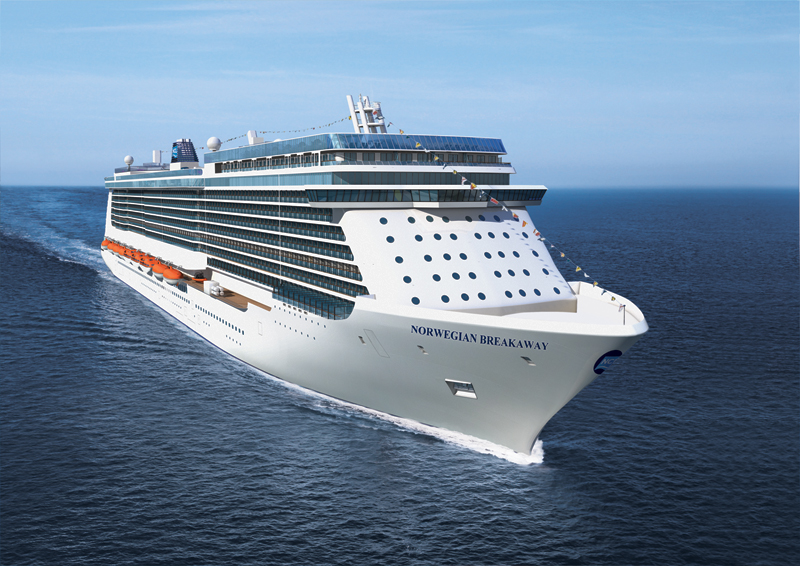 "A year that began with a highly successful initial public offering, followed by other transactions which resulted in a strong balance sheet and credit metrics, and the launch of the first ship in our Breakaway class, Norwegian Breakaway, will undoubtedly be remembered as one of the seminal years in Norwegian's 47-year history," said Kevin Sheehan, president and chief executive officer. Read more...
MSC Reports Record Number of Bookings
posted February 18, 2014
MSC Cruises is pleased to announce that in the last 30 days the number of people who booked an MSC cruise, choosing to experience the joys of the Mediterranean way of life on board, reached a record high, totaling 208,262 travellers. Read more...
Passenger Dies After Rogue Wave Strikes Ships
posted February 16, 2014
The British Cruise ship MS Marco Polo was struck by a rogue wave during adverse sea conditions resulting in damage to the vessel and the death of a passenger. Read more...
Celebrity Unveils Suite Class
posted February 13, 2014
Celebrity Cruises announced plans to launch a new luxury "Suite Class" aboard its ships. The new class will be fully introduced on Celebrity's ships during April 2015. With exclusive new benefits including a suites-only restaurant, VIP lounge, complimentary premium beverages, plus more, the newly launched Suite Class is designed to create the ultimate luxurious experience. Read more...
Queen Victoria Threatened for British Flag in Argentinian Waters
posted February 13, 2014
While docked in Buenos Aires, Argentina, the captain of Cunard's Queen Victoria was threatened with a hefty fine if he continued to fly the British merchant fleet flag. Read more...
Carnival Splendor Diverts to Charleston
posted February 12, 2014
According to a report in the Post and Courier, the Carnival Splendor is diverting to the Port of Charleston Tuesday afternoon to evacuate an injured crew member. Read more...
New Orleans Sees Passenger Growth
posted February 11, 2014
For the third consecutive year, record numbers of cruise passengers set sail from the Port of New Orleans. Port cruise terminals handled 987,860 embarkations and disembarkations in 2013, up more than 1 percent compared to 2012, which saw a 32 percent gain over 2011. Read more...
Quantum of the Seas Video: Testing Bumper Cars
posted February 11, 2014
The CEOs and other designer supervisors test the bumper cars for the upcoming Quantum of the Seas. Watch the video here.
Getaway Christened in Miami Ahead of Maiden Voyage
posted February 8, 2014
The new Norwegian Getaway was welcomed to the Norwegian fleet when christened in a Miami-styled star-studded ceremony on Friday, February 7. Read more...
Explorer Outbreak Caused by New Norovirus Strain
posted February 7, 2014
A gastrointestinal outbreak that caused the Explorer of Seas to return to port early after over 650 people fell ill has been confirmed as a strain of norovirus first identified in 2012. Read more...
Celebrity Partners with Canyon Ranch Spa
posted February 7, 2014
Celebrity Cruises and Canyon Ranch, one of the world's leading spa and wellness brands, today unveiled a partnership to feature Canyon Ranch SpaClub® at Sea facilities onboard 10 state-of-the-art Celebrity ships. Read more...
The Navigator of the Seas Gets Texas-sized Makeover
posted February 5, 2014
Royal Caribbean International's Navigator of the Seas will resume year-round service from Galveston, Texas on February 5, 2014, after completing a month-long dry dock revitalization. Part of an extensive fleet wide program to enhance every Royal Caribbean' ship, Navigator of the Seas will WOW the Lone Star State with the area's most innovative and contemporary Caribbean cruise vacation by introducing new and significantly enhanced dining options and debut a new FlowRider surf simulator. Read more...