Cruise News Headlines
Princess Cruise Line News
Princess Cruise News
Princess Cruises' New Ship Begins Countdown to Summer 2017 Debut for China Year Round Cruising
Posted July 10, 2015
Carnival plc today marked the beginning of construction of Princess Cruises' third new generation of ships with the official keel laying ceremony at the Fincantieri shipyard in Monfalcone, Italy. As the keel – the bottommost part of the ship – was ceremoniously lowered into position, and shipyard officials celebrated the occasion with a traditional Chinese lion dance. This, yet-to-be-named ship, will be customized to appeal to the China market when it debuts in summer 2017.
Following the lion dance and a traditional blessing by a priest, the ship's keel – which weighs approximately 500 tons – was moved into position by crane onto the keel blocks. The computer-guided maneuver took only minutes, belying the more than two million man-hours that will ultimately go into building the vessel.
The 3,600-passenger, 141,000-ton ship will remain in the building dock until float out next summer. "We're incredibly excited to mark this step in the ship's construction," said Anthony Kaufman, Princess Cruises senior vice president of Asia operations, who traveled to Italy for the ceremony.
"We're very pleased to be working with our long-term partner, Fincantieri, on our newest ship and we appreciate their partnership and collaboration to customize and tailor the ship for the Chinese market." "The lion dance has been part of the Chinese culture for thousands of years and is performed on various auspicious occasions and celebrations. According to traditional Chinese belief, the lion signifies courage, wisdom, and good fortune and brings happiness, longevity, and good luck. We believe this special ceremony will bring prosperity and good fortune to Princess Cruises and our guests in China," said Cherry Wang, country director of Carnival China, who also traveled to Italy for the ceremony.
The new Royal Class ship will offer many of the same special features as Royal Princess and Regal Princess, which have been so well-received by the industry. These include a dramatic multi-story atrium serving as the social hub of the ship; an over-the-ocean SeaWalk, a top-deck glass-bottomed walkway extending 28 feet beyond the edge of the ship; the Princess Live! interactive studio; a special Chef's Table Lumiere, a private dining experience that surrounds diners in a curtain of light.
Guests will enjoy the international flavor of cruising with Princess, including experiencing cuisines from China, Japan, South-East Asia, Italy, France, and North America among other regions; as well as an array of international festivals re-created to celebrate cultures around the world; Princess Watercolor Fantasy, a fountain and music show; Movies Under the Stars featuring the largest outdoor screen at sea; and balconies on all outside staterooms. Accommodations will be configured to appeal to families and multi-generational travelers.
In addition, the new ship will showcase the exclusive Princess Class experience designed specifically for the Chinese market. Delivered by the ship's dedicated and caring crew, Princess Class enriches the travel experience of each cruise guest, enabling them to participate in unique cultural, culinary, entertaining and inspiring programs including the World Leaders Dinner, traditional English afternoon tea, a Lobster Grill, Ultimate Balcony Dining, an ocean-view hot pot dinner option, ballroom dancing, and an unparalleled duty-free shopping experience.
Additional details about the new ship's features and deployment schedule will be announced over the coming months.
Comedic Magician Ben Seidman Chosen as Princess Cruises' Entertainer of the Year
posted<![if !supportLineBreakNewLine]> March 23, 2015<![endif]>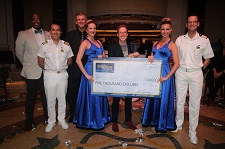 <![if !supportLineBreakNewLine]><![endif]>
Guests aboard Crown Princess have voted and selected Comedic Magician Ben Seidman as Princess Cruises Entertainer of the Year. Four finalists were selected from the hundreds of talented performers – comedians, magicians, vocalists, tribute bands and novelty performers – which elate guests on Princess' stages each year. These top artists performed to enthusiastic audiences during the cruise who then cast their ballot to select the winner.

Wisconsin native and Los Angeles resident Seidman is the only person in history to be named the Resident Magician at Mandalay Bay Resort & Casino in Las Vegas and currently stars in Magic Outlaws on Travel Channel. His energetic and playful performances combine stand-up comedy and world-renowned sleight-of-hand.

Guests aboard the March 14 Crown Princess Mexico cruise enjoyed live performances from each finalist. The finalists were determined by the Princess Cruises entertainment department based on guest surveys and onboard audience response. Along with Seidman the finalists included Vocalist Lovena Fox, Comedian Steve Caouette, and violinist and entertainer Christopher Watkins. Seidman was announced as the winner on the final night of the cruise at a celebratory event in Princess' signature venue, The Piazza.

"Congratulations to Ben Seidman for being chosen as Princess Cruises Entertainer of the Year," said Adrian Fischer, vice president, entertainment experience, Princess Cruises. "We were so proud to showcase the immense talents of all our finalists to our guests, who were thoroughly riveted by their dynamic performances and certainly had a difficult time choosing among such charismatic entertainers."

This marks the line's fourth annual Entertainer of the Year program, which was created to recognize the high caliber and diversity of guest entertainers that perform on each Princess cruise.

As the new holder of the line's "Entertainer of the Year" title, Seidman also received a cash prize of $5,000.
Original Love Boat Cast Will Be Godparents to Cruise Ship
It's been nearly forty years since the iconic television show The Love Boat went on the air and introduced viewers to modern day cruising and, in the process, made Princess Cruises and its ships synonymous with vacations at sea.
As Princess prepares to celebrate its milestone 50th anniversary year in 2015, the company is honoring the role that The Love Boat played in its history by selecting the original Love Boat cast members to serve as godparents for its new cruise ship Regal Princess. All six Love Boat cast members - who played the roles of Captain Stubing, Gopher, Isaac, Doc, Julie and Vicki – will reunite to christen the new ship on November 5 in Fort Lauderdale.
The ceremony will officially launch the golden year anniversary celebrations for Princess Cruises, which will celebrate five decades of operation throughout 2015.
The actors include Gavin MacLeod (Captain Stubing) Fred Grandy (Gopher, the chief purser), Ted Lange (Isaac, the bartender), Bernie Kopell (Doc, the ship's doctor), Lauren Tewes (cruise director Julie) and Jill Whelan (Vicki, the captain's daughter).
"We can think of no more suitable godparents for our newest ship than the cast of the show that put Princess Cruises on the map," said Jan Swartz, the line's president. "The show has been such a visible part of our company's history, it made sense to kick off our anniversary celebrations with this special tribute."
The pilot episode of The Love Boat, shot aboard Princess' 730-passenger original Sun Princess in 1977, began the relationship between Princess Cruises and the show, which for ten seasons eventually became one of the highest rated and longest-running shows on television. The Pacific Princess and Island Princess were the primary floating stars of the show, while later episodes and specials were filmed aboard many of Princess' other cruise ships in destinations around the globe.
"I'm absolutely thrilled that my former cast mates and I will be part of Regal Princess' U.S. debut," said Gavin MacLeod, who has been Princess Cruises' ambassador since the show ended in 1986. "The fact that The Love Boat continues to air in international syndication around the globe is a testament to the show's longevity and the world's fascination with romance on the high seas."
The 3,560-guest Regal Princess, which entered service in May of this year, is arriving in Fort Lauderdale to begin her maiden season of Caribbean cruise vacations. Among the special features found on board is a dramatic multi-story atrium serving as the social hub of the ship, offering a host of dining and entertainment options; an over-water SeaWalk, a top-deck glass-bottomed walkway extending 28 feet beyond the edge of the ship; plush private poolside cabanas that appear to be floating on water; the Princess Live! television studio; the largest pastry shop at sea; a special Chef's Table Lumiere, a private dining experience that surrounds diners in a curtain of light; and balconies on all outside staterooms.
Additional information about Regal Princess' inaugural Caribbean season is available through a professional travel agent, by calling 1-800-PRINCESS (1-800-774-6237), or by visiting the company's website at http://www.princess.com.
Princess to Add New Ship to Fleet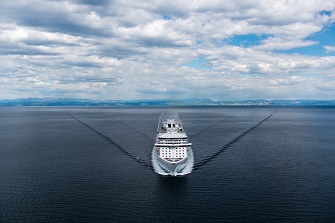 Today Princess Cruises, a subsidiary of Carnival Corporation & plc, announced that it has reached an agreement with the Italian shipbuilder Fincantieri to build a new ship, which will enter service in 2017.
The as-yet unnamed 143,000-ton vessel, which will be built at an all-in cost of approximately 600 million euros, will carry 3,560 passengers, and feature the successful design platform introduced by sister ships Royal Princess in 2013 and Regal Princess which entered service this past May.
The new ship will include the signature elements that have become synonymous with the Princess Cruises guest experience such as a soaring central atrium hub with multiple dining, entertainment and retail venues; the adults-only Sanctuary; Movies Under the Stars cinema experience, and 80 percent of all staterooms with balconies. The ship will also include some brand-new innovations to enhance the guest experience even further.
"We are incredibly excited to add this fabulous new ship to our already formidable fleet," said Jan Swartz, Princess Cruises president. "Royal Princess and Regal Princess have been exceptionally successful for us and have received numerous accolades from guests, travel agents and media, so adding another sister ship will enable us to continue to expand our innovative vacation experiences. We're very pleased that this new ship order is an indication of the confidence that our parent Carnival Corporation has in the future of the Princess brand." She added that this is the only new order Carnival Corporation & plc anticipates for 2017.
Specific features and amenities for the ship, along with deployment details, will be revealed in the coming months.
Giuseppe Bono, Fincantieri Chief Executive Officer, commented: "All the orders we win are important for our Group, but some are more special than others. The one we're announcing today certainly belongs to this select category. In fact, it's no coincidence that Fincantieri is the universally recognized leader among the builders of cruise ships. It's a source of great pride to be able to immediately build another ship for a prestigious brand like Princess Cruises following the successful deliveries of two jewels like "Royal" and "Regal," which have already become part of maritime history." Bono ended by saying, "Our objective has always been to build ships of the future, and thanks to the Carnival Group, the leading market player, which has reconfirmed its well-founded confidence in us, we have proven over time not only to have kept faith with this ambitious goal but also to have been able to consolidate our world leadership in a sector of absolute technological excellence, like cruise ships."
Successful Sea Trials Completed for Regal Princess
posted April 22, 2014
Regal Princess has accomplished another major milestone in preparation for her May 20 debut, with the completion of her sea trials. The new cruise ship set out to sea from her construction dock at the Fincantieri shipyard in Monfalcone, Italy, and was put through her paces with a series of maneuvers to test her propulsion, steering and navigational equipment.
After a successful five days of trials, the ship is now back in the shipyard for further exterior and interior finishing. Regal Princess will be ready for her maiden voyage from Venice, a seven-day Mediterranean cruise to Athens including stops in Corfu, Mykonos and an overnight call in Istanbul.
Throughout the summer, the new ship will sail on Princess' signature Grand Mediterranean cruises, with two itinerary choices.
Possible Norovirus on Crown Princess
Update: posted April 14, 2014
Over 150 passengers and crew contracted a norovirus onboard the Crown Princess during a seven-day cruise from Los Angeles. A CDC official met the Crown Princess in Los Angeles to assess ship's response to the outbreak.
posted April 9, 2014
According to a Associated Press report, 37 passengers reported flu-like symptoms of nausea, vomiting, diarrhea, and stomach cramping while the ship was in San Francisco on Monday.
The Crown Princess is on a seven-day cruise from Los Angeles to Santa Barbara.
A Princess spokeswoman said officials believe the cause is a norovirus. Ship crew began disinfecting surfaces and sick passengers are asked to stay in their rooms to limit the spread. The norovirus is highly contagious, especially in close quarters like cruise ships.
Diamond Princess to Undergo Extensive Dry dock Transformation
posted March 20, 2014
To get ready for Princess Cruises' second season of Japan cruising, Diamond Princess is undergoing an extensive dry dock to add enticing new features designed to appeal to Japanese cruisers. During the $30 million-dollar refurbishment, the ship will receive an extensive new Japanese bath area – making it the largest such bath experience at sea – as well as a new sushi restaurant, enhanced shopping areas, a revitalized Horizon Court, additional staterooms, new interior furnishings and finishes, fresh hull paint and exterior refurbishment, and contemporary and Asian-style touches.
The dry dock, which begins today, will take place through April 2, 2014 at Sembawang shipyard in Singapore. Interested viewers can follow the dry dock progress with regular photo updates offering a behind-the-scenes glimpse each day.
The most dramatic new feature, the 8,800-square-foot bath and garden complex will include indoor and outdoor bathing areas to provide a choice of bath styles. Highlighting the serenity and relaxation of a classic Japanese bath experience, the area will feature stone and other natural materials and a setting similar to the popular-onsen experience for which Japan is well-known.
"Because bathing is an important part of the Japanese culture, we want to offer passengers an authentic experience onboard, complete with unparalleled ocean views." said Jan Swartz, Princess Cruises president. "This is just one of several additions we're making to the ship to give passengers an appealing Japanese experience."
Passengers will step into the new bath area through a peaceful entrance beckoning them toward an elegant, open-air Japanese unisex hydro-therapy pool, which is surrounded by refreshing ocean breezes. Outdoors, passengers will be able to relax in plush shaded lounge chairs or soak in a footbath while enjoying fresh salt air. Indoors, passengers can enjoy two separate, gender-segregated bath experiences with spectacular sea views. The ocean-view sauna and bath will feature an open air skylight to help bathers connect with nature, as well as a dry sauna with dramatic floor-to-ceiling windows, plus a refreshing gentle mist sauna. The Stone Bath will feature an Utaseyu, an invigorating cascade of hot water that is ideal for relieving tension in the back and shoulders.
In addition to the new bath area, Diamond Princess passengers will enjoy a new sushi restaurant. Because of the popularity of the Kai Sushi restaurant introduced on Sun Princess, a bigger version of this restaurant will be added to Diamond Princess, and will feature both table seating and a sushi bar serving fresh seafood. The 66-person capacity restaurant will serve miso shiro, nigiri sushi, maki sushi, sashimi, seafood cocktails and, for dessert, matcha ice cream with red bean paste. Sake lovers will be able to try a variety of regional sakes for a taste of many of the ports featured during the cruise.
The duty-free boutiques aboard Diamond Princess will be remodeled to offer a new luxury shopping experience to appeal to customers in Japan. Among the distinctive new spaces is a luxury watch boutique -- anchored by a special OMEGA shop. The Essence boutique will introduce the first fragrance bar at sea where passengers can sample and learn about new scents. The Meridian Bay boutique includes a full crystal Swarovski installation as well as Jacqueline Kennedy and Audrey Hepburn collections. A new Limelight luxury boutique will offer designer leather and accessories including fashionable international and American designer brands such as Burberry, Fendi, Salvatore Ferragamo, Coach and Ralph Lauren.
The ship's buffet area, the Horizon Court, will be upgraded to feature contemporary food service areas and action stations for live a la carte cooking, plus a special pastry shop, refreshed décor and expanded seating.
Other changes include 14 new cabins, a sports court on the roof of Skywalker's Nightclub, a revitalized photo gallery and Platinum Portrait Studio, new art gallery displays, new décor in Sabatini's Italian specialty restaurant, remodeled casino and relocated Internet café and wedding chapel.
Once out of dry dock, Diamond Princess will set sail on a season of Japan-based cruises on April 17.
The ship will homeport in Tokyo (Yokohama) for an extended season of nine-day cruises that include visits to Taiwan, South Korea, Hokkaido, Russia and 15 Japanese ports, including five new itineraries created especially for the ship. During the popular holiday period of Golden Week, Diamond Princess will feature a special 10-day itinerary that includes opportunities to visit several festivals plus enjoy a special call to Nagasaki, home to Mitsubishi Heavy Industries where the ship was built, to celebrate Diamond Princess' 10-year anniversary.
The new features aboard Diamond Princess add to the ship's current impressive array of dining and entertainment options plus signature innovations such as the popular Movies Under the Stars poolside theater and The Sanctuary, an exclusive top-deck retreat. The 2,670-passenger Diamond Princess offers a high number of staterooms with private balconies, multiple dining rooms and entertainment venues, Lotus Spa, boutiques, and an internet café, among other amenities.
Caribbean Princess Experiences Norovirus
posted January 31, 2014
The CDC is investigating a confirmed norovirus outbreak on the Caribbean Princess. Of the 3,000 passengers on board, 162 have reported gastrointestinal distress symptoms. The ship is returning to its port in Houston one day early due to forecasted fog on its day of return.
The crew is implementing a thorough cleaning and disinfecting program throughout the ship. Ill passengers are asked to stay in their stateroom to avoid spread of the virus. The Caribbean Princess was on 7-day cruise out of Houston, Texas.
The outbreak comes in the wake of the Royal Caribbean Explorer of the Seas outbreak which resulted in 20% of those onboard reporting symptoms and the ship returning to port two days early.
Diamond Princess Sanitized to Prevent Norovirus Spread
posted January 16, 2014
Passengers arriving for a cruise in New Zealand on the Diamond Princess were delayed while the ship's crew thoroughly cleansed the ship after 60 passengers caught a norovirus.
The ship was on a 12-day cruise from Australia and was carrying 3,500 passengers and crew.
Norovirus is a gastrointestinal illness that causes vomiting, diarrhea, headaches and other symptoms. It can quickly spread in close quarters, as on cruise ships, through food-to-water, surface, and hand-to-hand transmission.
Passengers who did not want to board for the next cruise would not receive a refund.
Search for overboard cruise crewmember underway in Pacific
posted January 07, 2014
The search is underway for a crewmember reported overboard from a cruise ship approximately 1,133 miles northeast of Hilo, Tuesday.
Watchstanders at the Coast Guard Joint Rescue Coordination Center were notified at approximately 12 a.m., regarding a 34-year-old male Filipino national who was reported overboard from the Grand Princess.
The crewmember was last seen at approximately 10:26 p.m., Monday.
An HC-130 Hercules airplane crew from Coast Guard Air Station Barber's Point is currently on scene and the cruise ship has changed course and is searching for the missing passenger.
As part of the AMVER program, the container ship Horizon Reliance is assisting in the search along with the Grand Princess's sister ship, Star Princess.
AMVER, sponsored by the Coast Guard, is a unique, computer-based, and voluntary global ship reporting system used worldwide by search and rescue authorities to arrange for assistance to persons in distress at sea. With AMVER, rescue coordinators can identify participating ships in the area of distress and divert the best-suited ship or ships to respond.
Weather conditions on scene are winds of approximately 20 mph, seas of 7 feet and a water temperature of approximately 70 degrees.
Source: Coast Guard Press Release
Coast Guard Searches for Passenger
posted Nov. 14, 2013
HONOLULU — The search is underway for a passenger reported overboard from a cruise ship approximately 750 miles northeast of Hilo.

Watchstanders at the Coast Guard Joint Rescue Coordination Center were notified at approximately 1 p.m. by the crew of the Grand Princess that a 30-year-old American female was overboard.

The passenger was last seen at approximately 12 p.m.

The cruise ship has changed course and is currently searching for the missing passenger. An HC-130 Hercules airplane crew is en route from Air Station Barber's Point.
Source: US Coast Guard
Princess launches Support U.S. Veterans Cruise
posted Nov. 6, 2013
Princess Cruises' first-ever "Cruising for a Cause" voyage sets sail from Houston Nov. 5 on a cruise to honor veterans and raise funds for two respected veterans' organizations - Vietnam Veterans Memorial Fund Inc. and Operation Homefront Inc.
The cruise will offer passengers the opportunity to honor those who have served in the military as well as active duty military personnel. Passengers onboard will hear from special guests including retired senior officers from the Army, Navy, Marines, Coast Guard and Air Force; an award-winning war correspondent; and other respected speakers, authors and panelists.
The next Cruising for Cause voyage will depart in February and support the American Heart Association.
Duchess of Cambridge names Royal Princess
posted June 13, 2013
Her Royal Highness The Duchess of Cambridge named the new ship Royal Princess when she released a bottle of champagne that smashed against its hull. The ceremony included star-studded entertainment that blended maritime tradition with contemporary elements, reflecting the innovative spirit of Princess's newest class of ship. In addition to the exciting bottle break moment, the quayside festivities included a host of musical performances, including British pop singer Natasha Bedingfield singing her hit "Unwritten," as well as an original song by British actress and "the first lady of London's West End," Kerry Ellis.
"Love Boat" sold to pay debt
Posted March 8, 2012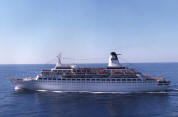 Princess Cruises was catapulted to stardom in 1977 when Pacific Princess (built 1972) was cast in a starring role on a new television show called "The Love Boat." The weekly series, which introduced millions of viewers to the still-new concept of a sea-going vacation, was an instant hit and both the company name and its seawitch logo have remained synonymous with cruising ever since. The Pacific Princess sailed for Princess Cruises from 1975-2002.
She operated for Pullmantur Cruises as the MS Pacific from 2002-2008. Since 2008, the vessel had been sailed under charter until she was seized in Italy for non-payment of debt.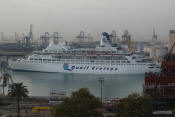 The ship was sold for scrap in March 2012, and towed to Turkey to be broken up.