Cruise News Headlines
PO Cruise Line News
New Australian Itineraries from P&O
posted April 28, 2014
Australia's P&O Cruises has launched new programs, offering more short itineraries from cities around Australia, visits to new regional ports and its first Melbourne Cup trifecta, with three ships cruising to the racing event.
The 2015-16 program goes on sale from April 28 and offers cruises from Sydney, Brisbane, Melbourne, Adelaide and Auckland.
The program features the cruise line's biggest and most diverse range of P&OSeaBreaks with itineraries spanning two to four nights including new sailings to Melbourne and more cruises to the Queensland ports of Mooloolaba and Moreton Island. P&OSeaBreak fares start from $549 per person quad share for four-night cruises from Sydney to Queensland.
In early 2015, the cruise line will also offer its first short cruises from Brisbane to New South Wales' wine region the Hunter Valley, while Eden on the state's south coast will receive its inaugural visit from P&O during longer sailings from Sydney to Victoria and South Australia.
Meanwhile P&O Cruises' has boosted its Melbourne program to nine cruises during February and March 2016 including a new 11-night Pacific Islands cruise, short breaks to Tasmania and Sydney and a food and wine cruise.
The Pacific Jewel will also sail on enhanced South Australia and Tasmania itineraries ranging from five to 11 nights and featuring visits to Kangaroo Island, Burnie, Port Arthur and Port Lincoln, as well as a new port - the fishing village of Portland on Victoria's Great Ocean Road. Fares for Melbourne cruises start from $499 per person quad share for a three-night cruise to Burnie.
The cruise line's expanded South Australian program will include a nine-night round-trip cruise from Adelaide visiting Melbourne, Burnie, Kangaroo Island, Port Lincoln and Portland, priced from $1199 per person quad share.
The offerings from Brisbane also feature a new P&OExplorer itinerary 'Mutiny on the Bounty', which will see Pacific Dawn cruise to Tonga and Fiji via Tin Can Island, a name which harks back to the early 20th century when its inhabitants used to swim out to meet passing steamers and give them their post in a tin can. The 14-night cruise is priced from $1,499 per person quad share.
As the cruise line expands its P&OMainEvents itineraries, the entire fleet will cruise south for the Melbourne Cup, with Pacific Dawn offering its inaugural seven-night Melbourne Cup itinerary from Brisbane, with fares from $999 per person quad share, including two full days in Melbourne.
Other event highlights include Australia Day cruises with the Pacific Pearl and Pacific Jewel taking center stage in Sydney Harbor and the Pacific Dawn offering an itinerary to the Whitsundays. Fares start from $579 per person quad share for a three-night cruise on Pacific Jewel or Pacific Pearl.
P&O Cruises will also offer a four-night itinerary to coincide with the 2015 Melbourne Food and Wine Festival and will return to Victoria for its third Australian Open in 2016 with Pacific Pearl offering a five-night itinerary from Sydney to Melbourne including general admission to Melbourne Park, priced from $849 per person quad share.
P&O Cruises Senior Vice President Tammy Marshall said the cruise line was ramping up its offerings in 2015-16, with more choices and more local ports than any other cruise line.
"Our new program gives travelers from all over Australia the chance to explore some of the most beautiful corners of our country and the neighboring Pacific and experience our nation's world class events with P&OSeaBreaks, P&OIslands and P&OMainEvents on offer in 2015-16," Marshall said.
Oriana Cuts Cruise Short for Repairs
posted February 24, 2014
P&O Oriana returns to Southampton three days early after experiencing propulsion problems. The vessel needs to carry out repairs to one of the propeller shaft seals. Divers will examine the ship while it is docked in Tenerife.
Customers onboard will be able to stay on the ship for three additional days while docked in Southampton or can return home early. In addition, passengers can choose between full credit to a future 2014 or 2015 sailing or a 40 percent cash refund.
Due to the problems, the Oriana also missed a visit to La Palma.
The Oriana was on a 14-day cruise with approximately 1800 passengers on board.
P&O Updates Look
posted January 20, 2014
P&O's ships will be updated with a new hull. A stylized Union Jack will be added to the ship bows. The company's rising sun logo will be added to the ship's funnels.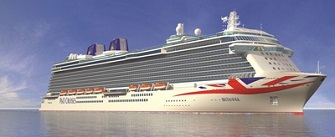 P&O Arcadia Unveils New Features
posted Dec. 22, 2013
Arcadia has been transformed, ready for Christmas, following a multi-million pound refurbishment. The extensive refit is part of P&O Cruises ongoing commitment to ensure continuous improvement of its ships and a consistent standard of decor across the fleet.

Major Changes:

· The Crow's Nest lounge and bar - this has been completely transformed with new flooring, seating areas, partition walls, furniture, color scheme, bespoke lighting, low level lamps and new-look extended bar

· The shopping area – this has been extended and dramatically reconfigured with open-plan layout, new glass cabinets, display units and LED lights throughout to ensure everything sparkles! With a look and feel more akin to a sophisticated department store, there's also appropriate luxury new brands on offer such as Givenchy, benefit, Gerry Weber and Ted Baker

· The Globe - this is now closed off and totally encased to provide a new late-night dancing venue. Designed to improve the sound quality inside and also to reduce the level of noise outside, passengers can party without disturbing other guests

· 24 new cabins on sun deck 10, the sun deck, including…
- 14 x deluxe balcony cabins
- 4 x inside single cabins
- 3 x larger inside double cabins
- 2 x new single cabins with balcony (the first in P&O Cruises fleet and unique to Arcadia)
- 1 x mini suite

· The introduction of East restaurant (replacing Orchid on sky deck 11) with an Asian fusion menu designed by Michelin-star celebrity chef Atul Kochhar. Exactly the same as Ventura, the Indonesian menu has influences from Thai, Malaysian and Vietnamese cuisine

· The introduction of Freedom Dining to the upper tier of the Meridian Restaurant. As on other ships, passengers who opt for the Freedom Dining can arrive at any time they wish between 6.30pm and 9.30pm, with whomever they wish. The bottom tier of Meridian will continue to operate as Club Dining

· Refreshed cabins – with new carpets, curtains and 32" or 40" flat-screen TVs in all cabins
Source: Press Release, http://www.cruiseindustrynews.com/cruise-news/10438.html