Cruise Ship Profiles
Ship specifications, photos, itineraries, accommodations, dining venues, notable rooms, activities, children's areas, deck plan, enhancements, incidents, accidents and more.
Weather Tracker
Tropical storm season runs June 1 - November 30
Weekly Features
Quantam of the Seas Video: Testing Bumper Cars
posted February 11, 2014
The CEOs and other designer supervisors test the bumper cars for the upcoming Quantam of the Seas. Watch the video here.
Quantam of the Seas to Feature MAMMA MIA!
posted Dec. 12, 2013
Royal Caribbean International announced that guests onboard Quantum of the Seas will enjoy MAMMA MIA! – the smash hit musical based on the songs of Swedish pop sensation ABBA – when she sails from the New York area in November 2014.
Read more...
posted Aug. 02, 2013
Royal Carribbean celebrated the keel-laying of the Quantam of the Seas, marking the start of the ship's physical construction. The Quantam is due for delivery in fall 2014.
Itinerary
Quantum of the Seas' inaugural voyage will take place on November 23, 2014.
Based out of Bayonne, New Jersey, Quantum of the Seas will offer 7, 8, 11 and 12 night cruises.
The 7-night cruises will stop in Port Canaveral, CocoCay and Nassau.
8-night eastern Caribbean itinerary will stop at Labadee, San Juan and Samana.
The twelve night cruise will offer a Southern Caribbean itinerary with stops in Royal Caribbean's private island of Labadee, followed by San Juan, Philipsburg, Basseterre, Fort de France and Bridgetown.
The 11-night eastern Caribbean cruise will include stops at Labadee, San Juan, Charlotte Amalie, Philipsburg and Basseterre.
Updated 6/6/13
Deck Plan
Deck 16
FloRider, SeaPlex, Ripcord by iFly, North Star, Vitality Sea Spa and Fitness Center
Deck 15
Publix rooms: Jogging track, Rock climbing wall, SeaPlex, Gaming area, North Star, Vitality at Sea Spa and Fitness Center
Deck 14
Public rooms: H20 zone, Outdoor pool, Movie Theater, North Star Bar, Solarium
Deck 13
Public rooms: Solarium, Conference Center
Passenger staterooms
Deck 12
Public rooms: Adventure Ocean
Passenger staterooms
Deck 11
Public Rooms: Adventure Ocean
Passenger staterooms
Deck 10
Passenger staterooms
Deck 9
Passenger staterooms
Deck 8
Passenger staterooms
Deck 7
Passenger staterooms
Deck 6
Passenger staterooms
Deck 5
Public rooms: The Royal Theater, Two70
Passenger Staterooms
Deck 4
Public rooms: Music Hall, The Royal Theater
Deck 3
Public rooms: Casino, Music Hall, The Royal Theater
Passenger staterooms
Kids Only
Royal Babies & Royal Tots
Interactive classes filled with enriching activities developed by early childhood experts at Fisher-Price® for kids 6-18 months. The Royal Tots Program offers 45-minute interactive playground sessions filled with age-appropriate activities and toys for kids ages 18-36 months. Both programs are hosted by trained youth staff. A parent or caregiver must accompany child during all activity sessions. Nursery program also available.
Adventure Ocean for Kids Ages 3-11
Aquanauts for kids ages 3-5 years old; Explorers for kids ages 6-8 years old; Voyagers for kids ages 9-11 years old. Royal Caribbean offers age appropriate parties, crafts, scavenger hunts, science experiments, theater games, excursions and more.
Teen Program
Non-structured, participate when you want program for teens, ages 12-17 years old. Featuring Theme Nights, Improve Games, DJ Academy, Mocktail Competition, Dodgeball, Open Mic and Talent Show, BBQ, Movie and Pool Party, Teen Casino, Snowball Fight, Climbing Competition and more. Teens also have their own lounge (The Living Room) and disco (Fuel).
Youth Zone
• Open gym and activity area
• Adventure Ocean Theater and Science Lab
• The Workshop - includes activities such as jewelry making & scrapbooking
• Teen Areas including Fuel disco, The Living Room lounge, the Back Deck and more
ships > RCI > Quantum of the Seas
Please excuse our mess. This page is still under construction.
Mamma Mia! Joins Quantam of the Seas.
Video seek peek, courtesy of Royal Caribbean.
Video 2: A Sneak Peak at Quantam's Interior Design
Specifications
The Quantum of the Seas will have 16 passenger-accessible decks.
Ship Class: Quantum class
Launched: Fall 2014
Refurbished:
GRT: 167,800
Length: 1,141 feet
Draft: 28 ft
Speed: 22 knots
Passengers: 4,180
Quantum of the Seas Webcam
Accommodations
The Quantum of the Seas offers 1,570 balcony staterooms, 147 ocean-view staterooms, and 373 inside staterooms.
Notable features
• 34 will be wheelchair accessible
• 28 will be studio staterooms (including 12 studio staterooms with balconies)
• All aft-facing staterooms will be a 2-story "loft" suites.
• 80" virtual balconies will display live views of the outdoors in interior rooms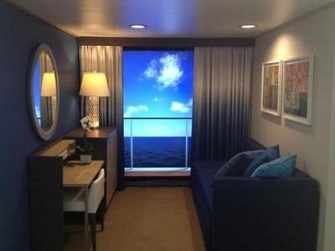 • All staterooms offer accommodations that convert to queen size bed and have private bath, vanity area, flat-panel TV and phone, electric mini-bar, hair dryers and AC. The bedding program has been updated fleet-wide, with new bed frames, mattresses, sheets, pillows, duvets and flat-screen TV's in every stateroom
Stateroom sizes
| | | |
| --- | --- | --- |
| Inside | | Sq. ft. |
| Outside | | Sq. Ft. |
| Balcony | | Sq. ft. w/veranda |
| Suite | | Sq. ft. w/veranda |
Genevieve Gordon tours the loft suites under construction.
Video seek peek, courtesy of Royal Caribbean
Dining Venues
Dining Room
Three-level main dining room caters to guests' varying preferences. The newly introduced My Time Dining and My Family Time Dining, as well as the traditional main and late seating options are offered.
Guests choosing My Time Dining will not have a pre-assigned table, but will be seated in the ships main dining room and will order from the same traditional dinner menu. My Time Dining guests can make daily reservations for specific seating times or choose to walk in. My Family Time Dining accommodates parents and children by offering an expedited 40-minute dining service for young cruisers, ages 3-11. Open for breakfast, lunch and dinner.
Windjammer Marketplace
Offering the utmost flexibility for breakfast, lunch and dinner, this next generation of the brand staple features multiple islands, each serving a variety casual buffet fare.
In-Stateroom Service
Guests wanting to enjoy a meal in the comfort of their staterooms can choose from the complimentary breakfast, lunch and dinner menus, as well as the recently introduced Dine in Delights menu, which offers name-brand culinary options ranging from the Original Johnny Rockets hamburger to Ghirardelli Chocolate Cookies. Open 24 hours; á la carte pricing for Dine In Delights and $3.95 service charge for in-room deliveries between 12:00 a.m. and 5:00 a.m.
Notable Features
North Star
Observation pod that gives views 300 feet above the sea for 360 views of destinations.
RipCord by iFly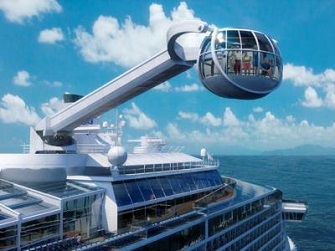 Photo: RCI
A cruise line first, experience onboard Skydiving called Ripcord by iFly. Soar in the air in a safe, controlled environment.
Circus school
Learn how to fly on a trapeze at Circus School.
Bumper cars
Photo: RCI
Quantam of the Seas features 30 bumper cars for a rip-roaring good time for the family.
Two70°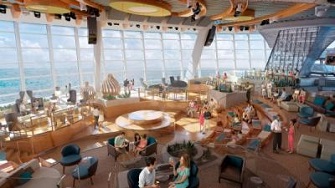 During the day, Two70 takes on the ambiance of a grand living room, perfect for games, lounging, reading or early morning coffee. At night, Two70, named for its breathtaking 270-degree panoramic sea views through vast, floor-to-ceiling glass walls, gradually transforms into entertainment area for guests to enjoy throughout the night time.
SeaPlex
Indoor sports complex that transforms from day to night. The SeaPlex features 30 bumper cars, a basketball court, roller skating, and a circus school.
Music Hall
Multi-purpose performance venue that offers dance classes and game shows during the day and thrilling shows in the evenings.
Solarium
An adults-only glass enclosed area is the ideal, relaxing retreat.