Cruise News Headlines
Port of Call News
Cruise Port News Headlines
Development of East Caicos Considered
posted September 8, 2014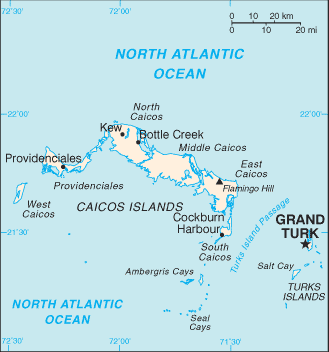 About 1,500 acres of land on East Caicos are for sale and the Premier of the The Turks & Caicos Islands wants to use European Union Development Fund money to develop a mega port on East Caicos, featuring shipping, cruising and yachting facilities.
According to a local report, $19 million from the European Union Development Fund (EDF) will be disbursed over a two to three year period beginning in 2016. Carnival and Royal Caribbean have reportedly expressed interest in the development.
We'll update you when we learn more.
Carnival Magic anchor damages coral reef in Grand Cayman
posted September 8, 2014
The Carnival Magic arrived in Georgetown, Grand Cayman on August 27, 2014, and dropped anchor on live coral for several hours before a local operator raised concerns to the Port Authority and the anchor was relocated.
The blame games continues after environmental officials find more damage than originally thought. According to a local report, the Department of the Environment measured the total impact to be about 12,000 square feet with about 5,400 square feet totally destroyed and the remaining area has "severe to moderate damage".
Carnival sites the Pilot company employed to guide the Captain to the correct anchorage spot and the responsible party. The Pilot company hasn't made a public statement and the Port Authority seems to blame everyone else.
Cayman Marine Law prohibits "Damaging coral by anchor, chains, or any other means anywhere in Cayman waters." Violations of the law are subject to a "maximum penalty of Cl$500,000 fine and one year in jail. Upon conviction, forfeiture of the vessel or other equipment may also be ordered."
There are no berthing facilities for cruise ships in Grand Cayman. Ships anchor at one of four marked areas and tender passengers into Georgetown. Some residents of the Cayman Islands call for the construction of a cruise pier to avoid damage to the reefs while others are hard set against the venture arguing the damage to the environment will be much worse.
The Carnival Magic sails 7 night cruises to the Western Caribbean from Galveston Texas.
New Orleans Terminal Renovations Nearly Complete
posted March 31, 2014
$2.3 million in renovations, expansions and upgrades are nearing completion at the Port of New Orleans' Erato Street Cruise Terminal ahead of the arrival of the Port's largest home-port cruise ship to date – the Carnival Dream.
The 3,646-passenger Carnival Dream is scheduled to begin sailing seven-day, year-round eastern and western Caribbean itineraries April 14 from the Port of New Orleans' Erato Street Cruise Terminal, replacing the 3,006-passenger Carnival Sunshine, which will be repositioned to Port Canaveral, Fla.
The 130,000-ton Carnival Dream is from the cruise line's newest and largest class of ships and offers an array of on-board facilities and features and represents a 22 percent increase in passenger capacity for Carnival's seven-day cruise program from New Orleans.
The 2,052-passenger Carnival Elation will continue to sail year-round four- and five-day itineraries to Progreso and Cozumel, Mexico. Carnival is the only cruise line to operate two, year-round cruise ships from the Port of New Orleans and will carry more than 400,000 guests annually from the Crescent City.
"The Port's investment to expand and upgrade amenities in the Erato Street Cruise Terminal underscores Carnival's confidence in the strength of the New Orleans cruise market," said Gary LaGrange, Port President and CEO. "These upgrades will make an already first-class cruising experience even better."
Many of the improvements were to accommodate the increased capacity of the Carnival Dream, LaGrange said.
The terminal improvements included relocating and expanding embarkation counters to maximize passenger flow; additional X-ray and screening machines to accommodate the increase in passengers and luggage; newly painted drop-off areas and ticketing areas to update the terminal's decor; relocating, renovating and tripling the size of the terminal's Captain's Lounge; and the installation of state-of-the-art audio/video way-finding and information systems to facilitate passenger flow.
To be able to accommodate the design features of the Carnival Dream, Port officials moved the newer Julia Street Cruise Terminal gangway to the Erato Street Cruise Terminal. The Julia Street gangway, which was constructed in 2011, was designed to work with the Dream Class lifeboat configuration. The former Julia Street gangway also features dual telescopingextensions that connect to the ship's weather deck, which allows the gangway to efficiently facilitate higher passenger volumes. The former Erato Street gangway was repositioned to Julia Street and is able to efficiently handle the cruise ships home-ported there seasonally from November to April.
Galveston Oil Spill Delays Cruise Ships
Update: March 26, 2014
The Houston Shipping Channel closed after a barge collided with a ship has partially reopened after the Coast Guard deemed the shipping channel free of oil. It could take three days before shipping operations are back to normal, as a reported 100 ships have been stuck in the port waiting for the channel to clear.
posted March 24, 2014
Cruise ships embarking and disembarking from Galveston, Texas have faced delays due to an oil spill after a barge collided with a ship Saturday afternoon. The resulting clean-up has closed a portion of the shipping channel.
Clean-up crews were skimming the thick marine oil and using booms to contain the spill. The spill occurred near sensitive habitats popular with migratory birds.
Meanwhile, the Carnival Magic and Royal Caribbean Navigator of the Seas were held outside the port, delaying their turnover. The Carnival Magic cancelled its port of call in Montego Bay due to the delay. Princess Cruise Lines' Caribbean Princess missed her Saturday departure and as of Monday remains in Galveston.
Hamburg Poised to Become Northern Europe's busiest Cruise Port
posted March 19, 2014
The Port of Hamburg is slated to open its third cruise terminal in June 2015 just in time for the AIDAprima. The new ship will be sailing year-round from Hamburg.
The new terminal will be located across the river from Hamburg's current terminals, fewer than two kilometers away from many of the main sights in the center and a short ride by ferry, according to Managing Director Gerd Drosselt. Traveling time to the international airport will be about half an hour.
The facility will be constructed on a plot measuring approximately 20 acres and comprise two terminal buildings (for incoming and outgoing passengers), a 1,800-square-meter baggage hall, vast pier space and parking for coaches and up to 1,546 cars. A separate landing stage will be built for local passenger ferries that will link the facility to the city center. This third terminal will be able to handle 6,000 to 8,000 passengers during a full 10-hour turnaround.
For 2014, Hamburg is forecasting more than 600,000 passengers – up 8 percent from last year - and has 186 calls scheduled.
The 2013 season lasted until New Year's Eve and this year's season started only eight days later with the Queen Elizabeth on Jan. 8. Last year, Hamburg counted 178 calls and 552,459 passengers, up 28.5 percent from 2012, and making Hamburg the busiest cruise port in Germany.
Drosselt said the cruise industry is a significant economic factor, justifying new infrastructure projects. The Chamber of Commerce has now for the second time presented accounts for the value creation of the cruise industry in Hamburg, based on the 2013 figures. The total value creation resulting from cruise ships' in port added up to nearly 25 million euros. This is supplemented by the value creation generated by cruise passengers and the ships' crews. In total their spending is 21 million euros. But passengers are not the only ones to leave money behind them in the city – there are also day tourists who travel to the city for ship christenings and special events. The estimated value creation resulting from visits to the city by this category of person is around 32 million euros in the past year. The study also pointed out the value creation in what it called the industrial sectors, estimated at around 192 million euros.
With the increased traffic the City of Hamburg has passed a resolution on alternative energy supply for cruise ships. Drosselt said the goal is to realize the concept as quickly as possible. Completion of the AIDA-barge infrastructure (LNG power barge) is planned for the 3rd quarter of 2014; completion of the onshore power supply plant in Altona for the 3rd quarter of 2015.
In light of the Germany being the fastest growing market, counting 1.68 million ocean-going cruise passengers in 2013, this year, the German market is expected to overtake the British market, according to Drosselt, and may in the process make Hamburg the busiest cruise port in Northern Europe.
The forecast is for up to 2 million German ocean cruise passengers in 2015 and 2.5 million by 2020.
Venice Restrictions Suspended until June Hearing
posted March 18, 2014
Restrictions on large cruise vessels visiting Venice have been suspended until a hearing scheduled for June 12. The Venezia Terminal Passeggeri had appealed the ruling which was passed last November calling for the reduction of passenger ships over 40,000 tons and banning ships over 96,000 starting January 2015.
After protests that the wake from frequent cruise ship visits through the Giudecca Canal were damaging Venice's fragile architecture, the regulations were passed. The ship reduction was scheduled to begin November 2014. The legislation also limited the number of ships able to berth in Venice at one time.
A new access channel, the Contorta-Sant'Angelo, to the cruise terminal is under construction, which is estimated to take two years. The new channel will allow the largest cruise ships to continue to visit Venice without impacting San Marco Square.
Taiwan Port to See Visitor Increase After Visa Requirements Streamlined
posted March 17, 2014
In a story from WantChinaTimes, Taiwan is expected to see cruise market growth after the National Immigration Agency and Ministry of Transportation and Communication reached an agreement to simplify the visa process for cruise travelers.
Wei Shuo-liang, a spokesperson for the Port of Keelung, said the measures will be similar to a visa waiver program and will not require advance applications. Visitors will receive a temporary travel pass onboard the cruise liner once the cruise notifies the government of the traveler's information.
Over 10,000 passengers are expected to benefit from the program. Cruise visitors should growth by double as a result, making Taiwan's Port of Keelung a hub for cruise lines in eastern Asia.
Chinese passengers will not be included in the program.
New Orleans Sees Passenger Growth
posted February 11, 2014
For the third consecutive year, record numbers of cruise passengers set sail from the Port of New Orleans. Port cruise terminals handled 987,860 embarkations and disembarkations in 2013, up more than 1 percent compared to 2012, which saw a 32 percent gain over 2011.
"The positive trend for cruising from New Orleans continues," said Gary LaGrange, Port President and CEO. "And with newer and larger ships sailing from New Orleans in 2014, the industry's economic impact and the passengers' cruise experience will be bigger and better."
"New Orleans is both a premier port and leisure destination offering the cruise visitor an opportunity to experience the romance and culture of New Orleans paired with an exciting cruise itinerary," said Stephen Perry, President and CEO of the New Orleans Convention and Visitors Bureau.
"The CVB recognizes the impact the cruise industry has on our economy and continues to dedicate marketing and sales resources to grow this important industry."
And cruise passengers have a slew of new ships to sail from New Orleans on a wide variety of itineraries. In November, the 3,006-passenger Carnival Sunshine replaced the 2,984-passenger Carnival Conquest. The Sunshine recently underwent a massive $155 million transformation and sails regular seven-day eastern and western Caribbean itineraries from New Orleans through April 2014, when Carnival will reposition the 3,646-passenger Carnival Dream from Port Canaveral, Fla., to New Orleans to sail year-round seven day cruises, replacing the Carnival Sunshine. The 2,052-passenger Carnival Elation will continue to sail year-round four- and five-day itineraries from New Orleans.
In October, the 2,376-passenger Norwegian Jewel replaced the 2,348-passenger Norwegian Star sailing seasonal seven-day itineraries from the Julia Street Cruise Terminal through April. In December, Royal Caribbean replaced the Navigator of the Seas with the newly renovated 2,476-passenger Serenade of the Seas, sailing weekly through April, as well.
In addition, New Orleans features a wide array of coastal and River cruises. American Cruise Lines sails its sternwheeler Queen of the Mississippi and American Queen Steamboat Co. sails the American Queen from New Orleans. Blount Small Ship Adventures sails inland itineraries aboard the Grand Caribe and Travel Dynamics International sails its Yorktown coastal ship from New Orleans.
Source: Press Release
Port of Galveston Approves RCCL Deal
posted January 29, 2014
The Port of Galveston is pleased to announce that the Board of Trustees of the Galveston Wharves approved a 5 year agreement with Royal Caribbean Cruises Ltd. at Monday's Board meeting. This agreement will generate a minimum of $1.86 million in annual operating revenues for the Port.
The agreement requires making improvements to the Port's Cruise Terminal No. 2 to accommodate larger vessels and more passengers. Initial plans are to increase the size of the terminal, expanding it to 150,000 square feet with the capacity to seat about 1,000. This expansion is estimated to cost approximately $10 million.
"The port has worked closely with Royal Caribbean to identify the upgrades needed to improve their operations at Cruise Terminal No. 2 for both Voyager class vessels and any larger vessels in the future. I'm confident that these improvements will be completed by spring 2015 without disruption to current cruise operations." said Port Director, Mike Mierzwa.
Royal Caribbean currently operates Navigator of the Seas year round from the Port of Galveston. The cruise line has agreed to an additional 30 calls in both 2014 and 2015, committing to a year-round vessel in both years with a promise to bring a larger vessel to the Port next year when improvements to Cruise Terminal No. 2 are completed.
The Port of Galveston, Texas' Star Cruise Port serves as the primary point of embarkation for cruises to the western Caribbean and the Bahamas and handles over one million cruise passengers annually. The Port of Galveston is the homeport to Carnival Cruise Lines' Carnival Magic and Carnival Triumph, and Royal Caribbean International's Navigator of the Seas. Port of Galveston ranks as the 4th busiest cruise port in the United States and one of the top twenty cruise ports in the world.
Source: Press Release
Port Tampa Bay Unveils New Logo
posted January 23, 2014
The Port of Tampa has announced a new name and logo, Port Tampa Bay, to reflect what it calls the Tampa Port Authority's renewed spirit, expansion, investments and new momentum in its marketing efforts, both regionally and globally.
The new logo and brand approach were launched at today's annual State of the Port event, attended by more than 300 port stakeholders and elected officials, at Cruise Terminal 2, in Tampa.
In a prepared statement, Port Tampa Bay said it has laid the groundwork for future growth and continues to invest in its port infrastructure and capacity for all cargo types. With its new leadership, the port is employing a set of strategic initiatives designed to manage and leverage the maritime assets of the port for the benefit of the community as a whole, and to bring economic vitality to the region and state. The port is the largest economic engine in Tampa Bay, the energy products gateway for the region, and the largest tonnage port in Florida.
"There's a whole new customer-centric focus and energy to what we're doing here. We're making the investments and structural moves to provide more capacity and value for our customers—and now we're telling everyone about it. Our new logo and brand messages reflect regionalism and diversity in our lines of business and reflect who we are as a truly world class port," said Paul Anderson, port president and CEO.
According to Port Tampa Bay, it supports nearly 80,000 jobs and generates almost $15 billion in annual economic impact. In addition to being a top 10 U.S. cruise port, the port handles a wide array of bulk, break bulk, containers and roll-on/roll-off cargoes, and is a major shipbuilding and repair center.
Source: Press Release
BVIPA Moving Ahead with Cruise Pier Project
posted January 16, 2014
The British Virgin Islands Ports Authority (BVIPA) in going forward with the Cruise Pier Expansion Project will formally enter into preferential berthing agreements with Norwegian Cruise Line (NCL) and Disney Cruise Line (DCL) this Friday.
The signing of the agreements will put into force an annual guarantee of 350,000 and 75,000 passengers from NCL and DCL respectively.
On the berthing agreement signing, Managing Director of the BVI Ports Authority Mr. Claude O. Skelton Cline commented: "The signing of the agreements signals a milestone in the cruise pier expansion project's development."
As for the next stage in the cruise pier expansion project, Mr. Cline said, "We will continue to work diligently in tandem with our cruise line partners to make the BVI a marquee destination for cruise tourism."
The managing director will facilitate Friday's event while Minister for Communications and Works Honourable Mark Vanterpool; DCL President Karl L. Holz; and NCL Vice President Destination and Strategic Development Colin Murphy will give remarks.
The berthing agreement signing is in line with the BVI Ports Authority's vision to create a unique and modern cruise pier facility that delivers a memorable, world-class and environmentally compatible sustainable development.
Kiel Adding Terminal for Larger Ships
posted Jan. 14, 2014
Kiel has reported 128 calls for 2013, by 22 different cruise lines and a total of more than 363,000 passengers embarking and disembarking, ups 4 percent from 2012.
In order to relieve the Ostseekai terminal, which is highly booked during summer weekends, ships were handled at the newly revamped Berth No. 1 in Ostuferhafen for the first time. A water depth of 10 meters was dredged along the entire 400-meter pierside, extensive fendering suitable for passenger ships was installed and a new gangway erected.
Following the refurbishment of Berth No. 1, construction work for a new cruise passenger pavilion has begun. The new terminal will be located at the front side of Warehouse 2. When this part is finished, Ostuferhafen will also offer the opportunity for passenger turnaround equal to the quality provided at Ostseekai.
According to a spokesperson, Ostuferhafen can handle ships more than 300 meters in length and up to 4,000 passengers.
The new facility will be inaugurated June 2, 2014, when the Costa Pacifica is expected at Berth No. 1.
Dirk Claus, managing director of SeeHaven Kiel, said: "The market environment is not all that easy. However, we have developed the necessary infrastructure to increase the number of cruise ship calls to 150 in the medium-term."
For the 2014 season, Kiel has 126 registered calls by 22 different cruise ships. The most frequent caller will be the AIDAcara opening the season on April 5. The biggest ship expected is the Costa Pacifica which will tie up 12 times. Hapag-Lloyds new Europa 2 will call on June 11. And the new Mein Schiff 3 of TUI Cruises will call on May 26. There will be 11 days when three cruise ships will berth at the same time, and during the Kiel Week, from June 21 to 29, 16 cruise calls are expected, including P&O's Adonia.
Source: Cruise Industry News
More Cases of Chickungunya Reported in St. Maarten
posted January 13, 2014
BVI News Online reports three more cases of a mosquito-born illness have been confirmed in St. Maarten.
The Environmental Health Division is increasing its mosquito fogging program. Residents are being asked to help prevent mosquito breeding grounds from forming around local homes and businesse and to take care to prevent mosquitoes from entering their homes.
Chickungunya is a viral illness passed to humans by mosquitoes. Symptoms are similar to dengue fever with arthritis-like pain affecting multiple joints, headaches, conjunctival infection, back pain, nausea, vomiting, polyarteritis, and a fever of 102 degrees Fahrenheit or higher.
Cruise passengers visiting St. Maarten should take appropriate precaution such as wearing long-sleeved clothing and wearing mosquito repellent.
Construction Begins in Port Canaveral
posted January 6, 2014
Port Canaveral has announced that construction has begun on the new estimated $50.5 million Cruise Terminal 1, the first to be located on the south side of Canaveral harbor and that will allow passengers and crew to walk to nearby dining and entertainment options for the first time.

Port commissioners unanimously approved selection of local firm Ivey's Construction of Merritt Island, Florida to build the 187,500 square foot facility, which is scheduled to open in November 2014.

Current boat ramps at Freddie Patrick Park in the Cove will remain open during construction with parking relocated directly south of the current parking area. This temporary parking will be in place until the new boat ramp facility is constructed just west of Jetty Park near the entrance of the Port's harbor. The new boat ramp facility is expected to be complete in July 2014.
Source: Cruise Industry News
Charleston Port Construction Remains Stalled
posted January 6, 2014
Environmental, neighborhood, and community groups continue to challenge the construction of a $35 million cruise terminal in Charleston, South Carolina. The State Ports Authority first proposed the cruise terminal four years ago.
Currently the port is used as Carnival Fantasy's home port and as a port of call for other cruise lines.
Supports see Charleston as a niche market and don't expect the same traffic as in markets like Key West. Opponents argue the influx of passenger will have a negative impact on the Historic District, increasing noise, traffic, and environmental pollution.
The Army Corp of Enginneer's permits for the pier pilings is currently being appealed in the 4th Circuit Court. Later in the month, the state permit for the same pilings with be challenged.
St. Maarten Sees Record Cruise Traffic
posted January 6, 2014
The Port of St. Maarten saw nearly 33,000 more cruise passengers in 2013 than 2012, an astonishing growth over the previous year. Over 1.7 million passengers visited St. Maarten on a record number 631 cruise vessels.
St. Maarten was number two in tourism expenditures in the Caribbean, second only to the Bahamas. The economic impact of cruise passengers is estimated at $350 million.
The news comes as the port prepares for its 50th anniversary this year.
Miami Remains World's Top Cruise Port
posted Dec. 26, 2013
PortMiami, the world's busiest cruise port, again surpassed the four million mark for cruise passengers traveling through its facilities in the Fiscal Year ending September 30, 2013.
PortMiami processed 4,030,356 multi-day passengers last fiscal year. Additionally, 48,173 single-day passengers traveled between PortMiami and the Bahamas on daily service.
Port Director Bill Johnson said the 2013 cruise season was one of PortMiami's best with the addition of two new cruise brands—Regent Seven Seas Cruises and Disney Cruise Line—and the arrival of three new build ships including: the Carnival Breeze, Celebrity Reflection and the Oceania Riviera.
"Last year marked our greatest fleet expansion ever in a single cruise season," Johnson said. "Looking ahead, 2014 promises to be yet another banner year. We are anticipating a surge in cruise traffic with close to five million cruise passengers traveling through PortMiami in the coming year."
New for the 2014 Cruise Season is MSC Cruises; the Mediterranean brand, which began sailing one of its newest ships, MSC Divina, from Miami last month. Additionally, PortMiami will welcome Norwegian Cruise Line's newest ship, the Norwegian Getaway, in February.
Both the MSC Divina and the Norwegian Getaway will homeport year-round at PortMiami adding an important boost to the cruise schedule.
"PortMiami is proud to be known worldwide as the "Cruise Capital of the World," said Miami-Dade Mayor Carlos A. Gimenez. "We look forward to continued growth and expansion of the cruise industry, which contributes significantly to the local economy."
PortMiami contributes $27 million annually to the local and state economies and supports more than 200,000 jobs.
Miami-Dade County Commission Chairwoman Rebeca Sosa, joined with Vice-Chairwoman Lynda Bell, in congratulating PortMiami on again surpassing the four million mark for cruise passengers.
"With 13 cruise lines sailing from our Port, offering an exciting array of diverse itineraries that fit any budget or taste, we can proudly say that cruising from Miami has never been better," Sosa said. Commissioner Bell said "PortMiami's new advertising campaign sums up PortMiami's success."
"PortMiami-Cruise Capital of the World—always was, always will be," Bell said. "You cannot say it better."
Miami is home to the world's leading cruise lines: Aida Cruises, Azamara Club Cruises, Carnival Cruise Lines, Celebrity Cruises, Costa Cruises, Crystal Cruises, Disney Cruise Line, MSC Cruises, Norwegian Cruise Line, Oceania Cruises, Regent Seven Seas Cruises, Resorts World Bimini, and Royal Caribbean International.
Source: Press Release
Travel Advisory Issued for St. Maarten
posted Dec. 22, 2013
A travel warning has been issued for the Caribbean island of St. Maarten after ten cases of a mosquito-borne illness have been reported.
Chikungunya causes high fever and joint pain, but does not deadly or contagious. Other symptoms include muscle pain, head ache, joint swelling, or a rash. All of the cases were reported in French St. Maarten.
No cruise lines have cancelled her ports of call at this time, but are calling passengers to take precautions like wearing insect repellent and wearing long clothing.
Special precautionary measures are undertaken in collaboration with French St. Martin, as a result of being placed on a Level:1 Watch by the Centers for Disease Control (CDC), the lowest notice level by the agency, which advises travelers \to the destination to follow usual insect precautions.

Key West Debates Channel Updates
posted Nov. 17, 2013
According to a report from the state Department of Transportation, Key West needs improvements to widen and deepen its berthing channels to sustain cruise industry development.
The 29-page report titled "Florida's Cruise Industry: A Statewide Perspective" ends, "If this is not resolved, this could result in a significant loss of cruise business."
Key West receives port calls from Carnival Cruise Lines, Celebrity Cruises, Disney Cruise Line, Holland America Line, Norwegian Cruise Line and Royal Caribbean International. Thus far this year Key West has seen 215 calls. For the last five years, Key West has received over 300 port calls from cruise ships. The city charges a $10.63 per passenger disembarkation fee. Cruise ship revenue accounts for 10 percent of municipal spending.
As reported on KeysNet.com, the city rejected a 3-1 margin a referendum on whether the U.S. Army Corps of Engineers should be asked to study the feasibiity of dreding and widening the main shipping channel in order to accommodate larger cruise ships.
The reasoning comes from the report, which states that Key West is one of the most popular and highly rated ports of call in Florida. Jolly Benson, spokesman for the Key West Committee for Responsible Tourism, said to KeysNet.com that it just doesn't make sense that cruise lines would leave Key West if it is one of the most popularly rated ports of call.
--Information for this report comes from www.keysnet.com