Cruise News Headlines
Cunard Line News
Queen Mary 2 to undergo major refurbishment in early summer 2016
Posted July 15, 2015
Queen Mary 2 will undergo an extensive 25 day dry dock refurbishment at the Blohm+Voss Shipyard in Hamburg, Germany next summer, 27 May- 21 June 2016.
This major refurbishment will further refine and refresh guest interior spaces and launch new exciting innovations designed to exceed guest expectations. Three of the key developments are announced today, reflecting the changing needs of Cunard's guests:
Research shows that increasing numbers of guests are seeking to holiday in multi-generational groups – grandparents, parents and children. Often this necessitates one member of the family travelling as an individual. To support this, and for those simply travelling alone, for the first time, 15 Single Staterooms will be introduced onto Queen Mary 2 during the refit.
With further growing trends for those booking Balcony staterooms and those wishing to have more flexibility in their dining arrangements, 30 additional Britannia Club Balcony Staterooms will be created on board. Guests travelling in these staterooms will be able to dine at a time of their own choosing in the dedicated Britannia Club restaurant, which will be expanded.
Just as families are holidaying across the generations, so pets are increasingly seen as integral to the family group. Queen Mary 2 is already the only cruise liner in the world to offer dedicated kennels and currently carries up to 12 dogs and cats on each Transatlantic Crossing. To meet strong demand - these kennel places frequently sell out - a further ten kennels will be created for four legged travellers.
With an eye to the detail that differentiates Cunard, both a lamp post and a fire hydrant will be installed on the area of deck reserved for dog walking as part of the kennels development, so that dogs from either side of the pond will feel equally at home. This was previously a feature of the kennels on Cunard's former flagship, QE2, and was first introduced on board Queen Mary at the suggestion of The Duke of Windsor.
Queen Victoria Upgrades
posted January 23, 2015
Queen Victoria set out from Southampton in tip-top form having just returned from an intensive 20 day refurbishment at the Blohm & Voss shipyard in Hamburg. You can view footage of Queen Victoria's refurbishment here.
Summary of Enhancements:
• Upper Grill Terrance was enhanced;
• nine single staterooms were installed;
• sunbathing areas were added;
• beverage provision in the ship's informal Lido restaurant;
• eight internet stations were added in the library;
• new paint, carpeting and bed mattresses in every stateroom.
In honor of the company's anniversary, Queen Victoria welcomed her World Voyage passengers aboard with a commemorative flag-raising ceremony which took place at the ship's mast. The ship's first call will be Ponta Delgada in the Azores on 23 January before she sails to the Caribbean, transits the Panama Canal and heads for Hawaii and Australia.
Queen Victoria to Undergo Multi-Million Dollar Refit at Blohm+Voss Shipyard in January 2015
posted August 13, 2014
Following the success of Queen Elizabeth's recent refit at the same yard, Queen Victoria's makeover will create nine single staterooms for the first time on the ship, re-modeled from part of the casino. In addition, carpets will be renewed throughout; large flat-screen TVs – mostly 32" or above – will be installed in all passenger staterooms; and in the ship's informal Lido restaurant, waiters will in the future serve hot drinks at all meals.
"Queen Victoria's multi-million dollar refit will ensure this much-loved ship remains in tip-top condition for her World Cruise in 2015 and beyond," said David Dingle, CEO for Cunard Line.
As on Queen Elizabeth, sun awnings will be erected on the open area near the stern Lido pool and on both sides of the Grills Upper Terrace area near the top of the ship to offer more shade on deck.
In the shopping area on board, the footprint will increase significantly. New fine jewelry and watch shops are opening and the layout, lighting and overall shopping experience for passengers is being enhanced.
On the technical front, scrubber technology is being installed aboard Queen Victoria to match that now aboard Queen Elizabeth, in line with the company's commitment to minimizing its environmental impact. The process involves the installation of a filtration system for the exhaust gas from the ship's engines.
The timing of Queen Victoria's dry dock is being brought forward, as a bearing on one of the ship's propulsion units will need replacing prior to her previously scheduled dry dock in December 2015. This has no impact on the safety of the ship, but it is timely for the bearing to be replaced prior to the ship's Round World Cruise beginning 20 January 2015.
As a result, two Queen Victoria sailings have unfortunately needed to be cancelled: the 12-day cruise to the Canaries on 3 January 2015, and a short five-day trip to Amsterdam and Cherbourg on 15 January 2015. Passengers (and their travel agents) have been informed. A Future Cruise Credit of $175.00 per person is being offered to all affected passengers, which can be used in conjunction with any alternative Cunard booking made for cruises departing within the next two years (before 3 January 2017). Full refunds of any monies paid will also be available should affected passengers not be in a position to rebook an alternative Cunard cruise.
David Dingle stated, "While we are sorry to be cancelling the two cruises, we are looking forward to welcoming all those affected back aboard a Cunard ship in the near future, perhaps on Queen Victoria or Queen Elizabeth, both of which will be sailing in 2015 fresh from their make overs."
For more information about Queen Victoria and to book a voyage, contact your travel agent, call Cunard Line toll-free at 1-800-728-6273, or visit www.cunard.com.
Queen Elizabeth Enters Shipyard

for Scheduled Multi-million Dollar Refit
posted May 16, 2014
Queen Elizabeth, has arrived at the Blohm & Voss Shipyard in Hamburg, Germany, for her first scheduled dry-docking since she entered service in 2010. As well as conducting standard checks and maintenance, this multi-million dollar refit will create the ship's first-ever single accommodation options, along with enhanced stateroom and other amenities and improved restaurant facilities. In line with the company's environmental sustainability thinking, scrubber technology is also being introduced on the ship.
Queen Elizabeth will leave the shipyard on Saturday 1 June and sail for Southampton, ahead of her 4 June cruise to Amsterdam.
"Queen Elizabeth is already a much loved ship and following this multi-million dollar refit, she is sure to shine brightly for years to come," said David Dingle, CEO for Cunard Line. "Whilst there has been investment across the ship, we are particularly delighted to announce that following this refit, there will be staterooms for single travellers on board a Cunard ship for the first time since QE2."
In response to passenger demand and changing demographics, a total of nine new single staterooms are being created on Deck 2 midships by remodeling part of Queen Elizabeth's casino. Eight of the single staterooms will be a new grade of Ocean View accommodation, and the ninth will be a standard Inside.
In The Lido, the ship's informal restaurant, refurbishments will mean that waiters with insulated coffee and tea pots will in the future serve passengers with hot drinks at all meals, while recessed risers will improve the styling of the self-service area as well as passenger flows within it.
More generally, carpets are being renewed and large flat-screen TVs – mostly 32" or above – are being installed in all passenger staterooms.
Sun awnings are being erected on the open area near the Lido pool at the stern on Deck 9 and on both sides of the Grills Upper Terrace area near the top of the ship to offer more shade on deck.
The creation of a dedicated studio will enable the ship's photographers to offer high-end portraiture, while the addition of touch screens in the photo gallery will continue the development of a digital environment in which passengers can more easily find and select their photos taken by the team.
Significant work is planned for the shopping area on board: the footprint is increasing, new Fine Jewelry and Watch shops are opening, and the layout, lighting and overall shopping experience for passengers are being enhanced.
On the technical front, scrubber technology is being installed in line with Cunard's commitment to minimizing the company's environmental impact. This involves installing a new filtration system for the exhaust gas from the ship's engines.
- Source: Cunard Line
---
Cunard Announces Plans for 175th Anniversary in 2015
posted March 5, 2014
Cunard Line will proudly celebrate its 175th Anniversary in 2015 with a special collection of remarkable anniversary cruises and events that will pay homage to significant moments in the company's illustrious history. These highly anticipated sailings will give loyal and new Cunarders exciting opportunities to explore the ultimate in cruising adventures with Cunard's luxurious vessels – flagship Queen Mary 2, Queen Victoria and Queen Elizabeth.
The 175th Anniversary Cruises will go on sale to the public on 13 March. Diamond and Platinum World Club members will be able to book beginning on 11 March 2014, two days earlier than the public sale date, in anticipation of a high demand for these historic commemorative sailings. Past passengers may also receive 5% off fares through 31 August 2014.
Among the momentous celebrations, all three Queens will meet in Southampton on 3 May 2015 at the close of their spectacular World Cruises. This Royal Rendezvous will be followed by the unprecedented sight of all three Queens together at Cunard's "spiritual" home of Liverpool on 25 May – the first time the entire fleet will have been together on the River Mersey. Liverpool is Cunard's birthplace and was home to the Line's Head Office from 1839 to 1967. The Cunard Building on the Pierhead remains one of the most significant buildings in the city and part of a World Heritage site.
Queen Mary 2 will arrive in Liverpool on Sunday 24 May 2015 and make her first-ever overnight stay in the city, berthed in sight of the Cunard Building. The following morning, on Monday 25 May, Queen Elizabeth and Queen Victoria will sail into the city and for a time all three ships of the Cunard fleet will line up on the Mersey in a spectacle that is expected to draw huge crowds. Over a million people saw Queen Elizabeth 2 sail into Liverpool for the first time in July 1990.
Queen Mary 2 will then take her leave and sail out of Liverpool on Monday 25 May as Queen Elizabeth berths at the landing stage and Queen Victoria remains anchored in the Mersey. Late in the evening, Queen Elizabeth will set sail and Queen Victoria will then take the berth for an overnight stay.
Prior to that, Queen Victoria will call at Cobh, Ireland, on 7 May to commemorate the 100th Anniversary of the sinking of Cunard's Lusitania – a poignant visit that will give passengers the opportunity to attend ceremonies at the town's memorial. In all, Cunard lost 22 ships during the First World War, including Carpathia which had rescued all of the survivors of the Titanic. A special tribute will be paid to the ships, and Cunard men, that were lost in the War.
The 175th Anniversary celebrations will continue in true Cunard style with Queen Mary 2 echoing the very first Transatlantic Crossing, which was inaugurated by Cunard's Britannia in July 1840. Every year since then, Cunard ships have crossed and re-crossed the Atlantic, in peace and war, without fail. Queen Mary 2 will depart Liverpool on 4 July – 175 years to the day since Britannia began her journey – and will be enthusiastically welcomed at both Halifax and then Boston, just as Britannia was 175 years previously. This will also be the first time since 1968 that a Cunard ship has departed from Liverpool for America.
"Cunard history reads like no other," said David Dingle, CEO of Cunard Line. "For so long, the heartbeats of Cunard and Britain have been as one, and we intend to celebrate this landmark anniversary in grand style. These special voyages have been planned over many months to commemorate key dates in the company's history with all who wish to be part of Cunard's special and unique heritage."
Dingle continued, "We look forward to delivering this year of spectacle and celebration to the many people who share the pride we feel in Cunard's ongoing success on both sides of the Atlantic and beyond."
Queen Victoria Threatened for British Flag in Argentinian Waters
posted February 13, 2014
While docked in Buenos Aires, Argentina, the captain of Cunard's Queen Victoria was threatened with a hefty fine if he continued to fly the British merchant fleet flag.
As reported by The Guardian, the UK Foreign Office has accused the Argentinian government of harassment and intimidation in the incident.
Argentina and the United Kingdom both claim sovereignty over the Falkland Islands. The long-going dispute has recently flared tensions between the two countries.
Queen Mary 2 Celebrates 10th Anniversary
posted January 8, 2014
Cunard Line's flagship Queen Mary 2 will celebrate her first ten years of service in 2014. Since her naming by Her Majesty The Queen on 8 January 2004, Queen Mary 2 has undertaken a total of 419 voyages, including over 200 Transatlantic Crossings, and has called at 182 ports in 60 countries.
"Since entering service in 2004, Queen Mary 2 has reigned supreme on the Atlantic and around the world, proudly carrying more than a million guests," said David Dingle, CEO of Cunard Line. "She has attracted awards, accolades and admiration as the greatest ocean liner ever built for a decade now and we intend to mark her first ten years of service in style."
The Queen Mary 2 has remained unchallenged as the world's largest, longest, tallest, widest and most expensive ocean liner ever built and the most famous and fastest passenger ship in operation today.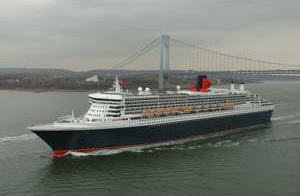 At 1,132 feet in length, if stood on her stern, Queen Mary 2 would be taller than New York's Empire State Building and more than three times the height of St Paul's Cathedral in London. Her 151,400 gross tonnage is the equivalent of nearly 19,000 London buses, and she boasts over four times as many rooms as the Dorchester Hotel. She took a million hours to design and eight million hours to build, and the 1,000 miles of welding that holds this amazing liner together would stretch from London to Moscow.
In her first ten years of service, Queen Mary 2 has sailed the equivalent of three times to the moon and back, carrying more than 1.3 million guests, enough to fill Westminster Abbey 651 times. In addition, more than 2,000 dogs have travelled on Queen Mary 2, five times as many as in the UK's famous Battersea Dogs Home.
Looking after the guests on board Queen Mary 2 is what Cunard does best, and over the past decade the crew have served over 58 million meals, sufficient to feed the combined population of Hong Kong, Sydney, Cape Town, Rio de Janeiro and Dubai for an entire weekend. The 21.9 million cups of tea served on board to date would fill an Olympic swimming pool three times over. If the 2.7 million scones baked on board were stacked on top of each other, they'd reach 80 miles in height.
Cunard's passengers have enjoyed almost 8,000 guest lectures, the equivalent of nearly a year's continuous radio broadcast. And they love to celebrate on board, too: the one and a quarter million bottles of champagne consumed since Queen Mary 2's launch would be enough to fill 200 world-record-breaking 23-foot-high champagne waterfalls.
Queen Mary 2 will depart on her tenth World Cruise on 10 January 2014 when she and Queen Elizabeth sail together from Southampton after a fusillade of celebratory fireworks. The major 10th Anniversary celebrations will begin on 9 May 2014 when all three ships of the Cunard fleet will arrive together in their homeport of Southampton and sister ships Queen Victoria and Queen Elizabeth will salute the flagship's first ten years. The day will feature special sail-pasts, a celebratory lunch and a spectacular send-off of fireworks as all three ships set sail together from Southampton that evening, with Queen Mary 2 leading the way. Further details about the day's events planned will be forthcoming soon.
That day, 9 May 2014, Queen Mary 2 will set out on the first of two special commemorative Crossings to and then from New York that underline her role as the only passenger ship in the world maintaining a scheduled service across the Atlantic, something a Cunard ship has done since 1840.
Taking part in Cunard's acclaimed Insights speaker programme during the 9 May 2014 Crossing to New York will be two special speakers: Commodore Ron Warwick, who holds the distinction of being the first Master of Queen Mary 2, and Stephen Payne OBE, who was largely responsible for the overall design of the ship. In their separate talks, they will present fascinating insights into the operation and construction of the world's grandest ocean liner.
Both Commodore Warwick and Payne will be guests of honor at a gala evening on board which will include a commemorative dinner with a special menu. In addition, vocalist/tenor Ben Makisi (billed as "The Voice of the South Pacific"), magician Philip Hitchcock and violin duo "Elektra" will thrill passengers on board for the Crossing.
Both the Commodore and Stephen Payne will sail from New York to Southampton with Queen Mary 2 on the 16 May 2014 Crossing, and will be joined by comedian Roy Walker as part of the entertainment line-up.
Fares for these celebratory 9 May and 16 May 2014 Crossings start from $1,099 per person, based on double occupancy.