Port of Singapore Information for Cruisers
Terminal location, parking information, transportation options, things to do, weather, special events
Good to know
Singapore encourages its citizens to speak English. Street signs and menus are often in English.
Singapore is a tropical city with a consistently hot climate and a monsoon season from November to March. However, due to its location near the equator and surrounded by water, it rains nearly everyday somewhere in Singapore.
The national currency is the Singapore dollar (S$). See www.xe.com for current exchange rates. Most major credit cards are accepted.
Tipping is appreciated but is not a common practice in Singapore and most of the restaurant already levy a 10% service charge on customer bills.
Getting around Singapore
By foot
It is easy to navigate within neighborhoods if you are looking to see a cluster of sights, but to walk from area to area in the tropical heat can be a challenge if you're not used to the humidity.
Taxis
A taxi is the easiest way to get around Singapore. Prices are fair and the drivers speak English. They are relatively easily to find in more urban areas, but not as much in outlying districts. Trips during peak hours (M-F 7-9:30am, M-F 5-8pm) are an additional 35% of the fare price. There are additional fees for passing through certain areas of the city, such as the Central Business District, or for using some expressways.
Public Transport
The Mass Rail Transit (MRT) system covers the main area of the city and out to more remote parts of the island with public buses running routes in between. It has a reputation for being clean and efficient. The Singapore Tourist Pass allows for unlimited travel on MRT trains and public buses for 1, 2, or 3 days. The cost is S$8 per day, with a refundable S$10 deposit. Otherwise, an EZ-Link fare card will be needed. Maps and rates for the rail are posted in stations.

Area Events
Formula 1 Grand Prix
The Formula 1 Grand Prix zips to Singapore in September. It's the only night race in the series and it zooms around the Marina Bay Street Circuit during a week long festival.
Singapore Food Festival
Held annually in July, the Singapore Food Festival is a celebration of local food. Festival highlights include food carnivals, trails, workshops, as well as joint food-oriented promotions.
Singapore Arts Festival
The annual two-week long festival, held between March-April, aims to make Singapore the fashion capital of the Southeast Asian region. The Festival highlights include showcasing international and local designers' collections, fashion shows, exhibitions and related fashion fringe events.
Singapore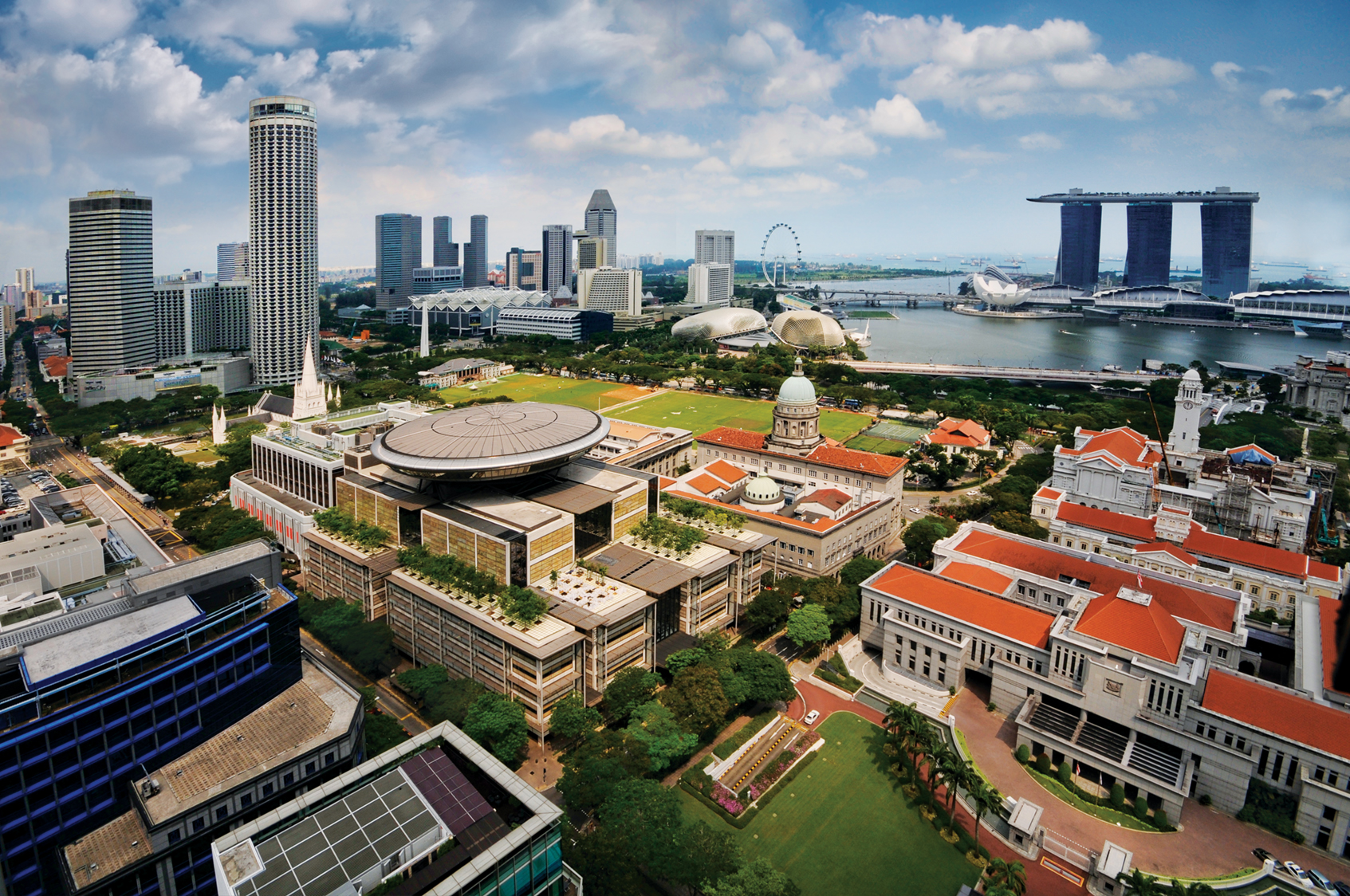 Port Authority
Local Name: Port of Shanghai
Authority: Shanghai International Port (Group) Co., Ltd.
Address: 358 East Daming Road
Shanghai, Shanghai 200080
Telephone: +8621 55333388
Email: contact@portshanghai.com.cn
Website: www.portshanghai.com.cn
Size:Very Large
Coordinates: 31° 13' 19" N, 121° 29' 22" E
Terminal Information
Singapore has two cruise terminals: Singapore Cruise Terminal and Marina Bay Cruise Center. Both are close to local attractions and within half-an-hour of the airport.
Singapore Cruise Center
The Singapore Cruise Center was revitalized in 2012. There are three terminals: Harbourfront, Tanah Merah, and Pasir Panjang. Over a million cruise passengers are serviced by the Harbourfront Terminal a year. In the terminal are convenience stores, dining, and duty-free shopping areas. There is a money exchange, ATMs, VIP lounge, courier service, and information counters.
Marina Bay Cruise Center
Marina Bay Cruise Center opened in 2012. It is located within the new downtown area of Marina Bay. Terminal services include free, unlimited wireless internet, luggage holding, CruiseFly, dining, convenience stores, currency exchange, ATMs, a VIP Lounge, and a Visitor Center.
The Marina South Pier Mass Rapid Transit station will open in 2014 and move passengers to and from the cruise terminal.
Parking
Singapore Cruise Center
Parking is available at the Harbourfront Center car park. Parking rates are based on time. There is no daily rate.
EPS Cashcard Parking Rates for Multi-Story Car park
Monday to Sunday Including Public Holidays
1am to 7am
$2.04 per hour or part thereof
7am to 6pm
$1.20 for the first hour; $0.60 for subsequent half hour or part thereof
6pm to 1am
$2.40 per entry
Marina Bay Cruise Center
Marina Bay has limited parking for up to 327 cars with sheltered access to the cruise center. All charges are applicable from Monday to Sunday, including Public Holidays.
0701 hrs to 2230 hrs
S$2.00 per hour, or part thereof for first 2 hours only
S$3.00 per hour or part thereof for subsequent hours
2231 hrs to 0700 hrs
S$3.00 per entry
Grace period
10 minutes
Maximum daily charge
S$15.00 per 24 hour block
Things to do in the area
Hawker Centers
Tour Asian cuisine in the famous hawker centers. These huge food complexes are made of street hawkers that specialize in one dish. Order char kway trow, Singapore's favorite noodle dish. Don't forget to try the Singapore chili crab dish, too. There's plenty of satay, rojak, and other Asian favorites, all for around $5 USD. Try the Old Airport Hawker Center, La Pau Sat, or Maxwell, but there are plenty other hawker centers, too.
Marina Bay Sands Resort
The breath-taking views from the Sands SkyPark are accompanied by lush gardens, restaurants, nightclubs, and it's all made by possible by one of the world's greatest engineering accomplishments. The SkyPark spans across world's longest suspended and unsupported cantilever. The true highlight is the infinity pool vanishing into the shimmering skyline. But Marina Bay isn't just an astonishing SkyPark: chance lady luck in a Casino spanning four levels, attend a convention in one of the five floors of exhibition space designed to fit up to 11,000 delegates, or indulge at the luxurious Shoppes of Marina Bay featuring the world's top end designers. Marina Bay Sands is a all-in-one attraction adjacent to the Marina Bay Cruise Terminal.
Singapore Zoo
The unique Singapore Zoo is based on an open concept where animals live in specifically designed habitats where barriers are concealed in vegetation and landscape design. The tropical zoo mimics a rainforest environment and is home to over 2500 specimens.
Night Safari
Skip the heat of the day and see the animals comes alive after the sun goes down. You won't see Tigers lazily lounging in the shade to escape the tortuous midday tropical sun on this Safari. As the world's first nocturnal zoo, the Night Safari is the #1 attraction in Singapore. Explore seven different geographical zones designed to simulate the animal's natural habitat by foot or by tram. Singapore's Night Safari is a great family excursion.
VivoCity
Singapore's largest shopping mall is connected with the Singapore Cruise Terminal and has a variety of dining and shopping options.
Sentosa
Sentosa is an island resort home to themed attractions like Universal Studios Singapore and Adventure Cove Waterpark. Stay at five-star hotels, relax at spa retreats or on the beaches. Sentosa is home to two golf courses and is home to HSBC Women's Champions and the Asian Tour. Fort Siloso is a World War II-era fort open for tours. The island is home to luxury shopping and dining experiences.
Imbiah Lookout
Also on Sentosa Island is Imbiah Lookout, is a modern fun-filled location with ten attractions. A cable car offers a 1.6 kilometer ride to/from Sentosa where visitors can get breathtaking views of the lush vegetation and beautiful coastline. The Tiger Sky Tower is the Port of Singapore's tallest observatory tower. At 131 meters above sea level, you can see as far as the neighboring Malaysian and Indonesian islands during both the day and the night. Imbiah Lookout is also home to the Sentosa Luge and Skyride, the first luge in Southeast Asia, a gravity ride with steering and brakes where riders can go as fast or slow as they want.