Regent Seven Seas Voyager Cruise Ship
Ship Features, Itinerary, News, Photos, Review, Accommodations, Notable Rooms, Dining Venues, Kid's Areas, Deck Plan, Outdoor Spaces, Smoking Sections
ships > regent > Seven Seas Voyager
Seven Seas Voyager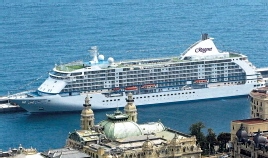 Seven Seas Voyager is the world's second all-suite, all-balcony ship and the second to feature a restaurant operated by Le Cordon Bleu of Paris, following sister ship Seven Seas Mariner. There are four main dining venues, surprising for a ship her size. You will enjoy impeccable service thanks to some of the highest space and service ratios at sea. And her suites are the largest "lead-in" suites in the industry. Named by Condé Nest Traveler Readers Poll as "Best Medium Size Cruise Ship".
Seven Seas Voyager underwent a major refurbishment in 2013. All the penthouse suites received elegant new furnishing, plush carpeting, and updated furniture. The Observation Lounge, and Horizons nightclub and bar underwent a complete transformation. New lighting was installed around the ship and new furnishings added to lounges and public areas. New teak flooring was added to all 350 balcony suites and refurbished on common area decks. Outdoor deck areas have new, resort-style lounge chairs and stylish accents.
Specifications
Ship Class:
Launched: 2001
Refurbished: 2013
GRT: 50,000
Length: 670 ft.
Draft: 23 ft.
Speed: 20 Knots
Passengers: 700
Accommodations
Stateroom Amenities
All cabins have a private bathroom with shower, individual climate control, two music channels, a wall-mounted hairdryer and terry robes for guest use while on board. Standard cabins feature two twin beds. Suites have queen beds and include a small refrigerator and TV with VCR. Equipped with a pair of binoculars for your use during the expedition.
Regent Seven Seas Cruises will offer added amenities to guests in higher-level suites. Beginning with the 2012 summer season, guests in concierge-level and above suites will enjoy a range of benefits from priority shore excursion and restaurant reservations to upgrades and complimentary amenities.
Suite Upgrades
Guests in categories E and above on Seven Seas Mariner (beginning April 2, 2012) and Seven Seas Voyager (beginning April 16, 2012) and category D and above on Seven Seas Navigator (beginning May 30, 2012) will receive the following exclusive concierge services: Upgraded pre-cruise Luxury Hotel Package with higher; room category or upgraded hotel property; priority online reservations for on Shore Excursions and specialty restaurants; 15 minutes of FREE phone calls and 60 minutes of FREE Internet access per suite; in-suite binoculars, coffee brewer and cashmere blanket.
Suite Sizes
A, B, D, E,
F, G, H
356
Sq. ft. w/veranda
C
386
Sq. ft. w/veranda
Penthouse
370
Sq. ft. w/veranda
Seven Seas
545-656
Sq. ft. w/veranda
Voyager
604
Sq. ft. w/veranda
Grand
876
Sq. ft. w/veranda
Master
1335-1403
Sq. ft. w/veranda
Dining Venues
Compass Rose Restaurant
The signature restaurant onboard every ship, the Compass Rose serves breakfast, lunch and dinner and features an exceptional variety of European-inspired Continental cuisine, as well as flavorful vegetarian and nutritious Canyon Ranch SpaClub® specialties. Located on deck 4.
La Veranda Restaurant
Casual buffet for breakfast and lunch. Each evening, La Veranda, will transform into Sette Mari at La Veranda, featuring an extensive menu of authentic antipasti and Italian specialty items paired with distinctive Italian wines. Al fresco dining is also available so guests can dine under the stars. Sette Mari is open for dinner only; reservations are not required. Sette Mari will debut on Seven Seas Voyager July 2, 2012. Located on deck 11.
Pool Grill
The ultimate casual eatery. Enjoy grilled-to-order burgers, grilled seafood, sandwiches and fresh salads. Treat yourself to milk shakes, malts, and hand-dipped ice cream desserts sprinkled with all your favorite toppings.
Signatures Restaurant
The experience aims to be so authentically French that it rivals that of the finest Parisian restaurants. Located on deck 5.
Prime 7
Handsomely decorated with supple leather wing-back chairs, burnished woods and rich earth-toned fabrics, Prime 7 offers classic steakhouse cuisine with a modern flair. Located on deck 6. Reservations required. Dinner only.
Notable Features
Constellation Theater
The venue for full-scale musical revues, rousing cabaret shows and Cirque-style productions backed by the nine-piece Regent Signature Orchestra. Main show lounge located on deck 5.
Observation Lounge
Romantic lounge featuring piano, singers, or a small combo performance by members of Regent Signature Orchestra.
Voyager Lounge
Musicians will entertain nightly, and during the late hours on selected nights a DJ will be there to play a variety of recorded music for your listening or dancing pleasure. Located on deck 4.
Horizon Lounge
Dance floor in the shape of a three-quarter moon overlooking the sea. Located on deck 5.
Connoisseur Club
Cigar lounge located on deck 5.
Sports Center
Golf, shuffleboard, paddle tennis, and a padded jogging track. Located on deck 12.
Pool deck area
Pool, whirlpools, bar and grill. Located on deck 11.