Carnival Sunshine Cruise Ship Profile
Ship Features, Itinerary, News, Photos, Review, Accomodations, Notable Rooms, Dining Venues, Kid's Areas, Deck Plan, Outdoor Spaces, Smoking Sections
CDC Ratings
If link above doesn't open to the report page, close the window and click on link again to access.
2008 Rating 94 (Oct)
2009 Rating 97 (Apr)
2009 Rating 95 (Nov)
2010 Rating 97 (Apr) 2011 Rating 99 (Nov)
2012 Rating 96 (Oct)
New Ocean-Themed Children's Program for Carnival Cruise Lines
posted April 20, 2014
Carnival Cruise Lines today unveiled Camp Ocean – an exciting, new marine-themed children's program coming to its fleet of 24 "Fun Ships." Set to debut on Carnival Freedom on May 24, the expansive new program will immerse children ages 2-11 in the wonders of the sea through fun, engaging and educational experiences. Read more...
Carnival Offers Shore Excursion Guarantee
posted January 15, 2014
Carnival is guaranteeing the lowest prices on over 1,100 shore excursions. In the event passengers find a shore excursion from another tour operator booked before or during their cruise can fill out a claim form for a 110 percent shipboard credit. Read more...
Destiny No More
Posted February 28, 2013
The Carnival Destiny is currently undergoing a 45 day, $155 million refit. She will then be renamed Carnival "Sunshine".
The transformation will incorporate all of the line's Fun Ship 2.0 features, along with the addition of: 182 new cabins; three-level Serenity adults-only retreat; full-service Mongolian wok restaurant; new tropical-themed Havana Bar. The refit is scheduled for some time next year.
The Carnival Sunshine offers 7-day Western and Eastern Caribbean sailings, from its home port in New Orleans, LA.
7-day Western Caribbean: Day at Sea; Day at Sea; Montego Bay, Jamaica; Grand Cayman, Cayman Islands; Cozumel, Mexico; Day at Sea
7-day Eastern Caribbean: Day at Sea; Key West, Florida; Nassau, Bahamas; Freeport, Bahamas; Day at Sea; Day at Sea
Starting in April 2014, the Carnival Sunshine changes its homeport to Port Canaveral, FL to offer Caribbean sailings:
11-day Southern Caribbean April 6, 2014: Day at Sea; Day at Sea; Montego Bay, Jamaica; Day at Sea; Aruba, Lesser Antilles; Curacao, Netherland Antilles; Day at Sea; St. Thomas, U.S.V.I.; Day at Sea; Day at Sea, disembark Port Canaveral
2-day Bahamas April 14, 2014: (Embark/Disembark in Port Canaveral) Freeport, Bahamas
5-day Eastern Caribbean: Day at Sea; Key West, Florida; Nassau, Bahamas; Freeport, Bahamas
7-day Western Caribbean:
Day at Sea;
Cozumel
, Mexico; Day at Sea;
Belize City
, Belize;
Mahogany Bay
, Isla Roatan;
Costa Maya
, Mexico; Day at Sea
7-day Eastern Caribbean: Nassau, Bahamas; Day at Sea; St. Thomas, U.S.V.I.; San Juan, Puerto Rico; Grand Turk, Turks and Caicos; Day at Sea
Updated November 2013
Serenity Deck
Serenity Adults only Lounge
Deck 12
Serenity Adults only lounge, Cloud 9 Spa Suites and Balconies
Serenity & SportsSquare Deck
SportsSquare area, Sky Track, Serenity Adults only lounge and Pool, Cloud 9 Spa Suites and Balconies
Spa & WaterWorks Deck
Waterworks, Slides, Club O2, Circle "C", Camp Carnival, SeaSide Theater, Cloud 9 Passenger Staterooms, Fitness Center, Cloud 9 Spa, Thermal Suites
Lido Deck
Havana Bar, Ji Ji asian Kitchen, Cucina del Capitano, Pizzeria del Capitano, Lido Marketplace, Beach Pool, BlueIguana Cantina & Tequila Bar, RedFrog Rum Bar, Guy's Burger Joint, Passenger staterooms
Deck 8
Passenger staterooms
Deck 7
Passenger staterooms
Deck 6
Passenger staterooms
Promenade Deck
Alchemy Bar, Ocean Plaza, EA Sports Bar, Cherry on Top, the Fun Shops, Red Frog Pub, Photo Gallery, Liquid Lounge, Ocean Plaza, Fun Hub, Shake Spot, JavaBlue Café, Sunshine Casino
Mezzanine Deck
Sunshine Dining Room, Limelight Lounge, Bonsai Sushi, Farenheight 555 Steakhouse, Piano Bar 88, the Library Bar, Liquid Lounge
Lobby Deck
Sunshine Dining Room, Main Atrium, Passenger Staterooms
Deck 2
Passenger staterooms
Deck 1
Passenger staterooms
Formerly the Carnival Destiny, the Sunshine has been completely refurbished and rechristened. Its Fun Ship 2.0 updates include the largest Adults-only area and more waterslides. See more photos on our Facebook page.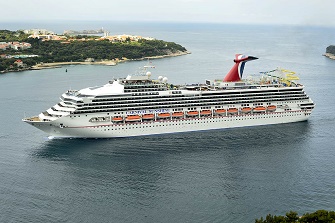 Photo source: Carnival Cruise Lines
Ship Class: Destiny
Launched: 1996
Re-launched as the Carnival Sunshine (March 2013)
Refurbished: March 2013 Fun Ship 2.0 enhancements
GRT: 101,000
Length: 892 ft.
Draft: 27 ft.
Speed: 21 Knots
Passengers: 3,002
Carnival Comfort Beds in all staterooms with two twin beds that convert to a queen or king, sitting area, desk, bathroom with shower, phone, and TV with first-run movies and amenity basket displayed in the bathroom. The amenities are subject to change and are only sample sizes. The basket may include such things as: his/her razors; shampoo and conditioner; body wash; Tylenol; deodorant; hard candies. Supplies will be replenished by the room steward, if quantities allow.
Stateroom sizes
| | |
| --- | --- |
| Inside | 195 sq. ft. |
| Outside | 220 sq. ft. |
| Suite | 210 sq. ft. and veranda |
All staterooms offer the following:
Television; Comfort linens, towels and bathrobes; Full bathroom with shower; 24-hours stateroom service; Ample closet and drawer space.
Interior
Interior staterooms use Carnival Collection Linens, a private bathroom, and 24-hour room service. Upper/lower rooms maximize space using an upper pullman or sofa bed. Cloud 9 Spa Interior rooms offer special amenities, private spa access, and priority spa reservations.
Ocean View
Ocean view staterooms provide you with views of the sea right from your stateroom. Deluxe staterooms are perfect for families with space to fit up to five cruisers, a full bathroom and separate wash area. Unique Scenic ocean view rooms have floor-to-ceiling windows that maximize views of sunrises and sunsets at sea. Cloud 9 Spa Ocean view rooms offer special amenities, private spa access, and priority spa reservations.
Balcony
Balcony staterooms provide private sea view access. Relax on your balcony and appreciate the sea breeze. Cove Balconies are close to the waterline with a close-up view of the ship's wake as it cruises along the open sea. Extended balconies have extra room for relaxing. The Premium Vista Balcony rooms wrap around the aft portion of the ship for maximum sea views. Cloud 9 Spa Balcony rooms offer special amenities, private spa access, and priority spa reservations.
Suites
All suites come with VIP check-in and extra features like walk-in closets and balcony views.
The junior suite features a standard-sized balcony and a whirlpool tub. The Grand Suite has expansive space and a dressing vanity. Cloud 9 Spa Suites rooms offer special amenities, private spa access, and priority spa reservations.
($) = Specialty restaurant, surcharges apply
Main Dining Rooms
The Sunshine main dining rooms were refurbished with new carpeting, upholstery and other cosmetic enhancements. Offering Your Time Dining providing guests the option of open seating between 5:45 p.m. and 9:30 p.m. nightly and fixed seating.
Lido Marketplace
Indoor and outdoor casual dining. Food options include a New York style deli, Indian Tandoor oven, Mongolian Wok, Italian Pasta Bar, and more.
Cucina del Capitano ($)
A family-style Italian restaurant that brings the heritage of Carnival's captains to the table, along with a casual two-level poolside eatery, and a classic American-style steakhouse. Complimentary pasta bar at lunch time but full-service dinner is an extra charge.
Mongolian Wok
Create your own version of Asian cuisine with the chefs preparing your dish in Mongolian Woks right in front of you.
Ji Ji Asian Kitchen ($)
Located on the Lido Deck, Ji Ji Asian Kitchen creates your Asian favorite from stir-fry to exotic delights for dinner. Lunch is complimentary, but dinner is for a fee.
Guy's Burger Joint
Poolside spot for hot burgers, hand-cut fries, more. Choose one of Guy's creations or create your ideal burger.
Bluelguana Cantina
Onboard Mexican featuring freshly-made tacos and burritos. Homemade tortillas and chips and a salsa bar with choices from mild to hot are always ready to go.
Pizzeria del Capitano
Pick up hot pizza made with your choice of toppings and fresh mozzarella.
Bonsai Sushi ($)
Full-service sushi restaurant offering a wide variety of Asian-inspired delicacies and serving soups, sakes, and desserts. Prices range from $1 for appetizer portions to $15 for a sushi ship for two. Located on Mezzanine Deck.
Fahrenheit 555 Steakhouse ($)
Gourmet steakhouse with seafood, entrees, gourmet appetizers, and an extensive wine list and dessert options are even available. $35 per person surcharge applies.
The Taste Bar
Complimentary bite-size offerings inspired by popular Carnival dining venues.
Shake Spot
Only on the Carnival Sunshine, the Shake Spot serves hand-crafted milkshakes and floats.
Chef's Table ($)
A VIP, private tour of the kitchen starts this experience. After signature cocktails, the chefs cook a private, multi-course meal of items not found on regular menus. A $75 per person surcharge applies.
Room Service
24-hour room service menu. Room service orders are delivered to guests' staterooms any time of the day or night at no charge.
Liquid Lounge
Sit back and enjoy musical and stage productions. Particpate in Hasbro, the Game Show, and other entertaining games and trivia. as the hour grows late, the Liquid Lounge transforms into a nightclub. And sit on the edge of your seat while experiencing action-packed, feature-length 3D movies!
Limelight Lounge
This cabaret-style lounge offers activities during the day and karaoke music and comedy in the evenings, featuring the Punchliner Comedy Club. Five 35-minute shows on multiple nights during each voyage, with at least two comedians performing each night. The two early-evening shows offer fun for the whole family while the later performances will feature adult-oriented comedy. Located on Mezzanine deck.
Piano Bar 88
A swanky, jazzy bar setting where singing along is encouraged.
Cloud 9 Spa
Full-service, two-deck spa and fitness center offering acupuncture, massages, body wraps, facials, tooth whitening men's services, steam rooms and more. A thalassotherapy pool is available on board.
Library Bar
A venue with books, games, and featuring self-serve wine dispensers.
Fun Hub
Available on any guests' Internet-connected laptop or at dozens of convenient locations throughout the ship is the Fun Hub, a social network and comprehensive shipboard intranet portal that provides access to a variety of information on Carnival Breeze's services, facilities and daily activities. Carnival Breeze also offers bow-to-stern Wi-Fi and cell phone service.
EA SPORTS Bar
Interactive sports bar where patrons can view live action, play video games and get the latest scores on the 24/7 ticker while kicking back with their favorite brew and bar snacks.
WaterWorks
From the 300-gallon dump bucket to stationary water toys, Carnival Breeze's WaterWorks is just the thing to get even the most experienced cruiser wet behind the ears again. Ride the Twister Waterslide, one of the fastest slides anywhere.
SportsSquare
Navigate the sky course, a ropes course 150 ft. above the ocean. Here you can find foosball, ping-pong, and table tennis. Play a game of basketball or challenge the family to a round of giant chess. Get your heart pumping on the jogging track or relax with a round of mini golf.
Carnival's Seaside Theatre
This 270-square-foot LED screen and poolside seating is the perfect spot for guests to sit back, relax and watch classic and first-run movies, sporting events, news, concerts and other programming, either during the day or night. Panorama deck.
The Adults-only Serenity area is designed as an oasis for tranquility and relaxation, offering colorful, oversized umbrellas, chaise lounges and chairs, whirlpools, and great sea views. The retreat is the Carnival fleet's largest Serenity area spanning three decks and includes a waterfall.
Camp Carnival (ages 2-11)
Camp Carnival features games, finger painting, story time, movies and more… all in a supervised environment, while their parents can be off having fun of their own. The fun doesn't end at bed time, either; Carnival's babysitting program offers, for a fee, a fun late-night option for kids while their parents stay out until as late as 3 A.M.
Circle C (ages 12-14)
Video games, scavenger hunts, dance parties, sports, pool parties and special shore excursions.
Club O2 (ages 15-17)
Teens can enjoy the latest music with exclusive dance parties… video gaming and movies from the club's comfy seating, with video monitors all over the place. Outside of the club, activities include pool parties, team sports and special teen-only shore excursions.